I Got $19000 From a Single Story
And it came after writing more than 200 stories on Medium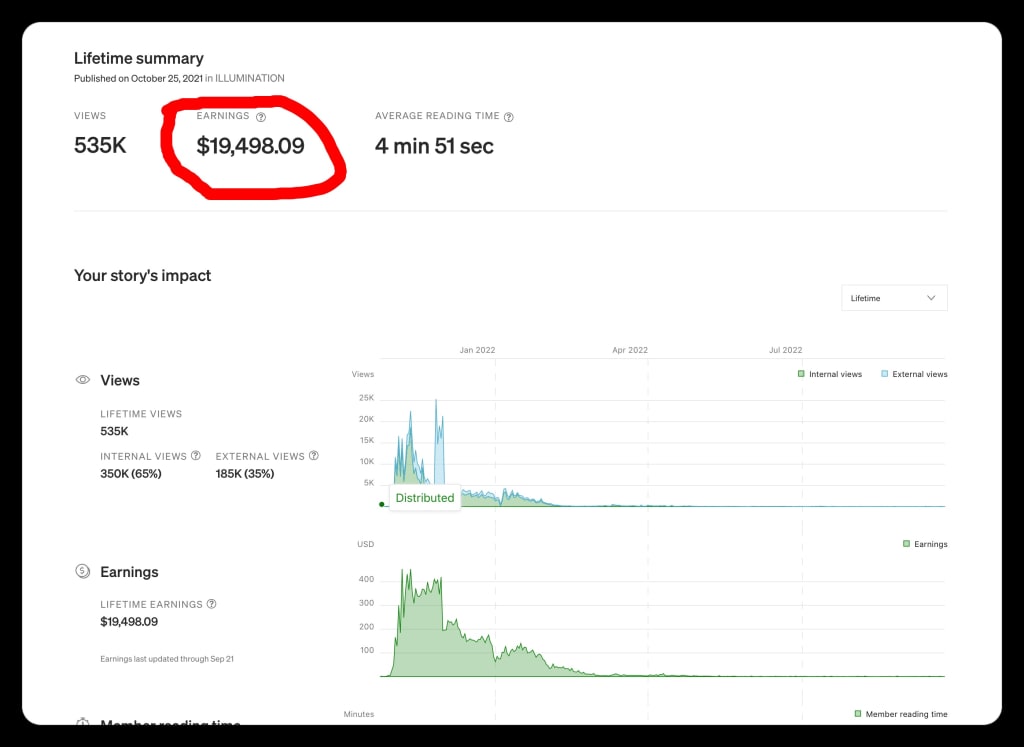 screenshot by the author
Earning by writing should never be like winning the lottery. But unfortunately, on Medium, that's the truth.
I've written more than 250 stories in the last 1.5 years on Medium, covering different topics. But no stories were as financially successful as this one.
Before jumping into that and other things, you should take a look at the following stats -
Story: Why Elon Musk Fired His Long-Term Assistant Who Asked for A Raise

Views: 535K+

Earnings: $19400+

Member Reading Time: 3700+ hrs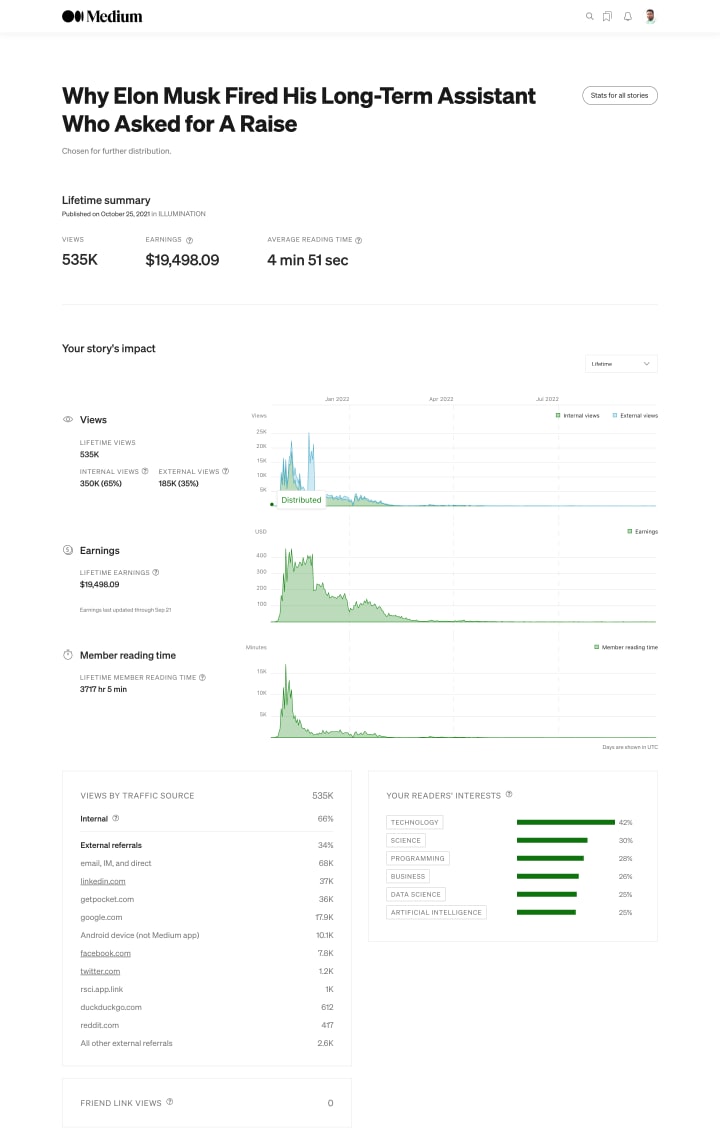 From where I got the idea
I love to write about the topics that interest me. I don't follow trending topics or keyword research for my stories. And it's one of the reasons why I love to write on Medium instead of other platforms.
As far as I remember, in the early morning of October 24, 2021, I was casually browsing YouTube shorts for writing ideas (yes, I got ideas from weird places).
While watching the shorts, one particular video jumped out of nowhere to me. It was a very short one (probably a few seconds) about Elon Musk and his long-term assistant Mary Beth Brown. I was shocked to know she lost her job only because she asked for a raise.
I quit my job in November 2020because the company I worked at failed to recognize my contribution. So, I found Mary Beth's story very relatable and started reading more about the topic.
I downloaded Elon's biography by Ashlee Vance, read other articles in reliable newspapers or magazines, explored Musk's tweets and his ex-wife's Quora post, watched a few videos, etc.
Then I started writing and finished my first draft quickly. The next day, I edited the draft a few times and, finally, submitted the story to a publication, ILLUMINATION.
I had no clue (and I still don't have any)
It was just another blog post of mine. I wrote it and published it. And it was chosen for further distribution (like most of my stories).
Nothing special. Nothing new.
Then, on November 01, I saw a spike in the stats, nearly a thousand views in a day, and I got curious. I started checking the stats every day. And it was going upwards like a rocket.
The mysterious algorithm chose to spread the story like wildfire.
On November 27 - even after one month from the publishing date - the story got more than 25K views. That's my highest views for a story in a single day.
Consequently, November 2021 became the first and only month (so far) when my earnings crossed the $10,000 milestone.
That was unexpected yet awesome. And I told myself : Though consistency is the key, this platform is super weird. And you never know what's going to happen.
As in life and on Medium, you cannot predict the future. It's both - frustrating and inspiring; frustrating - when you write hundreds of articles yet don't cross $200/mo (like me) and inspiring - when one of your stories compensates for all (as that happened to me and many others).
Now, here is what you can say about the article's virality -
The title was catchy.
The protagonist is known all over the world.
The way the story was told caught readers' attention.
Maybe the timing was right.
The story captured readers emotionally.
Maybe it was about their insecurity.
blah, blah, blah
But I have other stories with catchy titles. But they didn't get this many views. Below is an example -
Story: How an Ordinary Butcher Turned Into the Meat King (with $70 Million Net Worth)
Now, get ready to be shocked!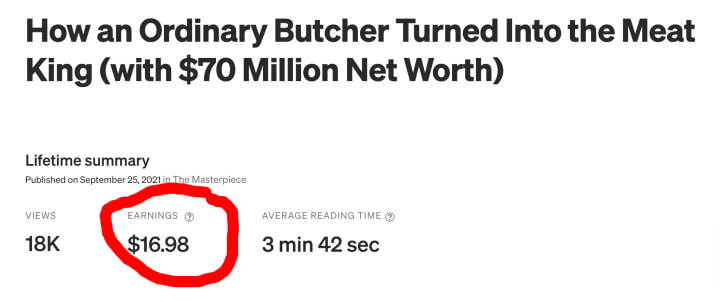 Only 16 dollars for 18K views!!!
That means most of the views are external views. The topic is good (trending one), the story is well-written, the views are great, but it's not financially successful.
The point I'm trying to make is that - no one can write an article and be sure that it's going to be a hit.
So, if any of you think that you will only write about trending topics or replicate other viral articles, provide value to your readers, keep them hooked, blah blah blah, and you will win the lottery - just forget about it. It will never happen.
It's not in your hand, got it?
So, what can writers do?
Apart from that Elon Musk article, I wrote 27 more stories in that month and most of them didn't get me even 5 dollars. Even a lot of my 253 stories written in the last 1.5 years earned me less than one dollar.
But if I didn't write those stories, my 19000-dollar-article would never come.
I hope you got the point.
Of course, you will think about the headlines you choose, the topic you write, the angle from where you want to tell the story, the keywords and SEO things, and all.
But the main thing , as I believe , is to keep writing and publishing and stop overthinking about money.
---
PS: All the above I've said only applies to Medium. And for your kind information, that platform doesn't guarantee you a stable monthly income. In my case, I work as a freelance writer on Upwork and do some other businesses to make regular money.
---
*Originally published on Medium (link)
Reader insights
Be the first to share your insights about this piece.
Add your insights