For Dad
No quit in him. It's hereditary.
Tough as nails and as quick witted as I've ever known is the man I call my father. My dad has worked hard his whole life. At eighty two years old, he still works. Not out of necessity but out of virtue. We've had this discussion many times. He reminds me, 'If you ever just sit around all day, you'll be dead in a year.' And I believe him. He can out work me. Sedentary life is no life at all. Not really.
But my dad also knows how to enjoy life. Back in the day, he and my mom were big in country western dancing. They even taught a dance class at the community collage. Dad was light on his feet, could keep time with the melody. Mom bragged on him all the time.
He never meets a stranger either. He's the kind of guy that knows everybody. Once on vacation in Missoula, Montana we went out to eat at a buffet. As we stood in line, a guy came up to Dad, called him by name. We were two thousand miles away from home.
Dad is ambitious, smart (sometimes a smart ass, but lovable) and can do anything he sets his mind to. He's built houses, without a blueprint, just from looking at the house featured in a magazine. And made practical improvements to the plan. From memory. When I was building my house, he was my contractor. We did most of the work ourselves. Paint, hang trim, install hardwood floors, he can do it all.
I had planned for a lovely wrap around porch, with four exterior doors. The day we were installing the doorbell at the front door, I asked him a question. I said, 'Hey dad, there's four doors. How will I know which door to answer when the bell rings?' He smiled and said, 'That's easy. When their at the the front door you'll hear this' as he pressed the doorbell button. The chimes rang throughout the house. He told me 'when their at the other doors it'll sound like this,' as he balled his fist and knocked on the door. "That's cause I'm not installing a doorbell at four damn doors.'
My dad taught me to think outside the box and not be so uptight. Well, I try. But I'm a self admitted work in progress. He demonstrated his progressive thinking best when we visited the Four Corners. Everyone was patiently waiting to take their photos in the center, where the corners of four states meet. The Southwestern corner of Colorado, southeastern corner of Utah, northeastern corner of Arizona, and northwestern corner of New Mexico. When it was Dad's turn, he laid down on the emblem, with a limb in each direction. He proudly proclaimed from then on that he'd been in four states at once.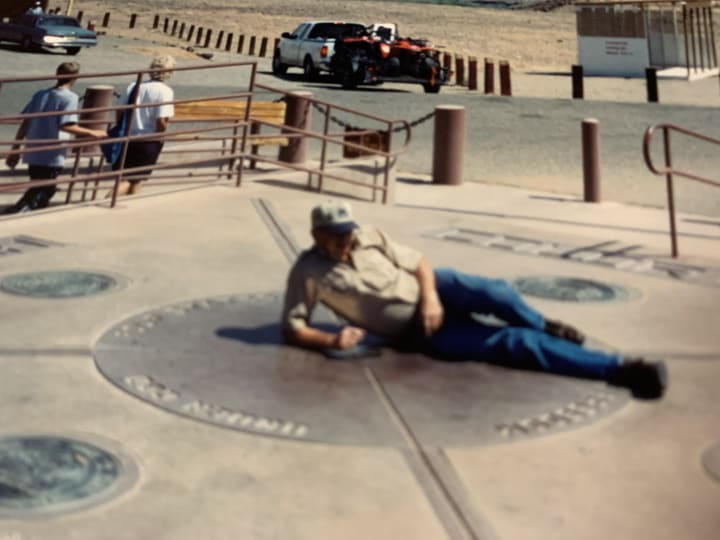 For years, we gave him a wrist watch for Christmas. Not a new watch, but the same watch. Over and over. He got other presents of course, all of which he could predict with a rattle of the box. 'This is a shirt. This is socks." But the Crem Dela Crem gift, was this watch. Every year he'd feign surprise and excitement when he opened it. It'd end up in the top drawer of his bureau. Mom would dig it out and wrap it again. He never asked for anything. He said he didn't need anything. One year he asked me what I wanted for Christmas. I replied: cold hard cash. Imagine my surprise on Christmas morning when I unwrapped one of those styrofoam coolers. Inside I found a block of ten inch ice with a hundred dollar bill froze smack in middle of the glacier. He laughed and howled as I used the hair dryer to thaw it out.
He and mom were married fifty-two years when she passed. It was the only time I can ever remember him crying. Ever. About a month after, he called me up, told me he was 'going out.' Initially I was happy for him, but then he started dating. When your father dates women younger than you, a quiet reconciliation evolves. He'd just laugh it off. 'Nothing serious' he'd assure me. He just wanted someone to have fun with. I came to respect his response. He would not go gentle in grieving. No, he had life in him still. And he still doesn't waste a moment.
Dad sets a good example, always ready to be a friend, help those in need. Friends, strangers, it doesn't matter. He'd give the shirt off his back to anyone that needed it.
We don't always get along. Far from it. But I can always count on him. Not to pass judgement when our opinions differ. He's a good sounding board and often has valuable insight from an older, wiser prospective.
He'd be completely embarrassed if he knew I wrote all this about him. But I love my fun-loving, mercurial father. And I wouldn't be the woman I am without his influence. He taught me to believe in myself. He taught me I can do anything I set my mind to doing. And for that, I am forever grateful.
About the Creator
Soup lover proudly owned by fluffy little lap dogs. Likes: sunsets, chocolate, witty replies, and good hair days. Dislikes: Mean people and flan. Hit that subscribe button.
Reader insights
Be the first to share your insights about this piece.
Add your insights