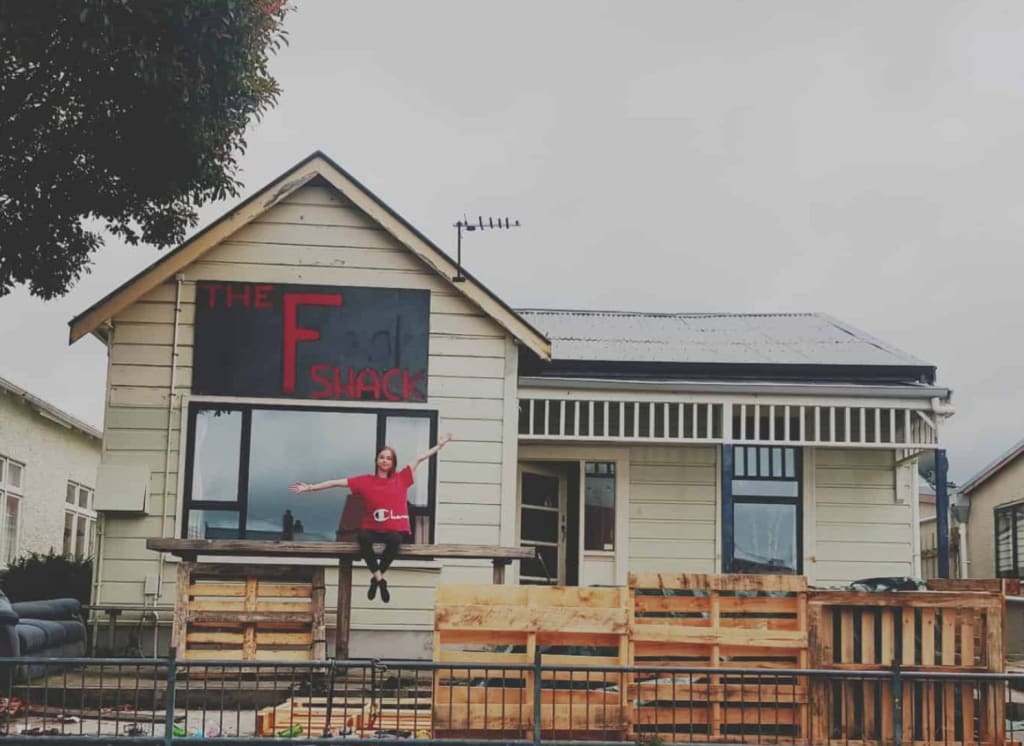 The F Shack.
Dear Critic,
We must say that it's been quite a weekend. Our night at The F Shack wasn't what I thought it would be. Usually, actually always it's a good vibe. We play the macky g, crack open the Speights and of course the funnel almost always comes out. If you've seen the snapchat stories – either private or public – you'll know that Hyde street has a certain culture. I guess it's where virgins, celibacy, soberness, turn into Billy Mav, DNB, Dunedin Breathers. It's certainly something you have to adapt to and even the most innocent of people we know have well and truly perfected the lifestyle of living in ruckus.
As exciting as it is having reporters showing up at The F Shack, basically home for me, I'm not quite sure it's for the right reasons. So, if I can be the one, coming to all you who may be intimidated, scared, intrigued or maybe even suspicious, here's what's up.
We think it's safe to say this house has seen some crazy shit. Some people joke that our house is haunted, that there's some ghost watching over all of us and I must admit when you're stuck in a trip the house seems like something else. We definitely need to thank all the speaker donators across the year who have contributed to the 'doof doof' of the street, happy to say Noise Control has only rolled around once. Although some may say most of us are alcoholic's I think our debate steams from the fact that we are in Studentville and not drinking is just asking for you to be labelled weak. My trick however, drinking at The F Shack is to either accidentally spill, knock over or power chuck out whatever you don't want onto the floor because my my, the liters of alcohol, water, spew patches, ciggy-buts, ash and many other unknown substances you could collect would stagger even the purest of party-goers. I can guarantee you if you had a camera that sat above the heat pump in the lounge from the start of the year you would have an award-winning TV series featured on MTV with the title: This Week on The F Shack. Oh, and so far the main character tally is up to 16, so I guess it could be more like Keeping up with The F Shack.
I must also maintain an apology to everyone who comes into my house on a Sunday morning and sees the alcohol canvased along the wall, the lounge resembling something somewhat like Project X (seriously, a bouncy castle on the roof deflated may be what I wake up to next) and maybe someone sleeping on the couch. However, to those who are there the night before thinking we don't care, fuck the pigs, "on it for dayzz" please remember that people do live in the house and treat it as their home, yes that does mean don't use all the motherfucking toilet paper or just donate some when you come over, that shit rare.
You see here comes complication, like any good story there's always something that makes reporters jump for payday, unfortunately today has finally come when F Shack gets its 15 seconds of fame. I've been expecting this for a while if I'm honest, although I did hope that things were looking up.
Whether you've read the articles or listened to Hyde Street Chatter, I can tell you that the truth can be spun. Twisted and portrayed to be something that make a story, sells in the newspaper maybe even with your photo. What you have to realize is that this story everyone keeps gossiping about is actually people's lives. Living in a place that has a pile of rubbish that builds up for every skip day, a carpet you can't actually wear bare feet on in case of glass, and a toilet we don't even go near. But none of us care about the smaller infractions that come with living at The F Shack, because in the long run we are family. We have each other's back, we love each other and we will do anything to make sure each one of us has stability within each other. It's not something we want or need but something we just give, no questions asked. Just one big, dysfunctional yet loving family.
Whatever happens going forward, all I can say is that I have had one hell of a year. I've fucked up, like anyone but I've also grown, learned, accomplished and set out of my comfort zone I fitted so nicely into. But I guess sometimes we get to a point when enough is enough. We appreciate all the people that have stuck by us and going forward we only want to offer love, comfort and most likely a rowdy red card to bring back the good vibes. However, if there's one thing I won't apologize for is that even though that house may be 'trash' it's become a home to many people, whether your couch surfing or just partying. It is a fun, adventurous house where we don't judge, and love each other for all their 'faults'. Maybe one day you'll see that too.
There's always so much more I can say, so much I want to say. But at times likes this some things are best left alone. So, as I round up this article there's only one more thing I have to say.
Dunedin is a whole other world, as I've noticed coming from a big city like Auckland, there something unique about this place and I think it's something we all need to cherish. This is the time in your life where you can have fun, step outside your little safe box and live a little. Fuck the fighting, the bullshit, the scandal. Let's preach for the culture, the people and the fact that we live in a city dominated by our crazy antic's.
Enjoy the rest of the year, study hard and go drama free.
Might even see you one day on Hyde... or maybe not.
Much Love,
The F Shack xo
Humanity
About the author
Kiwi woman living her way through her 20's. Writing about heartache, mental health & selflove. Just your average woman, living her life ✌
Find me on Instagram here: https://www.instagram.com/_jadewebber/
My own website: www.jadewebber.net
Reader insights
Be the first to share your insights about this piece.
Add your insights