Crappy Dads Club
Our motto: We hope you don't join!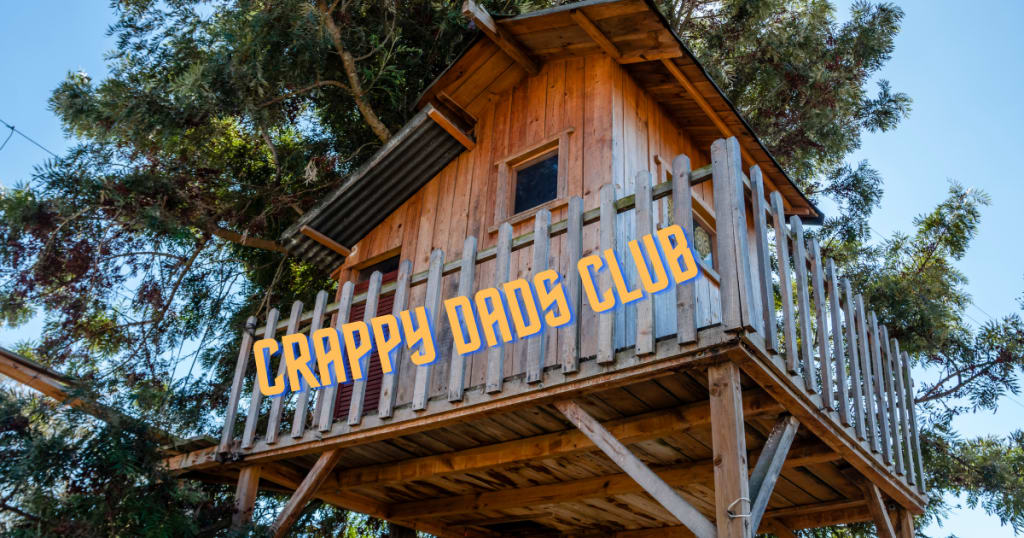 I wasn't going to even write this down, because it will likely be mentally draining, but maybe someone out there can identify. We can be bosom buddies of neglect. Wonder twins of indifference. Partners in parental apathy. We'll clearly need to work on our team names.
But seriously even though I would love the company, I hope that this doesn't actually describe you. I hope you've been loved and cherished. Made to believe you can do anything, be anything, always with your dad at your back. That you have an easy time picking out sappy cards for birthdays and Father's days because those sweet, loving sentiments are true for you. But if not, that's ok too.
This story is for us.
Has anyone ever told you that they loved you, but you didn't really feel it. Like you kind of knew they thought they did, but it didn't seem to translate well.
I haven't had a dad or dad-type figure in several decades, and even then they weren't strong relationships. And it's not necessarily because death has separated us. No, that estrangement is purely by choice–both active and passive. Whose choice, you may ask? That answer depends entirely on who is answering.
Of course, my truth is my truth, so I'll have to kindly ask you to trust me in this.
Like a lot of kids, my parents divorced when I was young, around 9 years old. Before that, I have a lot of memories of my dad not being there. Sure, there are a handful of times to remember with him in the picture, but they were too few and far between to have made a real impact.
We had some good times in my pre-teen and teen years when I visited every other weekend, but it wasn't a relationship where I could count on moral support, learn things from him, feel that special daddy-daughter bond.
He was a Vietnam war vet who did not have an easy childhood or adulthood for that matter. Alcoholism ruled much of his life until health complications forced him to go sober. Even though I understood these things from an intellectual standpoint, it didn't change that I wanted to not understand. Does that make sense? I didn't want to be the grown up. I wanted a parent. Still do.
Sadly, our tenuous relationship was brought to the breaking point only a few months before I got married. During a phone call where I had contacted him as he needed to do some adulting, he lost his mind with me, and I was just done.
I haven't talked to him since, and I've been married 22 years. He hasn't tried to reach out to me in all that time, so you can take from that what you will in regards to his character and our relationship. And for sixteen of those years, I lived less than two miles away.
As for the other men in my life during those younger years into adulthood, no one else really stood out, at least not in a positive way.
Gaining a step-father when my mom remarried was definitely not the answer. Ours was an unhealthy, toxic relationship that I stopped being a part of almost seven years ago.
I didn't know my dad's dad well. He passed away when I was young. I did visit a lot with my pap-pap (my mom's dad), and loved him very much, but to be honest, I spent most of my time with my grandma. And when I was old enough to have a more adult relationship, he was sadly well into his battle with Alzheimer's.
Despite both of my parents remarrying, I never gained any step-brothers or half-brothers either. I did have one step-grandfather, and we got along well enough. I did see him fairly often, but we weren't close.
I had uncles too, but I didn't see them on a regular basis. It was the time before the electronic age, so short of exchanging letters or physically seeing one another, there weren't as many opportunities to spend time together other than holidays, parties and reunions.
There weren't any male teachers, coaches, pastors or anyone like that for me either.
So when I see a healthy father (or father-like) relationship, I kind of wonder what that feels like. Not gonna lie, I get a little envious from time to time, but I've kind of always been someone that accepts the fact that people are who they are. I don't mean that to sound like I accept what they do necessarily. It means they do what they do, and then there are consequences–some good, some bad.
The consequence of a relationship that is mostly one-sided, with volumes of unfulfilled promises is that it's shallow and easily broken, at least from my point of view. As was the case with my father. I held myself back from fully committing to that relationship for twenty-five years, because he showed me time and again that I wasn't really worth it.
When the big talks needed to happen or the emotional support needed to come, all I saw was someone who wouldn't be there. He didn't even come to my high school graduation and gave no explanation, and I didn't beg for one. What was the point?
I know people think I must be sad or sensitive about not having these dad relationships in my life, especially when they ended poorly, but the truth is that I can't miss a relationship I didn't have. Do I wish things had been different? Yes, of course. But I turned out just fine.
Now, I'm thankful that I get to see my husband be a good dad to our four children, and hopefully my three sons might get the chance to one day do the same.
So here's to all of us out there in the crappy dads club still going strong on our own–past, present and future.
Allies of indifference unite! Friends of fatherly failure assemble? Cohorts of dad duds convene? We just need to pick one and go with it.
Family
About the author
Coffee/reading/writing/family–my favorite things in life. I have a degree in biochemistry but my split personality loves creative writing just as much!
Visit me:
https://www.facebook.com/therealhhlynn
@heather_hubler on Twitter