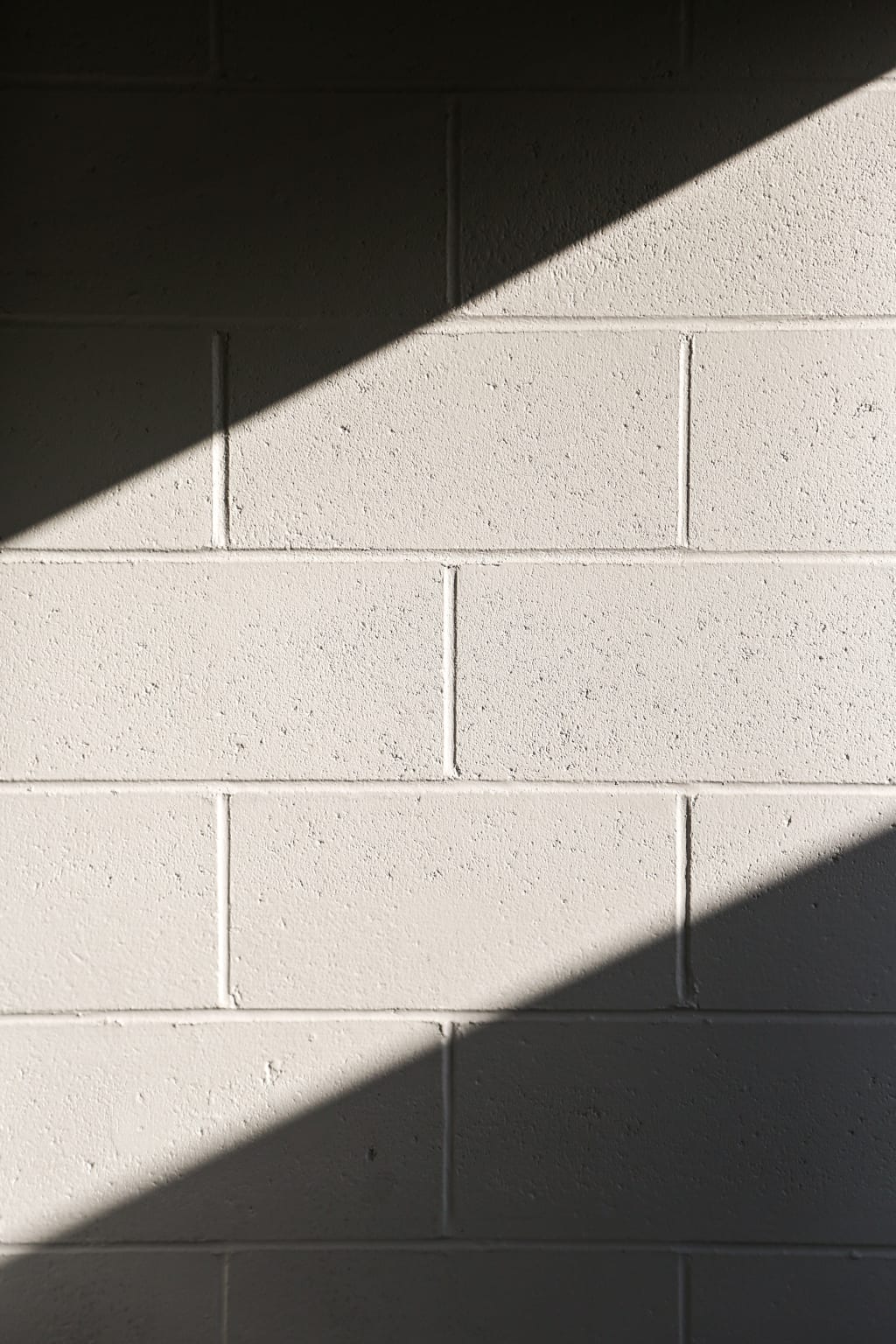 Photo by Giorgio Trovato on Unsplash
if walls could talk....
"Solid and sturdy, I have felt the weight of a thousand burdens, cast heavy on the hearts of those strapped down to stretchers and stationed to the fine print of a facility that focuses on stabilization; although stable is far from their grip. Over the past 40 years I have witnessed outrage and deterioration, outbursts and spoons made into weapons because the medication was not the root of the issue. It was a temporary fix to a lifetime of pain, committed to drowning out the voices of a past made present to birth the eradication of self.

I am the white walls in a mental health facility in the suburban city outside Atlanta, where street walkers take turns punching at my body, ranting verbiage unknown to nurses passing by.

Their fists gripped and filled with passion, crying to me in hopes that I'll understand; and I do. How could I not? I have seen thousands of faces, heard thousands of cries; I've gazed upon each regression and progression as they enter my presence for the week they remain "committed" from the call of their worried mother, or the hospital who pumped their stomach and deemed them a threat to themselves and others, so within me they remain, a 1013.

Oh, the sweet irony of a 1013. I must confess I disagree with its demand, though I understand its purpose. More Christian characters have come to know my embrace than you could possibly imagine, therefore I must relay 1 Corinthians 10:13:

"No temptation has overtaken you that is not common to man. God is faithful, and He will not let you be tempted beyond your ability, but with the temptation he will also provide the way of escape, that you may be able to endure it."

Seventy-two hours they are bound to me legally, regardless of the status of wealth - no lawyer can pull them out early, though many have tried as I have listened closely to the phone that rings monotonously by the door of the boy who paces out of his room more times than I can count.

Paranoid and punctual, he scribbles words on his paper that he pleas for daily, making his rounds towards the cameras that jut out of my frame. On a mission to map out his inner most secrets, he reveals them only to myself and the eyes gleaming at the recordings cast by the surveillance team, though I know they don't watch the way I do. They shrug off his message due to a diagnosis that never seems to dissipate.

Dizzy eyed, more enter in - some early mornings, before the dawn, gazing around these open spaces, wondering where it all went wrong. One girl in particular wanders in, fully dressed in blue scrubs, eyes squinted as she takes a deep breath in and sighs as she sees there's no escape. Her options now limited, she makes her way to the bedroom she'll now call home for the next seven days and share with a woman who has known more sadness than she, and sadness she too seems to know. I watch them wander through my halls, back and forth, anxiety ridden they sink into their new routines.

Six-thirty "WAKE UP!" when the new shift begins, the techs banging at the doors I hold. It's time for vitals and hygiene, where they march sluggishly towards the heavy chairs built to stay sturdy against the floor, though I've watched some muster enough strength to whip across the room. Bookshelves and tables now bolted to the floor, I see the sorrow in their eyes as they line up for their hygiene baskets, so that they may wash off the shame and sweat from their bodies' reactions to the new medications.

Some spent the night tossing and turning, others stone cold and still from being heavily sedated, while others frantically roamed the halls whispering to me for a better tomorrow. These night owls seem to suffer the most, as the nurses grow impatient and demand they return to their temporary beds, sterile and covered with matching white hospital cloth that offer no warmth to the touch.

"Go back to bed!" the techs shout, annoyed at their presence, but awake and worried they scurry to the water machine, wishing it would turn to wine as the detox chews away at their bodies, hands shaking gripping at the cup that only fills their stomach and offers no soothing gesture to a mind unbound by racing thoughts.

How could they be so cruel to these souls who have surely known no love or felt no nurturing? I wish I could metamorphosis into the flesh and reach out for just a moment to offer an ounce of solitude within their lives. Oh, how I wish I could grant them the wishes they beg for in their stifled sleep.

I have watched sodden souls dig fingernails deep within their own flesh in hopes of tearing off the burden that is their body; praying the exposured veins grant them peace only to be bandaged in peril.

Oh, I have known such heartache, such sadness and dismay. I have wept year after year as these souls outcaste by society pass by my solid frame. Yet, I have been bestowed with an even greater lesson. That of pure strength and connection. To watch wearied hearts come together and extend themselves with open arms, to better understand each other and realize they are not so different after all. That is true humanity. I am honored to watch them grow.
About the Creator
I am the moss silken on watered stones, rooted deep in rich soil. Earthen creature, I am the night sky -starry and strayed from the forgotten path of poets - I am, the chatter from the iron rails rattling as the train carries itself home.
Reader insights
Outstanding
Excellent work. Looking forward to reading more!
Top insights
Easy to read and follow

Well-structured & engaging content

Excellent storytelling

Original narrative & well developed characters

Eye opening

Niche topic & fresh perspectives
Add your insights