A Late-Bloomer's Coming of Age
The fork that took me to San Francisco
The author in San Franciso
"Never did the world make a queen of a girl who hides in houses and dreams without traveling." ― Roman Payne
Coming of age. Growing up. Reaching adulthood. It happens at different ages, depending on the culture. As a perpetual late-bloomer, it truly didn't happen for me until my early twenties. Even though I'd lived on my own intermittingly from the age of 18, there was always the safety net of being near my hometown. I knew people and could ask for help if the need arose.
If you read my last piece, Elevator Friends, you already know about the time of my life where I changed from job to job with almost the same regularity as changing my bed sheets. It was the early nineties, and I was enjoying my newfound freedom and having a lot of fun in doing so. But, of course, I had lots of dreams – many of them involving travel. I would drive down the road and imagine just continuing and discovering new places. To be honest, wanderlust lingers, but there is a dichotomy – while everything inside me aches to "take the road less traveled," something pulls me to stay on the beaten track. Baseball player Yogi Berra has been credited to coining the phrase, "When life makes a fork in the road, take it." However, for me, the perfect opportunity must present itself for me to take a risky leap.
And, little did I know, that first chance to get out of my comfort zone came in the form of a man named Bob.
When I met Bob I was residing in a former bed and breakfast that my mother and soon to be ex-stepfather still owned. With neither of them living in the house, I was able to stay there for a time. To earn extra money, they rented out two of the other rooms to restaurant managers at the casino my stepfather worked in. Since we were all in our twenties and sharing the common areas, the three of us spent a lot of time together. With his intelligence and contagious laugh, I developed feelings for Bob right away. He also had an openness about him that broke down the walls that I tended to surround myself with. Great conversations – usually with him cooking some of the best food I've ever tasted – were had as we were serenaded by the likes of Yaz and Joan Armatrading from his record player (already vintage in the early nineties). I remember one night as I was sitting on the porch swing with my on-again-off-again boyfriend, Bob came home from work. My guy at the time started to get up to shake Bob's hand when I introduced them, but Bob said, "If I were sitting where you are, I wouldn't get up." Soon after, we started dating.
Months later, Bob received word that he was accepted into the San Francisco Art Institute – his lifelong dream to become an artist was about to begin. Two emotions – sadness and envy – battled inside me. Of course, I was sad that he was going to leave, but I was also jealous that he would be beginning his dream in a brand new place, all the way across the country to be exact. Before he left, we spoke about our relationship and promised to stay in touch. As he didn't even know where he was going to live or how he was going to make money, we knew that I couldn't join him from the start.
Later, after he was more settled, we discussed living together in San Francisco. We missed each other, and to be honest, I wanted the adventure as well. So we decided to be roomies.
My family wasn't as excited about the move.
My sister, still a teenager, supported me but was extremely sad. She cut out a bunch of pictures of herself and our dog and cats. Then she arranged them into a plastic photo sleeve and put them into my wallet. I do often wonder if we'd have remained closer if I hadn't left.
My father, in the early years of a new marriage, tried to talk me out of it. In fact, he told me that it was a mistake. If I went, he said, I'd probably end up alone, pregnant, and without a college degree. That comment sparked me to achieve my associate's degree from the City College of San Francisco. Not only did it take me an hour on various forms of public transportation to get to school, it was all paid for by me, myself, and I. In fact, I never stopped until finishing my doctorate coursework. Never tell me I can't do something because I will. Come to think of it, maybe that was my father's plan?
Even though my mother lived in a different state and was in a new relationship, she was also disappointed. Tactics to change my mind included guilt and appeals to my pride. Her reasoning was that she didn't want me to "run off after some guy." Looking back, I can see her point, since it was mostly Bob's dream that caused the move.
But do I regret it?
Absolutely not.
It was exactly what I needed – motivation to take the fork in the road.
The two years that I spent in San Francisco contained fantastic moments, horrible moments, and everything in between. Oh, but what I discovered!
Was it a grand love story? No. I mean, he left his Atlantic City job to become a starving artist. With being a full-time student and working a café job, I was mostly alone to figure out my own path.
But the best thing that happened was that it was the perfect opportunity for me see what I was made of. In addition, it allowed me to see more of the world than my little corner of the South Jersey shore. The diverseness of San Francisco mesmerized me.
The day after I arrived at our North Beach apartment, I walked down to the corner and got the first job I could get – at a Chinese laundry. The owners showed me how to work the washers and dryers and the method of folding and tying up the neat, pale-blue packages of laundry for the customers. The family that owned the business sometimes offered me new foods to try, such as pot stickers and dim sum. Inside the laundry, a Middle Eastern man ran a little food and coffee counter, so I applied and got a second job. In addition to learning about how to make cappuccinos and lattes – well before Starbucks was a thing - I learned about Ramadan and new foods like falafel and hummus.
Later I got a better job that I kept for the balance of the two years I lived in the city. It was at a high-end men's clothing store in Fisherman's Wharf. Here my manager Gigi was direct from Paris, France. She was about thirty-five years my senior, but I learned so much about the world from her. The other part-time woman I worked with at nights was Elaine from Australia, so I learned all about that mysterious continent as well.
The North Beach neighborhood was next door to China Town, so I went through it almost every day on the way to college or just to explore. Stepping foot into that area was sometimes as disorienting as going through a portal directly into Asia. And Japan Town, although much smaller, was also very impressive.
Bob and I had many memorable times together as well that added to my coming-of-age experience. We took trips into the Redwood Forest and Sausalito, or we simply went for a hike.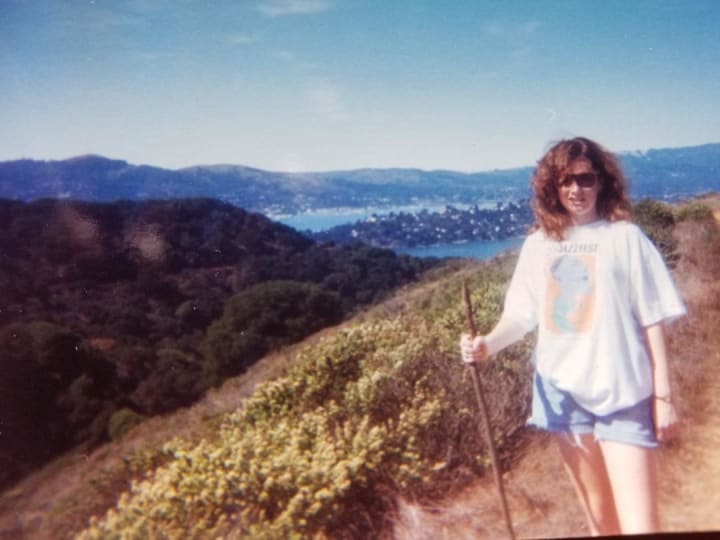 Once, for my birthday, we rented a car and drove down the famous Route 1 all the way to Los Angeles to visit my uncle. We visited Venice Beach and even bought a Hollywood House map to try to find celebrity homes. Then, on the way back, we spent a night at an inn in Monterey where we sat on the beach in the dark and saw more stars than I ever thought possible. Of course, we spent most of our outings together in the city, visiting Alcatraz or Haight-Ashbury – where we once caught a pop-up concert by the Four Non Blondes. Going to a New Year's Eve film festival at the Palace of Fine Arts was another stand-out moment.
Even though our relationship didn't work out, we remained friends and talked once in a while through social media. He later graduated and became an art instructor in the university. Two weeks ago I learned about his unexpected death at only fifty-seven years old. It makes me sad that his open, loving spirit and friendly smile will not brighten the world any longer.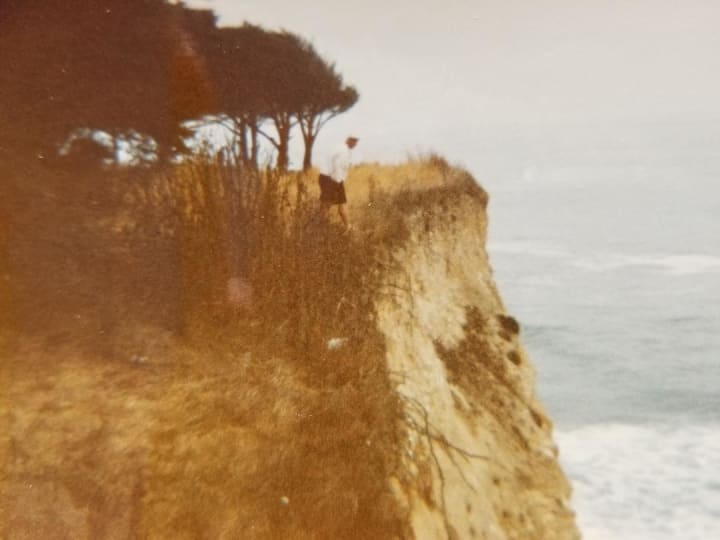 Bob, thank you for making that fork in the road and urging me to take it. I became a better, more-rounded person, in part, thanks to you.
If I had decided not to take that fork into California, my life would have been much smaller.
"Travel makes one modest. You see what a tiny place you occupy in the world." -Gustav Flaubert
And even though it's still a challenge for me to take risks, I look for diverging roads and ask for the strength to take them while I can.
"Adventure may hurt you but monotony will kill you."
Humanity
Animal advocate and bibliophile.
Receive stories by Jennifer Christiansen in

your feed