Manchester United Are Found Out
United Get Knocked Out of the Champions League by 5th Place Sevilla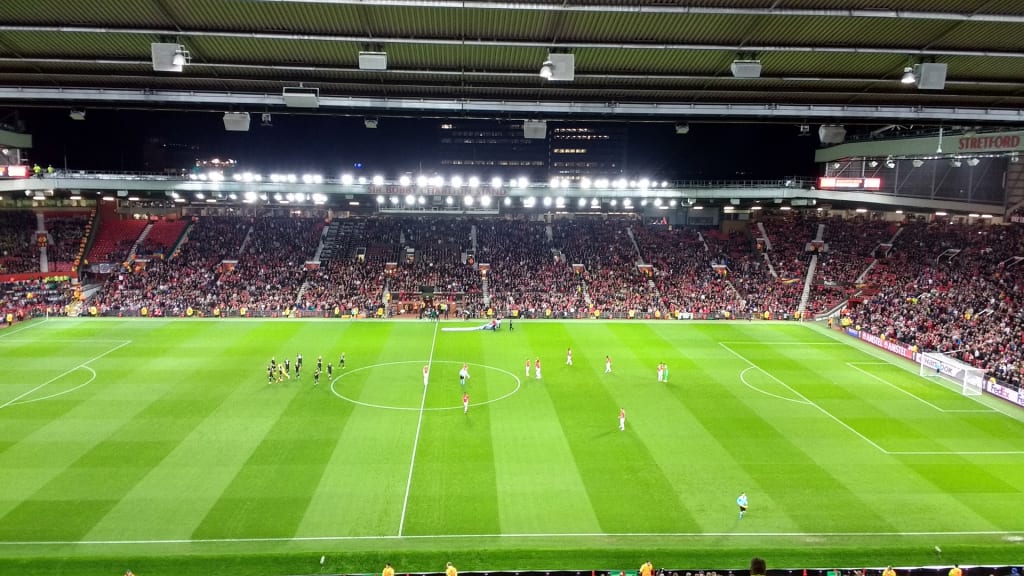 After two weeks of beating top four rivals and last minute comebacks, Manchester United were brought back down to Earth against Sevilla. They were dumped out of the Champions League (after probably the worst performance of the season) by a team that is over ten points behind the Champions League places in La La Liga.
In every single game this season, Man Utd have been dire. No seriously, they have been the most painful team to watch in the Premier League at times. There have been patches of good play. There have been wonder goals, good team goals, and some individual performances that have carried the rest of the team at times, but overall, the football is dire. This game pointed out the multitude of flaws in this Manchester United team whose cracks have been papered over by recent results:
1) The Fullbacks:
This illusion that Manchester United have good fullbacks is exactly that. At the moment, their first choice fullbacks are Ashley Young and Antonio Valencia, and to be perfectly honest, they are just not good enough. Valencia has been solid in defence at times, but for a modern day fullback, he doesn't cut it. He makes a lot of mistakes. His passing is average and his end product is mostly poor. Although he has scored a couple of very good goals this season, most of the time his crosses do not beat the first man, he doesn't take on fullbacks anymore, and his overlapping is minimal. Even as a defender, his positioning can be incredibly poor and because of this, he gives away needless fouls. Ashley Young is exactly the same. He has one good game against Mo Salah and people have it in their heads that he is an unsung hero. He isn't. He is, again, guilty of wastefulness. He has lost his ability to take on any player and get good crosses into the box, and he is no better than Luke Shaw. The only difference between the two is their age and the fact that Luke Shaw hasn't been given a chance and Young has.
2) The Centre Backs
This issue has been around since Vidic and Ferdinand left. Why Chris Smalling is allowed to play every game is beyond everyone. He makes too many mistakes, he is weak positionally, and his distribution is awful. One of the things about being a defender is not just the ability to defend, it is the ability to control the ball and distribute it to start an attack. Even when the Manchester United defenders attempt to hoof it to Fellaini and Lukaku, they don't even get that right. Phil Jones is the same. He is a better defender than Smalling so he gets some points for that, but overall, both players are just not good enough. It's sad, really. When they first went to United, they had bright futures.
It's a shame that Victor Lindelof hasn't found his feet yet. He can be a good football player but he hasn't adapted to the Premier League. He is a much better ball player than Jones and Smalling, but he has made a few mistakes since making the move to Manchester and his confidence must be low at the moment. Mourinho has to hope that by next season he is more settled and shows what he is capable of.
The plus point is that Eric Bailly is a very good defender. He is quick, he puts his body on the line and he is powerful. He has been missed at the back at times, and it is unfortunate that he is out so much with injuries because he is the first choice centre-back at United for sure. He does have a tendency to make rash decisions but he is young and he will mature with time.
Whether Mourinho buys a new centre-back or teaches the current ones some new tricks, doesn't matter. Something needs to give because it has gone on for too long. Even when one has a good run in the team and looks to be improving, they somehow find a way to get themselves injured which ruins all momentum.
3) The Midfield
Whichever formation Mourinho uses, the midfield always looks like there is one less man then there should be. Matic has gotten some stick for being slow or looking tired but there are moments where he is doing the work of two on his own. There are times this season where he has been a colossus with breaking up play, making very good interceptions and dominating the midfield. There are other times where he has been off the pace and given the ball away needlessly (which seems to be the theme of the team in general).
Scott McTominay has been a huge positive and has helped out Matic a lot. He is good on the ball, a good passer and barely loses it. He has had a couple of not so great performances, but it is to be expected at his age. He is on track to be an important player right now and hopefully he keeps it up.
Pogba is a problem. His wastefulness, habit of running into traffic, not defending, and overall attitude are poor. He has had flashes of brilliance, but not consistently and it's becoming a worry. People know what he is capable of. He has fantastic dribbling and passing ability. He is a powerful player but it feels as though he is trying too hard to do everything. Sometimes playing it simply is the best option and he needs to learn that. It isn't all his fault though. He is being stifled by a manager that won't allow him to express himself on the pitch. He is having to play 30 yards further back than where he is most effective and that is never a good thing.
4) The Forwards
Romelu Lukaku has been very good in Manchester United's last few games. He has gotten stick previously (and rightly so) for his lack of link-up play, his poor touch, poor finishing and overall poor gameplay, but he has shown in recent weeks that he is willing to work on these things and has scored some good goals to go with it. His hold up and link-up play have been improving and he has put in some good performances in big games. 24 goals so far this season in a team that does not create too many chances can only be good for United.
However, there is an issue around Lukaku that just doesn't seem to be going away. Whether it is Rashford's dip in form, Martial's dip in form, Mkhitaryan's inconsistency or Alexis Sanchez's currently awful displays, there is something always missing in attack. One minute Rashford is having the game of his life against Liverpool, the next he is completely ineffective against Sevilla. Sanchez has been shocking since he arrived. His ability to give the ball away is higher than anyone else at the top level and it has been painful to watch.
On the positive side, Lingard was brilliant during the winter period. He makes very good runs, scored some important goals and has put in very good performances. Is he going to be a world class player? Probably not, but you cannot doubt that he has had a big impact in some important games. His inconsistency throughout the season can be frustrating, but it is a problem throughout the whole team (bar De Gea), which needs to be addressed.
5) The System
The way Manchester United play football is poor. While it is Mourinho making the decisions in terms of personnel and formations, he didn't tell those players to be so wasteful and make so many mistakes against Sevilla. However, you have to wonder if the tactics from Mourinho contributed to the performance.
The main issue with every single system that has been used, regardless of formation and personnel, is the lack of fluidity. There is no movement and on the off chance that there is movement, the players on the ball do not have the vision or ability to attempt or execute a pass in that direction. United are slow on the ball. They pass backwards way too much. The worst part about the passing back is that it ends up being pointless. One player will burst forward with the ball, stop, pass back. Then it ends up at a centre back like Smalling or Jones who have no passing ability whatsoever, so they hoof it up towards Lukaku, only it is impossible for Lukaku to get on the end of it because the ball is nowhere near him. Lukaku is isolated, wide players are frustrated, and the fans are tense.
United have had a problem with the number ten role for some time. If Jose wants to keep playing this 4231 formation with a style that requires two players to sit in front of the defence, he needs to make sure that the three behind the striker and the striker himself is good enough to get goals and create opportunities, otherwise what is the point? There is a massive gap between defence and attack and it feels as though there is no link between them. United have a lack of balance in midfield and when you think about the fact that Pogbas best games have been on the left side of a three man midfield, it makes you wonder why Jose doesn't allow a bit more freedom for his players to play their game and not be hindered by negative tactics.
United are better equipped than a lot of the other top teams (bar City) to play expansive football if they are allowed to without worrying too much about conceding too many goals. Having your best back four with Matic in front of them is pretty solid defensively. At this point, it is about having a system that lets players go forward freely, allowing the players to play a more expansive style of football. There is nothing wrong with defending well, being able to get stuck in and counterattacking for a little while, but there needs to be more. The team should be allowed to act and not constantly react to the opposition. They have no identity. No style of play. They behave like a bunch of individuals put together at the last minute at times. Everyone knows what to expect from Manchester City, Liverpool, Tottenham and even Arsenal. At United, no one knows what is going on with the performances. United split opinion every game. What is a tactical masterclass to some people, is a stroke of luck to others.
6) The Manager
There are so many fans of Mourinho and at times he's shown genius tendencies, but the game against Sevilla shows the world exactly how stubborn he can be with this ridiculous and rigid 4231 formation. For starters, to play two holding midfielders in a home game against a poor Sevilla side is sickening. It was uncalled for and the worst part is that he played a player in that two that offers absolutely nothing to the team: Fellaini. This is a six foot four player who cannot beat a fullback in the air. His passing ability is poor, he doesn't beat players, he is slow on the ball, his vision is tunnel vision and he has this thing about giving away stupid fouls and grabbing shirts that's just annoying to watch. To start him and drop Pogba and McTominay made zero sense.
The issues with the system are all on the manager. It is as simple as that. Every single one of those attacking players has the ability to play well and all attacking players want to play expansive, attacking football. Attacking football tends to mean more goals and more goals mean more wins. As was said before, there is nothing wrong with being solid at the back but there is no need to be so defensive that you have a back six at times. How can players get out of their half if they are constantly told to defend so deeply? It's hard work to counter-attack as if you have ten men every game. It's bad enough surrendering possession to title and top four rivals, but to do it against teams that should be beaten is unacceptable. The odd shock result is fine. It happens to the best of teams. But it happens in every game for United. It is a rarity for people to say "Manchester United played great football and thoroughly deserved the win". Even in the 4-0 wins at the beginning of the season, there were times where United didn't look great.
We all know that Mourinho is a great manager. His trophy cabinet says it all but there is something about this United team that he does not trust, which would explain his caution in all games. Whether he needs yet another transfer window to right some wrongs is another story but right now, as far as the Champions League goes, he got it wrong and has to take some responsibility for it. They all do. The players were shocking and the tactics were non-existent. The only people you feel sorry for are the fans and it is a shame really.
Some Positives...
Young Talent Coming Through
Manchester United have some very good, young players in their Academy. From Joel Perreira, RoShaun Williams, and Axel Tuanzebe to Angel Gomes and Tahith Chong, there is a lot of talent in there that deserve chances to shine. Scott McTominay has been a huge positive. His Carrick-esque style of play has been impressive with high pass rate percentages and a calming influence in midfield. He can only get better with more game time and looks to be an important player for Mourinho in the future.
The Best Goal-Keeper in the World
There is nothing more positive in this team than having David De Gea as your goalkeeper. This guy is the best in the world for sure and has saved Man United on so many occasions that he should be getting a bonus for every five saves he makes because he makes that many. He does love the club and you can tell he has huge respect for the fans, but there will come a time where he will get fed up with not being a Champions League winner. Like Buffon, De Gea deserves one of those medals eventually and it would be a shame to for him not to win the Champions League one day.
Changes Can Be Made
Manchester United do have the resources to improve the team. Whether spending even more money is a good thing is down to personal opinion but they do need reinforcements. They need a quality midfielder, two fullbacks and maybe even a centre back considering the fact that no one has established a partnership with Bailly yet. The signings need to be right.
The Fans
At the end of the day, it is the fans that hurt the most. It is normal for your team to go through dark patches after having 20 years of success, but to see how far United have gone downhill at times is sad. While at home, the atmosphere is mostly tense and very quiet, the away fans have been phenomenal. They are loud regardless of how well or poor United are playing, regardless of the scoreline, and they are singing to the end.
At the end of the day...
For too long, there have been too many things missing in this team. Players need to step up and be counted on to make the difference in all games. not just the big ones. Every team needs to be respected and the players and Manager need to realise that they are a part of one of the biggest teams in the world. They are not doing anyone proud right now and it needs to change.
While Mourinho has been more successful than Moyes and Van Gaal, there is no doubting that the days of high flying wingers and good football is a long way away for this Manchester United team.
About the Creator
Law Student that loves football, gaming and reading.
Favourite Team: Manchester United
Favourite Games: Monster Hunter 4 Ultimate, Zelda: Ocarina of Time, Dragon Age: Origins
Favourite Books: The Kite Runner, Stormlight Archives: Oathbringer
Reader insights
Be the first to share your insights about this piece.
Add your insights