"It's not about football — you simply have to be a good person" The idol of idols — Enzo Francescoli
The story of a South American legend that inspired some of the greatest names in the football history.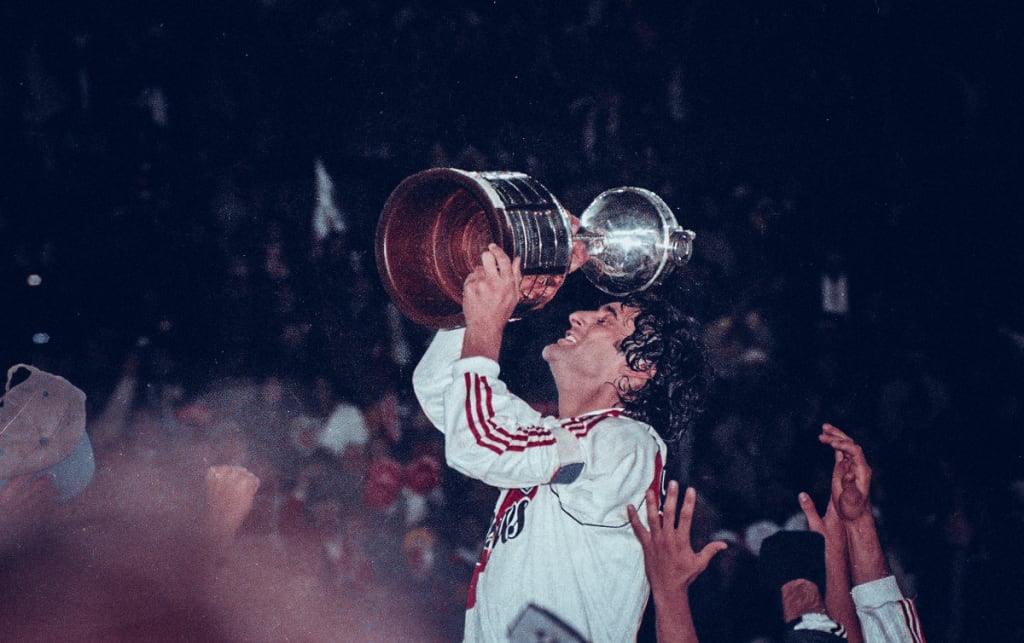 Enzo Francescoli holding the Copa Libertadores trophy in 1996.
His fame and legacy might be relatively unknown to the general audience. Enzo Francescoli never played for any of the European top sides, but the picture was completely opposite in South America. He was an undisputable leader of Uruguay, winning three Copa America titles and a star of the Argentine club River Plate. In Europe, his name was rather a part of local French and Italian football folklore. Nevertheless, he still had a major impact on some of the greatest names in football history.
Francescoli was nicknamed The Prince due to his light and elegant manner of game. If he would be a royal person, he probably could unite the world. He was the man of his people. Uruguayan truly played with ease, often changing the course of the game effortlessly. However, his nickname was not suitable in terms of his character. Royal figures are often capricious and controversial. Francescoli was the opposite. He turned into one of those players that are loved and respected everywhere. Even the most fierce rivals had no negative feelings towards him. He always remained a humble person.
"I hope that after the end of my professional career the people gonna say: "He was a great player but even a greater person!" I hope that Beto Alonso would proudly remember: "I played with Francescoli, what a great guy he was!" I hope to have great mutual respect with everyone I crossed the roads on the football pitch. At the end of the day, it is not always all about football — you simply have to be a good person," said Francescoli in one of his interviews.
Towards the end of the 1980's, Francescoli was the sole reason why the French club Racing Paris was holding up in the Ligue 1. Several times, the Uruguayan had offers from the Italian side Juventus, who looked for a potential successor of their leader Michel Platini. Francescoli refused, and when Racing went into bankruptcy, he moved to Marseille.
Marseille was the hometown of the young footballer named Zinedine Zidane, who was in love with the playing style Francescoli had. Whenever he had free time, Zidane went to the ground Marseille players trained and closely watched every move his idol made. Later he imitated Francescoli's movement, dribbling, and even his gestures.
"I tried to imitate everything he did. I was captivated by Francescoli's dribbling and movement. Enzo was a God. He inspired me. I did everything to become like Enzo," said Zidane, who named one of his sons in honor of his Uruguayan idol.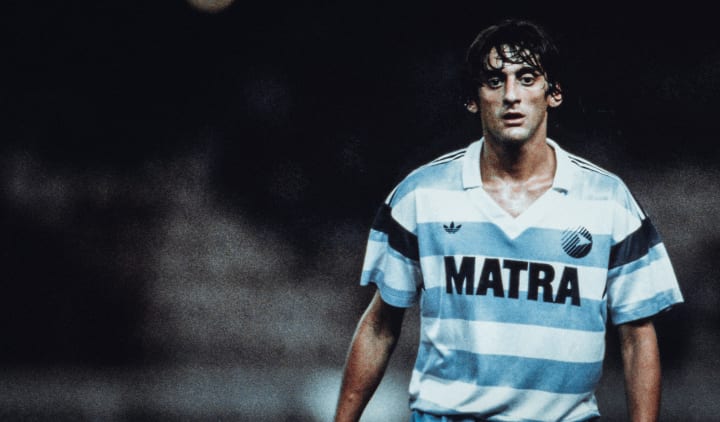 In later years, it became obvious that Zidane embodied many great qualities of his idol. Smooth dribbling, elegant, and light moves without the ball. Calm, cold look and manners. Of course, the Frenchman had a hot temper, and sometimes he lost his cool but once that even happened with great Francescoli himself. He saw a red card in the final of Copa America in 1987 against Chile. Same as Zidane did with Materazzi almost 20 years later, Francescoli headbutted Fernando Astengo early in the game and was sent off. That game saw four red cards, but luckily for Francescoli, Uruguay still managed to pull out a 1–0 win late in the game.
What made Francescoli so unique?
The Uruguayan was one of those players that were ahead of their time. During his days in Argentina, Francescoli was more keep on attack rather than playmaking and distributing the ball to his strikers. Numbers confirm that — he won 3 Argentine Primera Division top scorer titles with River Plate.
Everything changed after the River Plate manager Hector Veira asked Francescoli to employ a new, more deep role on the pitch. On the contrary to most of the playmakers of that era, Francescoli was a very universal one. The typical playmaker of the 80's was less enthusiastic about movement without a ball. Francescoli understood that the game is changing and employed various roles on the pitch. He successfully managed to control the game from the deep, changing the tempo, as well as going forward and taking the main goalscorer's role. Uruguayan wasn't the strongest player in terms of his physical abilities since he lacked pace. However, his high footballing intellect and great vision compensated for that. Francescoli's creative and fluid manner helped him to conquer the hearts of the fans of all teams he played for. He was a fan favorite in every country he played.
Aside from his great skillset, Francescoli was a leader in every team he played. He often took a lion's share of the responsibilities on and off the pitch. A great example of that was his return to River Plate at the late stage of his career. Many of the key players left the Argentine club in 1994, and they had a relatively young squad. The only battle-hardened veteran was Francescoli. He became a kind of player coach for the future stars, like Hernan Crespo, Ariel Ortega, and Marcelo Gallardo. During his second stint with River Plate, The Prince led his team to four Argentine Primera Division titles, and most importantly — in 1996, Francescoli finally won his first and only Copa Libertadores title.
Francescoli retired in 1998, and after the end of his career, he successfully converted himself into a media person. His legacy lives on. Zidane is a great example in all terms. He took the best out of his idol's skill set and became a legend himself. And add the fact that there are several professional footballers, named Enzo. What better sign of respect you could ask. Sure, in Europe, people might know him only from retro stories or some YouTube highlights, but for River Plate and Uruguay fans — Francescoli remains an icon. But that probably does not bother him too much. His quote is pretty meaningful. "You simply have to be a good person". Enzo Francescoli has lived up to these words.
Follow me on Twitter if you enjoyed the story!