Fergie
The Greatest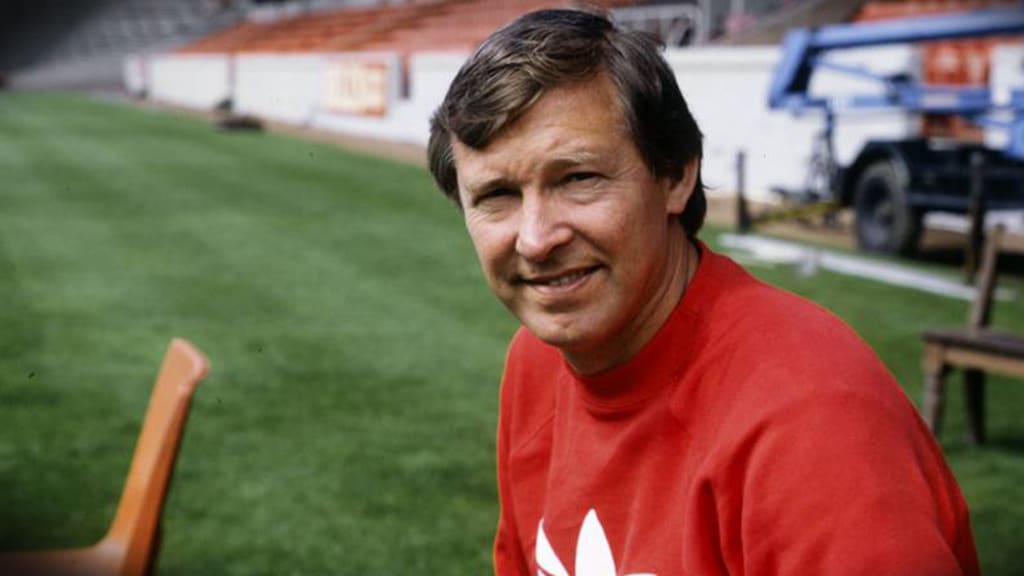 On the night of 26th May 1999, I was in a pub in London watching football. None of which should come as a surprise to anyone who knows me.
The game was the Champion's League Final, European football's showpiece event. It's a grueling tournament, but - despite UEFA's continual tampering with it - the fact is, the final itself is ordinarily contested between two best club sides on the Continent. Ordinarily that is - some years there are quirks. For example, I'm a Chelsea fan, and am still overjoyed we've lifted the trophy, but - honestly - even with my most partisan head on, no-one can tell me that we didn't do so with a huge slice of luck.
However, in 1999, there was no doubting the pedigree of the two sides involved; Bayern Munich and Manchester United. Two of Europe's genuine heavyweights.
And the final didn't disappoint.
Both sides were without key players, though you can easily argue that the loss of Scholes and Keane for United was far more profound than the absence of Lizarazu and Élber for Bayern. And when Munich took the lead in the sixth minute, those misgivings were proving founded.
The football that followed was good, if unspectacular. Although there was plenty of quality in the teams, it was also a highly-pressurized final, coming on the back of a demanding season where both sides had expended vast reservoirs of energy to be crowned champions in their respective countries. Quite frankly, I'm amazed any of them still had the capacity to even run.
Both sides had chances, but Bayern were probably the better side, but not by much. They should have wrapped up the game in the last ten minutes when Jancker's overhead kick rebounded off Schmeichel's crossbar. But they didn't.
And what happened next was just magical.
Well, not if you're a Munich fan.
Remember, United were losing. Actually, given that ninety minutes had now been played, and the game was now into injury time, United had practically lost.
But...
United had won a corner. As ever, Beckham delivered the dead-ball. It was a good corner; not one of Goldenballs' best, but decent. After a bit of ricocheting around the penalty box, the ball fell to Giggs. Could he...? No, his shot was scuffed, and wasn't going to trouble Kahn in the Bayern goal. Except, it never got to Kahn, because the ball fell straight to the substitute Teddy Sheringham, who whipped out his right foot, and diverted the ball into the Munich net.
The pub went crazy.
Having been behind for the majority of the match, United had equalized in injury time. Right - after that late moment of chaos, we could all take a little break, and then settle in for extra time...
Hang on...
Normal time was still being played.
And United had just won another corner. Could they...? No, don't be silly.
Once more, Beckham swung the cross in. It was better than his last, and landed straight on the head of Sheringham. However, Teddy couldn't be a hero for a second time; he couldn't generate sufficient power in his header, and the ball sailed across the six yard box. Towards the other substitute, Solskjær, who hopefully poked out his foot...
The ball nestled into the roof of the Bayern goal.
Two goals in injury time. Both scored by the substitutes. Football defies logic sometimes, but that night in the Nou Camp had taken fantasy to new levels.
Manchester United were Champions of Europe, and had completed an impressive treble. And the final part had been completed without their talisman, Keane, and chief midfield creator, Scholes.
And behind it all? Unarguably the greatest football manager of all time, Sir Alex Ferguson.
Being a Chelsea fan, it was hard to like Ferguson. For a start, although we had quite a good record against United, it didn't seem to matter in the ultimate reckoning; until we were bought by a Russian billionaire, they won far more trophies than we did. It was easy to admire him - his teams were a mixture of silk and steel, and played to both win and entertain. But, like him? No. I didn't.
However, that all changed that night in May 1999.
Now, you need to remember that he was without two of the finest midfielders in Europe. That meant a major tactical change; he moved Beckham from his normal position out wide into the middle, to try and negate the loss of Scholes. Beckham's later celebrity means we forget just how good a player he was, but - as exceptional as he was - he was still effectively playing out of position in a high-stakes cup final against a vastly experienced team. But the gamble worked. Beckham did the job Ferguson asked him to, and then some. As I said, Beckham was a good player, but that all qualifies as a managerial masterstroke.
Then, Ferguson brought on the two players who would score the injury-time winning goals. Yes - there's probably a huge element of luck in that, and (yes) both were center forwards; if was anyone was most likely to score, it would have been those two players. But coaches live and die by their decisions: Ferguson undoubtedly called those correct.
However, in the interviews after the game, do you know what Ferguson did? He praised the players.
He brushed off any praise for the changes he made either before or during the game. The impression he gave was of someone who'd done nothing. It was all about the players; their spirit, their hunger, their unwillingness to give in. If I'd been Ferguson I would've been crowing about the Beckham-switch, and my inspired substitutions. He did neither. He just made it all about the players.
And that night I actually began to like him.
On the surface of it, Ferguson's life-story isn't outlandish - if you were making a film about his life, you'd probably focus on his time on Old Trafford; those years had plenty of drama.
He was born in Govan, Glasgow in 1941. That part of Scotland used to be renown for it's shipbuilding, an industry his father worked in. It's a distinctly working-class area, and undoubtedly played a huge part in forming Ferguson's left-wing political views. He had a decent enough playing career, finishing as top scorer, whilst at Dunfermline Athletic in the 1965–66 season. Near the end of his playing days, he began to also coach, before taking his first full-time job with East Stirlingshire.
However, his reputation was established at Aberdeen. Three Scottish league championships, four Scottish Cups and the UEFA Cup Winners' Cup; not too shabby.
But when he went to Manchester in 1986, things got very exciting.
During his 26 years with the club, his won thirty-eight (38) trophies.
I'll repeat that: 38 trophies.
Including, 13 Premier League titles; 5 FA Cups; 2 UEFA Champions League titles.
That's a story in itself.
However, there's also the very interesting fact that he actually came close to losing his job after a uninspiring start - luckily, the owners then had more patience than their modern counterparts: They stuck with him, and, in return, he gave them a dynasty.
Then there's Eric Cantona's kung-fu kick. The mercurial Frenchman was not only, arguably, the Scot's greatest signing, he was also - easily - the most entertaining, and when he attacked an abusive fan, the media went wild. As they did when King Eric started yattering about sardines and trawlers when hauled in front of the media to account for his misdemeanor. And as they did again when, after a ban, Cantona returned to playing, and proved - if anything - he was better than ever. There's a film there, and I'd be the first to watch it.
Then there's the 'Class of '92', a collection of young players who graduated from the academy to the first team, and set the Premiership ablaze. Turns out that you can a lot - a lot - with kids. Ferguson did.
There's the psychological warfare Ferguson engaged in with Keegan, Houlier, and Wenger. The first two were vanquished with ease; Wenger gave as good as he got, but you always got the impression the Arsenal boss was bit more rattled than he ever let on. Ferguson just seem amused.
Then there's the team-talk in which an irate Ferguson launched a boot at the beautiful face of David Beckham. Not for the first time during Ferguson's reign, events at Old Trafford made the front-page.
There's the fact that, during his tenure, Manchester United became more than a football club; they became a multi-national, globe-spanning brand. Yes, the marketing men were good, but let's not forget thet Ferguson gave them a very attractive product to market.
Then there's Fergie time, the hair-dryer, and disastrous signing of Massimo Taibi (Fergie didn't get a lot wrong, but when he did...)
There's lots and lots and lots.
However, one of the problems with all that other 'stuff' is that it blinds you to just how exceptional he was at his job. Simply put, he was a great coach. Because, as I've already alluded to, his teams didn't just win; they did so with panache. Most coaches favor substance over style; Ferguson never hid from the fact that football is also a form of entertainment - he never just wanted to give the fans three points, he wanted to make sure the football put a smile on their faces as well.
Even as a Chelsea fan, I've got to admit that the various sides he built did just that. They weren't adverse to having to grind out a result, and didn't shy away from the more physical side of the game (I'm looking at you, Roy Keane), but the preference was for a fast, attractive style of play. They were more than capable of bullying you, but they could also outplay you.
And the amount of silverware they won proves they did just that.
Since his retirement, the fondness that was born on that night in May 1999 has grown. I'm not a supporter of Manchester United, but I do have a fondness for what he achieved whilst at the club. I don't think any genuine football can't (well, unless you support Liverpool).
However, a short time ago, I watched a documentary about him. And I liked him even more. Because, indirectly, I was made to recall him following that momentous night in Spain.
One of Ferguson's' many inspired moves, was bringing the young Ronaldo to Old Trafford. The two had a close bond, and the player has never hidden the influence his former manager had on his own (stellar) career. In the programme, Ronaldo told the story of signing for United. Unsurprisingly, he eulogized about Ferguson. But, when he retold tale of the day he signed, he didn't talk how he was won over by his bosses, undoubted, tactical nous; he talked about the picture Ferguson had hanging in his office.
It was 'Lunch Atop a Skyscraper' - you probably know it; taken during the Depression, it shows a series of workman sitting on a girder, without safety equipment, high above Manhattan. It's an exceptional photograph; like Beckham, the image's fame blinds you to it brilliance.
And why does it matter to Ferguson?
"What is the greatest thing a team can do? They can sacrifice their life for each other and sometimes when one falls two can save him. That is what you call sacrifice."
Compare that to another quote from Ferguson;
"The work of a team should always embrace a great player but the great player must always work... If you've got the two qualities, work ethic and great talent, you are one of the best players in the world."
I'm fairly certain that Ronaldo was not the first, nor the last, player to leave the manager's office clearly knowing what his new boss expected.
Ferguson was smart; tactically, few read the game better. But, if you work your way through his interviews, take away the sniping at referees, and the same ideas emerge again, and again. Hard work; sacrifice; teamwork. He may have been autocratic in how he ruled over Old Trafford, but his players were obligated to buy into the concept of teamwork. Fully.
That's why he was so effusive about them that night in May 1999. They'd had to adjust to the loss of two of their best players; everyone who played that night had to work harder to compensate for the loss of Scholes and Keane. And they'd never stopped fighting for each; two goals in injury time is testament to that.
He was right to praise them. But, I can't help thinking that the qualities that won them that match (and many others) came from the manager himself.
Teamwork.
We'll never see another Sir Alex Ferguson. Modern club owners aren't as forgiving, and the best coaches don't overstay their welcome nowadays. However, his example, and the principles he adhered to, will live on as long as his achievements do.
I'll always like him.
And, as a Chelsea fan, I'm not sure there's any higher praise than that.
----------------------------------------------------------------------------------------
If you've liked what you've read, please check out the rest of work my on Vocal. Among other things, I write about film, theatre, and mental health: The story of my admission to a psychiatric ward, and my attempts to rebuild my life following my discharge, starts with 'Flow: The Psychiatric Ward', and continues with 'Wonderland: The Power of Routine', 'What Do We Need?', 'The Magic of Gratitude', 'and 'How to Deal with Relapse.'
You can also find me on Elephant Journal and The Mighty.
If you've really liked what you've read, please share with your friends on social media.
If you've really, really liked what you've read, a small tip would be greatly appreciated.
Thank you!