Do Match Officials and Referees Deserve Better Treatment?
A story of Darren Drysdale, and Mike Dean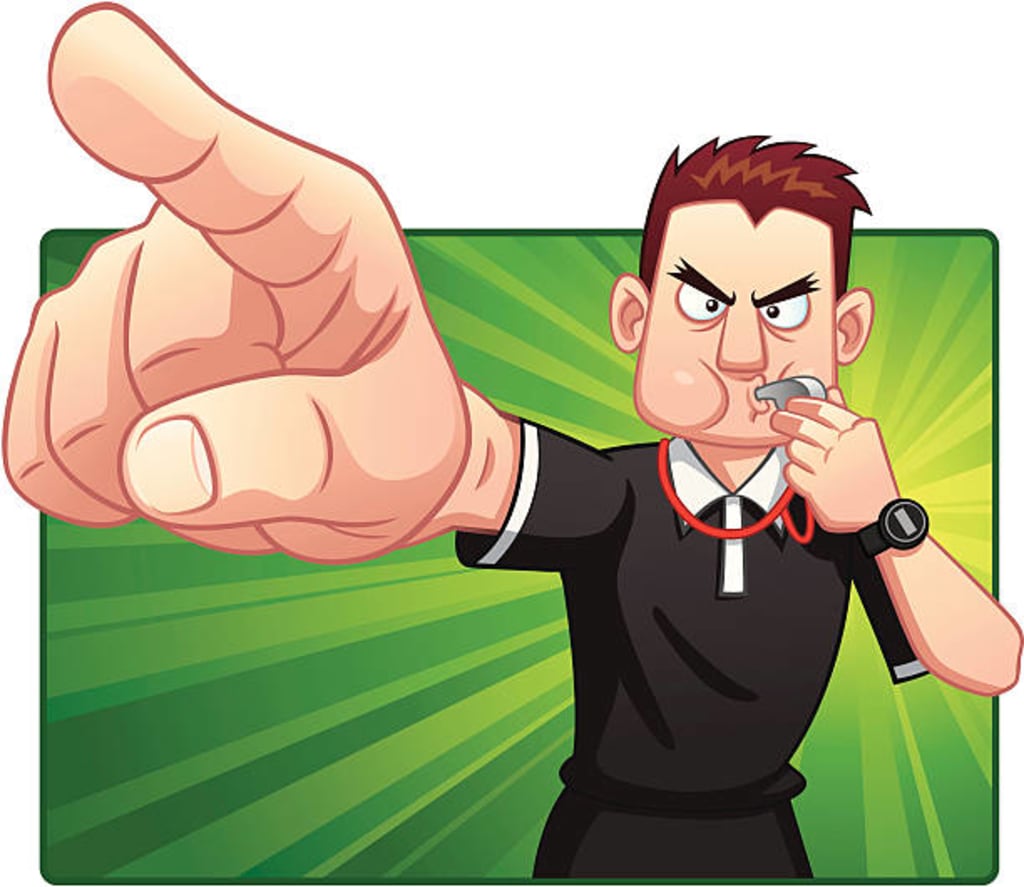 Referee Darren Drysdale was involved in a controversial square-off with an Ipswich Town player in last month's fixture between The Blues and Northampton Town. It made headlines after the shocking images were released through various media outlets.
The opposed measures taken by the FA's Regulatory Commission was an unpaid absence from match officiating duties which began 19 February 2021, and concluded 10 March 2021. A retrospective 4 match ban as consequence for a referee; as deemed by The FA "losing his composer in the face of abuse from a player."
As part of the judicial panels' opening statement they said " Match officials are entitled to, and should, be treated with respect by all participants. The incessant abuse and haranguing of match officials is unacceptable. It besmirches the sport and is inexcusable. Behaviour of this kind seems generally to be tolerated in football, often by match officials themselves. In our judgement, it should not be."
The Ipswich player involved in the controversy declined to make any formal complaints against the (PGMOL) referee. Allegations that Alan Judge (the player at hand) shouted in aggressive tone; abusive statements toward the match official. Judge denounced that the allegations were entirely true, and confessed however he did use offensive language.
Judge refused to appear on the judicial panel after they were informed that he did not wish to be involved, and considered the matter closed. Further comments from Judge were that "there was no need for an apology" and further quoting "we all make mistakes." It's to note that the Irishman's mother had recently passed that week, and was mentioned in the aftermath of the incident in the players defending statements.
Neither the FA or the Blues took further measures against the player. Ipswich Town heavily defended Judge on social media claiming that the club had audio evidence to support that the referees' comments about what Judge had said was false.
They to this day have not made this evidence public.
In the same month as the controversy which took place at Portman Road [Ipswich Town] Premier League referee Mike Dean reported to police - high volume death threats directed at his family through social media messaging.
In Southampton's 9-0 defeat to Manchester United on 2 February 2021, Southampton defender Jan Bednarek was sent off by Dean for clipping the heels of the last man inside the box; a decision which led to a subsequent penalty kick. Southampton later appealed to overturn the referees decision and won.
Just 4 days later on 6 February 2021 Dean officiated West Ham's away game at Fulham where another controversial sending off was made. It had appeared that West Ham player Tomas Soucek had intentionally raised an elbow into an opposing player's face, an upon a VAR check Dean had decided it was worthy of a red card. The club later rescinded the decision with an appeal. That was 2 red card decisions in the same week that the FA had concluded to be wrong.
Following that match weekend after receiving high volume of abusive messages, Merseyside police opened up an investigation on the matter of protecting the referee and his family. A spokesperson for Merseyside Police has said that the investigation is still ongoing.
Can The FA, and the Sports Ministry do more to protect abuse that both amateur, and professional match officials face? Suggestions on what sport governing bodies can do have been discussed this season. One topic that has not been fully looked into of yet is the permanent use of referees being equipped with bodycams.
Raising awareness for players of all backgrounds to respect their officials must be a top priority for the FA. Followed by more action taken from social media companies to prevent abusive fans from direct messaging the officials who run the game.