Challenging Nike & Adidas. The ambitious Castore brand building up its foundations in Scotland
A young and rising clothing brand has made its first steps, attracting the clubs from Scotland and England to wear their kits.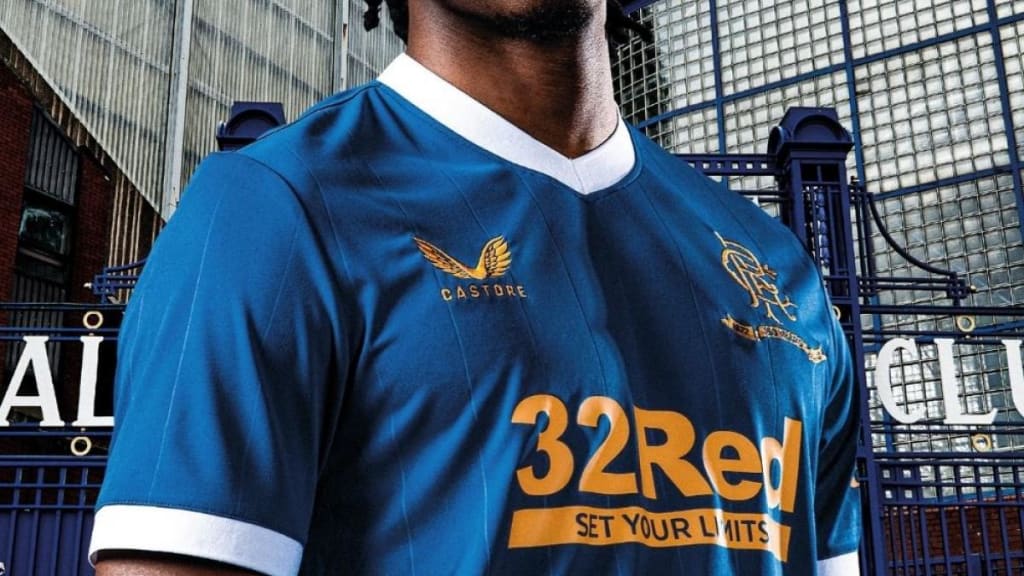 The 150th-anniversary kit of Rangers FC by Castore.
If you are following Scottish football, you may have noticed that Rangers FC is playing in Castore designed kits in recent years. This summer, Castore presented a nicely designed Rangers 150th-anniversary kit and signed contracts with two English Premier League clubs - Wolverhampton Wanderers and Newcastle United.
For a brand that was founded by the Beahon brothers back in 2015, such moves look promising. Thomas and Philip Beahon had their vision and took the risk of using the Virgin StartUp loan, as well as receiving support from their parents who had to put their house on mortgage. The first few years were rocky, but sales were steadily improving, and this allowed Castore to attract new investors. In 2019, the ambitious brand was earning £12.5 million a year.
While now Castore is focusing on conquering the football market, the first major move for them was the signing of former world ranking leader - Scottish tennis star Andy Murray. He received his own The Andy Murray Collection and later became one of the shareholders of the company. Castore got a great boost in their image and sales by signing Murray. This also secured a £7.5 million investment to pursue their debut collaboration with a football club.
The Scottish story for Castore continued in 2020 when they signed a 5-year deal with Rangers FC. The Beahon brothers have been positioning their brand as something fresh in the football world - no to basic templates, unique designs, and great attention to the development of the online store to capture global audiences. So far, Castore has been in a position as a premium brand, trying to keep their work methods different from the global brands, like Nike, Adidas, and others.
"Big brands do not pay attention to other clubs, they care only about the top ones. If you're not a top club, you won't get a personalized design for your kits and additional help in boosting your club's image on the international market," said Castore co-founder Thomas Beahon.
However, in the case of Rangers, there are some questions. The 150th-anniversary kit looks solid, mixing the traditional colors of the club with some fresh golden touch. But to say that overall Castore has been innovative or outstanding in terms of their design ideas would be an exaggeration. Nike and Adidas have indeed been very bleak in the past decade in terms of their creativity. Their solutions clearly lack the vision, and this has led to recycling the old templates and presenting them as something fresh, which seems very odd for such high-profile companies. Clubs that do not have an international and massive fan base are simply getting the leftovers.
If Castore can cope with its potential growth and keep the respect to every club they sign a contract - in a long term, this could help them to challenge Nike and Adidas. Can they cope with that, as the number of clubs and demand for unique designs would grow, is the main question. In this social media era, there is some extra advantage for fresh ideas and great aesthetics. Now it might seem highly ambitious for Castore to dream about becoming a global name, but in a long run, it is possible. If the vision and respect towards the clubs will be retained on a year-by-year basis, without prioritizing only the big names, the audience should appreciate that.
Sure, the big names (Real Madrid, Manchester United, Bayern Munich, etc.) would probably prefer to stick with Nike and Adidas. However, there are plenty of mid-tier clubs in Europe with a solid audience to get to work with. Just imagine yourself in a place of a sporting director of a mid-tier European football club. Nike or Adidas comes up with a template, gives you cash, and forgets about you until the following season. Or there comes Castore with an individually designed kit and a strong interest in your club's future. The choice would be obvious. For now, this remains purely theoretical.
So far, Castore has done a good job in work with the international audience. It may have roots in Scotland for now, but its clients come from more than 50 countries. The idea to focus on the online store has worked well since more than 80% of their sales have been processed online. Half of those sales are from foreign clients.
"Castore has a very strong base of investors which includes one of the richest families in Great Britain. These people invested money in our company because they believe in our vision to turn Castore into a brand that challenges Nike, Adidas, and Under Armour. We want to build a stable long-term brand, and I believe that the investments play a crucial part in this," said Thomas Beahon when there was announced that British billionaires Zuber and Mohsin Issa became the biggest investors of Castore.
Currently, Castore focuses on clothing. Designs and quality are a matter of taste, but the pricing is pretty high due to the brand's positioning of itself as a premium one. However, to fully challenge the big names, Castore will have to explore themselves in sneaker and football boot markets. Adidas has been an iconic football boot producer with the German national team closely tied to it, while Nike has Jordan with its iconic sneakers and a great name in the sport of basketball. For Castore, this all is a new territory to explore.
While clothing has fewer expenses, the potential conquering of the sneaker market would bring additional costs. Investments might not be a problem at this point, but can Castore bring the finest creatives to challenge Jordan, for example? Sneakerheads love trendy things, and hype can be a strong boost in the modern-day social media world. There was a good example of Big Baller Brand, run by Lavar Ball. BBB sold highly-priced limited-edition sneakers, and despite they received mixed and even a bunch of negative reviews, people still were ready to live up with the hype of Ball Brothers and pay $500+ for their sneakers. In the short term, the trick worked out well. In the case of Castore, they must come up with footwear that will be both - desert for sneakerheads and a popular choice for casual buyers.
For such a short period of existence, Castore has done a great job. The growth of this brand has been well-planned and steady. It will be interesting how far can this brand go in football. Names, like Rangers and Newcastle United, are solid ones, to begin with. Can they impress the biggest European names in the next decade? This will be interesting to find out the answer to this question. Only time will tell.