Alphonso Davies - Canada's Superstar
The young man who's putting Canadian football (soccer) on the map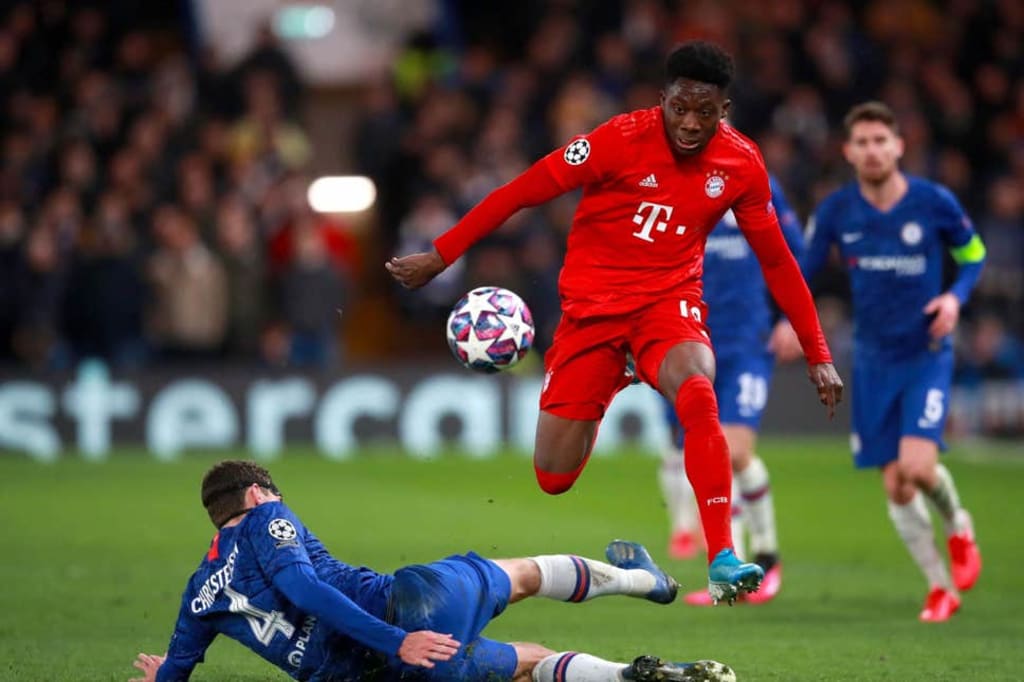 Davies speeding past Chelsea's Christensen
When one thinks of powerful football nations the likes of Brazil, Italy, Germany, Argentina, France, Spain, Portugal, England and the Netherlands come to mind. Canada, however, doesn't really feature on that list. In fact, Canada have only once featured in a FIFA World Cup campaign in their entire history, way back in 1986. Their results were somewhat unsatisfactory in that tournament, being knocked out of the group stages without scoring a single goal.
Since then the most notable players to come from 'the Great White North' have been players with Portuguese heritage. And while Canada has three representatives in the MLS, only Toronto FC have won the competition. It is worth noting, however, that the Toronto FC team at the time did not include many players from Canada.
Enter, Alphonso Davies, the young man who is already well on his way to becoming the first true Canadian football superstar. Probably best if we call him a soccer superstar, I'm sure Phonzie would prefer that.
Davies joined Bayern Munich in January 2019 and in one of his first interviews as a Bayern player, he told reporters how he couldn't believe that Arjen Robben was in the same locker room as him. Nervous at first, but always humble; the young 19-year-old has shaken his nerves and turned the tables.
If Chelsea defenders weren't worrying about his pace before their home UEFA Champions League Round of 16 first leg tie, they will have taken note of it now. Davies sped past two Chelsea players and produced an incredibly accurate ball into the box, which goal scoring extraordinaire Robert Lewandowski tapped home with the upmost of ease. A three-nil away result that Davies was hugely involved in, ensuring that he surprised the Chelsea attacking players with his absurd recovery speed after losing the ball or being somewhat out of position.
While the Chelsea game was another stepping stone for the teenager to take note of, Davies' rise to prominence in one of the best football clubs in Europe has been lightning quick. Before Bayern Munich suffered various defensive injuries to the likes of Niklas Süle and Lucas Hernández, the Canada international was merely a talented squad player. A bruised knee and ankle injury to Hernández and Süle's cruciate ligament rupture, thrust the speedster into the left-back position, with regular left-back David Alaba having to occupy the centre-back role alongside him.
Hindsight is a powerful thing but those injuries came as a bit of a blessing, not only to Alphonso but Bayern head coach Hans-Dieter Flick. With Flick's two defenders slowly expected to return from their injuries, Davies has made the left-back position his own and sent a stern message to his defensive teammates, that he won't relinquish it easily. Hansi Flick, as he is regularly known, will have the unenvious task of having to make a decision regarding whether or not Davies will continue to start, however many fans would like to continue to see the youngster's progress.
Davies has started his last fifteen Bundesliga matches and in Bayern's last seven matches the side have managed to keep a clean sheet four times. In the UEFA Champions League, with Davies starting, Bayern have kept three clean sheets in their last four matches, including their impressive three-nil away victory against Chelsea.
An incredibly talented young man with a big smile and a bigger heart to boot. Alphonso Davies is becoming progressively better game by game. Performances that are not only making him a standout performer for his club, Bayern Munich, but also his national team Canada.
The 2026 FIFA World Cup is only six years away and Canada will be joint-hosts alongside Mexico and the United States of America. The perfect time for a then 26-year-old Alphonso Davies to truly make himself the first Canadian football or soccer superstar.
But let's take it one step at a time, next up for the exciting youngster will be TSG Hoffenheim on Saturday in the Bundesliga. Bayern Munich are still top of the table by a single point and RB Leipzig who play Bayer Leverkusen on Sunday are right behind them. An exciting season continues to unfold.