What Exactly Are Hybrid Lash Extensions?
Are you looking for some real-life hybrid eyelash extension transformation? Then, go ahead; it's all worth it to enhance your eye features with hybrid ones!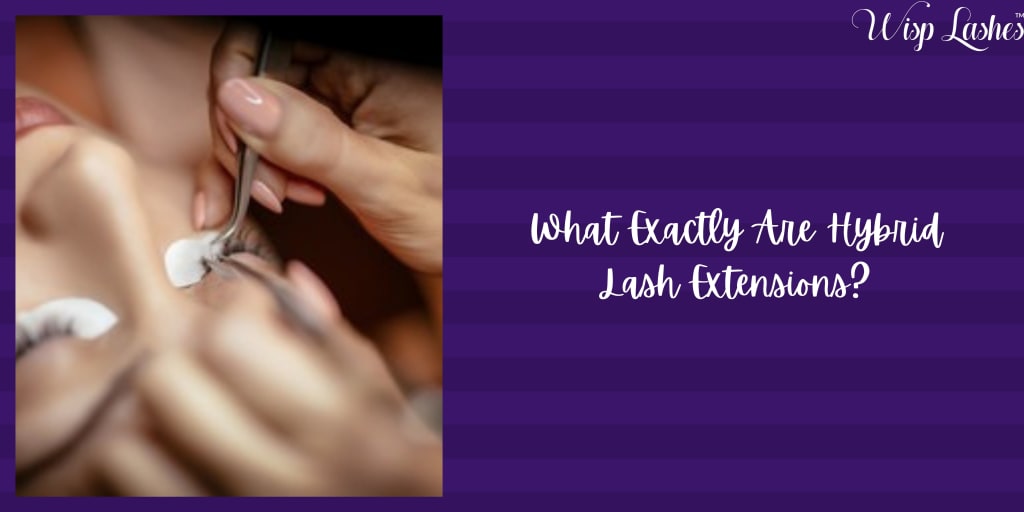 Lash extensions are rave at the moment! We have found that you can feel beautiful quickly by applying long, thick, and beautiful extensions to your natural lashes. After all, it's an investment of yourself to look your best.
There are several extension styles, but sometimes clients just come and prefer that "Classic lashes but not too classic and dramatic but not too dramatic" look. So, Hybrid eyelash extension comes to your rescue! It's a fantastic combination of natural lashes and dramatic lashes.
So, what are hybrid eyelash extensions?
It's a perfect extension for a more dramatic and textured lash line.
Hybrid is an application that offers your lashes great fullness and gorgeous texture. It sways the classic length and thickness of volume sets. Our lash artist does this strategically by combining classic and volume lash applications across your lash line.
It uses the 1:1 lash extension technique with the hand-made fans from volume sets to create a slight texture. Hybrid is the perfect choice if you want something in between classic and fuller lashes. We promise you will fall in love with your eyes again with an improved eyelash extension look!
What's the difference between classic and hybrid lashes?
In a classic, we attach one lash extension to your natural lash, and in volume, we use more than two extensions to your natural lash. Since hybrid lashes are a combination of two, you can achieve a more texturized and fuller lash line look than a standard classic one!
A hybrid extension is a modern approach that makes your lashes look all-natural but with some volume that many people are looking for today.
How long do hybrid lashes last?
The answer is, it depends! First, it's essential to realize that these extensions are also shed, just like your natural eyelashes. Your natural lashes grow out over time and are continually replaced by new lashes, and this cycle goes on.
They are attached with the help of adhesive and with the gradual dissolution that you shouldn't expect to last longer than a few weeks. If you want to let them last longer, avoid these common mistakes:
Don't get them wet for the first couple of days after application.
Don't rub your eyes.
Avoid moisture and heat that affects your extension glue.
Don't sleep facedown.
If you desire to keep your lash line looking its fullest, we recommend that you come in every two weeks for a lash refill and sidestep these common mistakes.
Enjoy the luxe provided by hybrid lashes with some benefits!
There are several advantages to opt for hybrid lash extensions. First, it allows anyone to have a look at their individuality. The goal is to bring out the natural eyelook and enhance it.
Our lash artist looks at the woman's face and knows how to work with their facial features. They help to achieve a natural look to show off by adding just a bit of oomph.
Some of the key benefits are:
Exemplary makeup look
Women face the fact that it takes a while to do their makeup every day. However, your eyes look framed while having the extension, and you can have eye makeup or mascara look. It states that you can cut your eye makeup routine in half! Less effort and gorgeous look.
It mainly works great with someone who puts on eye makeup regularly as they surely save some time. After all, who doesn't love instant glamour feels without the need to put on eye makeup.
Adds the perfect lash length
Do you feel your lashes are a bit shorter? Worry not! Search for an eyelash extension near me and add some length and volume to your natural lashes. You can absolutely feel more confident and beautiful inside yourself.
Most favorite because it's affordable!
The service and maintenance of these lash extensions are pretty affordable. This is one of the reasons why people opt to get extensions!
Get the perfect staggered look
People now don't want a single lash look; they want something different that creates layers rather than a straight line across the eyes. This hybrid lash extension technique offers you eyelashes that are not uniform. It makes the look that relates to your natural eyelashes. It creates a bold and spikier look when you mix long lashes with shorter ones.
Why is a hybrid extension a more effortless and preferred option?
Hybrid lashes are an easier option than many otherclassic sets of eyelash extension techniques. It takes less time to apply, and you can wear it well over time. Also, they are pretty affordable than any other type of eyelash technique. This technique is used to bring out the natural beauty of eyelashes. It brings it out delightfully rather than covering it up completely.
This technique allows people to see if the method is suitable and whether it fits the look they want. It's best for people who have naturally fine lashes or those who have some gaps in their eyelashes. Hybrid extensions allow you to fill in minor gaps and add volume with the need to cover lashes up entirely.
Get Hooked on Hybrid lashes!
So, what's your opinion about these extensions? Feel better and confident about yourself with these beauty shortcuts. Spend some time for yourself and schedule an appointment for an eyelash extension. Now wake up every day with a ready face having full textured and volumized lash that is always on point.