Top Box Circle Review: Nude by Nature
A Review of Nude by Nature Products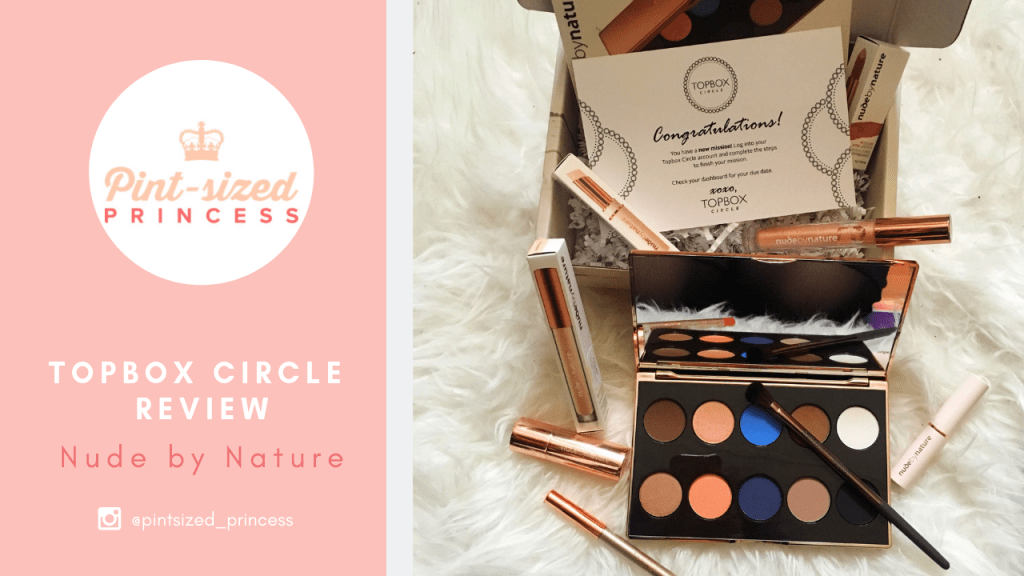 Thank you so much to TopBox and Nude by Nature for providing me with complimentary products to review. If you are interested in doing some reviews with TopBox, and getting the chance to test products before they hit the shelves, try out products from up-and-coming brands, and occasionally receive a discount code for one of TopBox's amazing Limited Edition curated boxes, I invite you to stay till the end to find out how to join!
In this post, I will be reviewing several products by Nude by Nature; Nude by Nature Beach Glow Liquid Highlight in Sunshine, Nude by Nature Moisture Shine Lipstick in Dusty Rose, Nude by Nature Defining Lip Pencil in Blush Nude, Nude By Nature Natural Wonders Eyeshadow Palette, Nude By Nature Blending Brush, Nude by Nature Perfecting Lip Primer.
I have included links to both Shoppers Drug Mart's Beauty Boutique and Nude by Nature's website for ease of purchase, if you should choose to buy any of these products. I will not be receiving any type of affiliation payments or commission if you choose to purchase via these links.
Who's Nude by Nature?
Nude by Nature is an Australia based mineral cosmetic company committed to providing quality cosmetic products, with a completely natural ingredients list, while incorporating its native Australian roots into its formulation.
The company's products are free of silicones, phthalates, sulphates, carmine, talc, and other commonly used cosmetic ingredients, providing their consumers with cruelty-free and PETA certified products. It is to note that some products from Nude by Nature do contain lanolin, beeswax, and palm oils, but reassures that these products are obtained in a humane and ethical manner.
The company entered the international market in 2015, and I have begun to notice it on my local Shoppers Drug Mart shelves in early 2018, when the company had entered Canadian retail. Currently, you can purchase the mentioned products in-store at most Shoppers Drug Mart locations and Pharmapix locations in Quebec, as well as online at Nude by Nature's website and Beauty-Boutique by Shoppers Drug Mart.
Beach Glow Liquid Highlight in Sunshine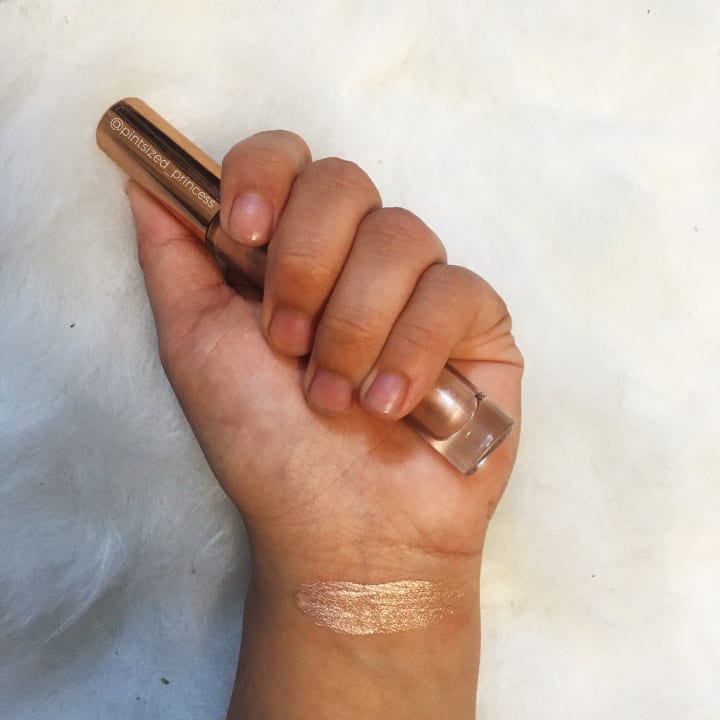 I have had no previous experience with liquid highlights before, but this blew me out of the water when I swatched this. You can probably see this highlight from Pluto, it is so bright, and can easily be used for a glam poppin' highlight or a subtle dewy glow. I love layering this under a pressed highlighter on my cheekbone, inner eye, and brow bone for that super extra blinding highlight.
The Beach Glow Liquid Highlighter is available in three different shades: Sunshine (yellow highlight), Moonlight (blue highlight), and Sunrise (peach highlight) and can be purchased in-store or online at Shoppers Drug Mart/Pharmapix (QC) and online at nudebynature.ca for $21 CAD.
Perfecting Lip Primer
I previously used ELF's Lip Primer, and found its formula a little too tingling. I really love the level of tingling the Nude by Nature Lip Primer has, which gives a light, plumping effect on your lips. I find the formula a little on the softer side, and coats lips in a very thick white/nude, which feels smooth, but slick, which made me really worry about its effect on lipstick. I've worn this with satin finishes, liquid lips, and matte lips and I have found that it is the PERFECT base for any type of lipstick despite my weariness when I first tried it.
The Perfecting Lip Primer can be purchased in-store or online (sold out at the time of this review!) at Shoppers Drug Mart/Pharmapix (QC) and online at nudebynature.ca for $20 CAD.
Moisture Shine Lipstick in Dusty Rose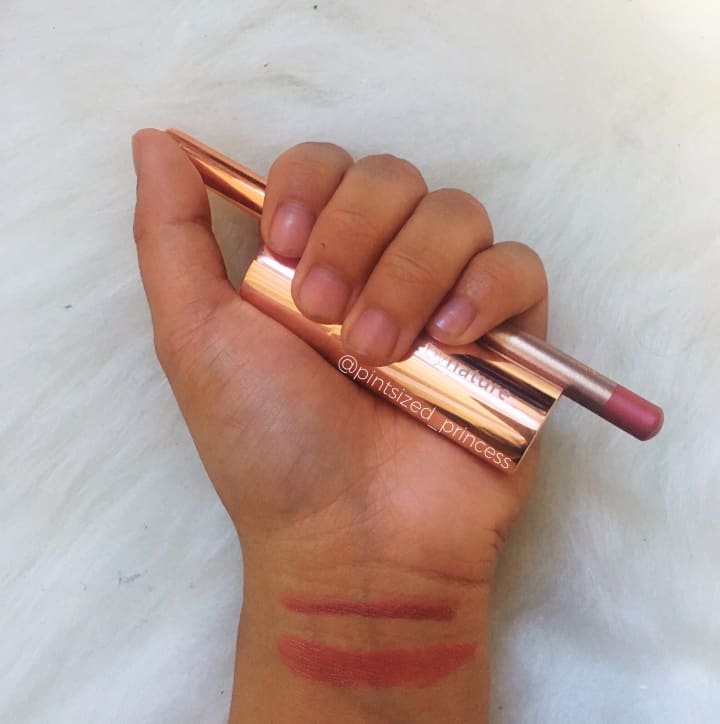 I don't wear sheer lipsticks very often, but I love how soft and natural this colour looks, it definitely warms up your skin tone in this never-ending winter. The rose gold packaging gives it a sense of luxury, and the quality definitely matches its value. Naturally, with the lipstick being a satin finish, the lasting power of this lipstick is very low, and reapplication is very frequent. I would love to try other Nude by Nature lip products in the future.
I am excited to see if this shade range will be extended at all in the near future. The Moisture Shine Lipstick is available in 10 shades ranging from various pinky nudes to deep berries, and is available in-store and online at Shoppers Drug Mart/Pharmapix (QC) and online at nudebynature.ca for $23 CAD.
Defining Lip Pencil in Blush Nude
I love this lip liner so much. My personal experience with lip liners is generally not the best, I've had tried many that are textually hard, and difficult to glide against the skin, which sort of hurts the delicate skin of your lips. This liner, however, is softer and glides on just like a mini creme lipstick. It's creamy and pigmented and I would definitely consider purchasing other colours to go with my existing lipstick collection.
The Defining Lip Pencil is available in six shades that appear to correlate with their Moisture Shine lipsticks, with a shade called Nude, which looks like can be generally universal on Light/Medium skin tones. The Defining Lip Pencil is available in-store or online at Shoppers Drug Mart/Pharmapix (QC) and online at nudebynature.ca for $18 CAD.
Natural Wonders Eyeshadow Palette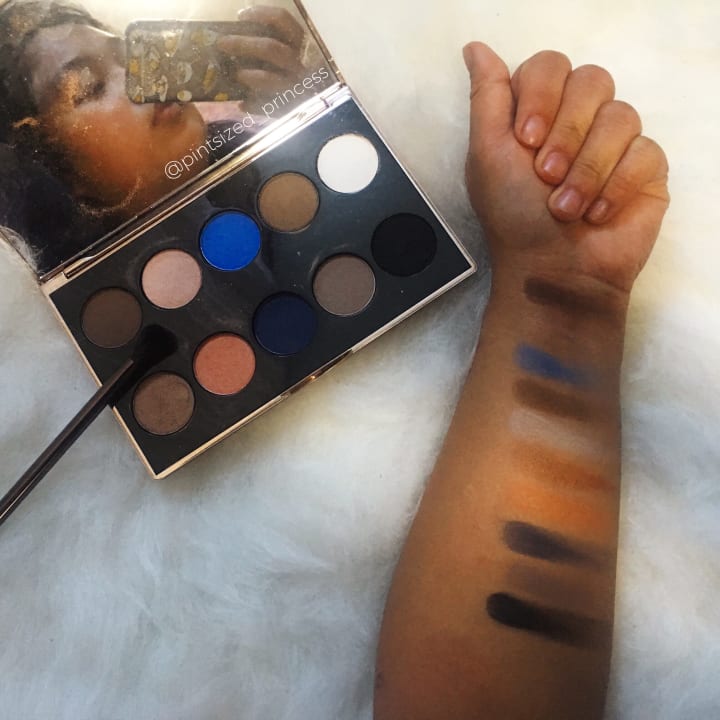 I love the glossy, rose gold packaging that Nude by Nature has, it's all very gorgeous and prestigious, as far as packaging goes. The colour story of the palette is breathtaking. I was extremely underwhelmed, however on how the palette swatched, the shadows were very hard and powdery, and the bright blue in the heart of the palette really disappointed me, for its lack of physical pigmentation. I found applying the shadows onto the eye was also difficult and a chalky experience. I really wanted to like this palette, but it felt like only three out of the 10 swatched "okay."
Nude by Nature carries a few other eyeshadow palettes, the rest are trios so this is their largest one. I would like to think the reason why I was not a huge fan of the shadows was due to them being mineral makeup, but I don't want to blast mineral makeup either. The palette has high reviews online on both Shoppers' and Nude by Nature's websites, so I am also thinking I may have received a faulty palette, I'm not entirely sure.
The Natural Wonders Palette is available in-store and online at Shoppers Drug Mart/Pharmapix (QC) and online at.ca for $49 CAD.
Blending Brush
This is my second Nude By Nature brush, and so this was the product I was the most excited to receive. The bristles are sooo soft, when you brush it over the back of your hand or roll them between your fingers, but I found that when I used the brush on the eye area in circular or semi-circular movements the bristles felt a little too bristly for my sensitive skin. I also found the brush size itself rather large, which made it a little difficult to apply shadow in specific areas, or create really good blends. However, I completely attribute this issue to the fact I am of Asian descent, and therefore have smaller than average eyelid surface area.
Nude by Nature carries several brushes meant for face and eyes, and I do believe they are purchasable in brush sets online at nudebynature.ca. I have personally not seen Nude by Nature brushes at my local Shoppers, but they are available for purchase online for $22 CAD.
I hope you enjoyed reading a comprehensive review of my Nude By Nature box from TopBox! Please follow my Instagram @pintsized_princess for similar content or stay tuned with me here on Vocal! Follow me on Twitter too @pintsized_p for updates when I post to Vocal or Instagram!
If you want to receive and review products too and live in Canada, I definitely recommend joining the TopBox Circle program, it is totally free to join and participate, and you get to discover different and up and coming brands. Through TopBox Circle I've been able to try products from Benefit, Dove, Nivea and Vichy just to name a few and many times these are full-sized products! You can join here (again non-affiliate).
If you like subscription boxes, TopBox is an inexpensive monthly subscription, ($12 CAD!!!) with free shipping to anywhere in Canada, full of many sample-sized products for you to try and love with no obligation to create reviews. You can subscribe or gift a loved one a TopBox here (non-affiliate).
And say you don't want to subscribe to a subscription box and you don't want to review products, but you still want to try new products (I see you!) —don't worry TopBox got something for you too! TopBox Collective has special curated and themed boxes with a mix of full-sized, deluxe and sample sized products. In the past, TopBox Collective has had a Back-To-School box, a Cruelty-Free box, and even a Canadian brand box! I have had the opportunity to try some TopBox Collective Limited Edition boxes through TopBox Circle, and have discovered so many brands that I now love and use daily. They are currently sold out right now, but they are available to purchase here (non-affiliate again!) for $26 CAD with free Canadian shipping!