The Trans Woman's "Everyday" Makeup
A Makeup Pictorial FOR you, by someone LIKE you!
So let's face it... it can be super tough as transgender women to find makeup advice/tutorials that are tailored to us specifically... and while I cannot guarantee my style of makeup will apply to everyone reading, but I genuinely hope that you can all obtain at least ONE piece of advice from me today!
I am a transgender woman who has received professional training in makeup artistry, and apart from that, I also have spent a lot of time finding out what works and what doesn't. Today, I will be creating a rather soft and natural look that will be perfect for school, work, a day out, etc. that can also be transformed into a beautiful night time look should you like!
So without further ado, let's get started!
Part 1: Prep
The first step to any successful makeup application is proper preparation of the skin. If the skin has any dirt, oil or bacteria lurking, makeup will not apply properly, look flawless, or last very long. Your skincare routine can be as complex or as simple as you may choose, but it should ALWAYS include these 3 steps, once in the morning, once at night, even if you aren't wearing makeup that day!
1. Pre-cleanse/ Cleanse- This is the first and one of the most important steps! Your pre-cleanse will remove your makeup, and any dirt or oil that's resting on the skin. This can be done with a Micellar water, or even a baby wipe. The second cleanse will actually go deeper into your pores and remove even more dirt, oil and makeup. This is achieved with a face wash. You can speak with your cosmetician at a drugstore and they will work with you to find a good recommendation for a face wash depending on your skin type and texture. Apply your face wash, and leave it on for a minute or two, maybe brush your teeth while you wait! You really want the face wash to soak and settle into your pores, so that you can ensure you have the cleanest skin possible.
2. Tone- This step will go even deeper to remove impurities from the skin. Toners typically come in liquid form, and are applied with a cotton pad. Toners will not only remove impurities, but also help with discolouration, redness, etc. Apply toner all over the face, and allow it a minute or two to fully set into the skin and dry before moving on to the next step.
3.Moisturize- Cleansing and toning the skin, while important can strip the skin of moisture, so applying a nice moisturizer over the entire face will replenish that moisture, and make skin appear supple and smooth, and make it feel touchably soft!
Once these three steps have been completed, you're now ready to apply your makeup!
Part 2: Application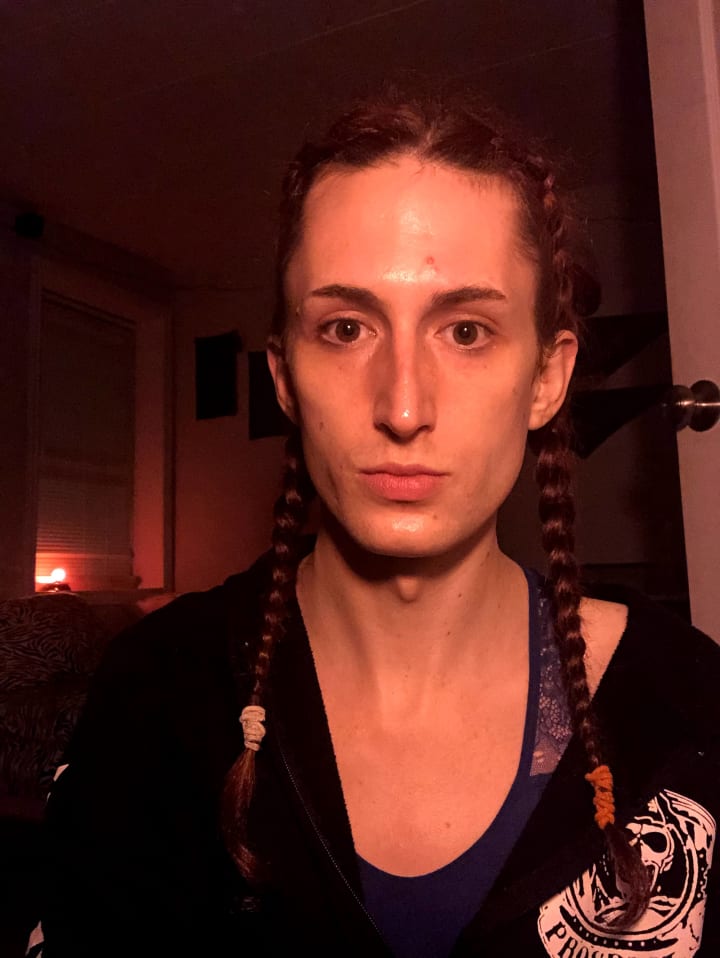 To really get the most out of every makeup application, begin by looking at yourself bare-faced. What do you want to achieve with your makeup today? What message would you like to portray? How do you want your makeup to speak for you?
You can also use this time to assess physical skin concerns, and choose how you will take care of them. Redness, acne, under-eye bags and many other issues with the skin can come out of nowhere even when you do use proper skincare! You need to be prepared to deal with these things at any time. Also, take the time to look at your eyebrows. Do they need a grooming? Are they finally where you want them to be? Eyebrows frame the face so you want to make sure they're in good condition to be filled in, or brushed out, whatever you choose!
Once you've assessed the face, you can begin the application, where you will conceal what you don't want others to see, and enhance what's already there!
Begin with a nice primer! Primer will further prep the skin for makeup, and also keep the makeup on longer. You can talk with your cosmetician about what you want out of your makeup, and they can point you in the right direction for a product!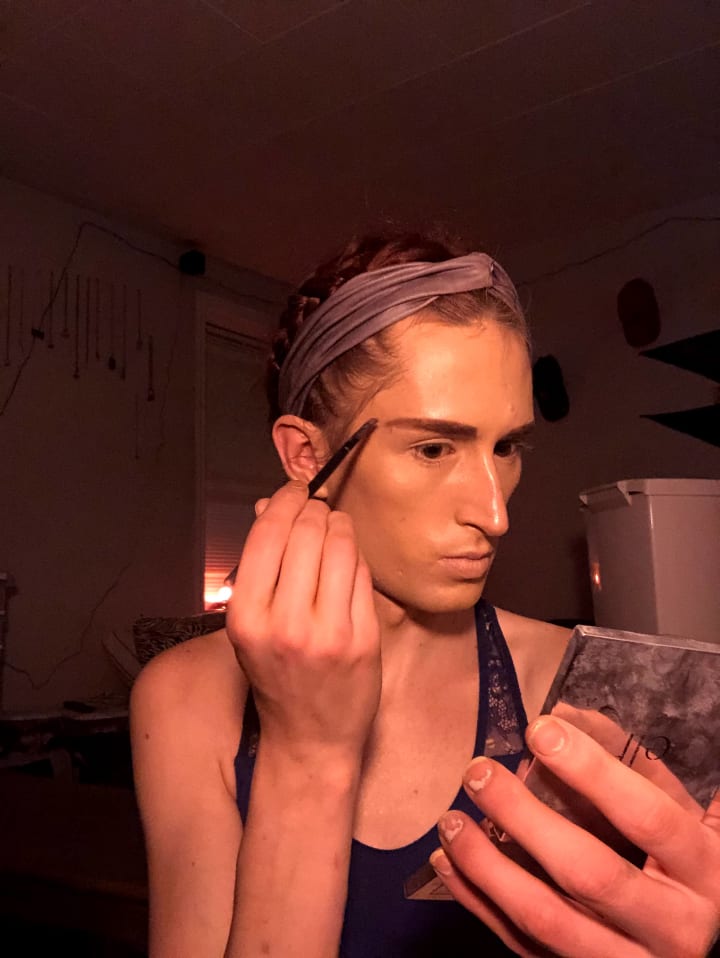 Personally, I have shaved off most of my eyebrows so that I can draw them in the way I like them without worry. I begin by using a brow pomade, and beginning where my brow ends, I draw one line underneath the brow, and slightly curve the line towards the end, and then another line on top, which I draw to meet the end of the other line. I then fill the negative space in with the pomade, and using swift, flick like strokes, I fill the actual brow hairs with the pomade as well. I then top this off with the spooly (mascara-wand looking) end of the brush, brushing the hairs out and further blending the product into the brows.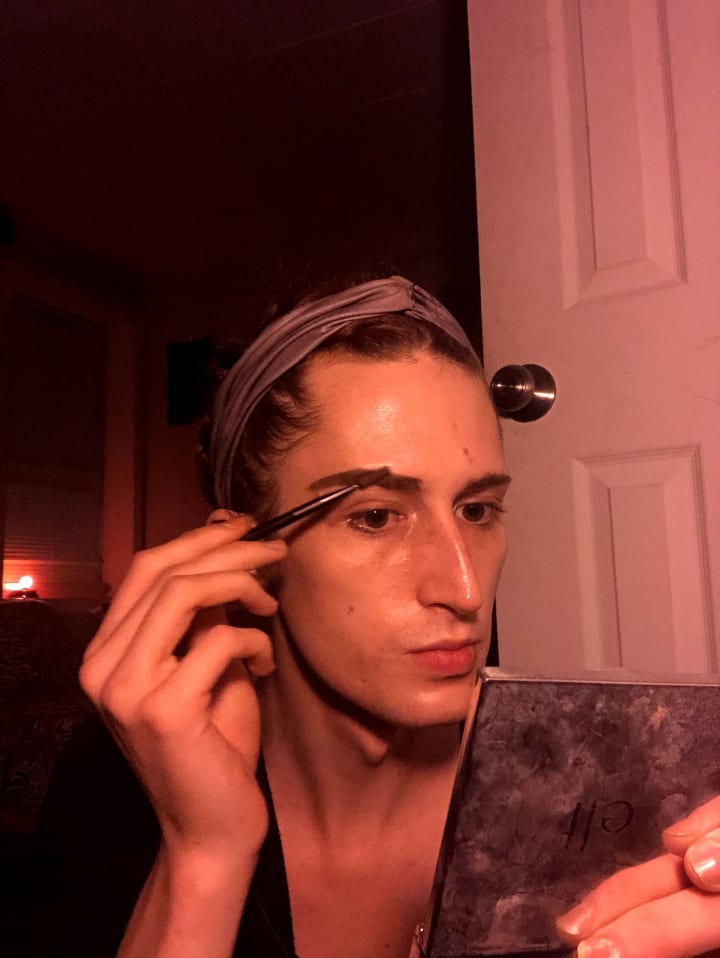 I then use an eyeshadow similar to my hair colour and begin using the same flick-like strokes of the brush to colour the brows and also set the pomade in place! Remember to use a darker shade on the tail extension (where there's no hair) so that it appears more dense in that area, and to also make the brow appear more realistic!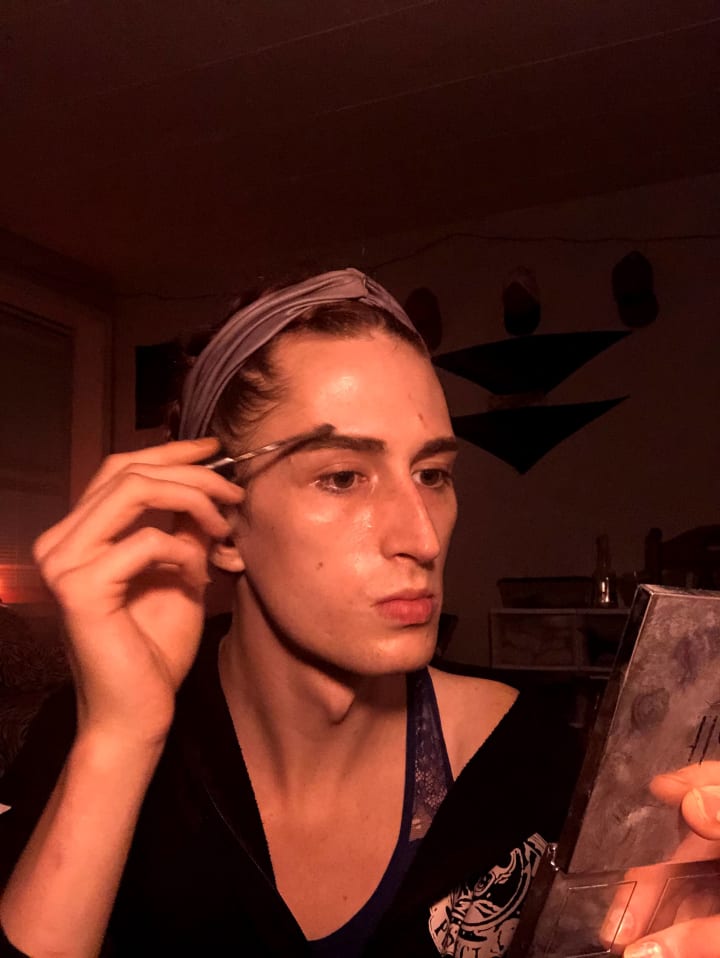 Apply brow mascara to the actual brow hairs to give more pigment and also make the hairs more prominent to aid in a more realistic looking enhancement.
Using either your foundation or concealer and a small concealer brush, slowly trace the perimeter of your brows to clean up any mistakes and also make the brow appear more lifted! Go across the tops, bottoms and in between the brows and you will begin to see the dimensions of your face take form!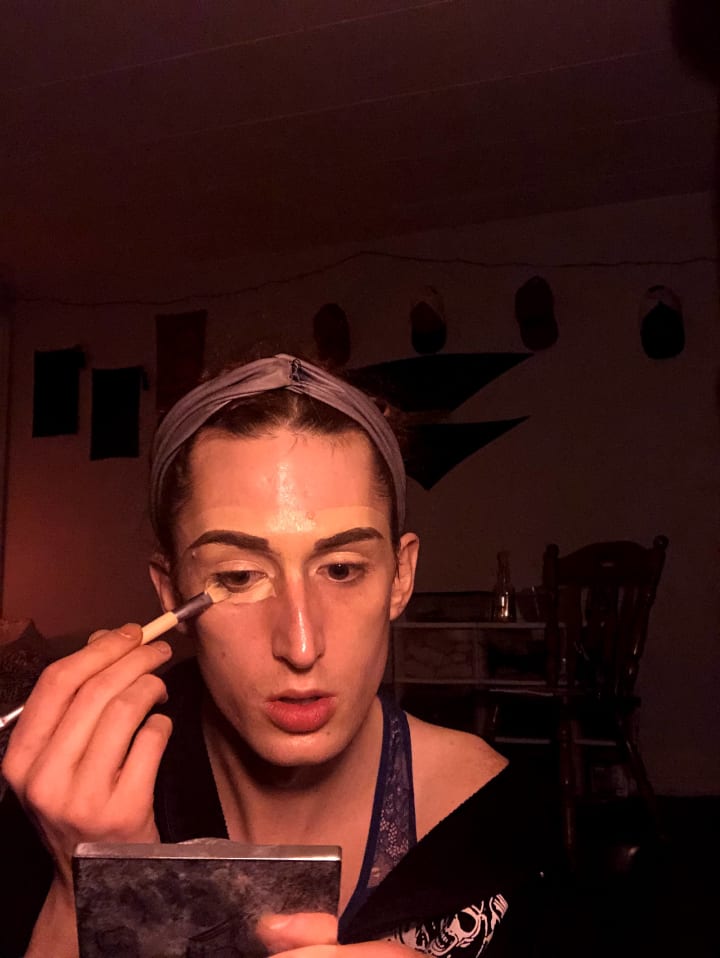 After blending out the concealer on your brows seamlessly, being careful not to affect the enhancement, use a concealer (or colour corrector) on the under eyes and blend that out as well. This will eliminate under eye bags, giving your foundation and highlight less work to do. This will also require you to use less foundation as under-eye bags tend to be very tough to cover up, but placing the concealer underneath the foundation makes sure those bags are fully concealed.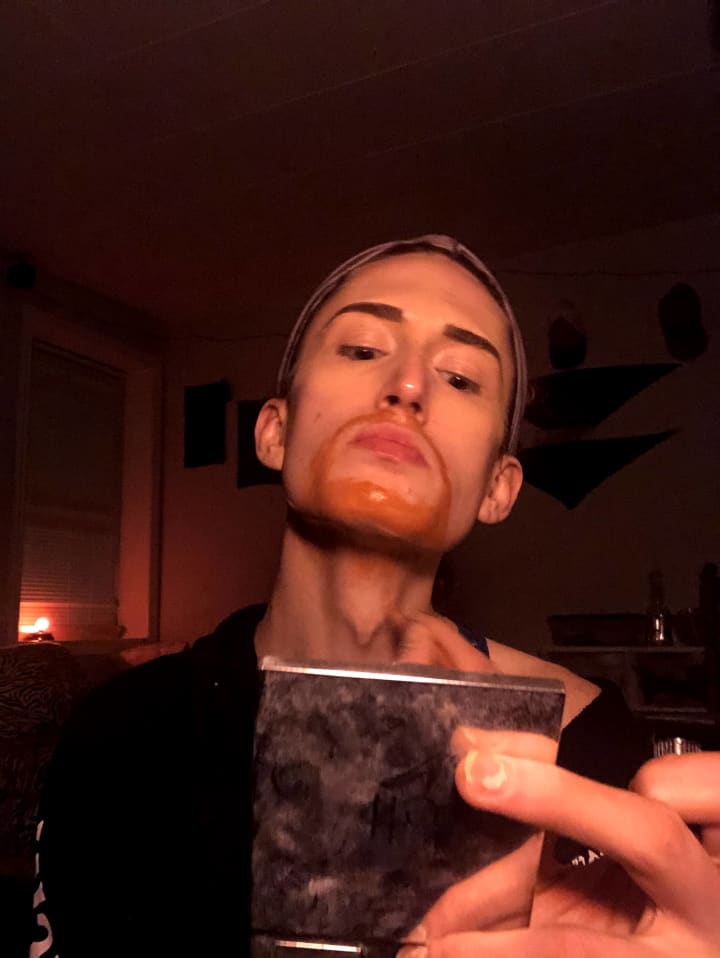 If you are a lighter skin tone, use an orange colour correcting product on your beard shadow. On fairer skin tones, your facial hair will tend to appear as a blue-ish tone on your face. On the colour wheel, Orange/Red is on the opposite side, so the orange will cancel out the blue tones on your face. If you have darker skin, you may need to use more of a red as the tones created by facial hair will "pull" (appear) differently, so a different colour must be used.
Once you've applied the corrector, use a sponge or foundation brush to blend it seamlessly into the skin, making sure there is no harshness in the blending, and that all the product has sunken into the skin flawlessly.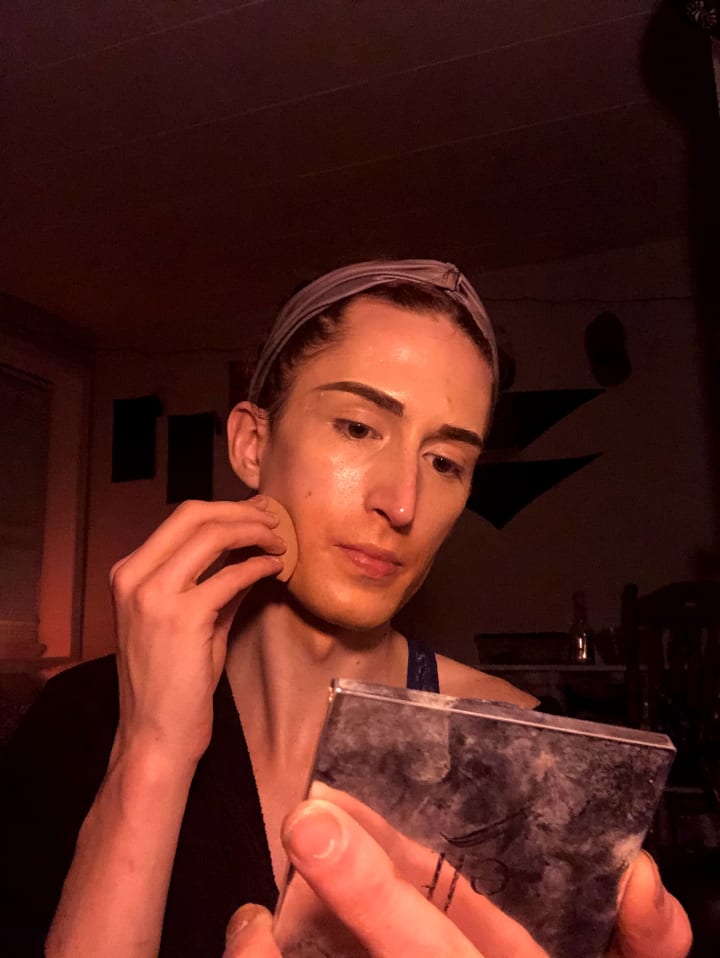 Next, you will apply foundation to your entire face, blending it down to your neck. This is where you can customize to your preference! I personally prefer medium-full coverage foundations as they cover any skin problems I may have, without appearing "cakey". Mind you, if you use colour corrector you may want to use a medium-full coverage foundation like I am as this will effectively cover the orange on your face.
Foundation is used to even out the overall tone of the skin and eliminate minor redness, making the entire face look fresh and clean.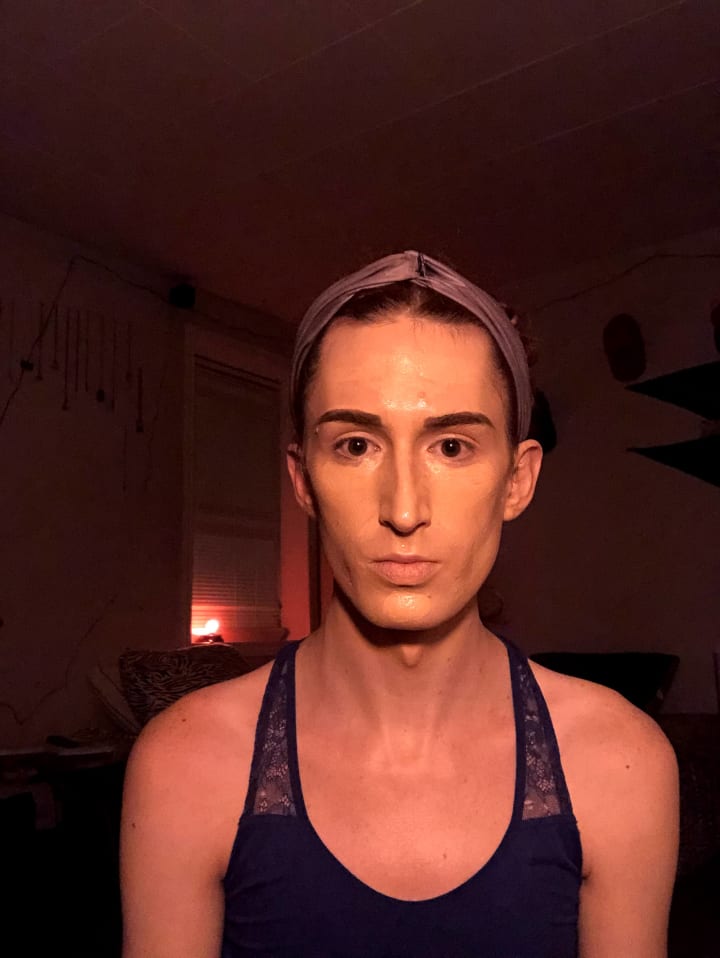 This is where you really begin playing with light and shadow to create illusions! Using a concealer 1-2 shades lighter than your foundation, draw upside-down triangles under the eyes, and place concealer on the chin, above the lip, forehead and on the sides of the face. This will make your face appear more round, and and will brighten the overall appearance of the skin. Once applied, blend out with a beauty blender.
Some people become confused at the difference between foundation and concealer, and the difference mainly lays in the texture. Foundation is generally more liquid as it is meant to be smoothed over the entire face, while concealer tends to be more creamy and thick, as it is used to cover blemishes so it requires more coverage.
An important tip for concealer is to apply it AND blend it where you want it. You may notice with foundation your are bouncing the sponge all over your face, but with concealer, ensure the sponge mainly stays in one place as you blend out. You don't want it to go all over the face!
Another tip, if you require a bit more coverage in a certain area, apply concealer there first, and blend there last. The concealer mixes with the heat of your skin, and the longer it sets there before blending, it almost sets on its own, and then when you blend out the coverage is much more full.
Using a large powder brush, use foundation powder and roll it up and outwards across the face. Powder helps to keep makeup in place, if you were to apply all those cream products and not use powder after, your face would crease and the product would come off with time. The foundation powder will give an extra small layer of coverage, but if you are not concerned about coverage, a nice translucent will do you fine.
A big trend in makeup has been "baking" which is actually a technique used in stage makeup. It is done by placing large amounts of powder onto the highlighted areas and leaving it there for 5-10 minutes before brushing it away. Unless you are VERY oily, baking is not necessary. It can also have a reverse effect if you leave it on too long; the makeup underneath can become "over-set" and could begin cracking and creasing.
I recommend just using an all over powder to set everything in place. If you're worried about longevity, just use a bit more powder than you'd consider average, and if you find it leaves the skin appearing textured, and powdery, you can leave it for now! It will be taken care of in a later step.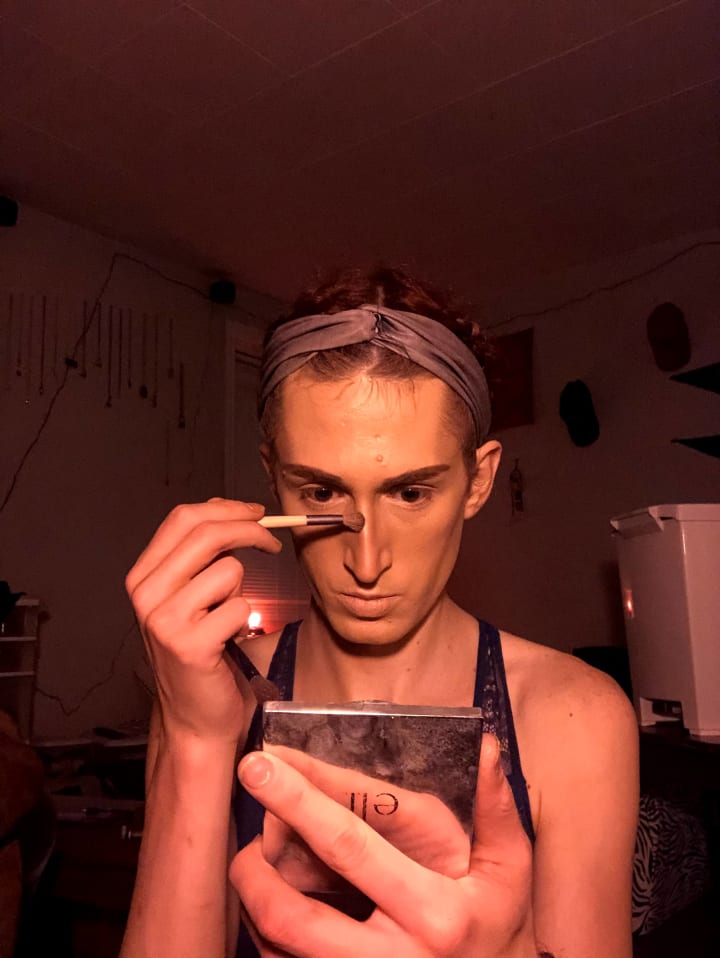 Using bronzer and a small brush, apply bronzer to either side of the nose to make it appear a bit slimmer. Bring it up the sides of the nose and then blend it into the underside of your brow bone, this will slim the entirety of the nose, and also prepare the eyes for shading. Pull the bronzer in even further and using a fluffy brush and circular motions apply the bronzer JUST under your brow bone. This will make the nose contour appear cohesive, but it will also make the eyes appear larger.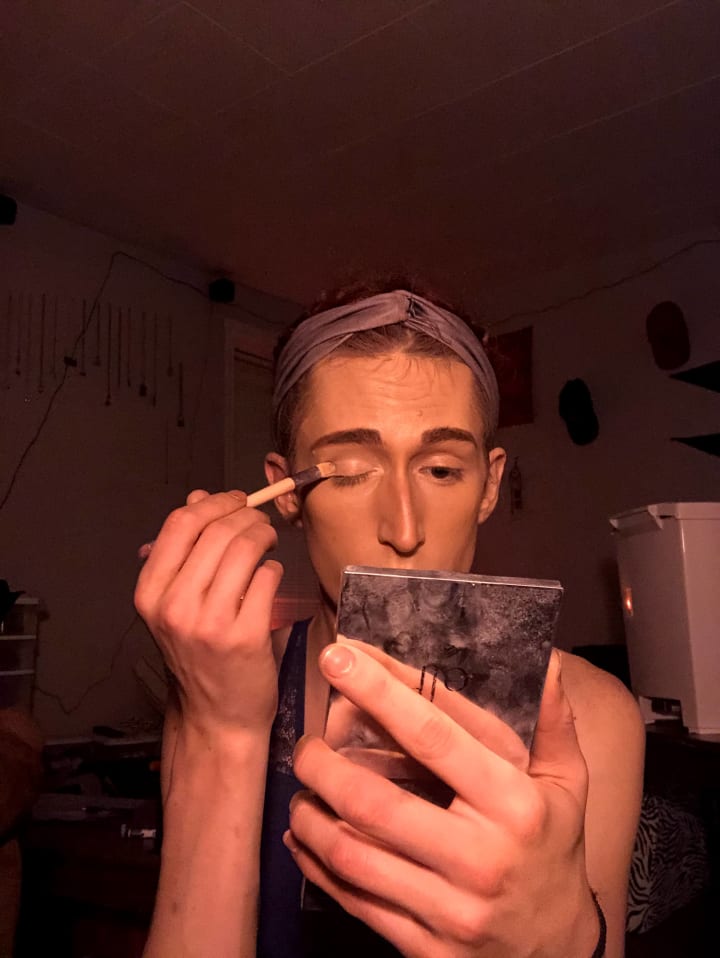 Just as you primed your face before beginning, you want to prime your lids for eyeshadow as well to increase longevity. There are multiple eyeshadow primers on the market, or you can even use concealer. Apply to the entire lid, and then go in with your shadows.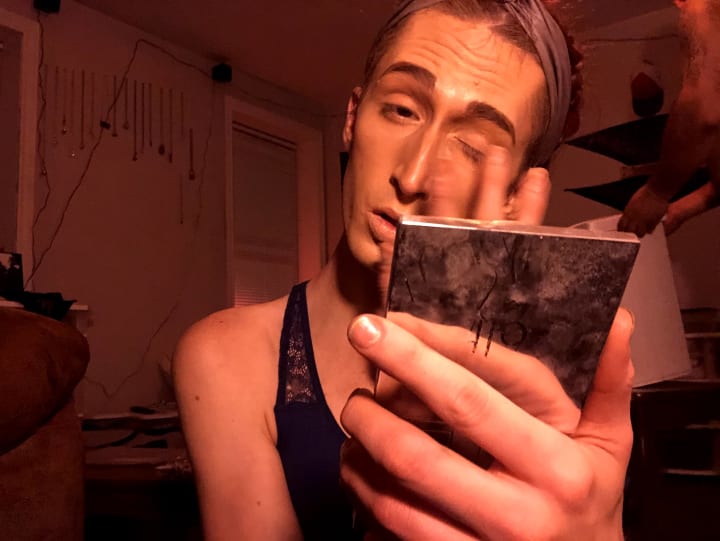 I have kept this pictorial very simple, so after applying bronzer to the upper crease, use your finger and dip into a blush, or a pink, natural eyeshadow, and apply to the entire lid. Depending on the texture of the product, you may find it easier to drag the finger across the lid as well. You want to avoid any harsh lines with eyeshadow, so to avoid the harshness, after applying to your lid, use the same fluffy brush with your bronzer to go over the harshness and make everything cohesive.
After the top lid, use the same bronzer and blend it on the lower lash line as well to make eyes appear even larger, and to again, keep cohesiveness.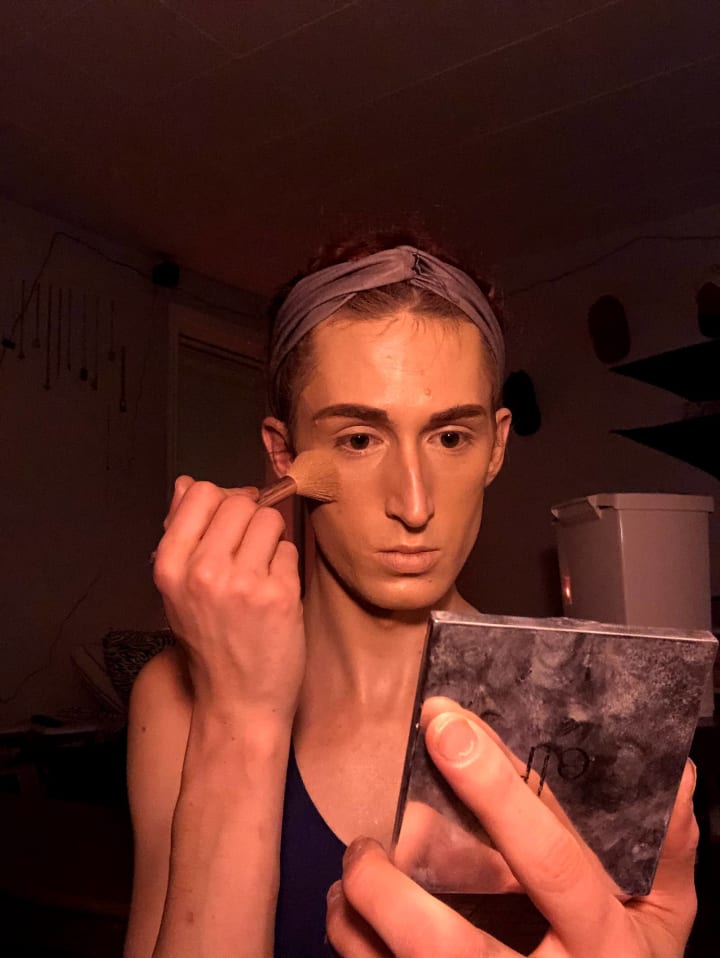 Ahhh the illustrious contour. The makeup "trend" that has remained constant.
The "textbook" definition of contour is creating an illusion of shadow on the face to make features appear more prominent or to receed them. Contour can truly be a trans woman's best friend, or worst enemy.
Using a angled, slightly dense angled brush, dip into the contour shade (very lightly) and begin blending backwards from the front of your cheekbone, up to the temple, and from the temple to the middle of the forehead, then from the temple, down the jawline. You're essentially drawing a number 3 on either side of your face. This is called the "perimeter". This will further round out and define the face to appear more characteristically feminine. Make sure you don't bring the contour too far into the centre of your face, as this can make you appear sickly, or muddy.
You can even use contour to lessen the appearance of an Adam's apple. Place a contour shade directly on top of the Adam's apple, and apply a (matte) highlight shade around it. This will recess the Adam's Apple in the skin and bring the skin surrounding it outwards. This will not make it dissappear completely but if you have a rather protruding one like I do, it will help make it appear much smaller!
After applying contour, then apply bronzer to the same places to give the skin more warmth and a youthful tanned glow! Avoid bronzers with glitters inside them as you want bronzer to appear natural.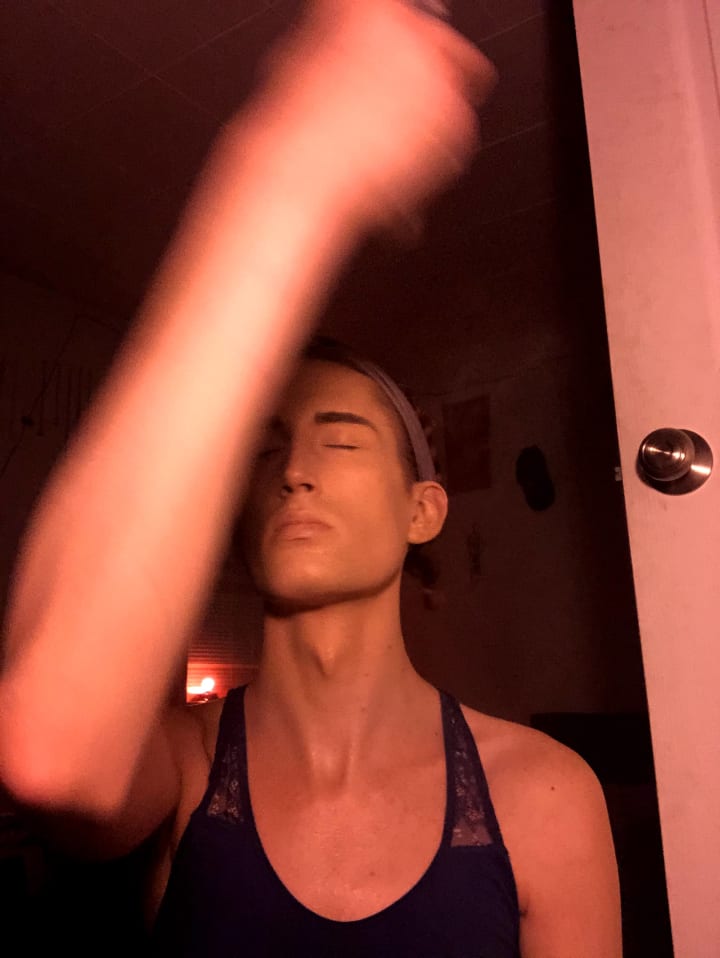 Especially if you use full coverage products, setting spray will help TREMENDOUSLY in making your skin look like... skin again! Layers of foundation, concealer and powder can add texture to the skin and make it obvious that you are wearing makeup. Setting spray will remove excess powder and also further set your makeup! Some use this as the last and final step, however I like to use it before applying more of my base products like blush and highlight as setting spray will remove quite a bit of both!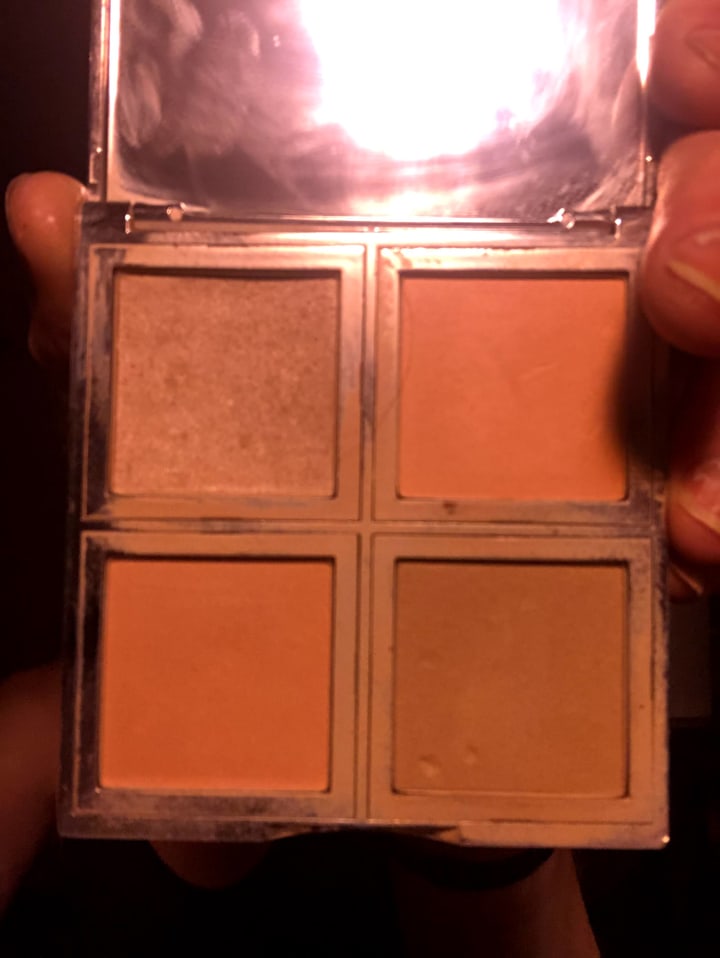 Here I am using the "Elf Essential Face Pallette" which is great for on the go! I begin by using the powder in the top left corner and applying it everywhere I applied highlighting concealer earlier. This will help accentuate the highlighted features and also blend them with the rest of the face as sometimes, when one applies contour, bronzer, etc. the under eye area can appear quite stark. The powder will blend everything together. I then apply blush to the apples of the cheeks and blend it back into the temples, to give a youthful glow, and bring dimension and colour back to the face. The foundation, powder, contour, etc. can make the face appear quite cool-toned and one coloured, a light dusting of blush will bring you back to life!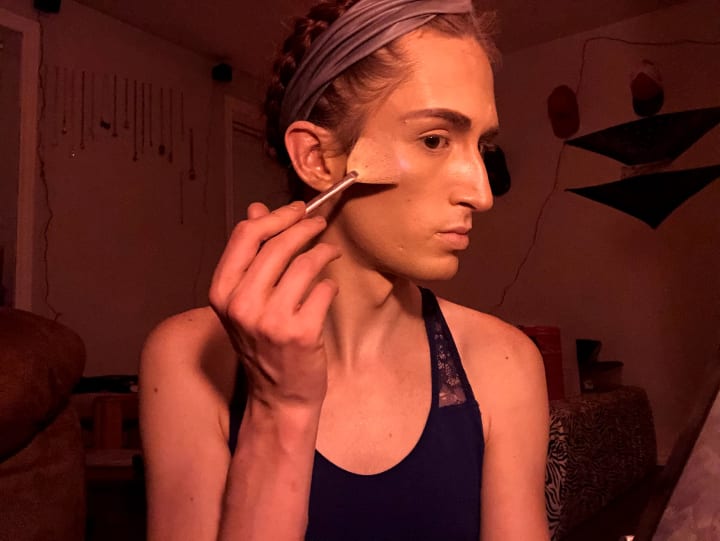 A nice, shimmery highlighter will further add dimension to the face, and also give the skin a dewy look. Apply highlighter to the cheekbones, sweeping upwards onto the temples, under the eyebrows, down the bridge of the nose and on the Cupid's bow (the fold above your lip).
I did not take a photo for this step, but next apply mascara! This is pretty self-explanatory but I have a few tips if you struggle with applying!
- Apply it coming from under the lash, as rolling it on top can lead to more of a chance of bumping the lid and leaving marks
-Use your dominant hand even working on the non-dominant eye as you will have more stability.
-Apply mascara to both the top and bottom lashes to open the eyes as much as possible.
-Wiggle the mascara from the base of the lash up, to ensure each individual lash is coated
-Wipe the mascara brush with a wipe to remove product and comb it through the lashes if they become too clumped together.
And then apply lipstick! For this look I chose a natural looking pink, to keep with simplicity.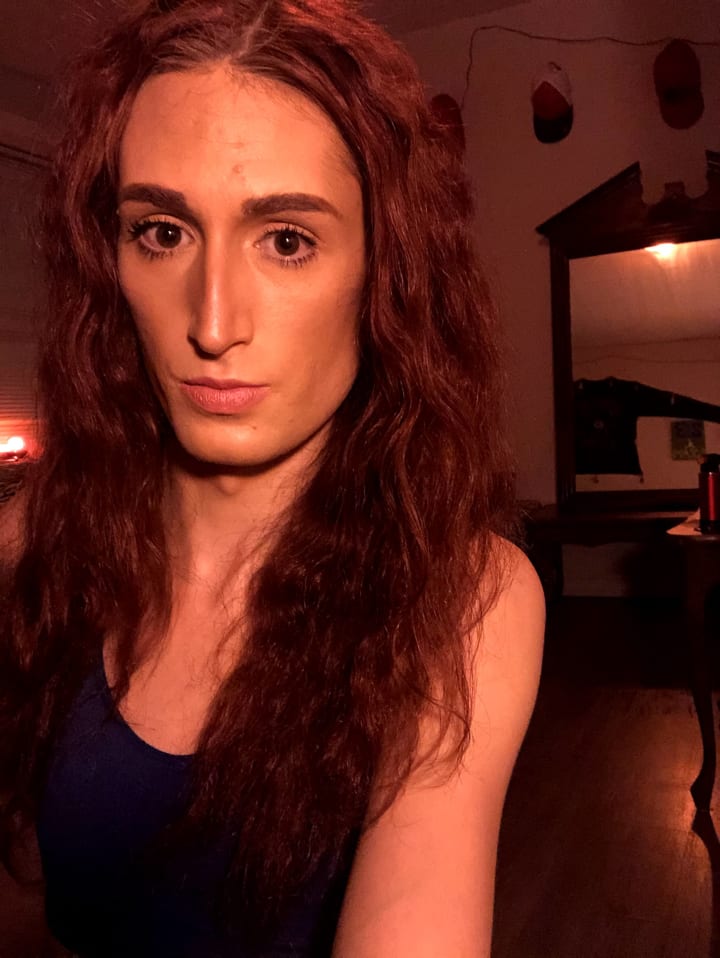 I hope you all enjoyed this pictorial! And if you have any questions don't hesitate to contact me on my makeup Instagram @beatsbychristy!
Stay beautiful!
makeup
24 Year Old Canadian Transgender Woman. Customer Service Agent by day, Life of the party at night, every night. I wish to be loved in the light, and needed where I am loved
Receive stories by Christy Allen in

your feed