The Power of Lush
Behind the Workings of Lush and Their Gender Neutral Products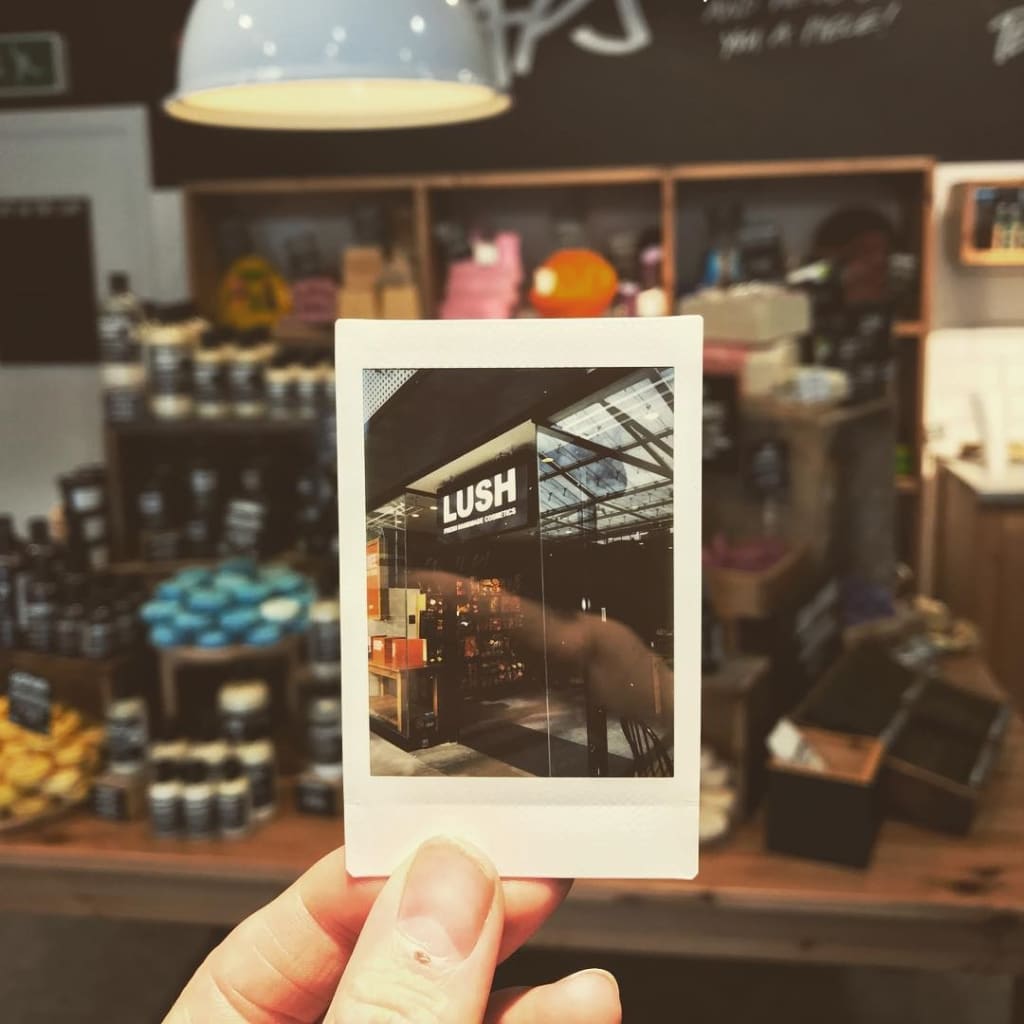 Everybody knows Lush. Its black and white packaging is as distinctive as Big Ben. Their products are many, using quirky characteristics to catch the eye of the millions of customers the brand encounters worldwide and one thing that the Lush family can pride itself on is its gender neutrality when it comes to those very special products.
It's a struggle to find any town centre without at least one Lush on the main high street. In Coventry, Lush exists on the top floor of the Lower Precinct and the smell of the store seems to waft out onto the balcony and into the two stores that sandwich it. It's always easy to find the shop because of the fragrance, and when arriving, you're always greeted by the friendly staff, which is how I met Davey. He was kind enough to give me a walking tour of the store, introduce me to the many unisex products that decorate the very fragrant shop, and inform me on why Lush is so perfectly gender neutral.
We begin with a little inside knowledge on the very unique Lush branding. "We've always been quite consistent with our branding. We've always had the white writing on the black background or vice versa, and as you look around the shop that's how we do our signed writing. So we physically hand write all of our signage and it's that handwriting that was one of our first employees." It's refreshing to know that Lush sticks to its natural aesthetic in all aspects of the brand. "In the Poole shop, which was the first ever Lush shop, they had that handwriting that is almost joined up capital letters and I think it's very distinctive for the way that it looks. Like when you see a black pot with white writing, you think of Lush straight away. We have quite neutral branding, we use Arial bold for our font. It's not really anything too complicated." So the secrets of Lush are revealed. They're so laid back that the simple Arial bold font, accessible on all laptops forms their branding. I don't think we'd want it any other way.
It's the same with their advertising. It's practically non-existent, but there's meaning behind that. "The one thing that we don't do in Lush that really does set us apart when it comes to gender is that we don't really advertise. So you won't see any TV or magazine adverts. We rely heavily on influencers to write about us and find their own interpretation of the product, because I mean we can create the products and we can tell you about the motivation behind them, but at the end of the day, how you use it and what you do with it at home is completely up to you. No one's going to tell you how to eat a potato, but there are ten different ways to eat it and I don't think any of them really have a gender attached to them either." No truer words have ever been spoken. After all, you can't gender stereotype a potato. "I think the packaging is quite distinctive, but as we come out of our packaging in terms of the innovation that goes in it, there's not really a lot of confusion." None in fact. Anyone could tell a Lush product from miles away. "Like when you see a Lush Bath Bomb you can tell it's definitely a Lush Bath Bomb. You can see there's been a lot of effort in its creation process." Agreed. All the colours, the smells, they're more distinctive than anything else in the world. "Our director has a quote from Bob Dylan: I can give you my guitar, but you can't play it like I can. When it comes to people creating bath bombs, you know, we invented them 35 years ago, we'd like to think that we do it the best because we know what we're doing. People can have our formulas, they can try and make it, but I don't think you'll do it quite like we can. And that's never really going to change." That's a very strong (but true) statement. Can the brand get away with the sort of thing? Seeing as it's completely natural, vegan, and against one hundred percent animal cruelty. "We've had to roll with the times. We have been called out by people and I think it's fair to say we want to make sure we do, do that. Our Prince shaving cream used to say "because no girl wants to be prickled by the prince" and now it says "because nobody" because we were called out on it. We also got called out on our shower jellies because it used to say, "rub our wobbly jelly over your wobbly bits" and I think it's quite funny but some people were maybe a bit sensitive about the way it spoke to body image and our interpretation of that." It's very difficult to be PC in today's world, but Lush strives to change, as we all do. "I think we are very sensitive and we do listen, but I think the fact that we are also very interactive with our customers and we are very accessible as brand does something to our credit. If we don't get something right we believe we can make it right. It's in our We Believe statement. It says: we believe in the right to make mistakes, lose everything and start over again, which you know with our first ever business [cosmetics to go], did happen and that's where Lush came from, the business that lost all its money and started over is Lush."
Mask of MagnamintyWhat is it? Face MaskIngredients? Peppermint essential oil, Evening Primrose, Honey
"One of our best selling products in skincare is Mask of Magnaminty and this is actually a skincare product that our director Mark Constantine created for himself and it's become our worldwide best seller in the skincare range. It's filled with peppermint essential oil to boost the circulation of the skin, and it has evening primrose seeds to exfoliate all over, then some soothing honey in there to calm and balance the skin. This is a product that is widely used by males, females, or any other gender neutral person completely across the board."
KalamazooWhat is it? Beard and Facial WashIngredients? Almond essential oil, Jojaba essential oil, Apricot Cornel
"We have this Kalamazoo beard and facial wash which was really popular when we first launched it and still is now. It's one of our best selling products. My wife uses it to take her makeup off just as much as I use it to wash my beard with. And so it's a really lovely face wash as much as it is a beard softening wash. It uses the almond and jojoba essential oil to soften the face or beard and then the apricot cornel to begin to sort of cleanse which is a very, very gentle ingredient and really helps the skin."
Rub, Rub, RubWhat is it? Shower ScrubIngredients? Fresh Sea Salt, Jasmine, Mimosa, Lemon Juice
"In the shower it's really down to a person's preference and what fragrances they enjoy most. Our shower products are something that definitely pop and have a lot of fragrance in them. We don't really want to specify anything, you know? It's just like whatever you're into. Fragrance is a really big part of lush because it's the thing we relate to most on a psychological level—it reminds you of things, or it brings back memories, inspires what you want to do with something, so it's really quite diverse across the range. The one thing that everybody definitely uses is Rub, Rub, Rub and this is made with fresh sea salt for exfoliation, it's got jasmine and mimosa but it's also got lemon juice in there, so maybe those florals that might be considered more traditionally female and have more of a fresher tone in there. It is a very practical product. Any practical person would enjoy a scrub whatever gender they are."
Think PinkWhat is it? Bath BombIngredients? Vanilla Absolute, Neroli Oil, Lavender Oil
"Bath is probably the most challenging area we have to really talk to people who maybe have a lot of preconceptions about gender, because it comes over with the most colour and with the most impact in the store. Quite often people go with a typical blue for boys, pink for girls and in some ways we do like to play up to that but almost like to sort of honour history as it were for example our pinkest most sparkly bath bomb is called Think Pink and it's definitely very feminine because it was inspired by Audrey Hepburn so if you wanted a classic sense of femininity, she's definitely very iconic within that."
Big BlueWhat is it? Bath BombIngredients? Seaweed, Fresh Sea Salt, Lemon Oil
"A personal favourite of mine, and one that we typically sell to a lot of men is Big Blue and this has seaweed and sea salt and lemon in there so it's definitely for, like when I mentioned honouring history, it's definitely for the fishermen out there or the people who would go out and do manual work. But again, it's not just generally for men in the modern world everyone is doing those kind of roles which is fantastic, and this is a real great testament of that. I mean what kind of gender does the sea have, if you know what I mean?"
Dream CreamWhat is it? Hand and Body LotionIngredients? Oat Milk, Tea Tree Oil, Rose Absolute
"We all have the same skin, and in the hand and body section our best seller is Dream Cream. This is the same product that I use to repair my tattoos, like when I've got fresh ink but it's also the product that I use to repair my son's nappy rash. It's actually really popular for any with eczema or psoriasis or dermatitis and it's been our cult best seller over the best few years. And it's a very neutral fragrance. It's rose and lavender with a little bit of tea tree, it's not too invasive at all. When I said we all have the same skin, this is what I meant. This is such a versatile product, anyone can use it."
NewWhat is it? Shampoo BarIngredients? Cinnamon Leaf Oil, Rosemary Absolute, Nettle and Peppermint Infusion
"New is a product both my sister and father use. It helps your hair to grow, like it really inspires your hair to grow by getting the peppermint and the cinnamon onto your scalp and helping it to produce more hair, maintain effective hair. But this is something that regularly is such a neutral product that everyone comes in and shops for. We all grow the same kind of hair and it doesn't depend on gender, it's dependent on how you want to wear it and I think this is the thing that we are working on the most as a brand, is developing the most effective but also the most neutral haircare. It goes back to the packaging, like we don't have a pink shampoo bottle for anyone. We certainly don't define. I can't think of anything more ridiculous then separating out products like that. Our shampoos bars are used the world over. They're an incredible, popular product that we have and they're just an effective way to package shampoo but without using bottles. It just requires the bar and as long as you have access to water, you can make shampoo from that."
Breath of GodWhat is it? FragranceIngredients? Neroli Oil, Rose Oil, Sandalwood Oil, Vetivert Oil
"The fragrance that is my favourite is called Breath of God. It is very much a unisex perfume. It's made up of two parts, Inhale and Exhale and has very sweet top notes using neroli and then the base notes are more of that cedarwood and vetivert so they make up those two very composite parts. We have Inhale and Exhale as separate perfumes. Blended together they are Breath of God and because it was reviewed as a five star it gets a lot more credit than any other perfume brands, even the really high-end ones. I absolutely think it's neutral but we also need to remember that with fragrances, the final ingredient is the person's skin. So depending on how your skin reacts to perfume, you can get that very fruity note from the fragrance on the skin or you can get those base, spicy notes. It depends on who's wearing it and that can be interpreted very differently. It's so neutral that everyone gravitates towards it because it's not proceeded by its gender, it's proceeded by the reputation that it has for being a high-quality fragrance and that's something that is so important. We don't really talk about gender a whole lot in Lush, because we want the products to speak for themselves."
CelestialWhat is it? Facial MoisturiserIngredients? Vanilla Water, Almond Oil, Fresh Dove Orchid Extract
"Our bestselling moisturiser is something my wife and I both use. It's called Celestial and it's very gentle. It's quite sweet but it's definitely very effective and it just does the job for everyone that has quite dry or sensitive skin. It's incredibly hydrating and protecting.I think the one thing that we don't do in Lush that really does set us apart when it comes to gender is that we don't really advertise, so you won't see any TV or magazine adverts. We rely heavily on influencers to write about us and find their own interpretation of the product, because I mean we can create them and tell you about the motivation behind the product but at the end of the day, how you use it and what you do with it at home is completely up to you, yeah, no one's going to tell you how to eat a potato but there are ten different ways to eat it and I don't think any of them really have a gender attached to them either."