The New Too Faced Collection
Glitter, Unicorns, Festivals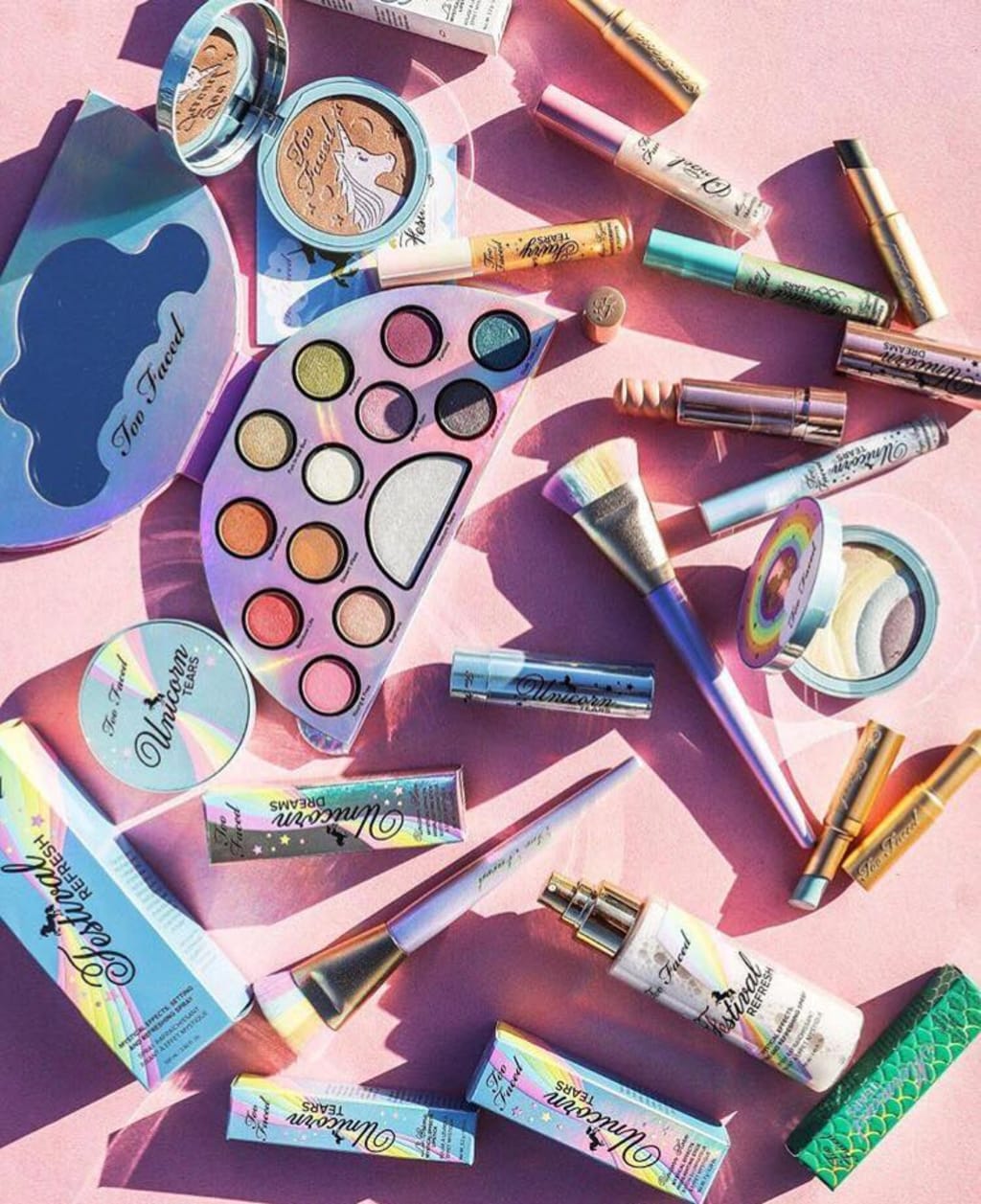 @toofaced insta. 
Too Faced™, arguably the hottest makeup brand on the shelves, is finally releasing a new collection, one that will most definitely outshine the drawn-out Peach collections. The new collection, Life's A Festival, features thirteen brand-new pieces of makeup, the original Unicorn Tears la creme lipstick that inspired the collection, a new brush, and oddly enough (though not in a bad way), sunglasses. There's a huge divide amongst their fans. Some fans are obviously happy to have a new collection, while others are upset that the brand has shown up a little late to the unicorn fad. Yes, they are beating a dead horse - er, unicorn - with this one, BUT it's not necessarily a bad thing. In fact, it's exactly what every makeup lover is looking for.
The Palette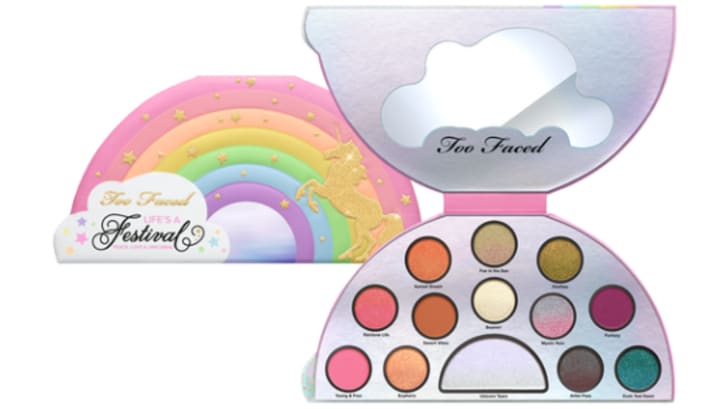 With every new TF collection comes a stunning new eyeshadow palette. The outside of this palette is definitely one for collectors, it's design including a rainbow, stars, and a sparkling unicorn. This one features thirteen pans with eleven shimmers and two mattes. The shimmer shadows are duo-chrome which give the shadows a shade-shifting effect. Not to mention it looks like the Unicorn Tears shadow could double as a shimmery highlighter. The shadows are also infused with rose quartz, and a nice citrus scent. On the website, it says that they are rich in pigment, capable of giving great color pay-off with on swipe. The colors themselves are a wide-variety from pinks to blues. The palette will cost just $42.
Highlight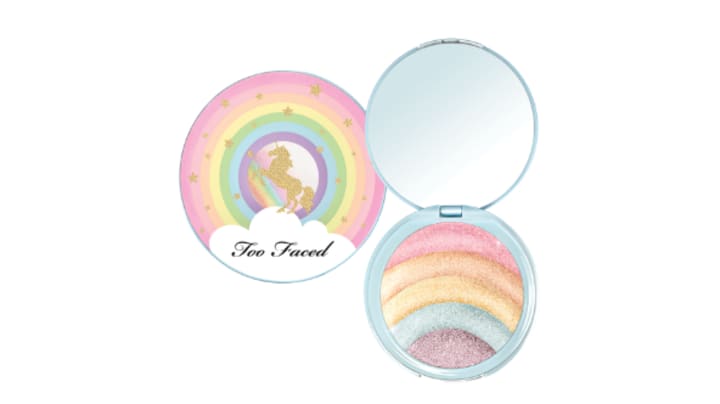 The new highlighter that comes with this collection is absolutely gorgeous, with five separate colors lined up for a rainbow effect. You could use them as stand-alone highlights, blend them together, or use them to create the same rainbow effect on your own face. Just like most of their other highlighters it is buildable so you control how much you shine, and just like the palette for this collection it's infused with the same rose quartz and citrus scents. It's all wrapped up in a collectable compact with a rainbow and sparkling unicorn. It comes to a total of $30.
Bronzer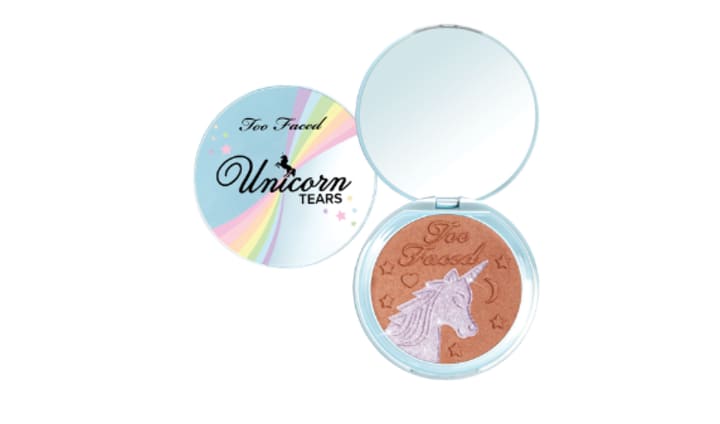 The description of this bronzer says it's the perfect blend of sunlight, moonlight, and starlight for the perfect unicorn bronzer. It has two shades, your average bronzer and a beautiful purple that is surly stunning blended together. Contrary to the first two products in the line, this bronzer is infused with a "unicorn" scent. This compact more closely aligns with the packaging for this collection, with a blue base and a smaller rainbow and unicorn. It's $30.
Highlight Sticks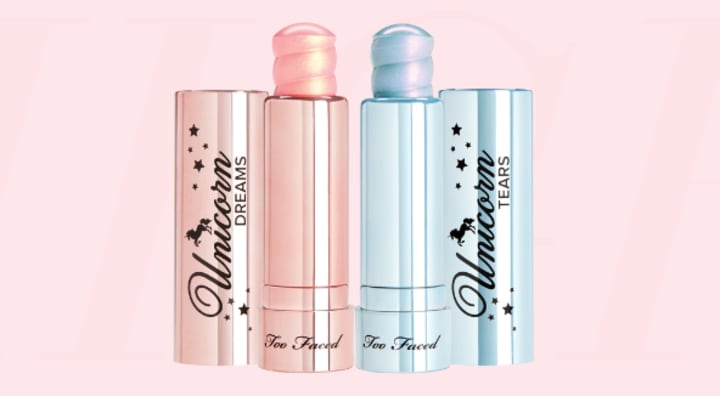 This collection not only comes with one pressed powder compact highlighter, but also has two cream highlighter sticks which comes in a pretty pink and a beautiful blue but both have shade-shifting effects. It's a buildable formula that is easy to use. They come in sleek twist tubes in their respectful colors. They are $28 dollars a piece.
Lipstick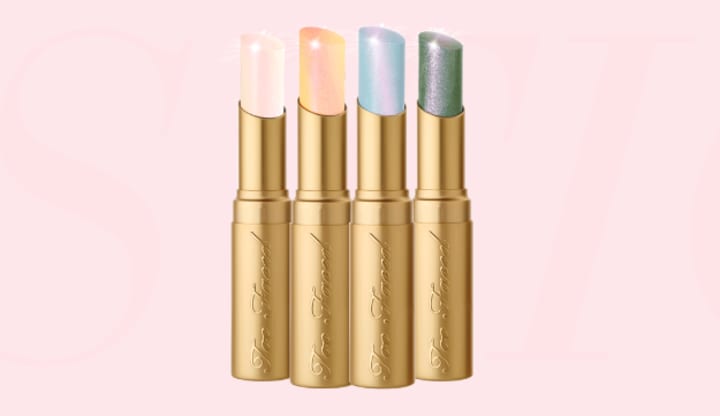 For the most anticipated part of the collection, teased on the co-founders Instagram way back in October of last year, contains four la creme lipsticks. Of course, it includes the original Unicorn Tears, which inspired to Life's A Festival collection, and three new temperature changing colors in Mermaid Tears (greenish-purple), Angel Tears (white-pink), and Fairy Tears (peachy).
With Unicorn Tears being more of a festival/special occasion wear, it's nice to be getting the same effects in more everyday colors. While the tube is normal for the la cremes, it does have a collectors box matching the name of each one. For Unicorn Tears it's now the standard box for this collection with a blue base and rainbow with a unicorn. As for Mermaid tears, it's a green box with scales, Fairy Tears in a holographic box with fairies, and Angel Tears a white box. Each lipstick will cost the standard $22 for the la cremes.
Lip Toppers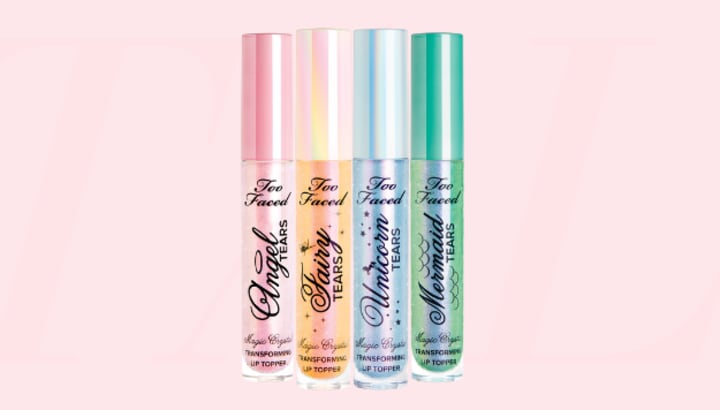 Going hand-in-hand with the la cremes from this collection, they have stunning holographic lip toppers in the same shades. They would be great as stand-alone colors, or to top off your favorite lipstick. The colors shift depending on light. Here's to hoping they live up to the term holographic, as not much makeup with the same labeling pays off. But if anyone can achieve it, it would be Too Faced. They come in a standard lip gloss tube, with the wands matching the color of the product. They all come at an EXTREMELY affordable price of just $19.
Refresh and Setting Spray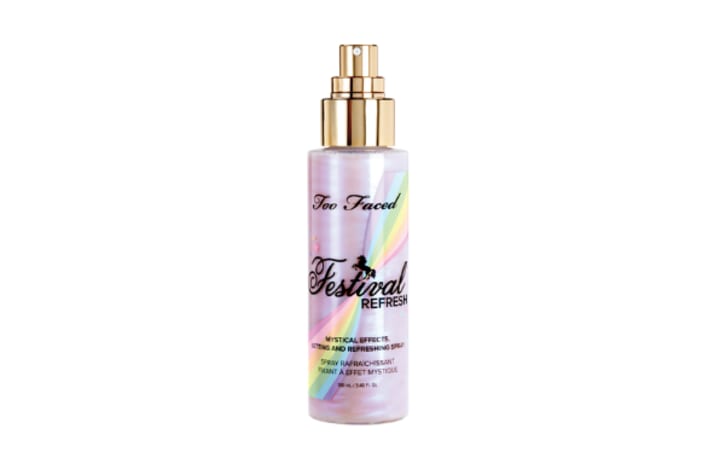 A two-in-one refresh and setting spray, the "Festival Refresh Spray" is infused with opalescent pearls to give you an all over illuminating look. It's alcohol free, also infused with rose quartz and citrus scent. It's a gorgeous purple in the bottle with shimmering, swirly effect. It comes at a price of $24, and is the last makeup product of this line.
The Brush
Fitting in perfectly with the theme, TF has a new brush for highlighting and contouring. It has densely packed bristles (teddy-bear), in rainbow colors that line up with the highlighter for this collection. It comes at a price of $34.
The Sunglasses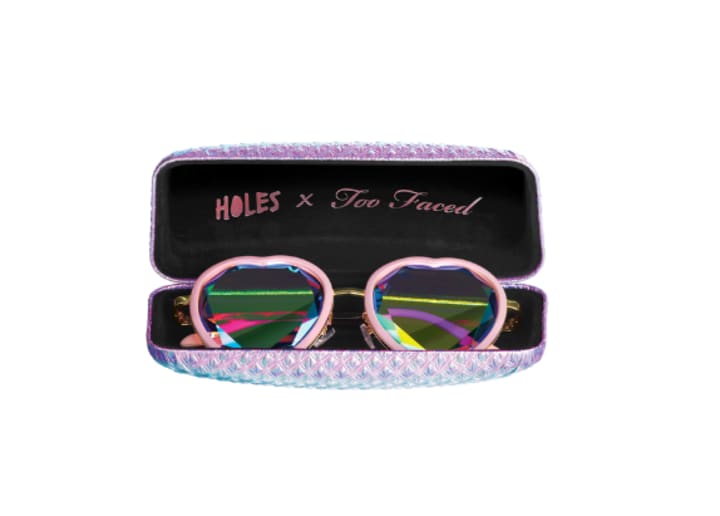 Lastly, in collaboration with HOLES kaleidoscope glasses, they have these beautiful heart shaped sunglasses that come in a holographic case. It's a bit pricey at $95, but if you're wearing them to a festival, I'm sure money isn't too much of an issue. It's odd for them to have eyewear, but then again they do have their own pearl necklace. Again, not a bad thing, just odd for a makeup brand.
In Conclusion...
This collection is definitely going to knock other collections right out of the water - regardless of the fact it's a little late to the trend. Everything in this line is completely stunning and a must-have for collectors. Their prices aren't bad and definitely stay true to the brands expected prices. It's a collection great for everyone... people who use makeup for play, for work, for teens and adults.
The release date for this collection is February 15th on toofaced.com , and then has varying release dates on other sites and in stores. This collection is believed to be a lasting collection, with no limitations to which stores you can get it at.