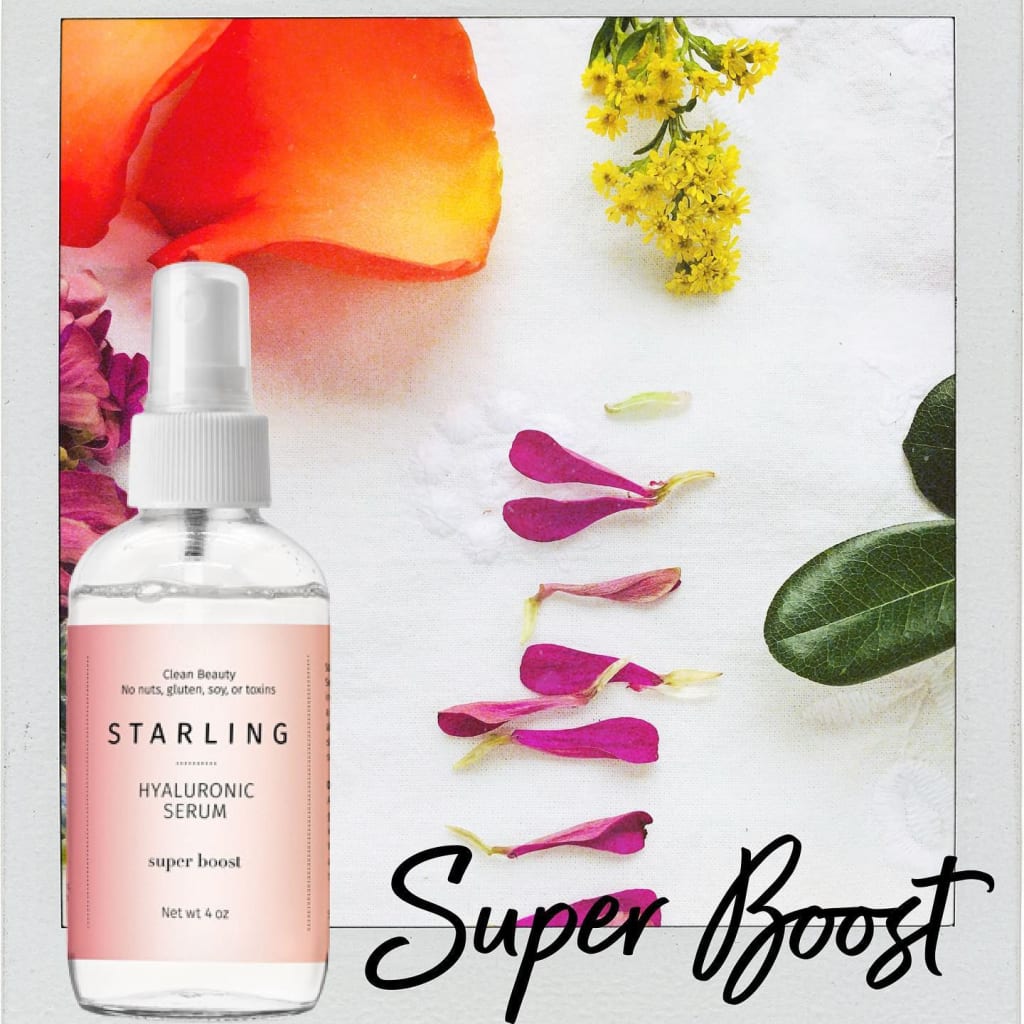 About Starling Skin Care
Unlock healthy, luminous, and hydrated skin while targeting your most sensitive skin needs. Both Super Boost and Lip Quench from Starling Skincare instantaneously recharge parched skin with the hydration it deserves. Developed for those with allergies and sensitivities in mind, Starling Skincare has eliminated all common allergens, including nuts, gluten, soy, synthetic fragrance, and preservatives. The solution-focused formulations from Starling Skincare help eliminate sensitivity and redness, bringing skin back to optimal health. They offer a line of balms, serums, cleansers, hand sanitizers, and deodorants.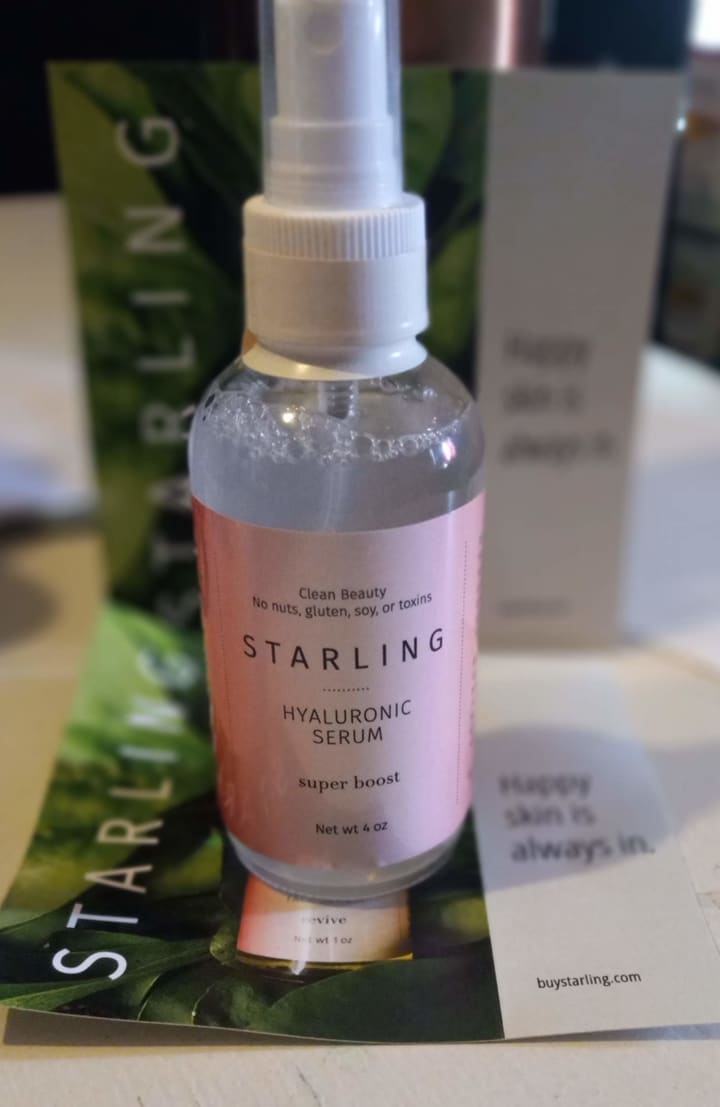 Starling Super Boost Hyaluronic Serum
Aimed to give your skin a super boost of hydration. It sinks in quickly and moisturizes deeply, leaving your skin plump and smooth all day. Containing key ingreidants such as:
Organic Witch Hazel Water
Organic Olive Leaf Extract
Rose water
Organic Glycerin
Aloe Vera
Well, I would be the judge of that. They had not met my combination/ sensitive skin yet. I've battled my skin all my life. Oily and acne-prone I now find myself in my mid-40's. My skin has changed my skin, but the one remaining staple is my skin has always been sensitive! Of course, I've tried numerous products, some even aimed for "sensitive skin." Only to break out frustrated again. I am sure many women have felt my pain. When another skincare product came along my way boasting to hydrated, and help soothe sensitive skin I decided had to put my bitterness with past products behind me. My dry/oily sensitive skin now with an onset of rosacea that I had never experienced before needed help.
My Results
The moment I applied this to my skin, my skin cells rejoiced. After just one application, I was stunned by how hydrated, soft and dewy my skin looked. My skin has NEVER been dewy! All while soothing the burning redness that was on my cheeks. No irritation at all!
To start, since my skin was crying out to me, I used the Hyaluronic Serum twice a day. Once in the morning and then at night. I then reduced it to just using it only in the morning. You squirt 1 to 2 pumps in your hand and pat all over your face gently. You are to even go under your eyes. I was starting to notice darkening and puffiness under my eyes too late, and I think the serum helped with that too.
After using Starling Hyaluronic Serum/ Super Boost, I found I had
• No more pain when I smiled due to dry, cracked skin.
• Redness and burning feeling reduced.
• No more flakey skin
• Make-up goes on smoother
• My Husband NOTICED!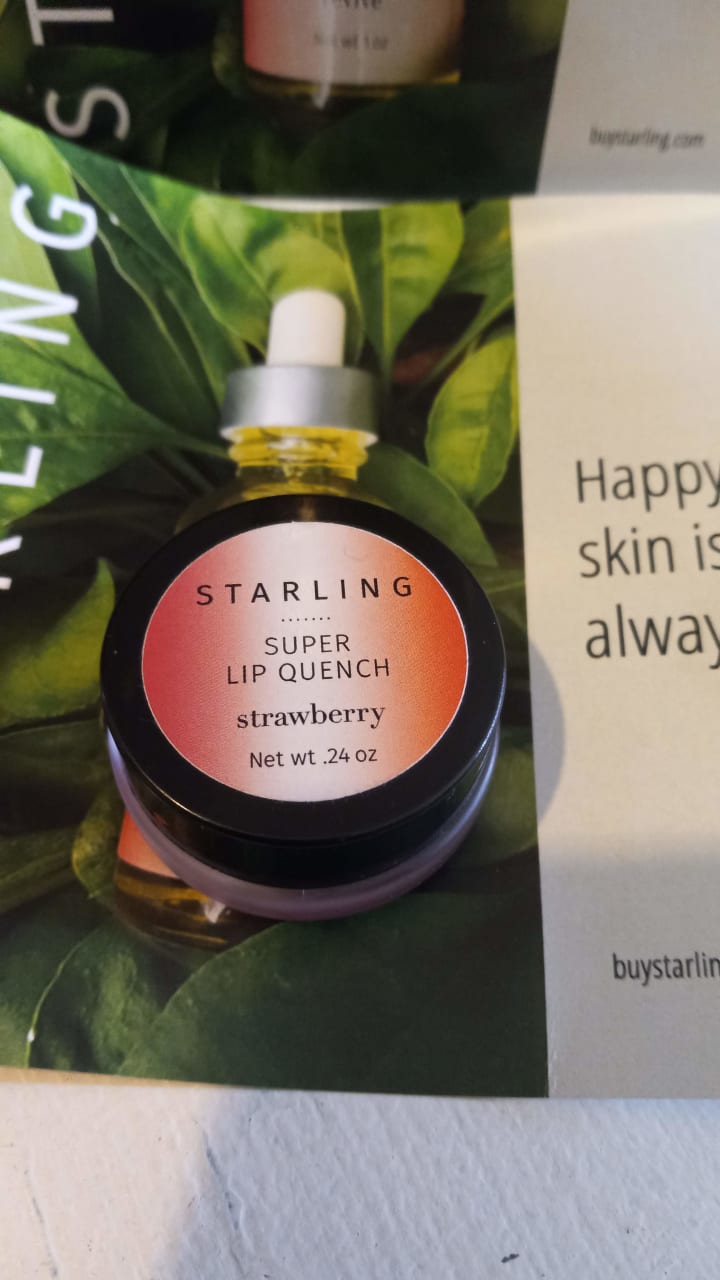 Starling Lip Quench (Strawberry)
I also tried their Lip Quench lip balm. This bright shimmery pink tone balm is said to deliver a profoundly moisturizing, long-lasting, and healing lip balm that's packed with good-for-you lips organic oils and botanicals. Super creamy and emollient. It will nourish, repair, and plump dry lips. The moisture barrier created by this balm stays in place. You'll reapply less. Your lips will naturally become healthier. Oh really? They have not met my lips. No lip balm could fully quench its thrist. I tried Aquafina, Vaseline, Carmex, Chapstick, CBD lip balm. Nothing truly worked.
My Results
Upon application, I swear my dry lips sang in rejoice. Dry lips have been a bane of my existence for so long, and when your husband kisses you and starts to complain, you know you got to do something, but nothing seems to solve it! That is until I met Starlings Super Lip Quencher. I got the strawberry, but there is no smell or taste to it. The strawberry has a hint of a pink tone that turned my dry grey, dull-looking lips back to looking plump and natural!
Does the Super Lip Quench hold up, though? The answer is YES! At first, since my lips were so dry, I applied it throughout the day. It is small fits in your pocket, so it is easy to pull out and use. By the middle, I could reduce it to once in the morning and then once at bedtime. It was so lovely to wake up to moist smooth lips in the morning. Now when my husband kisses me, he is amazed at how smooth and soft my lips are. #husbandapproved!
If you like to learn more you can follow Starling Skincare on their Facebook Page @https://www.facebook.com/starlingskin
About the Creator
Janny C is an established freelance writer. A bit of a jack of all trades writer Janny has found a niche in beauty writing, earning a reputation as a beauty product reviewer, which she shares here on Vocal Media.
Reader insights
Be the first to share your insights about this piece.
Add your insights