Rating LÓccitane's Body Washes from Best to Worst
What's worth it and what's not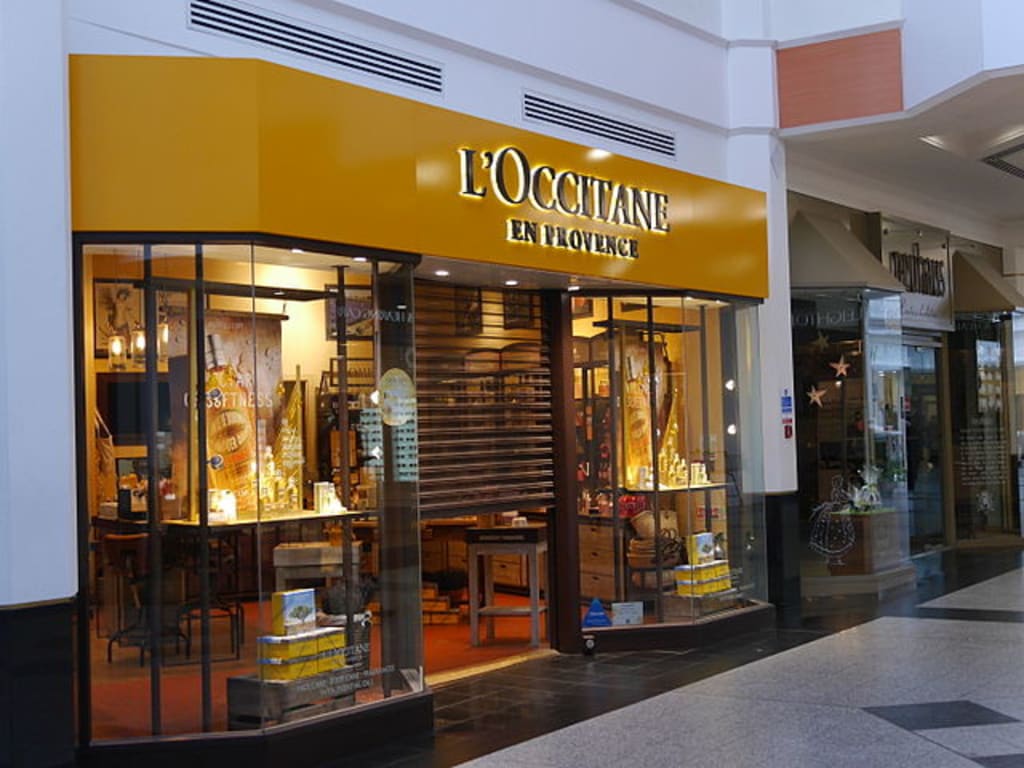 LÓccitane store in Putney Exchange, London, England
I have a confession to make: I love LÓccitane's products, especially their body wash. Luxury body wash is a great way to unwind from a stressful or lousy day and to lather up with warm water in the shower on a cold winter's day. I like to try the smaller sizes, if I can, first. LÓccitane's stuff isn't cheap and buying the smaller sizes is a great way to sample their scents without going broke and to figure out which ones are your favorites so you can buy them in the larger sizes in the future and which ones aren't worth spending the extra cash on. Here are LÓccitane's body washes from best to worst in their small sizes and these prices are inflation-friendly too.
Terre de Lumiere Shower Gel, 1.6 fl. oz/50 ML, $8.50 + $4.95 shipping = $13.45 at LÓccitane,*****: Oh, my word. I'm in love with this stuff — so much that it gets a perfect score from me. This is a candied almond-smelling floral. The sweet smell is pleasant and present, but not overbearing. It's also a gorgeous gold shimmery color. LÓccitane aptly describes it as Golden Hour — that beautiful time in the sky right before sunset. This is definitely worth splurging on in its larger size.
Fleurs de Cerisier Happy Cherry Shower Gel, 2.5 fl. oz/75 ML, $4.50 + $4.95 shipping = $9.45 at LÓccitane,****: Cherry Blossom has never been one of my favorite scents. Therefore, this ended up being a pleasant surprise. It leaves you wonderfully scented without being overpowering and cloying in the way that Bath & Body Works always makes it. I'll definitely be asking for it in its bigger size on my birthday/Christmas list.
Verbena Shower Gel, 2.3 fl. oz/70 ML, $5.50 + $6.45 shipping = $11.95 at Loja Glamourosa,****: Although I hate the color yellow, as well as the smell and taste of lemon, this ended up being a nice and unexpected treat. The citrusy scent was a bright and cheerful one and I felt relaxed and rejuvenated during and after my shower. The bottle is gorgeous with the engraved leaf and cute silver snap-off cap. It's also perfect for both men and women.
Herbae Gentle Shower Gel, 1.6 fl. oz/50 ML, $5.50 + $4.95 = $11.08 at L'Occitane,***: It's a good, but not great grassy scent. There's something a little too sweet and overpowering about it. Thankfully, I just tried it in the small size.
Neroli & Orchidee Shower Gel, 1.6 fl. oz/50 ML, $7.50 + $4.95 shipping = $12.45 at LÓccitane,**: I had high hopes for this. I love neroli. It's one of my favorite scents and it's hard to get orchid right. Bath & Body Works always screws it up and Vitabath captured it perfectly and I was loving their orchid body wash till the creamy, thick contents of it clogged the shower drain and Drano isn't cheap to unclog it. It's a heavy and claustrophobic scent and I'm surprised that it gets such high ratings overall.
Rose Calisson Shower Gel, 2.5 fl. oz/75 ML, $8.50 + $4.95 shipping = $13.45 at LÓccitane,*: Although rose has always been one of my least favorite scents (It's way too strong for my taste.), Mario Badescu restored my faith in the scent with their wonderful rose body wash and the stronger scent is welcoming in these cooler months. In its body wash format, the scent is less overbearing than it usually is in perfume spray formats. It's an upper crust yet soothing smell. Therefore, when I discovered that LÓccitane had its very own rose scent, I thought, 'What could go wrong?' I was certain I'd love it for all of the reasons I loved Mario Badescu's body wash. Boy, was I wrong! It was so nascent and off-putting that I had to cease using it immediately after I sampled a small amount in the shower and posted it for sale in my store on Mercari.
You don't need to be an heiress to enjoy many of LÓccitane's body washes. I believe that these luxury body washes are essential in creating a spa-in-your-bathroom kind of experience and should be accessible to everyone —not only the privileged few. This is a great way of sampling some of these body washes and without breaking the bank so you can figure out which ones you can't live without and are worth spending the extra money on in their larger sizes in the future.
skincare
About the author
Stephanie is a writer who resides in Maryland with her boyfriend, their daughter, and their two orange tabby cats, Slam and Allie. She loves the beach, boardwalk, Barn 34's pancakes, and soft-serve ice cream in Ocean City, MD.
Reader insights
Be the first to share your insights about this piece.
Add your insights