Prism by Anastasia Beverly Hills
A Review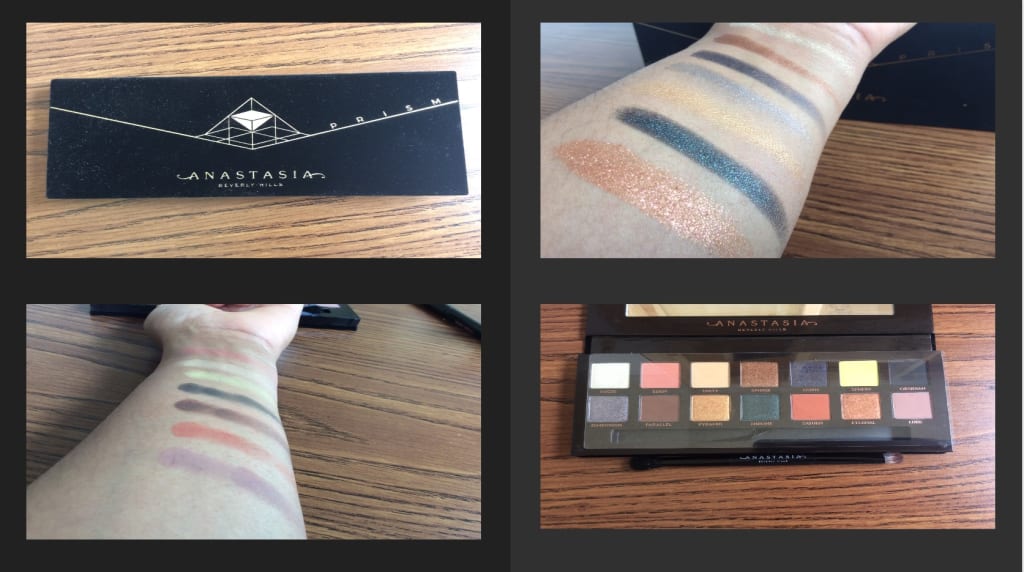 Disclaimer: I spend my dough, that gives me the right to have an opinion. If ABH pays your bills, by all means, leave. As we "intelligent" human beings know, understand, and (should) accept, it is impossible to like or dislike everything from a single brand (Subculture anyone?). A bad product does and will reflect on a brand. It is what it is. I am always a devil's advocate because what may or may not work for me will work vice versa for someone else. So the gist is that this review is based on my experience, and skin type (medium-tan with pale undertone and oily skin).
Hey Guys! I tried to keep it short, but alas.
My review is divided into roughly five parts: negatives, positives, neutrals, shadow descriptions, and a conclusion. I paid $29.99 (plus 13 percent in taxes) CAD at Winners, making it approximately $22.75 USD (without taxes). It is still available for pickup at $42 USD or $55 CAD on ABH's website. It's not a common palette I've seen at TJX chain stores (the way you see KVD Lipsticks). So I consider myself lucky to have found this.
Personal Grievances:
1. Their brush is useless (even wet) with their own shimmery shades.
2. Expiration at six months is too little in comparison to other alternatives on the market. Unacceptable at that price point. They need to improve on this.
3. I've seen shadows that are just as pigmented but not as powdery. I dislike how careful you have to be and how time consuming it can get.
4. I wish they would've kept mattes in one row, and the shimmers in one row.
My Positives:
1. Their brush when it comes to matte shadows is pretty good. I use double ended brushes on the go, because minimalist! And I find that they do the job well enough for a simple but pretty look.
2. It's cruelty free.
3. Pigment on each shadow is amazing.
4. I think it has a really nice colour story, plus it has just about enough neutrals for a simple everyday look.
5. The packaging design is probably the best they've done so far (in my book). It looks and feels expensive. In contrast the packaging of Soft Glam did not give me those feels. Or I'm really just into geometry and if you peek into my closet most things are black. Therefore, I may be simply put, biased.
6. I like how they have the picture of the inside of the palette on the back of the sleeve.
Things I stand Neutral on:
1. It is limited edition. (Meh!)
2. Each shadow is 0.7 g each, making it a net of 9.8 g. Each shadow is $3USD/$3.9CAD. Each gram is $4.2USD/$5.6 CAD. The prices are based on the regular price of the palette.
3. I generally don't think that ABH is a travel friendly palette as much as the UDNaked series would be because of the closing mechanics or mini palettes would be because of the weight.
Shadows:
We are going to divide this into shimmers and mattes. The reason being that I tried to swatch the shadows with theIr provided brush. It worked well with mattes, not at all with the shimmers (I find that UD's double ended brush works well enough with shimmers in my experience). So I had to swatch the shimmers with my finger, which I personally prefer to do anyways most times. There are three shimmers and four mattes on the top, and four shimmers and three mattes on the bottom.
Shimmers:
Lucid- A very sheer shimmer with a yellowish undertone. Kind of unexpected, but I don't mind.
Sphinx- A copper shimmer.
Osiris- A glittery black shadow.
Dimension- Very pretty greyish silver shimmer.
Pyramid- Your regular mill of the day gold shimmer. Pretty but nothing new.
Throne- This is my favourite shimmer shadow. It's like a black shimmer with green glittery undertone. This is a fun shadow.
Eternal- A lighter take on the bronze. I wish this would've been something else because it is quite similar to Sphinx. And the way the palette is laid out, it wouldn't matter if it was an extra matte or shimmer. If it were a darker caramel shade (it would've made this palette perfect for those neutral lovers out there). I personally would've have liked a mauve pink shimmer to go with the matte.
Mattes:
I found that for me all the mattes swatch true to colour the way they are in the pan. I appreciate that because obviously I did not buy it from a store where I could just open it and swatch it.
Eden- A true coral.
Unity- Just your regular base shadow.
Sphere-Another fun colour, neon yellow. A nice shadow to have to post up some great pics online.
Obsidian- Not the most pigmented black, but buildable. Which I do think is good, because black is that one shade you need to control. A little goes a long way.
Parallel- Your regular brown shade.
Saturn- Orange is not my favourite colour, but I like the way this one looks.
Lure- This is my favourite matte. Such pretty mauve pinkish shade. As I said I wish there was a shimmer or darker matte to go with this. Because usually these kind shades don't work on my skin tone, but this one does so beautifully.
Conclusion:
Conclusion: If I were paying $42/$55 USD/CAD for a powdery palette like this (regardless of pigment), I wouldn't be too happy about the price point. I do think they should improve on that score, because I've seen shadows where they are just as pigmented but not as powdery for cheaper and/or a similar price point. But on the other hand, I'm in love with the design and the shade selection. TBH, I was vacillating hardcore on getting this but then talked myself out of it and was like let's save for a ND palette. And there you go, I found it for almost half the price, it was meant to be.
On a side note, I do think ABH are not pacing themselves enough by releasing their palettes back to back so quickly. I mean this limited edition palette just came out last year I believe, and it's still available. I do think they are still riding on their modern renaissance success and thus have not taken much time to improve on their shadows and packaging itself. It's time for a real game changer when it comes to ABH. They should both come out with a mini palette and put an end to the velvet. My two cents as someone trying to be a conscious buyer who does not want to spend money based on affordability, but rather on accountability.
Au Revoir Mes Amis,
XOXO!
PS: Someone left me a tip for my Masquerade JP post. I don't know who they are, but if you're reading this, a heartfelt thank you from the bottom of my heart. I hope you are always met with the kindness, you've shown me. Love.
product review