How to Establish a Perfect and Healthy Skin Care Routine
Get The Look You Want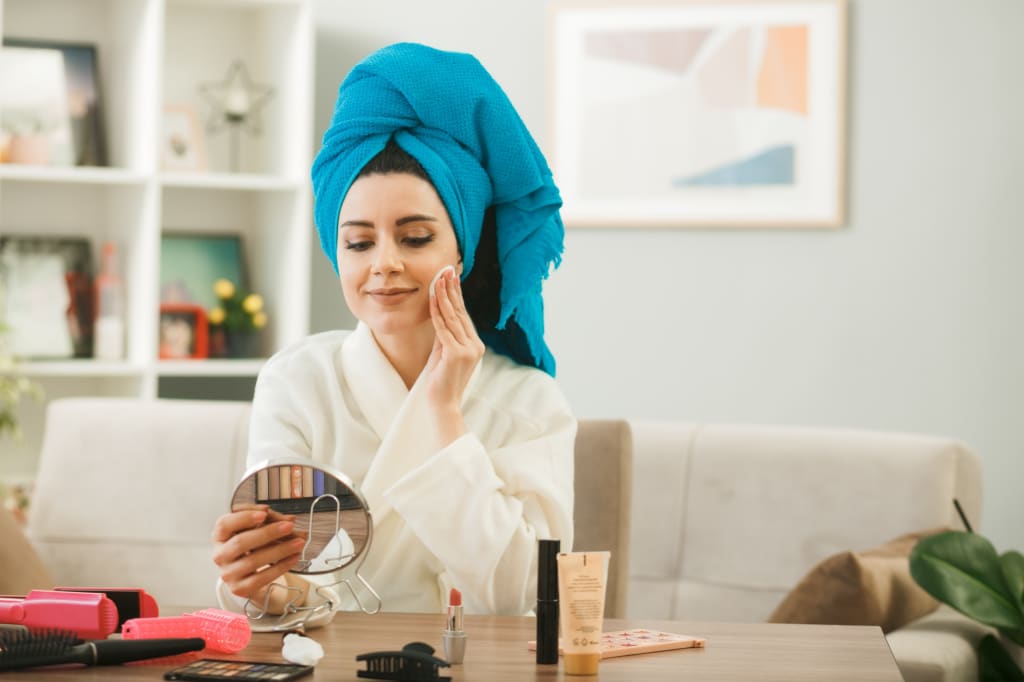 A Lady doing her Skin care routine | Image via freepik
Several top-notch beauty care products on offer do indeed deliver what they promise. However, buying the right products is only one-half of your journey towards perfect skin. The next steps involve creating a routine and then knowing which products and how to use them. This can be a complicated task until you pick up some tips and methods that work for you. Check out this article on how to establish a perfect beauty care routine.
Step 1: Clean Your Face
You must cleanse your face in the morning and night, this can be done with a good face wash that is dedicated to your skin type. Apply the face wash by first wetting your face, then making a lather with a small amount of face wash in your palms and gently massaging your face in circular motions. Never pull the skin, especially under your eyes. Once done, wash off the soap and pat your face dry. You may have to follow the beauty routine at night too if you wear heavy make-up. If you do, start by taking off any make-up you may be wearing, and use makeup remover so you don't end up stretching or scrubbing your skin too tightly. For waterproof eye make-up leave a bit of the remover product on for longer so it's easier to remove. These are simple beauty tips & secrets you can use to avoid too much stretching and damage to your skin when cleansing it. For more inspiration on health and taking care of yourself, you can explore sites similar to Lifestyle Guide Online.
Step 2: Tone up Your Skin
A good toner is an essential product for any dedicated beauty routine. There are several types to choose from. Exfoliating toners, containing glycolic acid will help remove the dead skin cells; hence, it must only be used before bedtime at the end of the day. Since this product works to exfoliate your skin, you must not pair it with other products that offer the same results as you can then damage your skin. Other variants include hydrating toners, which are suitable for use in the morning and at night.
Step 3: Eye Care
A good eye cream can get rid of morning puffiness as well as keep your under-eye skin moisturised. A good trick is to keep the product in the refrigerator, which will then help soothe away any puffiness you may have in the morning. Eye creams are generally thinner in consistency so should be applied before your moisturiser. Also, using a roller applicator will reduce the pressure that would take place if you use your fingers, thereby preventing the stretching and pulling of your delicate under-eye skin.
Step 4: Serum Time
You can choose to use a serum or not. Decide on the necessity of the product and the benefits it offers. There are oil-based and water-based serums; therefore, apply the oil-based serum on top of your moisturiser and the water-based before. Some serums double up as exfoliants, which means you can use them if your toner is not an exfoliant. Serums containing alpha-hydroxy-acids offer this benefit. Others like vitamin C serums can be worn in the mornings as they are good antioxidants and can protect your skin from sun damage by forming a protective barrier. If you want a good nighttime serum, choose one with hyaluronic acid, as this type can help protect your skin from drying out.
Step 5: Get the Spots out
If you are dealing with acne scars, a good spot remover should be used at night. A quality product will aid your skin's rejuvenation process that happens at night. Take care though to not use the product in combination with retinol if it contains salicylic acids or benzoyl peroxide.
Step 6: Moisturiser Time
Applying a good moisturiser to your skin will make sure the products you applied before are well-sealed. It will also help to keep your skin looking and feeling supple. Choose a good day moisturiser that offers above 30 SPF sun protection. For your nighttime routine, you can choose a heavier cream that works as an anti-ageing cream as well.
Step 7: Sun Protection
Unless your moisturiser contains SPF factors, you must make sure to apply a good sunscreen before going out in the morning. Sun damage not only ages skin, it can also lead to skin cancers. When choosing a product, look for one that offers broad-spectrum protection which means it shields your skin from both UVB and UVA rays.
Reader insights
Be the first to share your insights about this piece.
Add your insights