Glow Up The Natural Way With This Black-owned Clean Beauty Brand
Clean body care at its best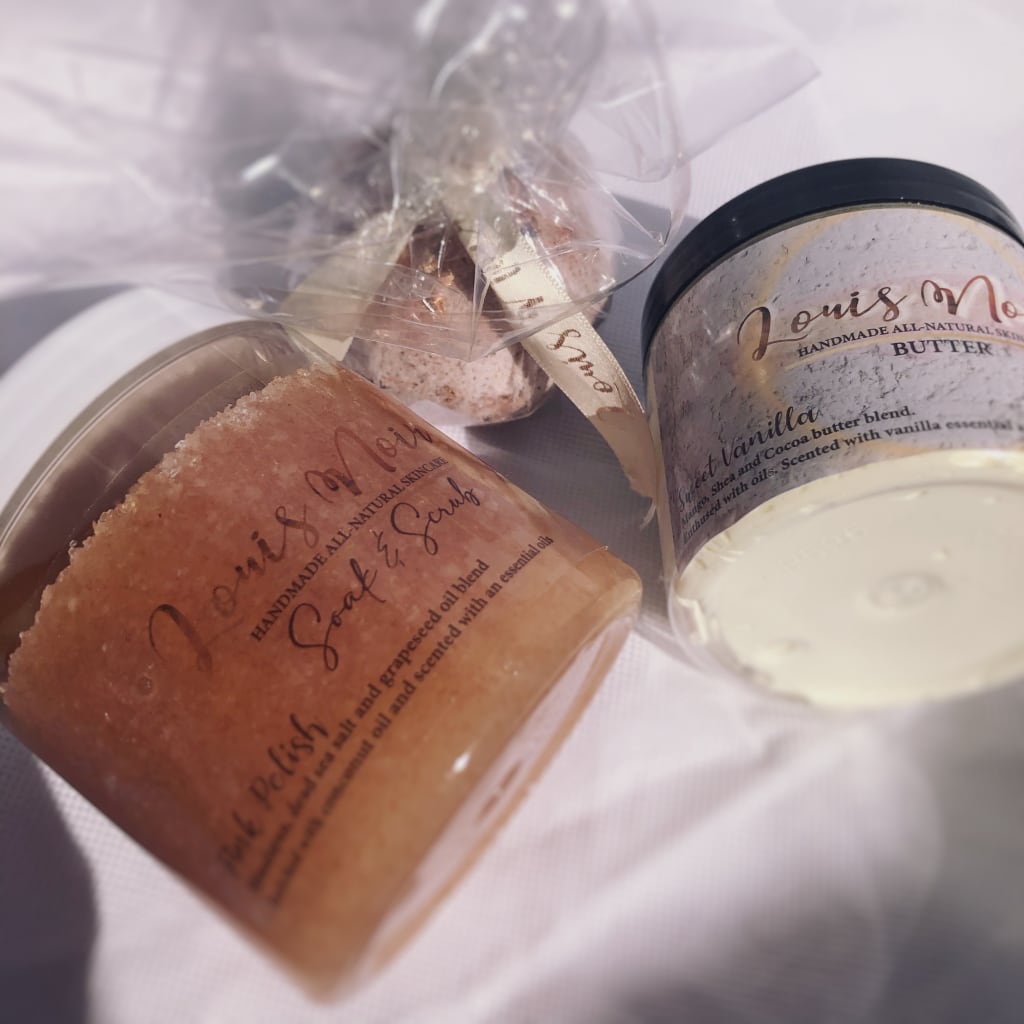 Louis Noir- Natural Skincare
Louis Noir is a black-owned, organic skincare brand based in the United Kingdom. Akleia Louis, a skincare enthusiast and graduate, founded the company.
The brand provides clean ingredients as well as simple, breezy, clean aesthetics. The skincare line is all-natural, vegan, and scented naturally.
Louis Noir was born during the global lockdown's silence. When the pandemic struck, the creative juices were flowing freely. Akleia had been making her own skincare products for herself, friends, and family from natural ingredients such as shea butter and cocoa butter.
Akleia's passion for natural skincare has always existed, but her mother's eczema and a desire to eliminate harmful chemicals from her skincare routine fueled her desire to create her own products.
Akleia's pure products, which place a strong emphasis on essential oils and the therapeutic benefits associated with them, include body butter, scrubs, and luxurious bath bombs.
Every product is lovingly handcrafted, and every ingredient is carefully selected to nourish and protect the skin.
Some of the highly beneficial ingredients found in Louis Noir products are listed below.
Frankincense
In aromatherapy, frankincense is frequently used to combat anxiety, relieve colds, and boost and improve digestion. It also functions as a natural astringent, soothing and reducing inflammation. An excellent and highly effective essential oil for healing.
Shea Butter
Shea butter is extremely beneficial to the skin; it has anti-inflammatory properties as well as nourishing, rejuvenating, and anti-aging properties.
Cocoa Butter
Cocoa butter is also known for its anti-aging and anti-inflammatory properties, as well as its healing properties.
Avocado Oil
Avocado oil is a highly effective, calming, moisturizing, and rejuvenating oil. It hydrates and brightens the skin as well.
Vitamin E oil
Vitamin E oil is a powerful healer that combats hyperpigmentation and skin dryness.
Their body scrubs exfoliate, nourish, and promote natural skin renewal, enhancing the skin's natural radiance.
Bath bombs by Louis Noir are naturally scented and opulent, and the essential oils used make self-care days exquisite, rejuvenating, and relaxing.
The Fade Whipped Body Butter is the newest addition to Louis Noir's product line. This product is designed to treat stretch marks, scars, and hyperpigmentation. It was meticulously crafted with a blend of organic aloe vera butter, shea and cocoa butter, vitamins A, E, C, and D, and essential oils for fading scars and marks.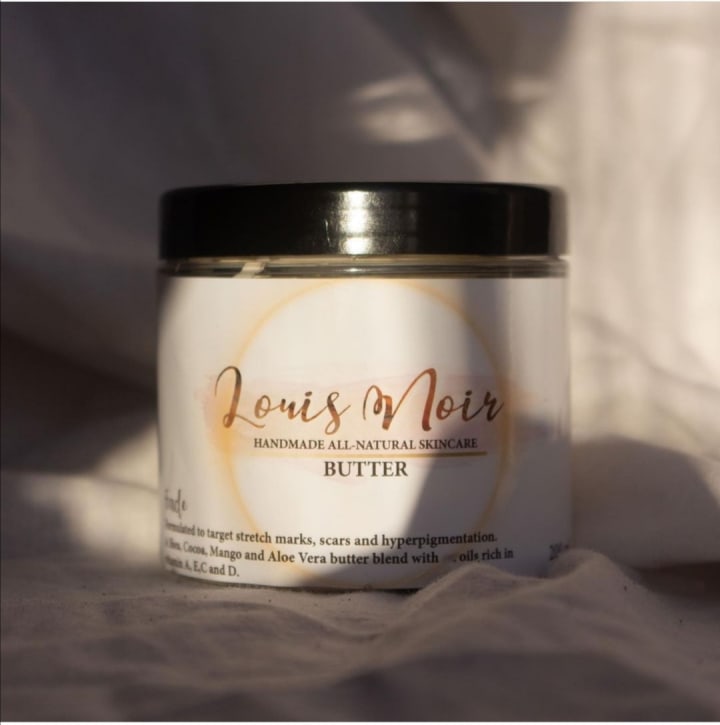 Louis Noir's products are all-natural, vegan, organic, and free of any artificial ingredients or preservatives.
Benefits of Using Louis Noir's Products
All Natural
Louis Noir produces all natural, non-toxic products. Most natural skincare products are even suitable for people with sensitive skin. Such as eczema sufferers or people who struggle with chronic dry skin.
Vegan and Cruelty-Free
All Louis Noir's products are vegan and cruelty-free. This means they do not contain animal products or animal bi-products. It also means that none of the products in the Louis Noir range were tested on animals. Making all of their products suitable for vegans and vegetarians.
Handmade
All products are handmade with love, meaning that care and attention goes into the formulation and manufacturing of the products.
Nourishing
The natural, clean ingredients in Louis Noir's products nourish and protect the skin from free-radicals and other harmful, external components.
Black-owned
Louis Noir is Black-owned and purchasing from Black-owned brands boosts the economy, builds generational wealth within the Black community and it encourages other members of the Black community to start a business.
Louis Noir is the brainchild of Akleia Louis, a young ambitious, London-based graduate and entrepreneur. Buying from solopreneurs, especially young people who take the initiative to create their own small businesses can only be a good thing for the future of the global economy.
Visit Louis Noir here:
Louis Noir Instagram page