DiamondTome Facial Wands in Cape Coral, FL and Denver, CO
A great treatment for fine lines and wrinkles, hyper-pigmentation, acne scars and blackheads.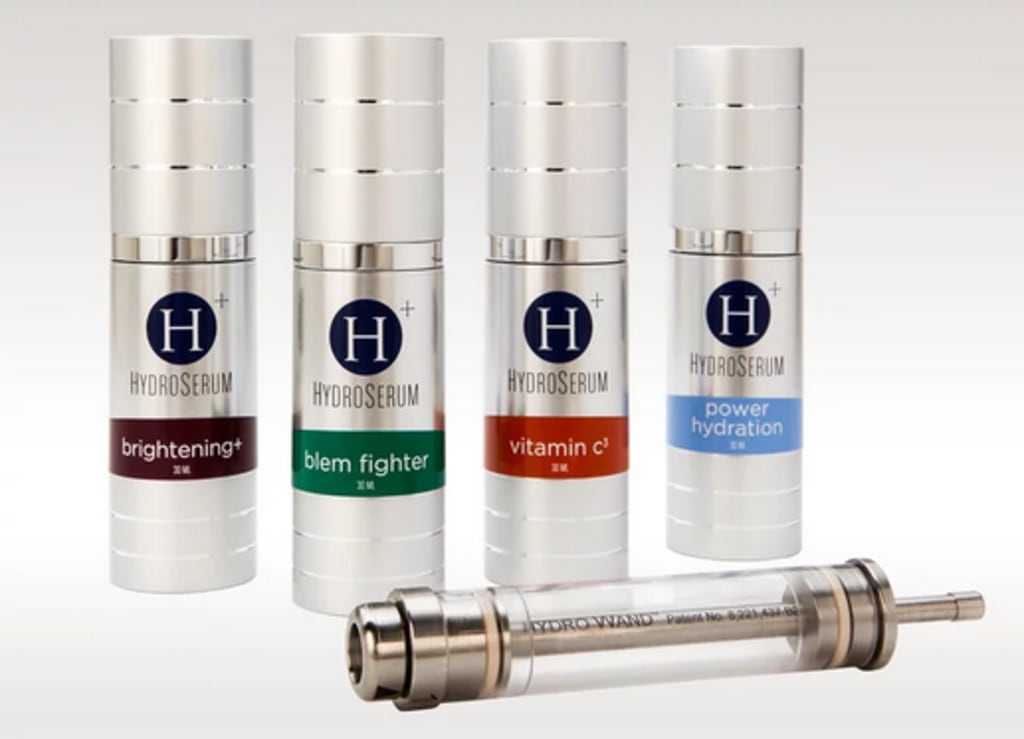 A great treatment for fine lines and wrinkles, hyperpigmentation, acne scars and blackheads.
The HydroWand® is a great addition to your existing microdermabrasion system(s) by Altair Instruments.
After exfoliating the epidermis of the face or body using the originally patented DiamondTome® Wand, follow with the HydroWand® Infusion applicator using the smooth tip or little more exfoliation while delivering serums, we recommend the fine or medium tip. These two wands have natural diamonds bonded on the tip of the Hydro Wand that offers a wet exfoliation.
How it Helps the Skin
The Hydro Wand® can penetrate, hydrate, and nourish the skin all in one treatment!
​
Microdermabrasions are perfect for cleaning out pores. It certainly helps to make room for healthier skin cells, but it can sometimes leave the skin dry, if not infused with the right serums. With the help of the Hydro Wand®, serums can penetrate the skin more deeply targeting the areas it needs to help the skin get the perfect amount of moisture it needs.
​
Hydro Wand® Design
Tip Configurations
The Hydro Wand® offers two sizes (12mm and 19mm) tip configurations with three different surfaces to choose from:
Smooth (without diamonds), Fine, and Medium.
Easy to Use
Need a new treatment to attract your clients? Now you can offer a better way to have softer, smoother skin and have an easier time doing it!
All you have to do is attach the wand, tubing, and hydro canister to the console and you're all set up!
Using Serums
The beauty of having a Hydro Wand® is your ability to use the serums you already love. Just make sure it's a liquid or serum-based product and you're good to go!
HydroSerums™
Tailored to all skin types
After a thorough exfoliation with a DiamondTome Exfoliation System, you can create a lasting impression on your facials by using the HydroWand® to deliver serums of choice or using the HydroSerums™.
Blem Fighter
The Blem Fighter significantly helps to reduce acne before it starts!
​
It contains a combination of 6% Alpha Hydroxy Acids (AHA), 2% salicylic acid and Niacinamide. AHA's act as an exfoliant on the top layer of skin, stimulating growth and thickening of the skin.
Salicylic acid is clinically proven to clean out sebaceous pores by solubilizing oil and dirt. It also acts as an anti-inflammatory and antiseptic.
Niacinamide reduces sebum production and reduces pore size. This combination acts double duty to reverse the signs of aging.
Power Hydration
This new and improved hydration serum uses Palmitoyl Tripeptide – 38, ceramics, and sodium PCA to lock in moisture.
Peptides stimulate collagen and elastin synthesis from skin fibroblasts thus reducing the appearance of fine lines and wrinkles.
Ceramics facilitates natural structural lipids located between dermal cells that in turn deeply moisturizes and protects skin by restoring a natural barrier to damage.
The sodium PCA is a naturally occurring humectant, which binds water and provides deep moisturizing to penetrate inner skin layers.
​
Brightening+
Want a more even, less blotchy skin tone? Here's a great combo with powerful ingredients of Arbutus and Kojic Acid, with TyrostatTM and Melanosatine®5.
The amalgamation of these four ingredients gives your skin a brighter, more even, and translucent appearance.
As an added bonus to the ample amounts of these powerful brighteners, the addition of L-Carniture provides the exact balance of brightening and energy production to the skin.
Vitamin C3
This amazing solution of 10% ascorbic acid, Magnesium Ascorbic Phosphate and Tetrahexyldecyl Ascorbate pack a triple punch to increase collagen, reduce melanin production and repair the effects of UV exposure and other environmental damage.
Used daily, Vitamin C3 can reduce fine lines and make the skin more radiant.
Frequently Asked Questions
Can I use the serums on all skin types?
Yes, these perfectly formulated serums are active with sensitive, normal, oily, dry and acne skin.
Can I use the HydroSerums™ by themselves?
Yes. The HydroSerums' premium quality ingredients and precision compounding make it perfect for daily use. It is most effective after crystal-free DiamondTome wand microdermabrasion and Hydro Wand® infusion.
Can I use more than one serum at a time?
Yes, for example, the first treatment with a Vitamin C HydroSerum followed by the Power Hydration serum can be an active anti-aging signature treatment.
How long can I use my serums?
The Altair HydroSerums™ can be used up to 6 months after opening. It is recommended that the Brightening+ and the Vitamin C HydroSerums™ be refrigerated after each use.
Can I use the HydroSerum™ in other systems?
The HydroSerums™ have been designed and flawlessly formulated to be used in the Hydro Wand®. Any other system will not have the same thorough performance testing to ensure maximum satisfaction.
How often can I use the serums?
The HydroSerums™ are gentle, yet effective and can be used twice a day. Check with your skincare specialist to determine the most effective treatment regimen.
Contact Cape Coral, FL and Denver, CO Hydrowand Microdermabrasion Specialists
Dr. McLaren is the founder and owner of "Skin Secrets by Dr. McLaren" where her philosophy is that "only your doctor knows for sure…" She believes that aesthetic enhancement should always look "Very Natural". Dr. McLaren has been able to achieve natural-looking results through extensive training and years of experience in the field of aesthetic medicine.
Dr. McLaren has undergone extensive training in both cosmetic dermatology and laser surgery. She is a laser Surgeon and aesthetic medicine specialist who is considered an expert and has been invited to teach her aesthetic skills nationally to other physicians throughout the United States. She is a member of the American Society of Laser Medicine and Surgery, and American Society for Photodynamic Therapy.
Schedule a consultation online, call Skin Secrets of Cape Coral, FL (239) 800-7546 or call Skin Secrets of Denver, CO at 303-770-7546