Complete Guide: Mega Volume Lashes Vs. Volume Lashes
The main difference is about the number of lash extensions between volume and mega lash extensions. Get the desired lash look by deciding the number of fans.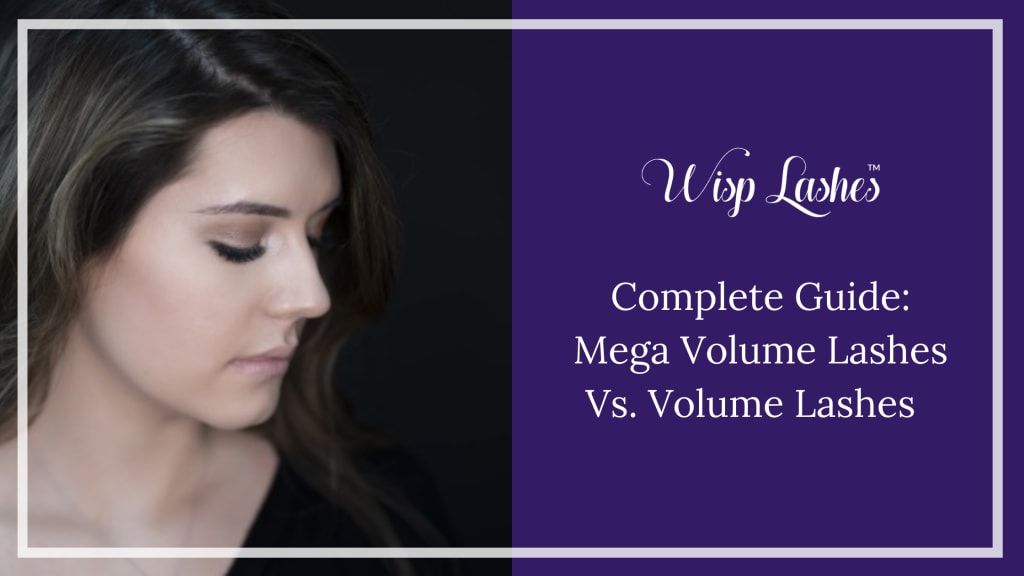 One of the most critical parts of your makeup routine is your EYELASHES.
Mega volume lashes are all the rage, but what does that mean? Do they look different than volume lashes? What's better for you, mega volume or volume lashes? Read to know about both styles and which one will best suit you!
What are mega volume eyelashes?
Mega Volume Lashes: A super thick lash with a striking look, giving you the effect of false eyelashes.
They are thicker and fuller looking than traditional volume lashes. They can be worn either alone or with other mascara products. A few key ingredients like mink hair fibers make these types of eyelash extensions more durable and natural-looking. You'll typically need about 10-12 hours (or a full night) for them to set in place.
They are a mix of 2D and 3D volume lashes. The individual lash is cut in three different lengths; the shortest length is applied towards the inside corner of your eye, then longer lengths are placed from there to create a beautiful curl that looks natural rather than being weighed down by too much product.
The lash extensions come in an inverted "V" shape, with the shortest length being at the inner corner of your eye. This inverted "V" helps reduce any weight that might pull your natural lashes down and cause them to fall out prematurely.
What is volume lash extension?
Volume Lashes: A thick and fluffy lash with a natural finish.
Volume lashes are natural lashes that have been cut into small pieces and layered with different lengths of fake lashes adhered with different combinations of glue depending on how thick/thin your desired look is.
Volume Lashes are bonded onto your natural eyelashes to make them appear longer, thicker, and volumized. Volume lashes are not heavy on your eyes, which makes them more comfortable. However, they may not last as long as fake lashes or individual classic eyelash extensions because their weight causes too much pressure on the natural lash resulting in a faster lash fall-off rate.
The most famous type in the market these days is the Duralash Flare.
What is the difference between mega volume lashes and volume lashes?
Mega Volume Lashes: Mega volume lashes are simply a combination of 2D and 3D to give you that striking look without being too heavy. It has longer than average hairs in both layers, so it gives your lashes an extra boost in thickness, but not as long as the 3D Volume Lashes. Some of the best mega volume lashes will be as long as 3D, but they lack the density and look like your natural lashes.
Volume Lashes: Volume lashes are cut into pieces and placed onto your natural lash line. These lashes will last longer than individual lashes because of their weight, but they can also cause more damage to your own lashes due to their heavy nature.
How to calculate volume lashes size & weight?
Mega volume lashes: Each piece of Mega Volume lash is cut into three different lengths. The shortest pieces are on the inner corner and the longest on the outer corner, giving it a fan-like shape and making your eyes look big and full.
Volume Lashes: Because volume lashes are cut into pieces, you can expect that each one is different. You won't be able to find two-volume lashes with the same exact length because they're all handmade. It's similar to real lashes—you don't even have control over how thick or thin your lashes will be. Your stylist simply determines where they'll place the lashes on your natural lash line.
Volume or Mega volume lash extensions are safe?
The process of putting on classic lashes might sound intimidating, but the actual procedure is pretty simple. Both types of sustainable eyelash extensions adhere to your existing eyelashes with a special glue that's made specifically for use near the eyes. The glue doesn't burn or irritate your skin—it's actually quite gentle.
How do mega volume lashes damage your natural lashes?
A common mistake is applying too much glue to the lash band. Every time you apply the glue, it dries out and becomes more difficult to remove from the lashes. The more you use it, the shorter lifespan of your false eyelashes becomes. Apply a minimal amount on the lash band and wait for 30 seconds before positioning them on your lid.
When you're applying the glue, be careful not to get it on your eyelid or skin. If you do accidentally apply some glue onto your skin, remove it immediately with an oil-based makeup remover.
How long do volume lashes last?
The durability of your lashes will depend on the type of lash you choose, how you maintain them and what products you use. For most volumized lashes, they can last up to 4-6 weeks if applied correctly. The best way to maintain your lashes is by cleaning them with oil-based makeup remover.
Conclusion
You might think that the only difference between mega volume and regular volume lashes is their appearance. However, there are key differences between these two types of lash extensions to consider before you make your decision. Both offer length and thickness, but mega volume lashes also offer more coverage for both top and bottom lashes. It's up to you which type better suits your needs!