Can You Wear Eye Cream With Lash Extensions?
You can use oil-free cream with eyelash extension as oil breaks down the adhesive and makes your lashes fall off. Other than that, it's okay to use eye cream.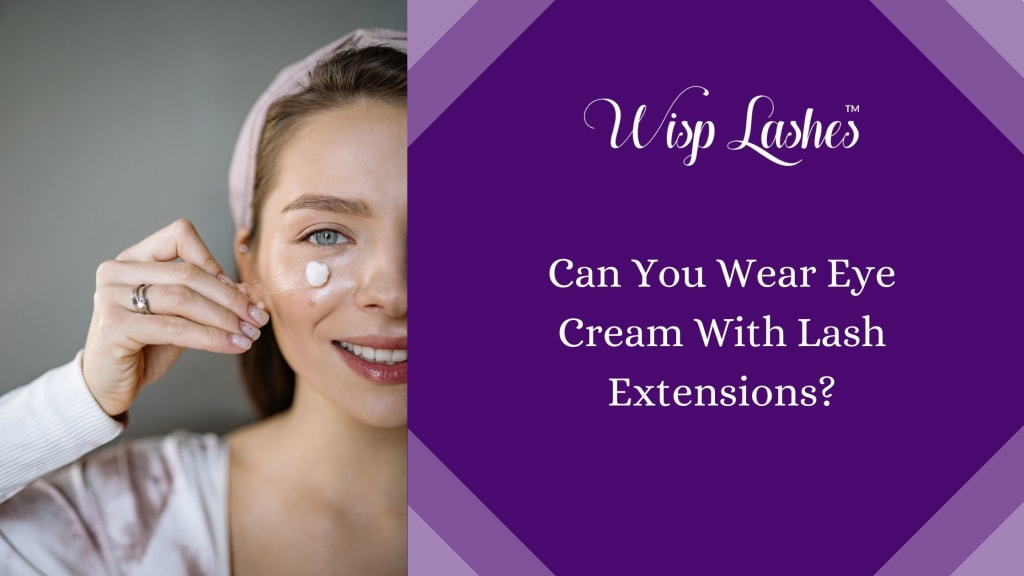 You have done your beautiful lash extension, and you ask yourself, can I wear eye cream with lash extensions? The answer is yes.
You come back home, and it's your bedtime routine. So you wash your face and then follow your pattern. But will you think twice about applying an eye cream?
You should not worry about whether you can still use your eye cream while wearing lash extensions on your lashes. Eye creams are actually beneficial to the lashes and help build up new cells and collagen for stronger lashes.
Eye cream is a skincare product that applies to the area around the eyes. It's meant to reduce dark circles, puffiness, and fine lines.
Is it okay to use eye cream with eyelash extensions?
Eye creams are okay to use with eyelash extensions, but there are a few things to keep in mind.
You can use eye cream under your eyelid if you wear lash extensions. If the eye cream has fragrance, it might irritate your eyes while you have lash extensions on.
If you're considering using an eye cream to help your lash extensions feel softer, use one that is for around the eyes. Look for an emollient-rich eye cream without colors or fragrances to avoid irritation.
Eye creams are generally considered safe to use with eyelash extensions because they don't have anything in them that could damage the extension fibers themselves. It doesn't "seal" the lashes in, so there is no reason not to use it.
Do eye creams need to be avoided with lash extensions?
Eye creams can be used with lash extensions if you do not have any allergies or sensitivities.
Eye cream won't help your lash extension last longer or cause them to fall out faster. It helps to make your lashes feel softer and more natural, though.
Eye cream shouldn't irritate your eyes if you wear lash extensions, but fragrances might. Try using an unscented eye cream to avoid irritation.
Eye creams are safe to use with lash extensions because the oils and emollients won't damage the extension fibers.
Lash Extensions And Eye Creams - How Do They Interact?
You can wear eye creams and lash extensions without any issues. Lash extensions are operated to your natural lashes, so it doesn't matter what you apply to them afterward.
Eye creams can help make lashes feel more natural, but they won't do anything to the lash extensions themselves. It might make them a little softer, though! You can even wear concealer with a lash extension.
Eye Gel vs Eye Cream
Eye gels and creams are often used interchangeably, but they're not the same thing. Let's break down what each of these things is so you can choose which one is best for your lash extensions.
Eye gel benefits
It is in good consistency for a lash extension glue to stick to and dries quickly after application. They are good for oily skin. They come in different consistencies, from very watery to thick syrups with glitter in them, which are often used for special effects makeup.
Eye gel concerns
Eye gels can cause stinging or burning when they get in your eyes. Sometimes it's hard to get the eyelash extension glue to stick to the eye gel, so customers have reported having lash extensions applied on top of the gel, then having that removed with an oil-based makeup remover.
Eye cream benefits
They're good for dry skin, sensitive skin, and contact lens wearers. Eye creams are moisturizing (without any oil), so they make your lashes feel softer, which helps them blend in more with your natural lashes. It generally doesn't sting or burn you if they get in your eyes.
Eye cream concerns
They sometimes come with fragrances, which can irritate the eyes if you have lash extensions on them. Also, there's no way to know how well they'll stick to the glue because they differ from brand and even from batch of a specific product.
Process of applying eye cream with lash extensions
Step 1: Work with a clean base
Wash your hands with mild soap to make sure they're clean before applying the cream. Then, wash your eyelids and under-eye area with an oil-free cleanser made specifically for eye makeup removal.
Step 2: Apply lash extensions
Apply a classic set of eyelash extensions as you normally would. You can choose from our variety of styles or request a custom application.
Step 3: Apply your eye cream
When you apply your eye cream, focus on the area under the lash line (the orbital bone) and above it (the brow bone). You can use a gentle patting motion or try using a ring finger to tap into place. If you're using an extremely thick cream, then it's a good idea to hold your lash extensions up while you apply it, so they don't get weighed down by the cream.
Step 4: Let your eye cream dry
It will take a few minutes for your eye cream to dry and soak into your skin. If you're wearing an under-eye concealer or makeup on top of the lash extensions, then you might need to give it up to 15 minutes for the cream to soak in.
Step 5: Enjoy!
Once your cream has had time to absorb into your skin, you can go about your day without worrying about ruining your lashes. If you have mascara on top of your lash extensions, make sure to use an oil-free eye makeup remover to take it off.
In Conclusion
If you want to wear eye cream with lash extensions, it's perfectly safe. Just make sure to follow these steps and wait a couple of minutes after applying the cream before going about your day. You can also try using a primer or waiting for your cream to dry completely before applying lashes. If you're still unsure, ask one of the lash experts near you for their opinion, and they'll be more than happy to help.