Best Body Wash for Sensitive Skin: The Safest and Most Effective to Use
Not all products are created equally. I mean, if you have sensitive skin, as did I, you tend to look out for products that are skin-friendly.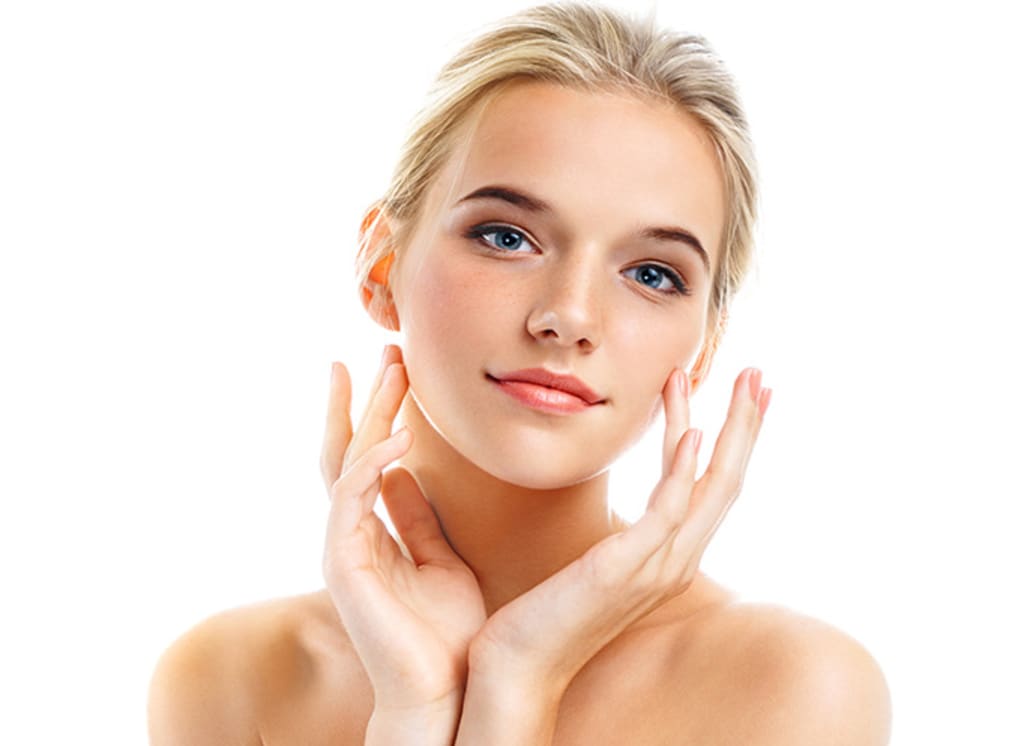 Sensitive Skin
It's only natural AND logical to want to use the best body wash for sensitive skin. When you can get a body wash that doesn't aggravate your skin condition, why go the other way, right?
A soothing, hydrating formula seems like the perfect option. Be it for your post-workout shower or hot water winter shower. Along the same lines, be it for treating acne on your back. Or providing relief from stubborn eczema symptoms. The best body washes for sensitive skin is the solution to your problem. So go ahead and have a look at the top five choices reviewed below.
Best Body Wash for Sensitive Skin: 5 Products Worth Considering
The body washes shortlisted here don't contain sulfates and alcohol, because their job is to soothe your skin and act as natural moisturizers. Not trouble it even more. Let's get started!
1. Aveeno Skin Relief Body Wash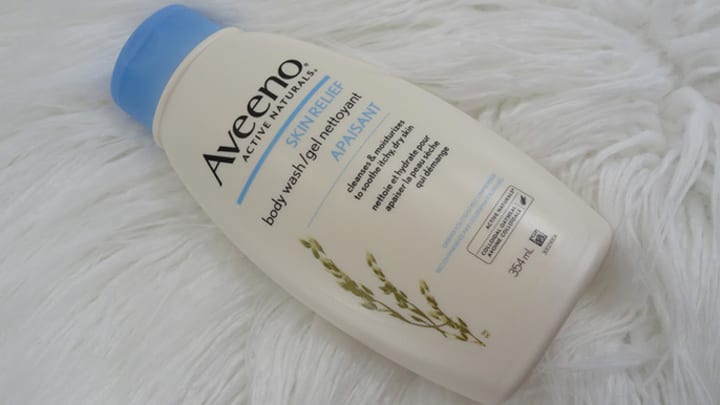 With this fragrance-free skin relief body wash by Aveeno, you can gently cleanse your dry and itchy skin. The skin even gets moisturized along the way. The main ingredient is soothing oat. This is gentle enough, which is ideal for the most sensitive skin.
The special formula doesn't fail to remove impurities and dirt. And while doing so, it doesn't even disrupt the natural moisture present on your skin. Thus, leaving the surface healthy-looking, soft, and smooth.
Do you know what's the best part about this brand? Aveeno is dermatologist-recommended. That says a lot about how effective and safe it is to use their products. And this skin relief body wash, in particular, is perfect for everyday use because it's dye-free, allergy-tested, and soap-free.
The body wash even has the power to treat breakouts on your neck, shoulders, and forearms. Soothing very irritated, itchy, and red skin is what you can trust it to do. It's a mild product that doesn't give rise to adverse effects.
Unfortunately, the second ingredient takes the form of SLS (Sodium Laureth Sulfate). It's what adds all the foam to the wash, so decide if you want your skin to come in contact with it or not.
2. Dr. Bronner's Pure-Castle Liquid Soap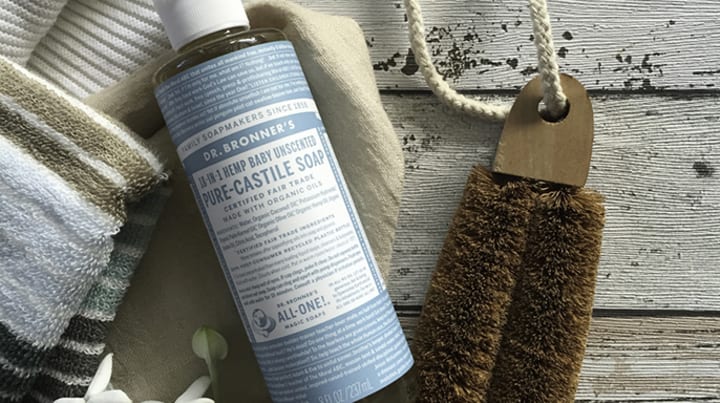 Why should you consider buying Dr. Bronner's Pure-Castle Liquid Soap? The answer to this question is not such a complicated one. The company manufactures products that offer a positive and real impact. That's their ultimate goal. So you can expect your skin sensitivities to be well taken care of here.
This mild liquid soap is not created with any artificial fragrances. In place of that, there's twice the amount of olive oil. normally added to such body washes. More olive oil equals more care, as far as sensitive skin and allergies are concerned. And obviously, the current pick is ideal to use for babies, too.
The ingredients added to the liquid soap are vegan and organic. But what offers that emollient, rich lather is the pure Castile base. It brings forth excellent moisturizing properties as well.
More information about the ingredients brings you closer to any product. With that in mind, I'm sure you would like to know that the ingredients aren't genetically modified. So there are zero synthetic detergents and preservatives.
And yet, you haven't heard it all. The plastic bottle this liquid soap comes in is 100 percent recycled. So you can pamper your sensitive skin without feeling guilty about harming the environment. But if you do want to worry about something, then let it be the absence of any scent.
3. Dove Fragrance-Free Body Wash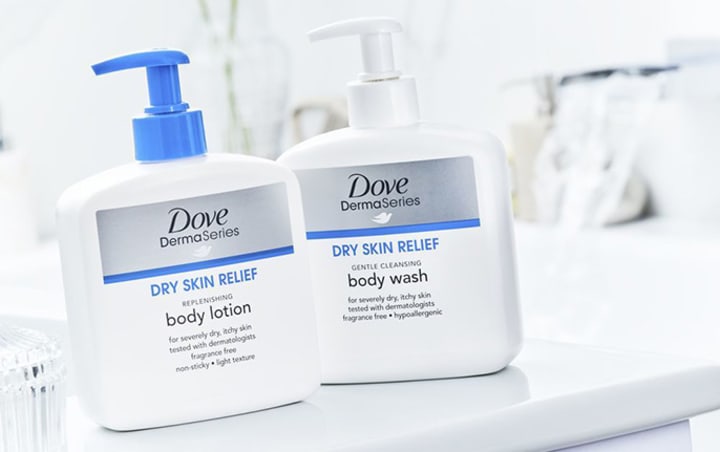 It's quite unfortunate to have to deal with itchy and severely dry skin. But, at the same time, it's fortunate that products like the Dove Fragrance-Free Body Wash exist. This is a genuinely mild and caring body wash. That is specifically created for your dry and itchy skin.
It has very powerful hypoallergenic properties. And the body wash is soap-free and fragrance-free. Compare this one to just about any regular or expensive body wash. And you won't take time to realize how much more nourishing it is than all of them. 10 times more—to be accurate.
Dermatologists have tested the product and even approved it. And why not when it can calm skin conditions like eczema! Even if your kid has sensitive, itchy skin, you can rely on this Dove body wash to reduce that discomfort—without drying it out!
Unlike most unscented body washes, the current one doesn't offer a funky or unpleasant after-smell. Even the amount of lather you get is quite surprising. Since the majority of body washes for sensitive skin offer a teensy bit of lather.
But be careful, it contains phenoxyethanol.
4. CeraVe Eczema Treatment Body Oil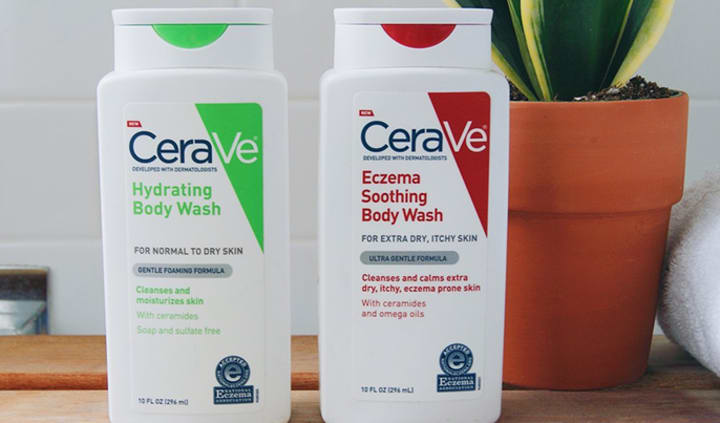 There are two things I got from the title of the product. The first is that it helps in treating eczema. In fact, the product is recognized by the NEA (National Eczema Association). And the second thing is that this product is oil-based.
The formula contains essential ceramides, along with safflower oil! Together, these two ingredients help in restoring and maintaining your skin's natural barrier for protection. But still, the most impressive quality is the ability of the CeraVe body oil to moisturize your eczema-affected skin. It locks in moisture like no other.
And you know what else is equally remarkable? That the product is also hypoallergenic and non-irritating. There are no harsh fragrances, parabens, and dyes either. It's even non-comedogenic.
Not just eczema, the body oil works wonders when you have skin conditions like psoriasis as well. All you have to do is rub the oil wherever is required. And rinse off. Then no more rash, no more itching.
The only problem is the form of the product itself. Meaning this is oil-based, which means if it accidentally falls on the floor, you might slip, too.
5. Honest Purely Simple Shampoo and Body Wash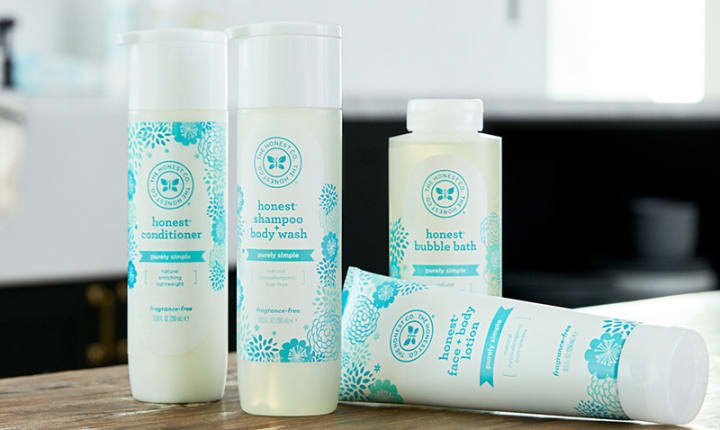 So this is a shampoo plus body wash? That's insane, isn't it? But is it really effective as the best body wash for sensitive skin? Yes, it definitely is. Why wouldn't it be when the ingredients are all-natural!
The shampoo plus wash is equipped with rich coconut oil and jojoba protein, along with quinoa extract. They all soften and moisturize your skin. The formula is so gentle that you can use it for babies, too.
Then there's the unique gently soothing blend of calendula, chamomile, and aloe. Not even a single product on this list so far has such a diverse combination of natural ingredients.
It's a pure and simple body wash created to suit sensitive skin. So it goes without saying that there's no artificial or harsh fragrance in the mix. Even the absence of sulfate, SLS, parabens, etc. is quite relieving.
The body wash cleanses your whole body, right from your head to your toes. Its enriched extracts and oil are well-balanced with the organic botanicals. The end result is incredibly smooth and soft skin, no doubt.
So it comes as a surprise to know that the product has zero reviews on its Amazon page.
Conclusion
Artificial dyes, fragrances, colorants, and other such ingredients often lead to breakouts. And if these breakouts take the form of acne, rashes, or bumps, you have sensitive skin. But you already know this, don't you? What you probably didn't know is the list of the five body washes I just reviewed. They are simply perfect for your skin sensitivities.
Shopping for a body wash should be a simple task, am I right? So why go through the trouble of separating the good from the bad! When you can just as easily pick one of the five products from above! Your skin doesn't deserve trial and error either, so just go for it!
skincare
About the author
I am Miguel Garriga writer of Coffee Style Today. I am passionate about coffee. This passion fueled my desire to create this online platform! Let my expertise and passion guide you towards making the right decision!
Reader insights
Be the first to share your insights about this piece.
Add your insights