Amazing Ways to Get the Perfect Eyebrow Shape
Eyebrow shaping has changed over the years; learn how to get your perfect eyebrow shape right here.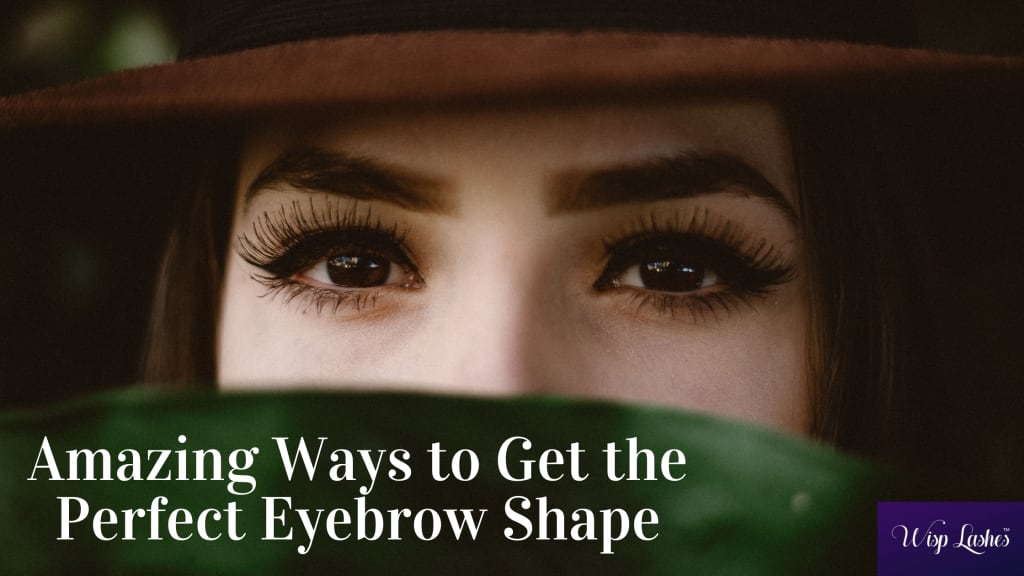 Eyebrows are the trendsetters now, from the 90s thinnest brow trends to the Nike-tick brows of this era, our eyebrows have come a long way.
However, the recent trends saw the rose of much more natural eyebrow shaping applying more focus to an individual's natural arches.
But why is this so important? Well, having the perfect brow shape can work like a charm and add a subtle definition to your look. Professional eyebrow shaping can give you the correct eyebrows which can bring balance and structure to your face highlighting your features.
Here's how you can get the perfect eyebrow shape!
1. Stop over-plucking your brows
Leave them alone! Yes, it might sound bizarre and uncomfortable when you see that extra strand of hair peeking out every now and then. If you are thinking about tweezers, well ladies that is definitely not your best bet! Tweezers do not add any shape to your brow line; instead, they pluck hairs from everywhere possible and disrupt your brow shape.
2. Get the right products
Over the years, getting your eyebrow ready is just as important as face makeup. Thanks to the celebs and beauty gurus, we now have plenty of brow makeup products that help us to give the perfect shape to our brows.
But, choosing the right product for your eyebrow shaping is an important step too. The first step to brow perfection is to get your goals straight. Yes, you heard us right! Are you aiming for fuller eyebrows or just a tiny tint of definition? If you are looking for both, then we would suggest you shop for an angled brush and a brow powder. You can apply a brow gel as well.
Also, if you are a newbie, you can just play around and find your way through the products and get the one that suits you best!
3. Go for eyebrow threading
Ladies, we all know waxing is a big NO! We don't want to rip off our epidermis. But did you know? Waxing does nothing for our brows! It is just ripping off hair from the random areas of the brow line.
Instead, eyebrow threading is the most hygienic, painless eyebrow shaping procedure out there.
Threading helps you to pluck out the short hairs and reach the most sensitive areas of the brow line and carve a shape according to your choice.
If you are looking for the best eyebrow shaping near me, they can guide you through the entire process and help you get the eyebrows that you always wanted!
4. Normalise using eyebrow stencils
Ladies, eyebrow shaping is not everybody's cup of tea! Let's face it! No two brows look the same; just notice your friend's eyebrows closely. Everyone is not capable of drawing the perfect arches and shading the brows; however, that is no excuse to stay behind!
You can use eyebrow stencils! If you don't know what that it is, well, stencils are like guidebooks or a mold that you place onto your eyebrows and draw along the lines. Stencils help you draw your eyebrow perfectly giving it the ultimate definition.
5. Eyebrow tail should be checked
Keep your eyebrow tail natural while eyebrow shaping. Drawing a long eyebrow tail will make your facial structure droop down giving you a sad look. We are sure that's not the goal right?
Maintain the natural angle of your brow line. When your pencil hits your brow bone, extending it further will only make it look fake.
6. Make it natural
Do not go for over-the-top brow shaping and you will only end up making it look unnatural. Pencil a shape that is close to your natural brow shape and fills in the spaces to make it look fuller.
Also, don't forget to buff out the harsh lines and blend the pigment so that it doesn't look too obvious or fake.
7. Match with your face
Eyebrow shapes come in varied ranges. But not all shapes will match our facial structure. So, choosing a shape that matches your face is an important factor. If you have a long face, do not go for an arch or any higher arched shape. However, a straight brow will look good on a square face.
8. Choose the color
Ladies, if you think it's all about the shape, well you're wrong! The perfect eyebrow shape can give you definition but the perfect color is just like the cherry on top!
If you like a darker brown color, make sure you pencil in a small brow. However, it is recommended to always go for a lighter and softer brow shape and color.
Conclusion
If you are wondering where you might get some help, the best professional eyebrow shaping salon is at your service. They will assist you and help you understand and achieve the perfect eyebrow shape that you always wanted!