6 Hair Products That Keep Your Hair Healthy
From "Wave Swept Spray" to colored conditioner, you'll see a positive difference when you use them.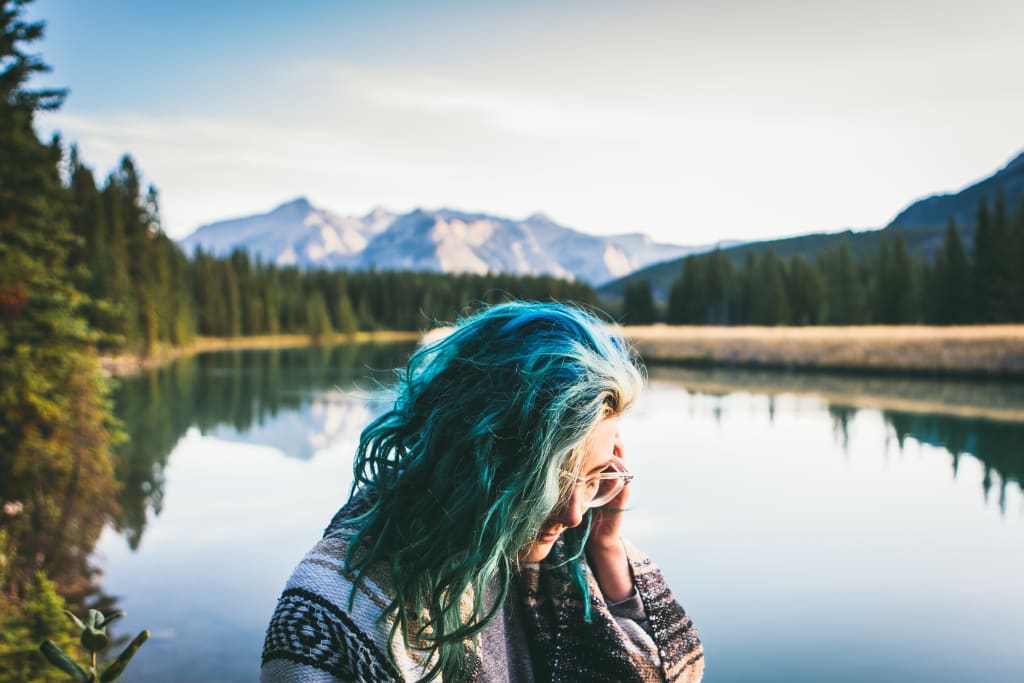 Photo by Andrew Ly on Unsplash
I really enjoy hair things. Trimming it, dyeing it multiple colors, doing new hairstyles with it. But really the hard part is the upkeep. To a small degree of success, albeit I struggled to keep the grey in as part of my ashblonde-gray phase. It's really difficult, which makes me sad, cause after this experience I would really just dye my whole head grey because it is so beautiful of a color. But it washes out so easily it's almost impossible to keep it for very long.
But we're not here to talk about my grey hair. We're here to talk about the adding of texture, the waves, protecting from UV rays, adding salt, air-dry product verses hairdryer... The list goes on, and I've barely scratched the surface.
And now, I'm about to admit something: I have used not one, not two, but sometimes six hair products at once. Unnecessary? Maybe not. Let's break it down.
L'Oréal Paris Advanced Hairstyle "AIR DRY IT Wave Swept Spray"
Pro: Fast-acting; works great, cheap (3 something dollars at Target/Amazon)
Con: Small bottle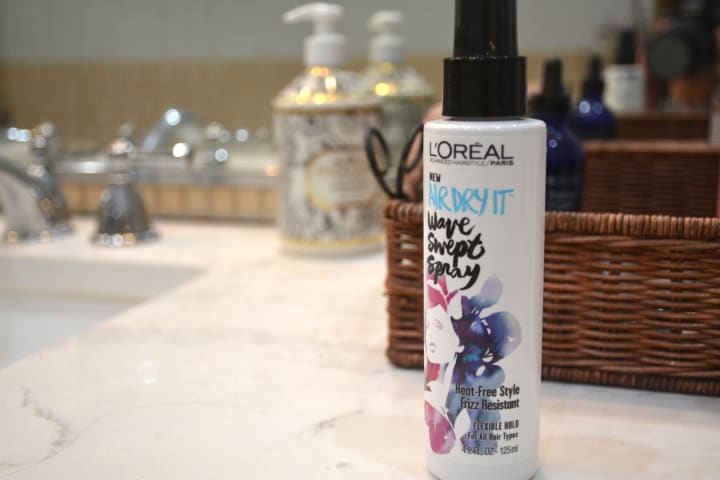 It does not dry out your hair, and it does not make it feel gunky or anything like that. I spray two spritzes on each third of my head, and then spray underneath a few times as well. Scrunch it up some with your hands, and before I know it my hair is dry, naturally. I can't explain it—it's not drying-out-like or gunky. It just works.
Label.m Sea Salt Spray ($12.99 Amazon)
Pro: When on hair it feels light, not gunky; fairly good-sized bottle (6.76 oz).
Con: Not to be nit-picky, but I'd add more salt.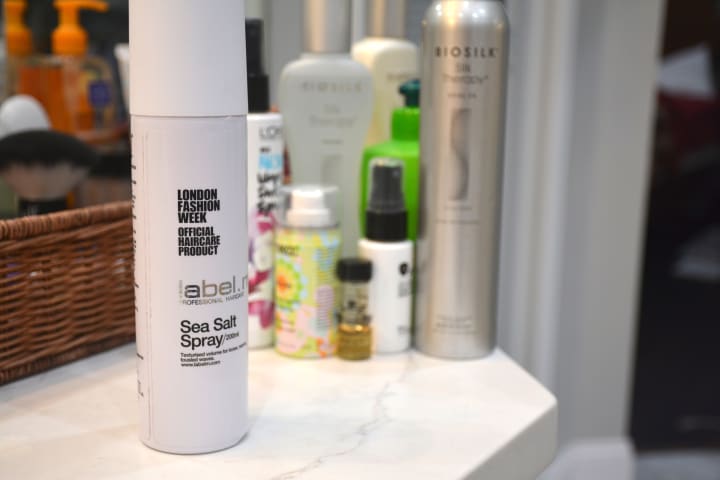 To summarize, I will be honest: not a lot seems to be happening with this one. But that's because I don't have naturally curly hair. However I must say, I feel like it's a must in this hot Texas weather we're having lately. There is obviously more in this than just water and salt, but the water part definitely helps my hair feel less dry and more nourished in the heat. I like to think there is protection in the salt part of it.
Jour d'automne Sugar Texturizing Spray
Pro: You don't need a lot for it to do its job.
Con: I honestly can't think of one.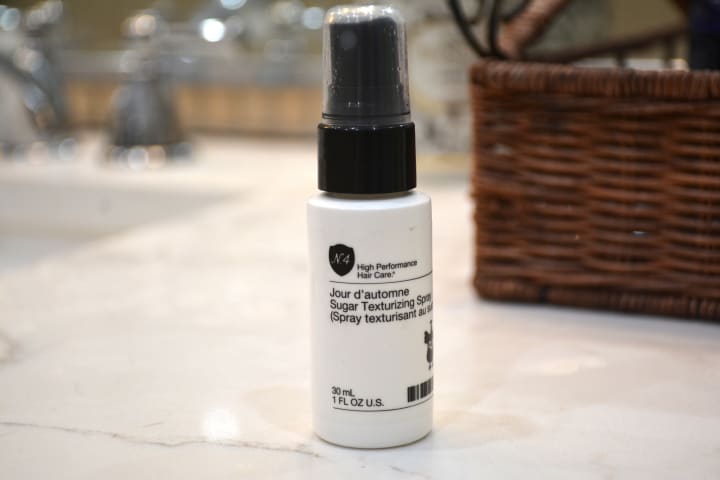 Love this hair spray. Technically it's a texturizer, but it helps in keeping stray hairs in place as well. It smells wonderful, and it's not overwhelming. This is just a sample size I have, but I might consider buying the full size when I run out of this. It is heavier, however, but still not gunky.
Garnier Fructis Intensely Smooth Leave-In Conditioning Cream
Pro: So easy to use, so cheap ($2.99 folks), hair feels nourished after.
Con: I would only use this on wet hair after showering. Using it on dry is just is too gunky on hair.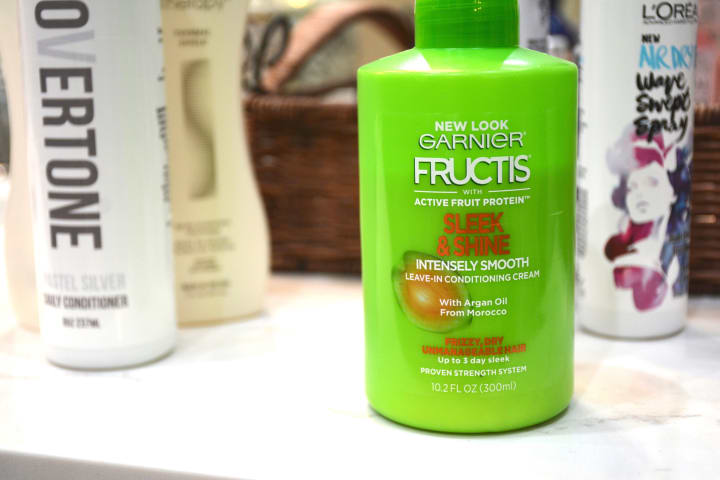 I think sometimes I am under the impression that "mainstream" hair products are just glorified, cheap alternatives. Not true. At least with this leave-in conditioner. I was originally looking for a leave-in one (which sounded weird to begin with for me; why would I leave "raw" hair product in without rinsing it out?) to help in curling my hair and still letting there be moisture in my hair after the heat treatment. I still wasn't sure as I squeezed a small amount into my hand. But it's just so great! First off, it smells great. Second of all, it seems heavy going in, but your wet hair does not feel super weighed-down by it. Surely there is some weight there, but it's very little considering how much your hair is getting moisturized.
OVertone's Pastel Silver Daily Conditioner / Beauty Protector's Protect & Oil
Pro: Conditioner - really works, wish it had a little more dye in it, but that's just me; oil - seems to work really well, hair feels hydrated.
Con: Conditioner - doesn't seem to 100% keep my coloring in; oil - can't really think of one.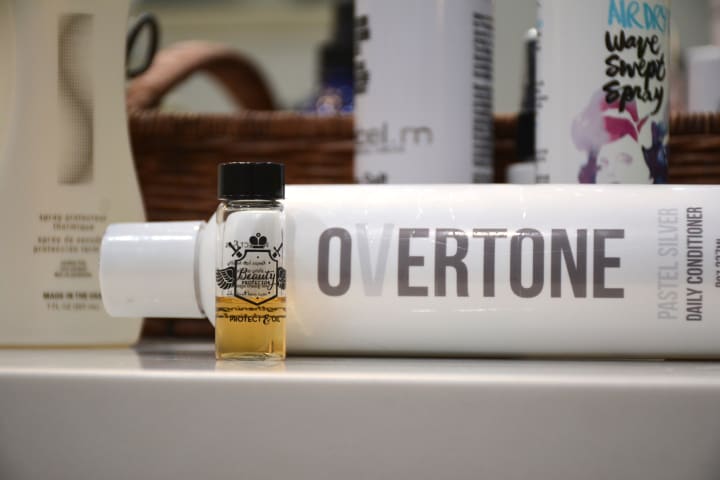 You don't need to add much of the oil for it to do its job. Get this: it's not oily on the hair. It merely protects it and doesn't leave it feeling gunky or greasy. It impresses me every time. Even after putting it in, my hands don't feel gross.
With the conditioner, I suggest using gloves when applying, unless you don't mind your hands turning a little purple after. One note about OVertone, they have several different hair colors they can treat. My hair had a mix of grey and blonde, so I understand it makes it harder for the brand to do its job of keeping the color in by adding little bits of dye to each conditioning, if there's two colors present. But overall I would use it again, if the dyed part of my hair was one solid color. Can be used in, or before shower.
product review
About the author
A late 20-something, who enjoys being a wife, writing, cooking, baking, making coffee, and documenting much of what I eat.
Email: [email protected]
Reader insights
Be the first to share your insights about this piece.
Add your insights