Usually, every year, people decide that all of October, everyday they will post a video or picture of Halloween makeup. After much practice and contemplation I had decided to do it myself. So this is my experience and what I had done for makeup this year.
All the makeup used was basic stuff like foundation, setting powder, eye shadow, eye and lip liner, and mascara. The odd stuff was orange Halloween face paint makeup and black face crayon. I recommend using a makeup setting spray or hairspray, safely, to keep from messing anything up throughout the night of trick or treating or partying.
*Warning: some aren't great but day 31 may be graphic*
Day 1: Masquerade Skeleton
To start with day one I attempted a masquerade skeleton. The mask I bought for a party but the hardest part of this look was the mouth/teeth. I used the mask to measure the eye shadow and liner then I put on lipstick before trying to draw the teeth with crayon. I suggest doing the nose last or second to last because face crayons are messy and get all over your hands. When I touched my face it would smudge and make a big mess.
Day 2: 'Alice in Wonderland'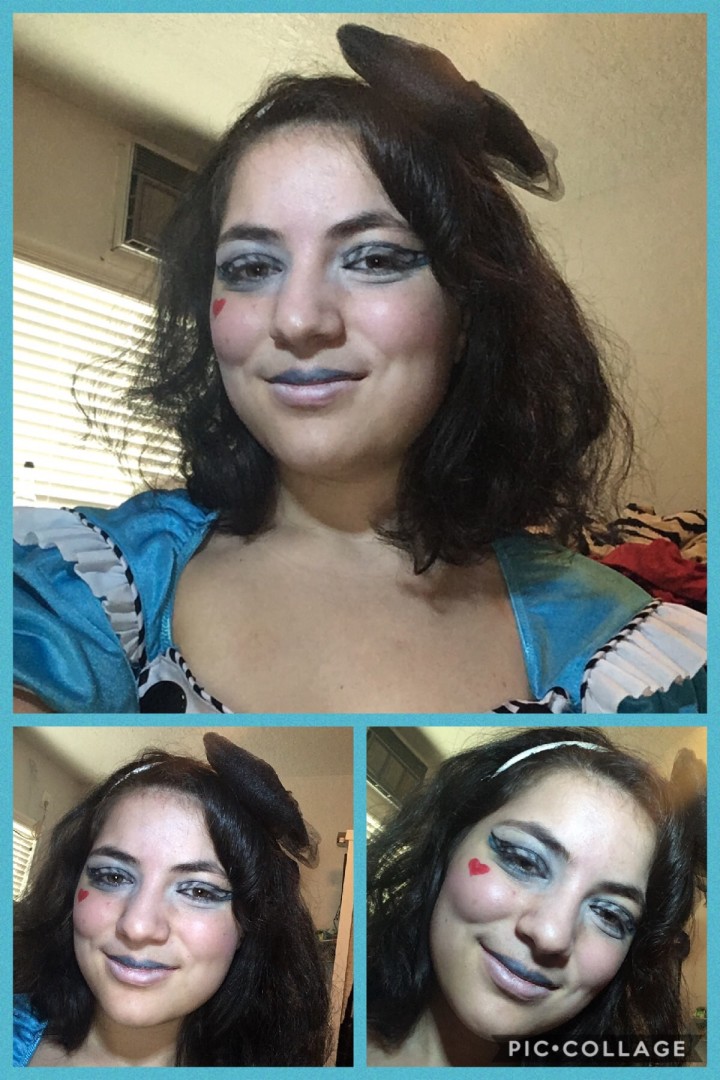 Day two was a bit easier with blue and white eye shadow. I used blue eye liner, a white base to fade into blue inside to outside of the eye and a red heart done with lip liner. I used eye shadow and black eye liner for the stripes on the lids. The lips were eye shadow and a little gloss to hold it and make a nice finish.
Day 3: Bunny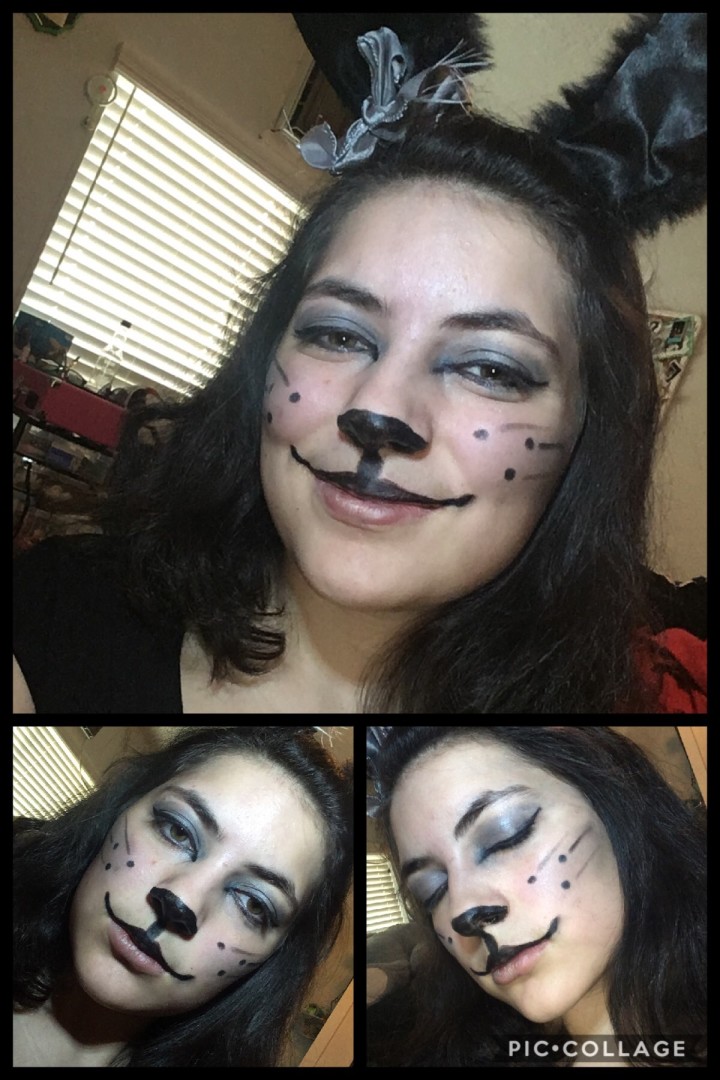 Grey eye shadow, eye liner and face crayon with some silver to make the eyes shine. This cute look worked out very well and again the crayon can and will smudge if given the chance. To get perfect circles for freckles or follicles make a small dot for measurements and once chosen, push the eye liner or face crayon down and give a small twist for a great circle. I also colored a bit inside of my nose with the crayon and it was a bit of a pain to get off. Use makeup remover or some warm water with a washcloth for best removal results.
Day 4: Fairy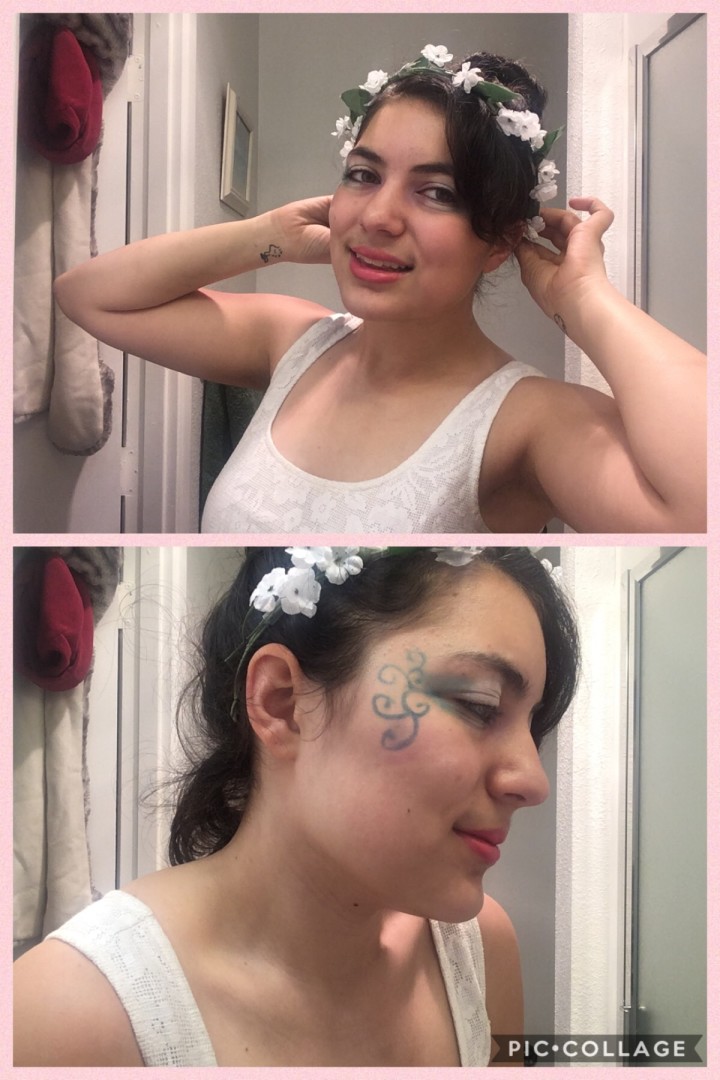 Once at day 4, I was having a hard time with ideas for makeup. I planned a bit ahead and Googled often but without wings this look is sweet and simple. Purple to white to a light blue gradient eye shadow. Once applied I blended with my brush and finger but pulled towards the colors to keep the white nice. I also applied extra at the end for cleanliness. Next some light pink lip stick and a blue eye liner flourish to complete the fairy look.
Day 5: Princess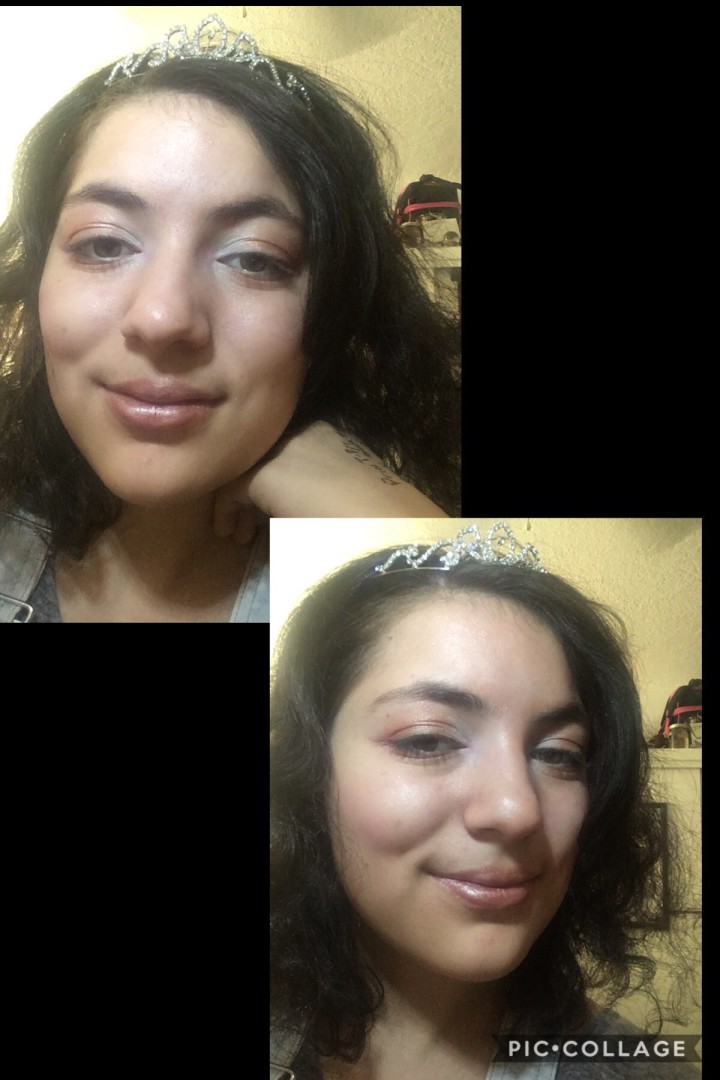 Still on my idea struggle I thought princess makeup would be nice. Gold, bronze and white were my base colors. Again, blended out with a tiny bit of pink on the inner corner of the eye. I used silver eye shadow on my lips and added gloss for a shiny, royal touch. Next put gold and glitter on my cheek bones for a simple touch of color.
Day 6: Big Bad Wolf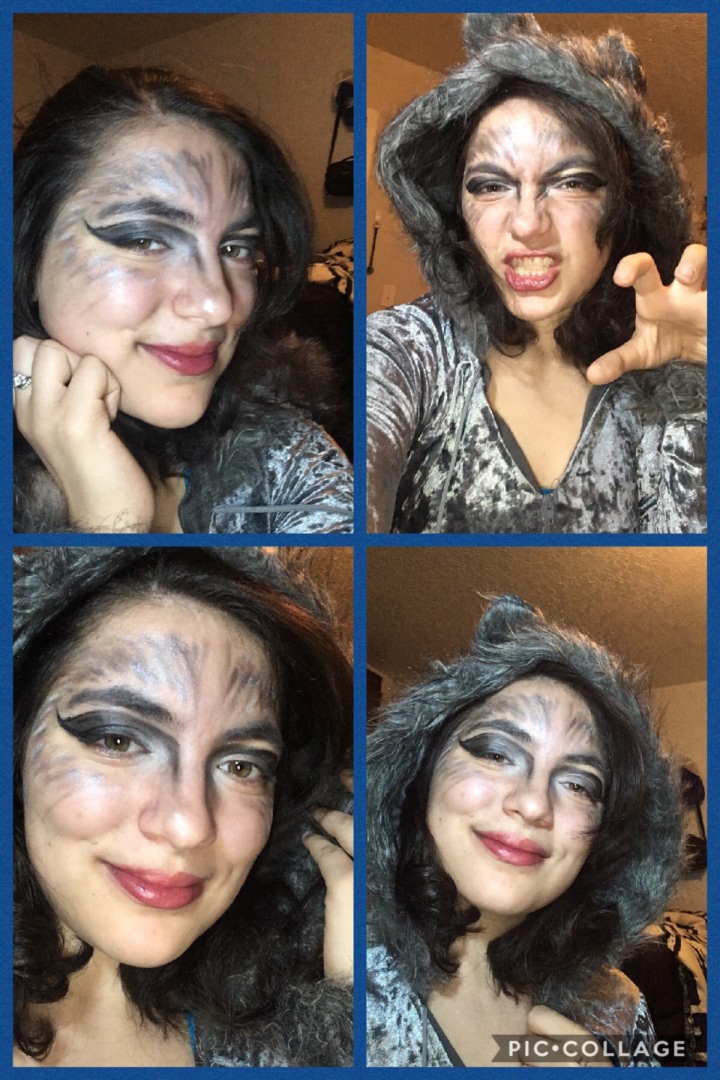 The big bad wolf was personally one of my favorites. Done with multiple grays, black, white and some bronze for fur around the face. Each pulled to frame the face and red lipstick for sexy color. The eyes I suggest to start with eye shadow with white on the inside and gradually get darker to black. Next with black eye shadow and framed the nose. Once pulled around the top of the eye lid I made an eyeliner and black shadow wing. To make the best I suggest trying and practicing and if all else fails clean it with remover and a q-tip to the shape you want.
Day 7: Camo Derby Girl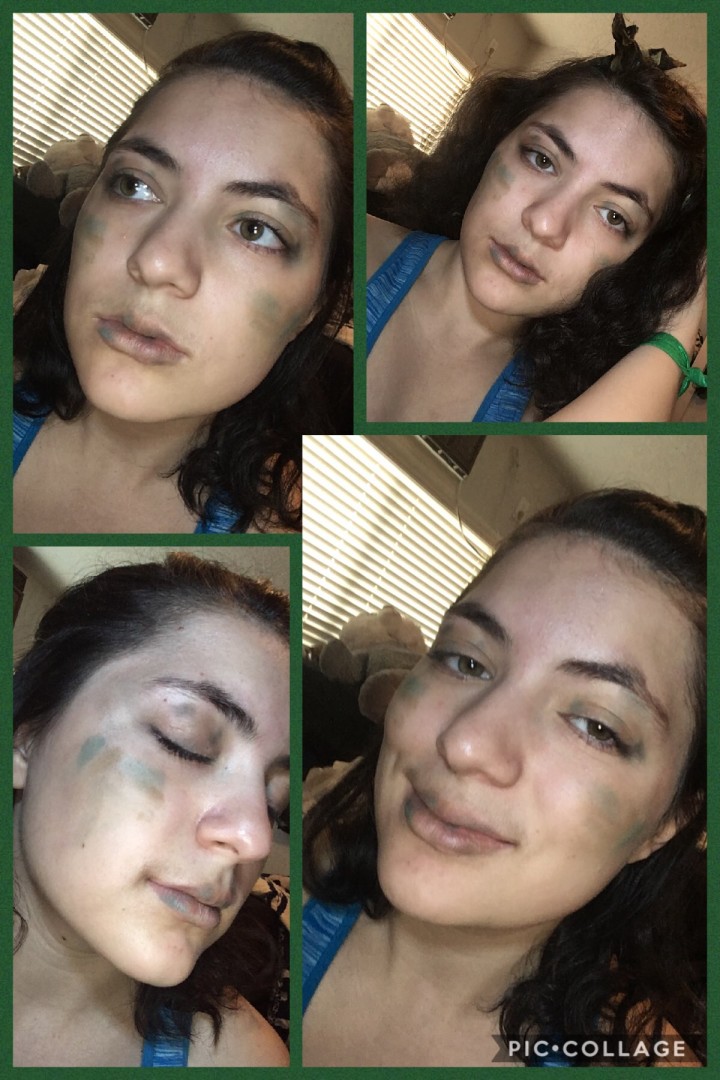 After being in derby for about two years, this technically doesn't count for "new" makeup but is still fun. I had bought a camouflage eye shadow pallet previously with a dark green, light green, gold and white. After I also found another green that was different than the two. I simply put blotches and made football lines under my eyes then blended them for a nice camo look. Partner the makeup with camouflage clothes and a bandanna to complete the look.
Day 8: Indian Princess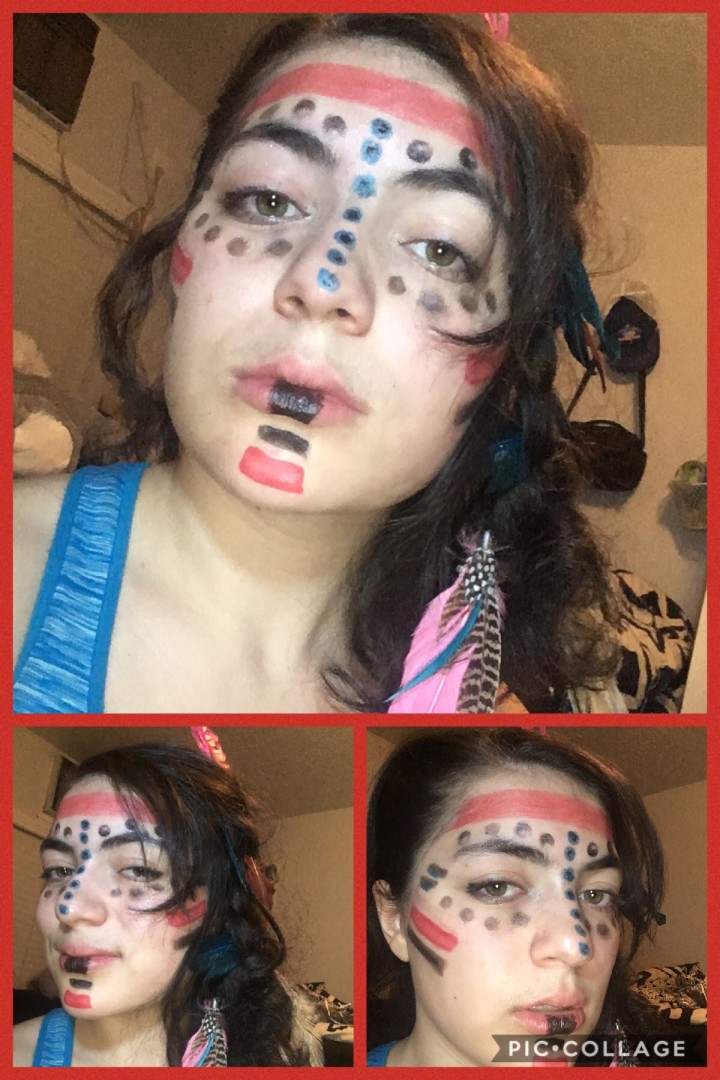 This one I found on Google but used red lip liner, black crayon, and blue eyeliner. Relatively simple once you draw the boxes with each color you fill it in with the corresponding colors. Again, I think doing the cheek bones or the nose should be last to avoid any smudging or makeup mess ups.
Day 9: Harley Quinn
This look was done with crayon, eyeliner, eye shadow, lip liner and lipstick. First, measure the lines vertically on the eyes to match and keep as straight as possible. Next, cover the eye with black eye shadow and do some eyeliner horizontal lines. After filling with red and black and putting on lipstick and crayon on my lips, I drew diamonds on the right cheek bone to finish off the look.
Day 10: Sugar Skull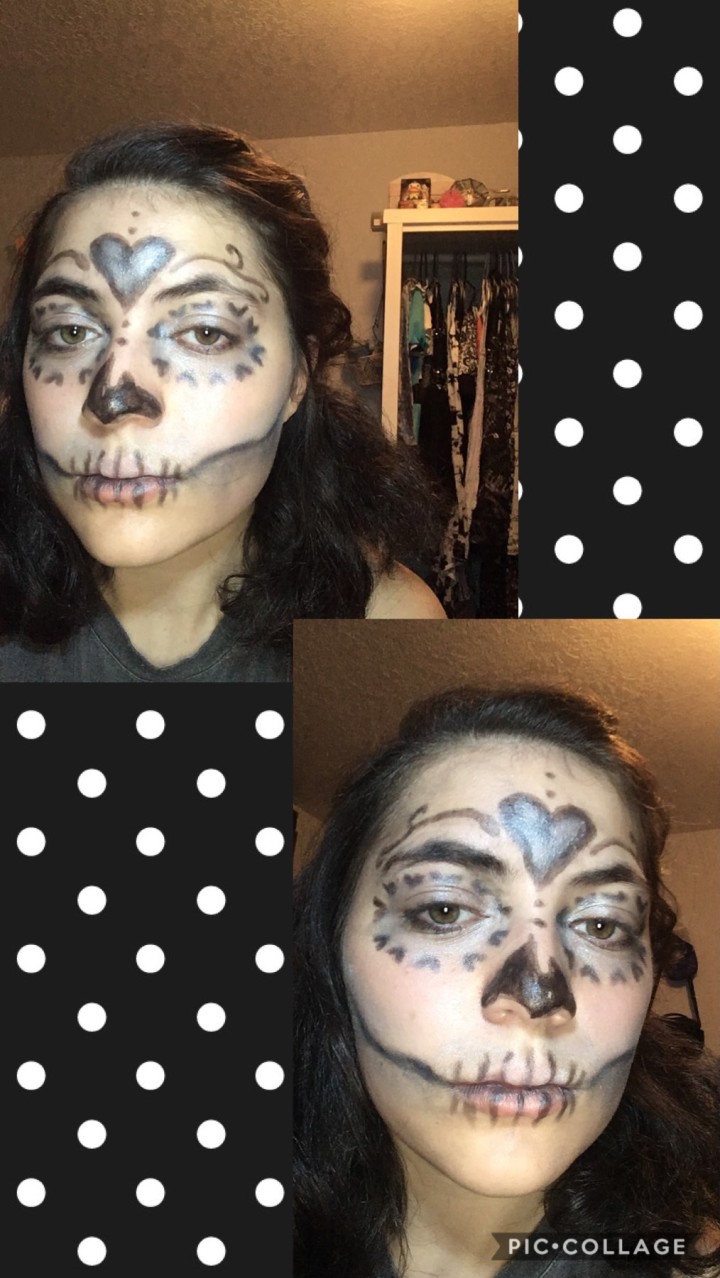 For day ten, I combined sugar skull images I found. I started on my forehead with the heart and lines above the eye brows. Next the hearts around the eyes were just the letter 'v' with rounded ends. After I drew the lips and base of the skull. Once completed, fill the gaps and the base of the skull and the teeth with white to frame and shape the thinness of the skull.
Day 11: Reindeer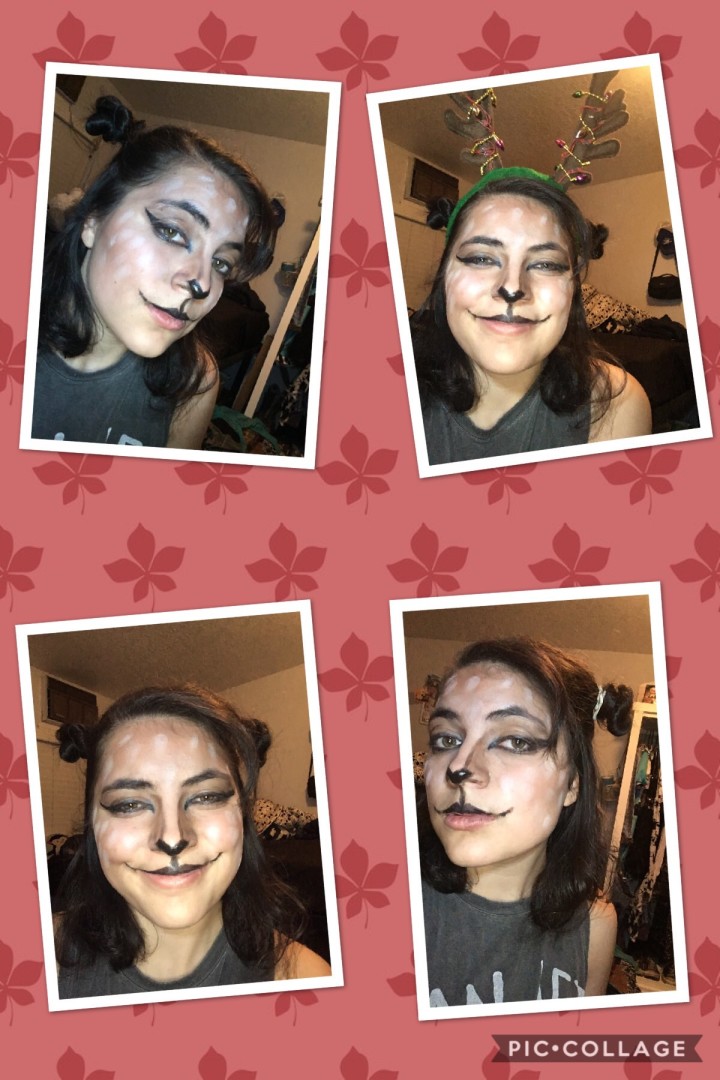 For the reindeer, I used brown bronze or eye shadow to darken the areas around my face. Next, with dark brown I framed my nose again and then made the wings for the eye liner. Lastly, I used face crayon for the mouth and nose and used white eye shadow in many layers to make the spots.
Day 12: Spider Witch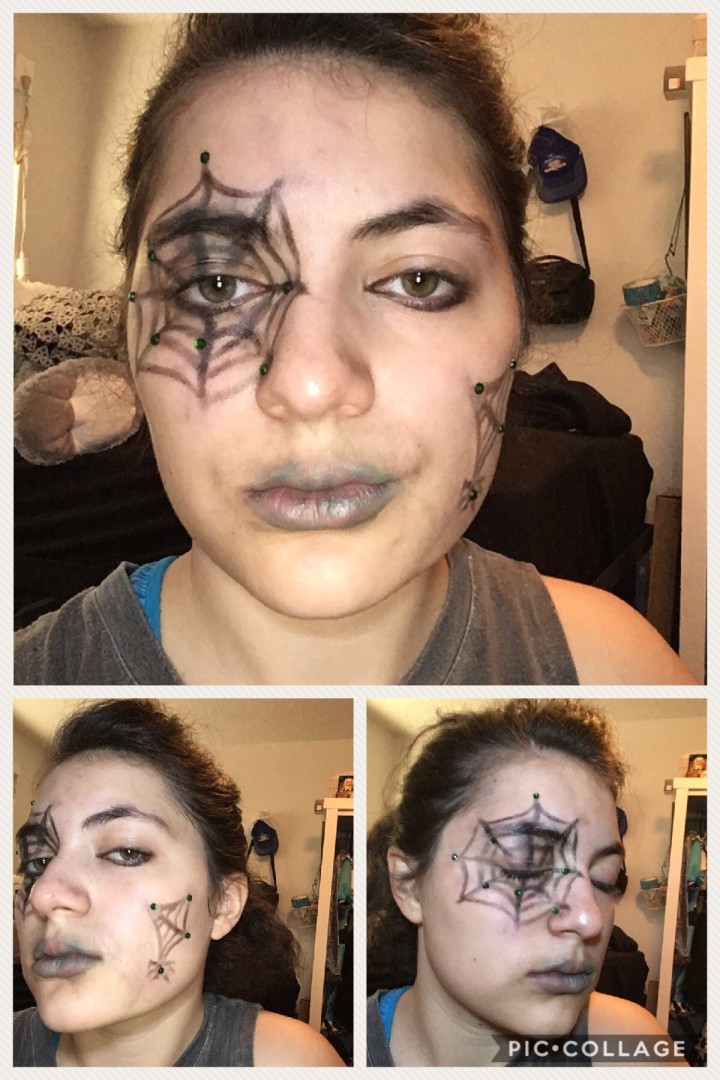 Being one of the easier looks, the hardest part was the gems. Originally meant to be put in the hair with a flat iron, I pushed them onto my face for accents. Next, I used black eye liner or face crayon to make the webs and spider. Lastly, I used green eye shadow on my lips to match the gems.
Day 13: Ventriloquist Doll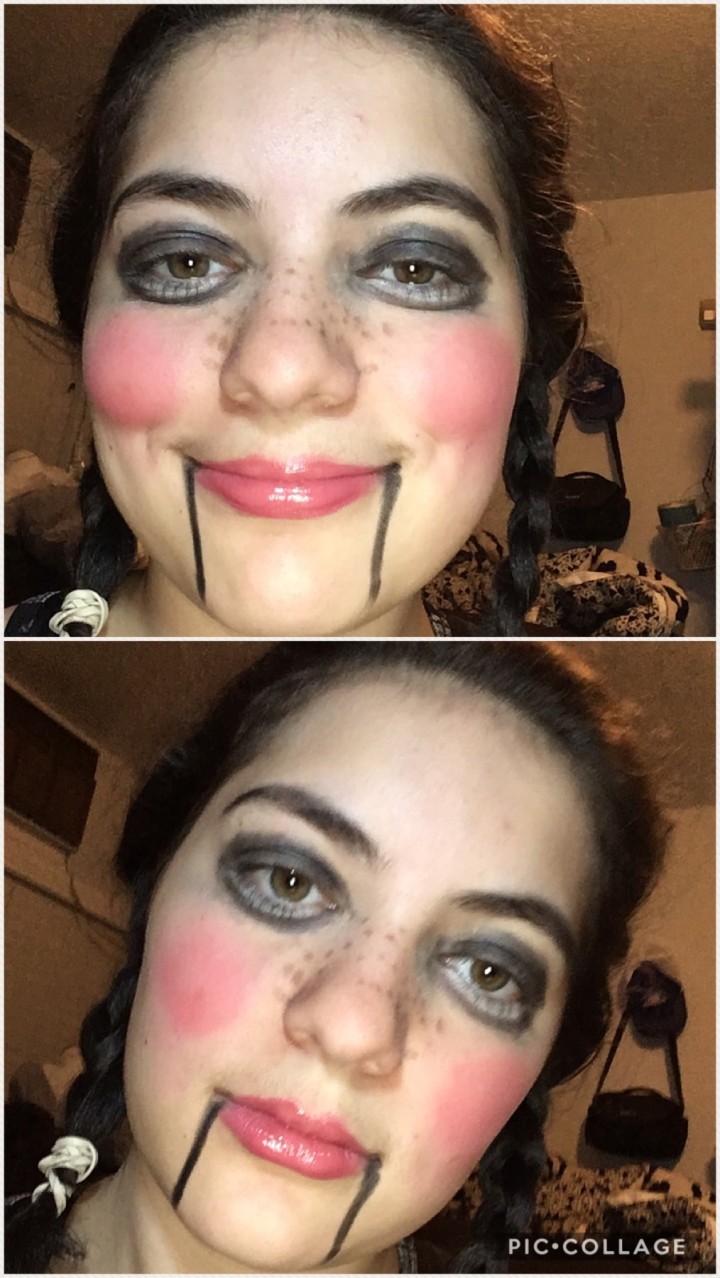 I think this look is cute and a lot of fun. First, I used white eye shadow underneath the eye to appear bigger and added a thin black line under and around the eye to create a pop and doll look. Next, with a brown eyebrow pencil I created freckles using the dot method like with the 'Bunny' look over the bridge of my nose. Lastly, I mixed pink and red blush for rosy cheeks, pink lipstick and the face crayon for the movable mouth lines.
Day 14: Scarecrow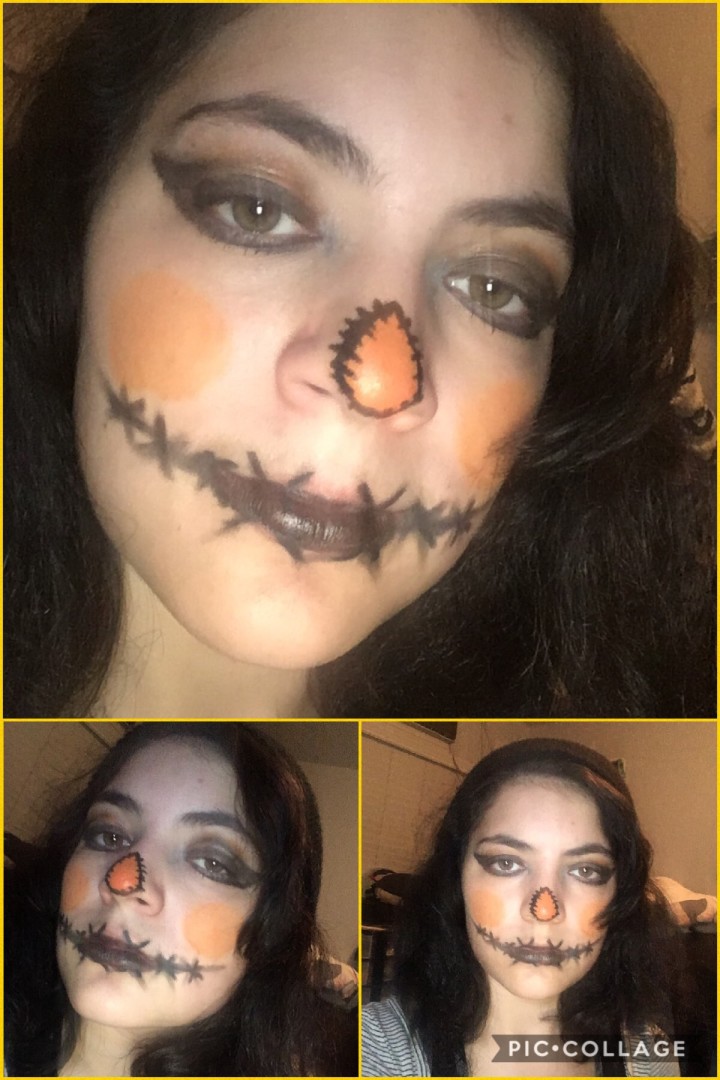 To start, I did the similar routine with eyeliner and eye shadow for the wings. Next, I used orange face paint makeup that I bought from Spirit Halloween. Orange eye shadow would work just as well but the paint gives a glossy Halloween feel. A little goes a long way with this stuff, so I used a little and added on as needed. To get the cheek bone circles I used my finger to paint on my face. Next, I did a bit more on my nose for a darker orange and added the stitches with my thin black crayon. Lastly, using the crayon I did the lips and mouth stitches.
Day 15: Pumpkin Face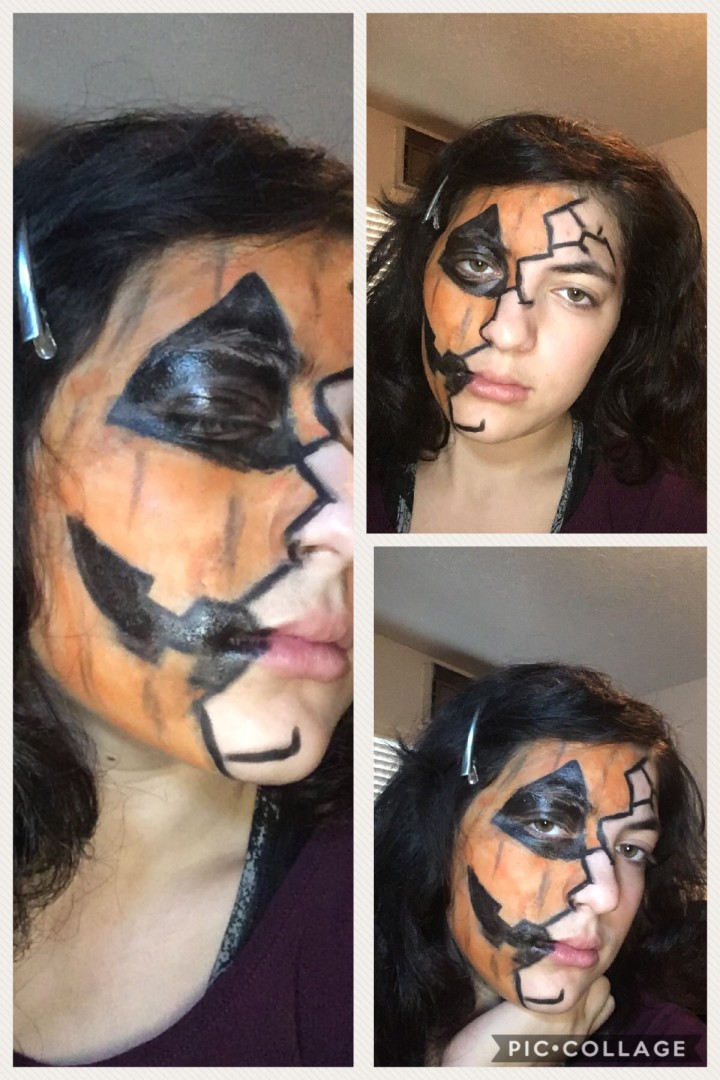 This face was a lot of fun to do but difficult too. To start, I drew where my face and the pumpkin would split with the crayon and where the 'carved' mouth and eye was. Once that was completed, I filled the half what would be the pumpkin with orange using my finger and blended it to the desired color. Next I touched up lines, added cracks and filled the mouth and eye with black crayon. For safety please be gentle on eyes and don't push to hard with the crayon. Lastly I used eye shadow to get the pumpkin lines. The next time I do this face I think I will try to add more depth and do something better with my eyebrows.
Day 16: Pirate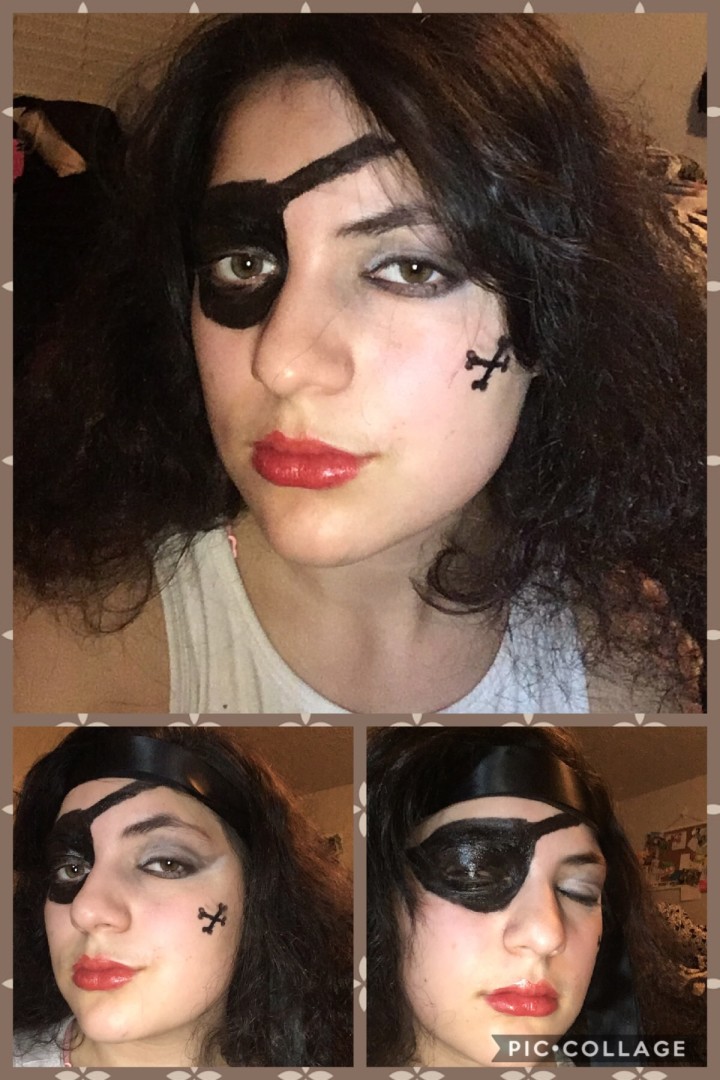 This pirate look seems easy but it was harder than I thought. First I used grey and black eye shadow to make a pirate looking wing on one eye. Then for the skull and crossbones I took my eyeliner drew two lines and did the circle trick for the ends. Lastly, the eye patch was drawn with face crayon and colored in and dark red lipstick to complete the tough pirate look.
Day 17: Queen of Cards
For this royalty I started with black and just drew the two suits down and added small black dots. Next with red lip liner I did the same thing for the other two suits and red dots. The trick here is to place them randomly around and in various sizes and directions. Lastly, was the spade with black crayon.
Day 18: VooDoo Doll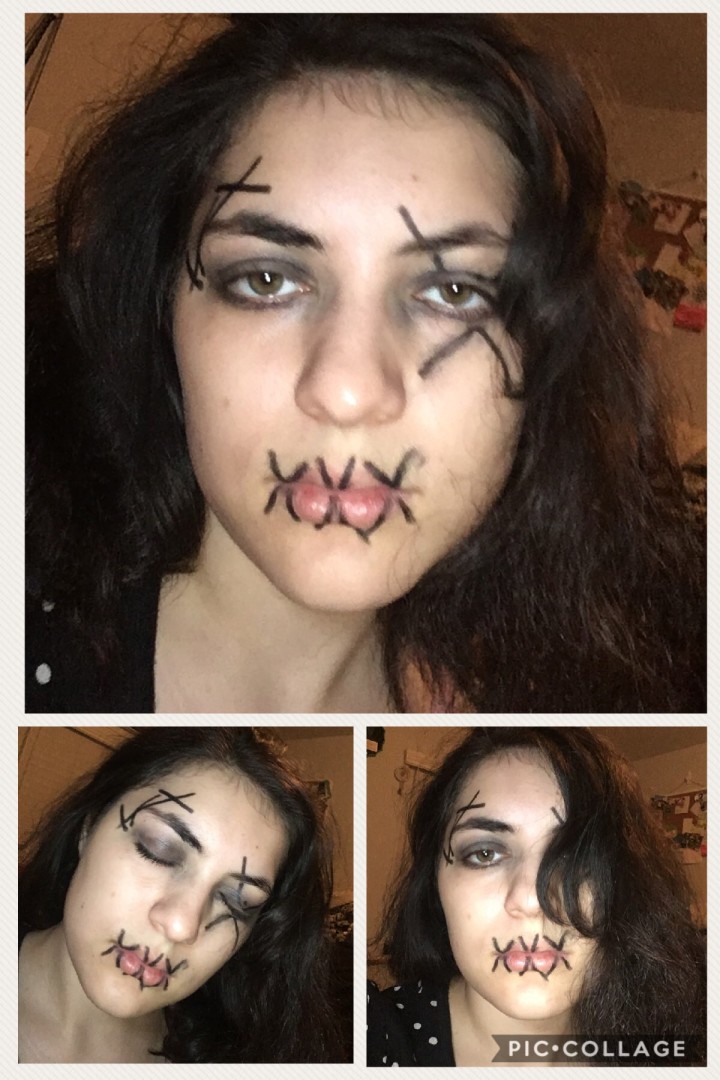 Another easy one, I simply did grey eyeshadow with black liner and took the face crayon to do stitches.
Day 19: Jigsaw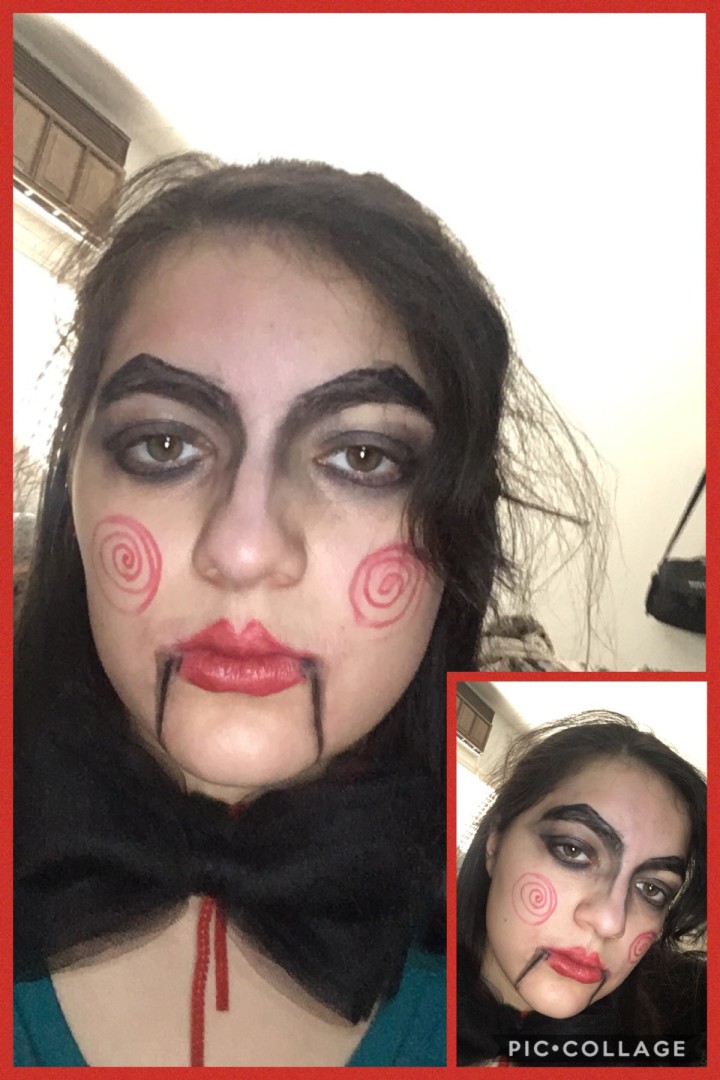 This very creepy look I used crayon to copy the doll's eyebrows and framed the nose with black eyeshadow. Next was the simple black eyeshadow on my eyes and the red swirls with lip liner. Red lipstick and doll mouth lines were last with a bowtie, although not red, for costume.
Day 20: Creepy Clown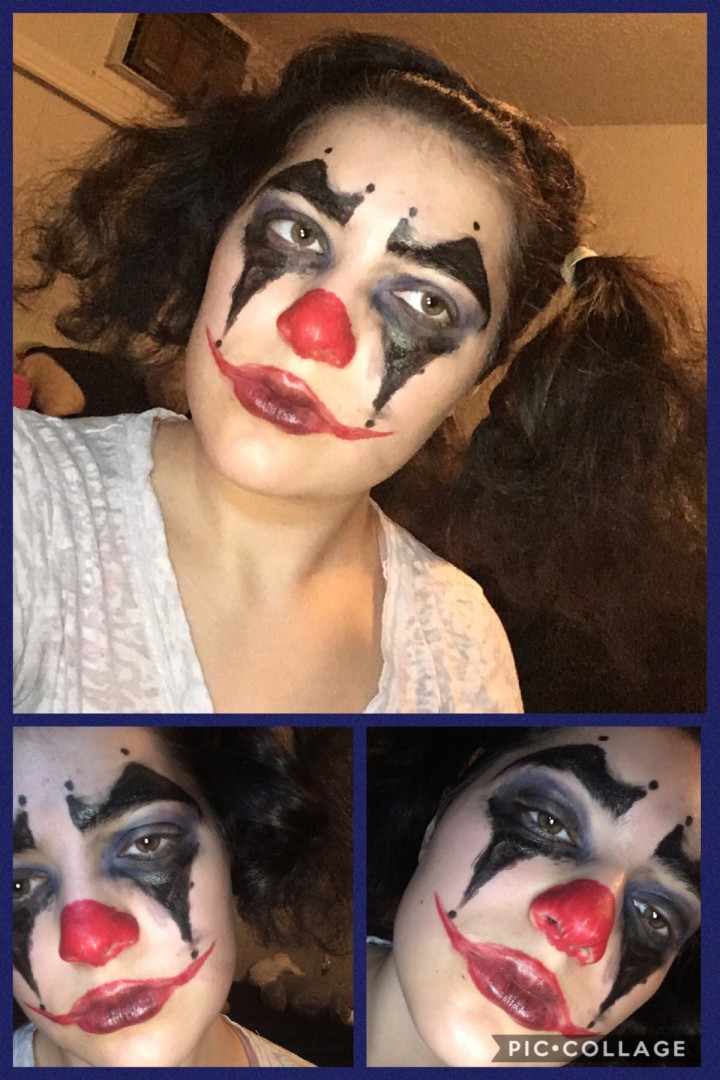 For this makeup, living to its name, I started with the eyebrows again with crayon and eyeliner dots. Next with black eyeshadow I mapped out how I wanted the under-eye to look. Used navy blue eye shadow I covered my eyes and used the crayon to fill the black shadow map. Then I used my lip liner to draw the lips and make the bright red color on the nose.
Day 21: Cheeta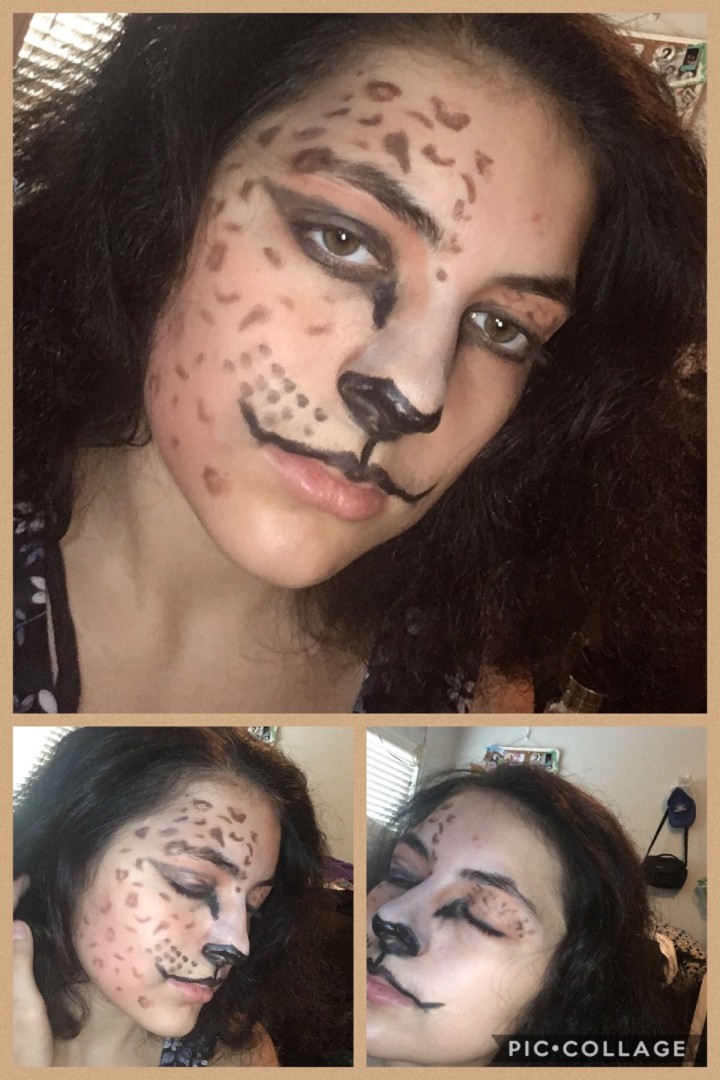 To start this cheetah look, I used the black liner to draw the cut on the inside of the eyes. Next with brown eyeshadow I colored one eye and black on the other. With the brown I highlighted my cheekbone to create the cheetah color. Then with brown eyebrow pencil I made random spots and loops, for the spots on the cheetah, on my eyelid with the brown and on the side of my face that had brown. In each dark loop I put a light brown color to make the spots pop. Lastly I made the whisker dots with brow pencil and black crayon mouth and nose.
Day 22: Gypsy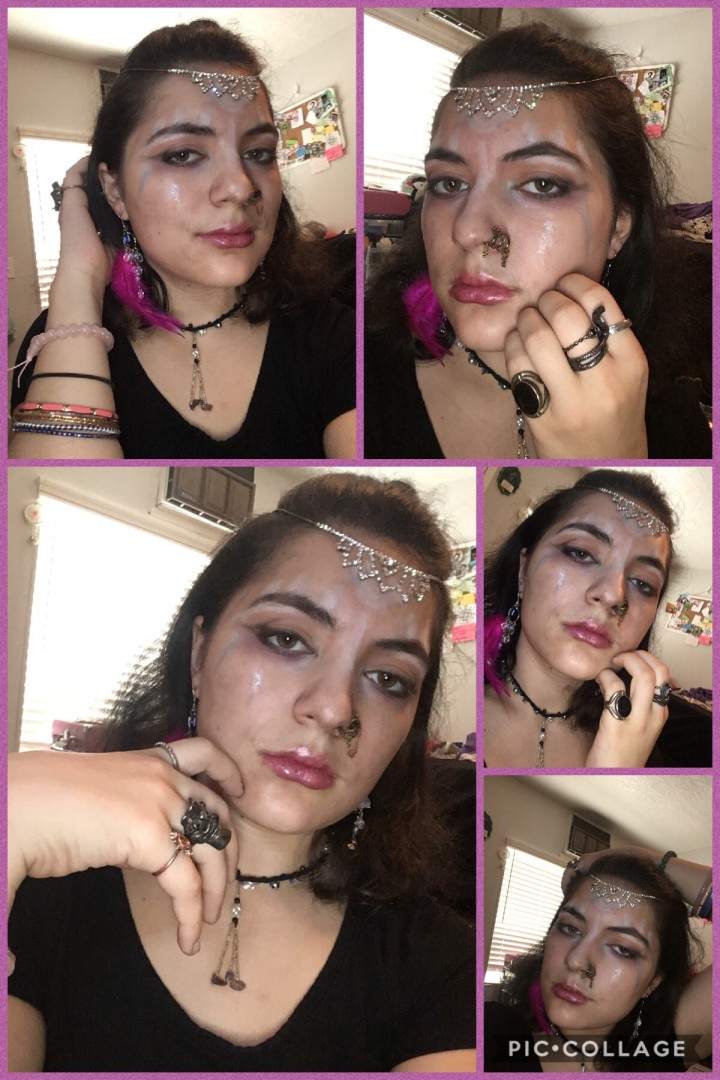 Most of this look was jewelry for the character but for makeup I used light blue on the inside of my eye, purple underneath, and brown above. Black liner with wing and silver or grey lines or tear runs on the purple down the cheeks. Next white spots above the eyebrows and a sideways moon on the forehead with a line down the bridge of the nose. Lastly pink/purple lipstick with gloss to make it shine.
Day 23: Wednesday Adams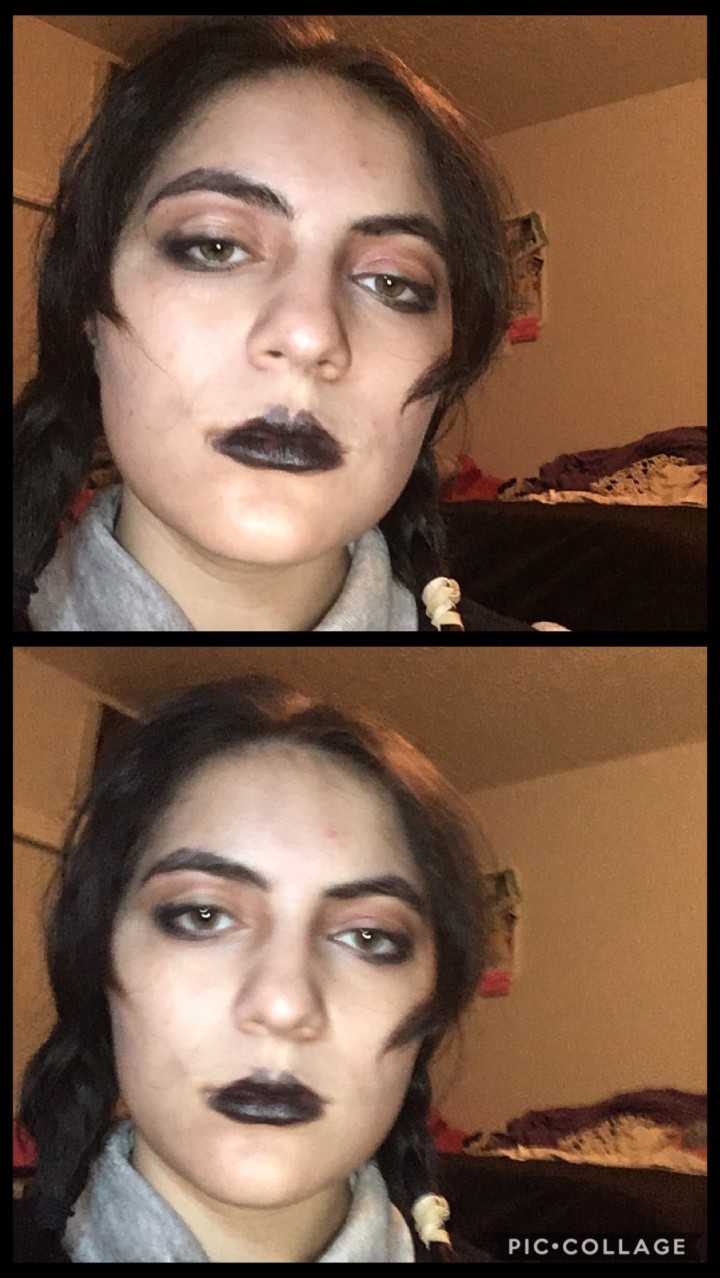 Wednesday Adams is quite simple with black liner, a pale white face, and black crayon or eye shadow on the lips.
Day 24: Pop art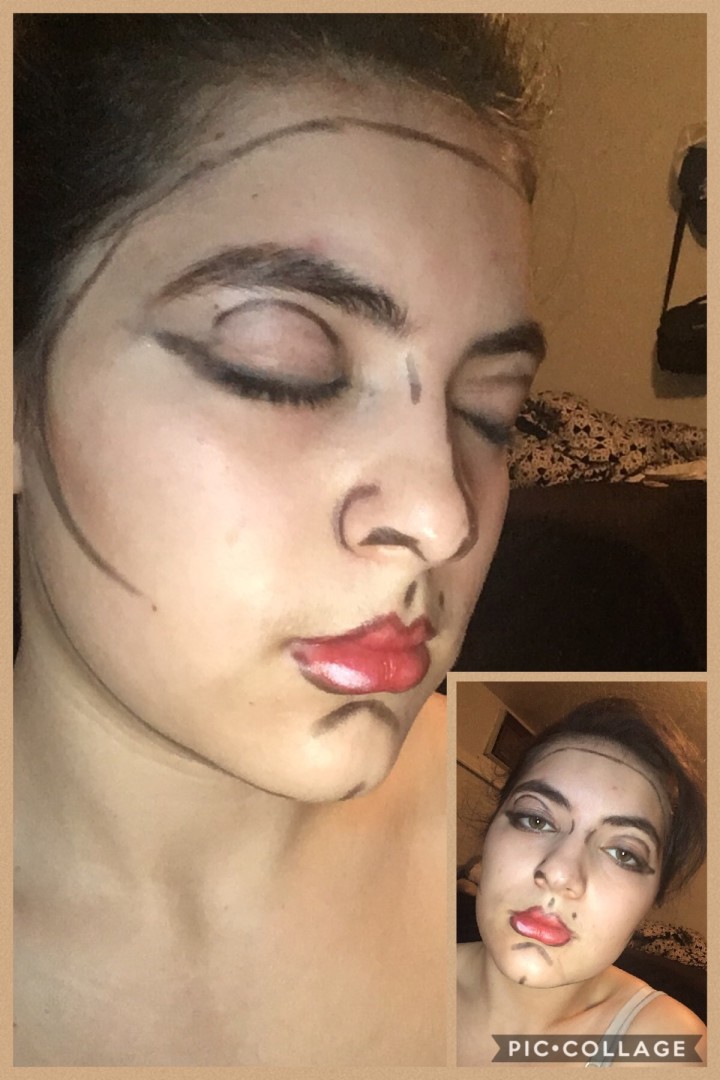 Pop art. This may look simple but was hard. It was all my regular face color but I added eyeliner, mascara, and lipstick. To make the comic book lips I added a little white eye shadow for the gleam. Lastly I took face crayon and drew the pop art lines. The face frame, eye lids, chin, lips, etc, as seen above.
Day 25: Persephone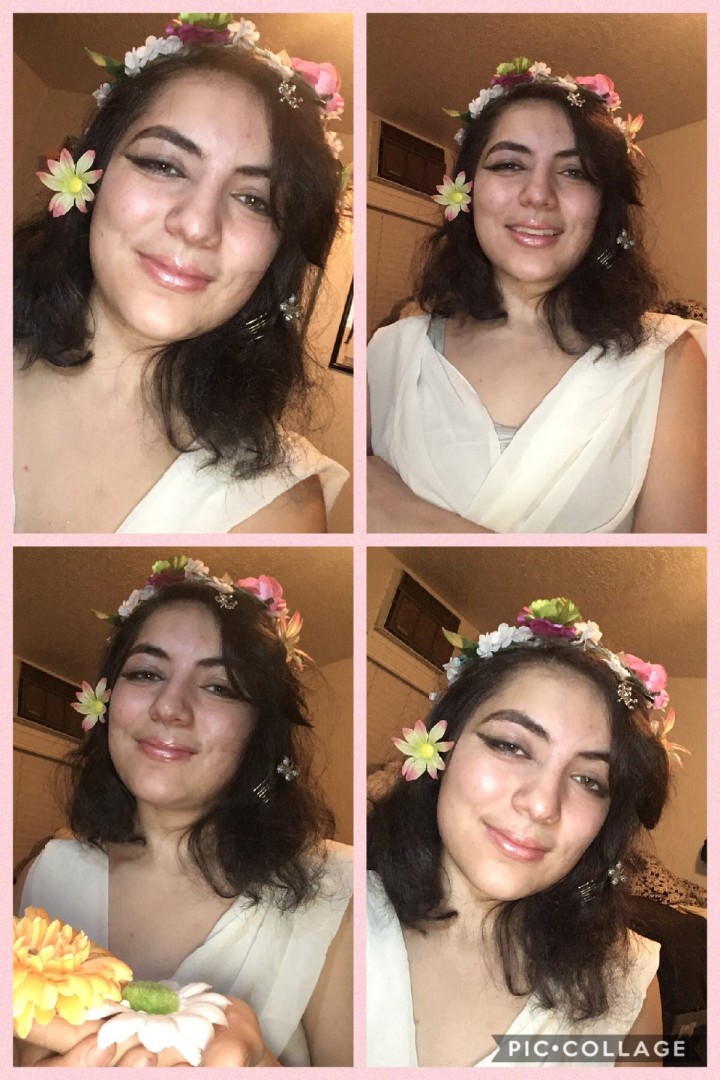 For this goddess, I did a sharp wing with black and used rosy pink blush. Lastly, a simple gloss and flowers in my hair to complete the goddess of nature, Persephone.
Day 26: Cheshire cat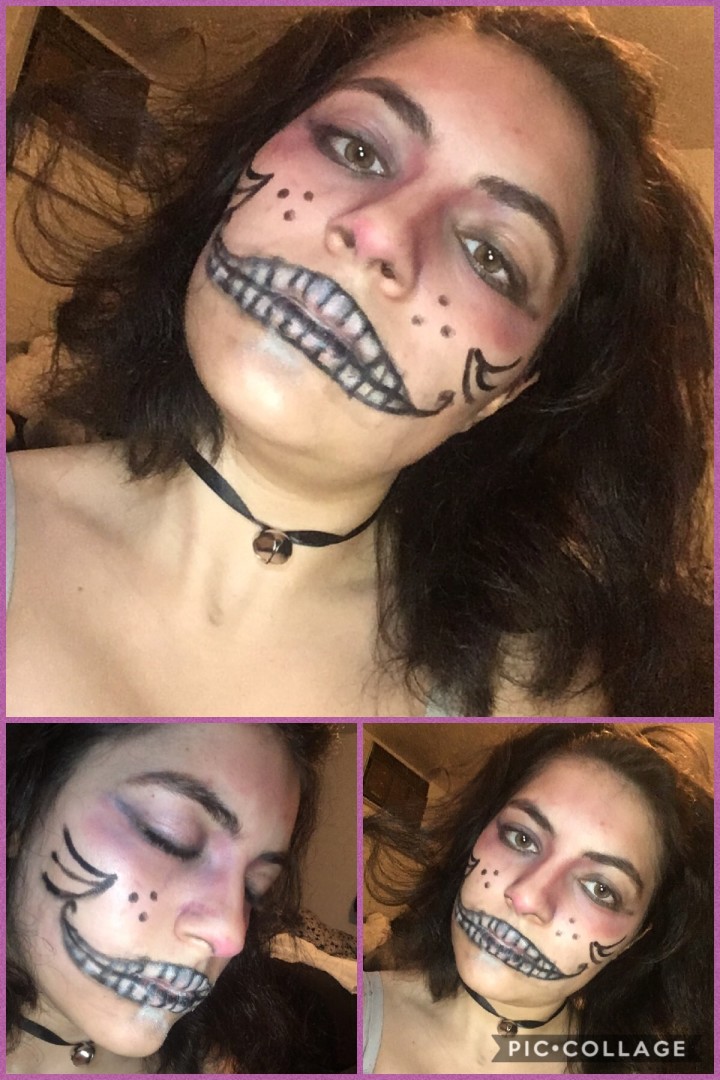 For this kitty, I did a blue and purple wing with black liner on the eyes. Next with all of my purples and pinking I put around my eye, framed my nose and on my cheek bones for the colors. On the tip of my nose I used bright pick blush and black crayon for the dots and whiskers. Lastly I drew the mouth shape with crayon, filled it in with white eye shadow and then added the teeth. Once completed I touched up colors to get the desired look.
Day 27: Mermaid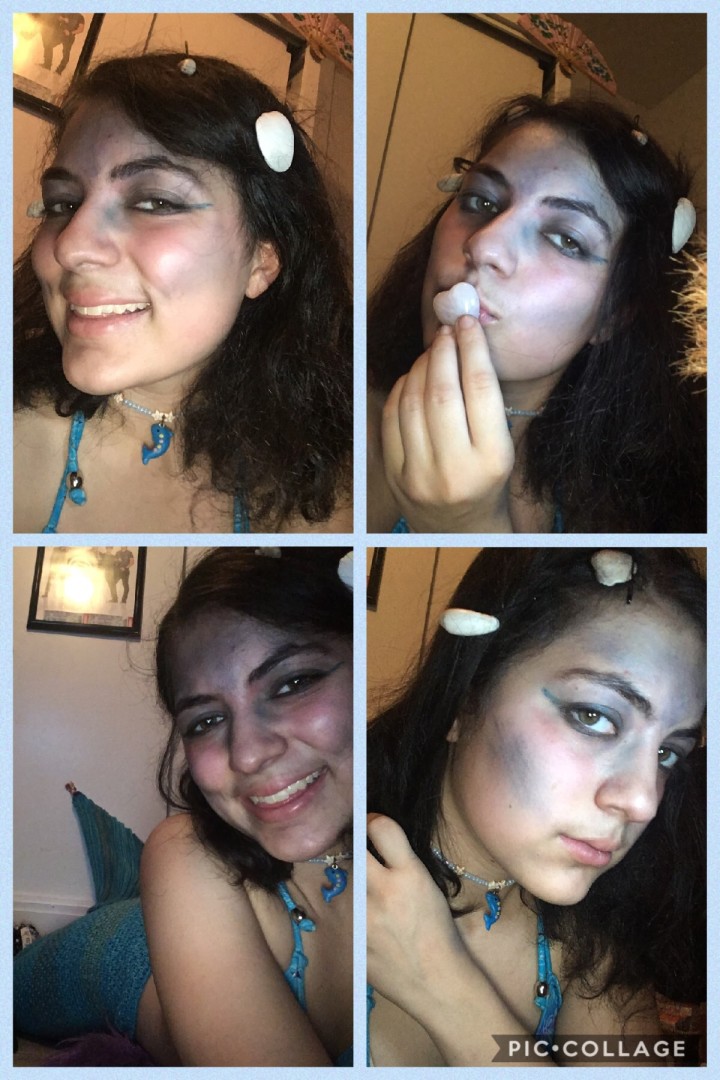 For this beauty, I did blue eyeliner and various blue eye shadow for the ocean. For scales I used fish net tights and put them on my head. Yes, it was awkward but I got the scales done. I used a lot of light blue eye shadow as a base on my forehead and cheek bones before putting on the fishnets. Then using a dark blue I made scales on the light blue and then used a purple in spots to create a more mermaid look. I added light blue on the sides of my nose by my eyes for more color and added shells to my hair to complete the look.
Day 28: Minnie Mouse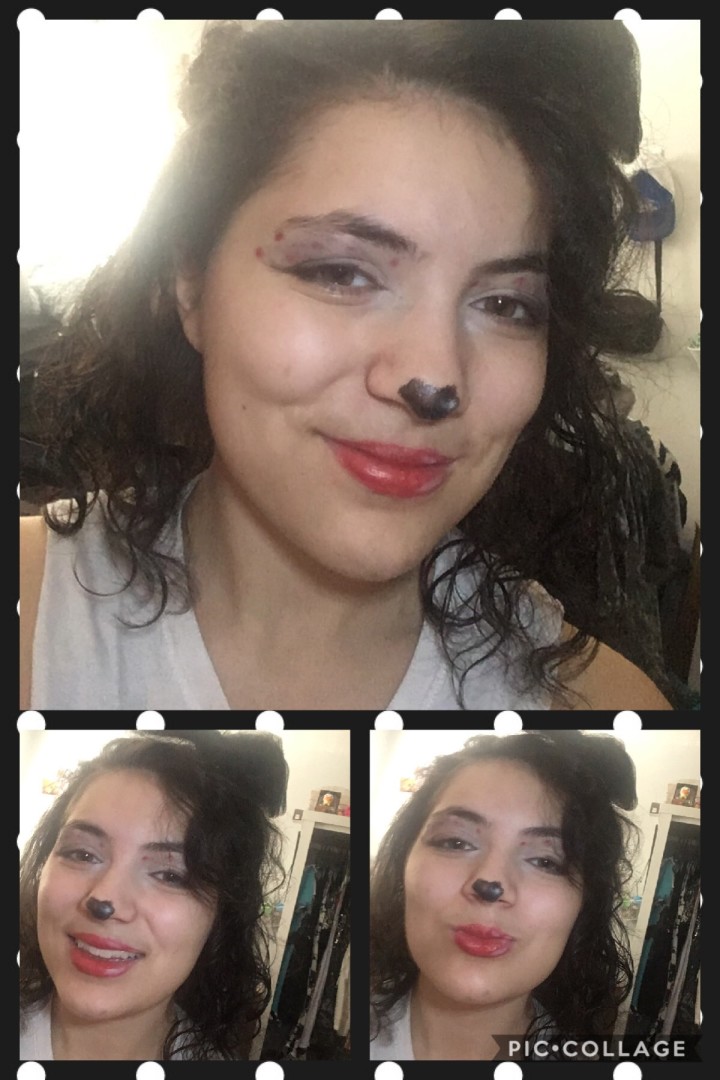 First black liner and white shadow. Next with red lip liner I made Minnie's signature red spots on the eye lid. For the nose I drew a small heart and using a q-tip I put a white eye shadow gleam to simulate a shiny nose. Lastly red lipstick and a bow to tie the look together.
Day 29: Two Faced Unicorn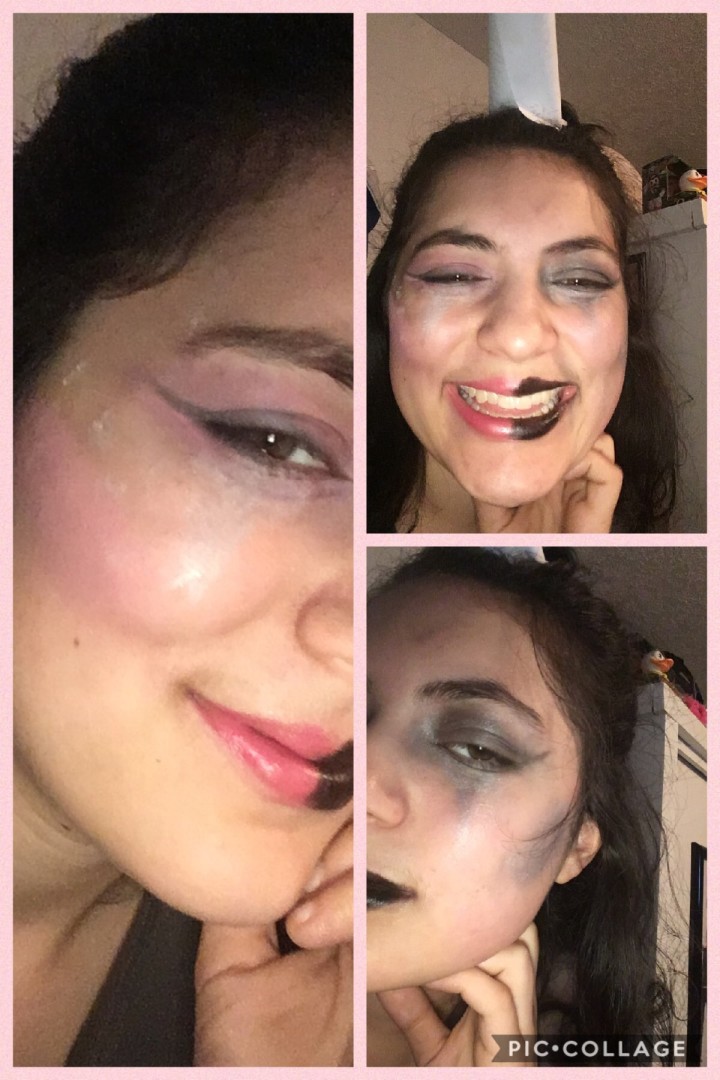 This two faced unicorn was a last minute, final idea so I could say I did make up all 31 days of October. One side has a bright pink and purple look on the eye lids and cheek bones with a purple gradient from the inside eye to the outside black wing. On the other side it matched only with grey and silver instead of purple and pink. Next I did a white tear on the pink cheek and a silver on on the grey shaded cheek. Lastly I did pink lipstick on one side and black crayon on the other and added a paper horn with bobby pins to hold it down.
Day 30: Baymax (Big Hero 6)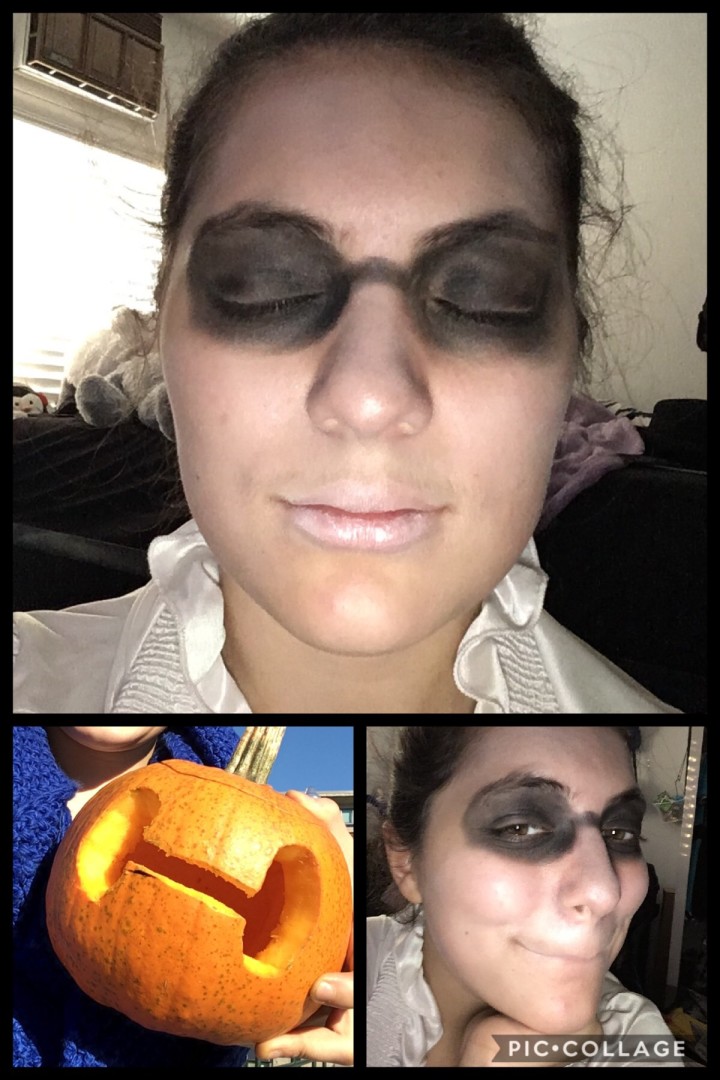 This was very simple leading to the hard day of 31. White all over to lighten the face or you can use white face paint for the pure white color of Baymax and two big black eyes with a line connecting them made with face crayon.
Day 31: Wounded Racecar Driver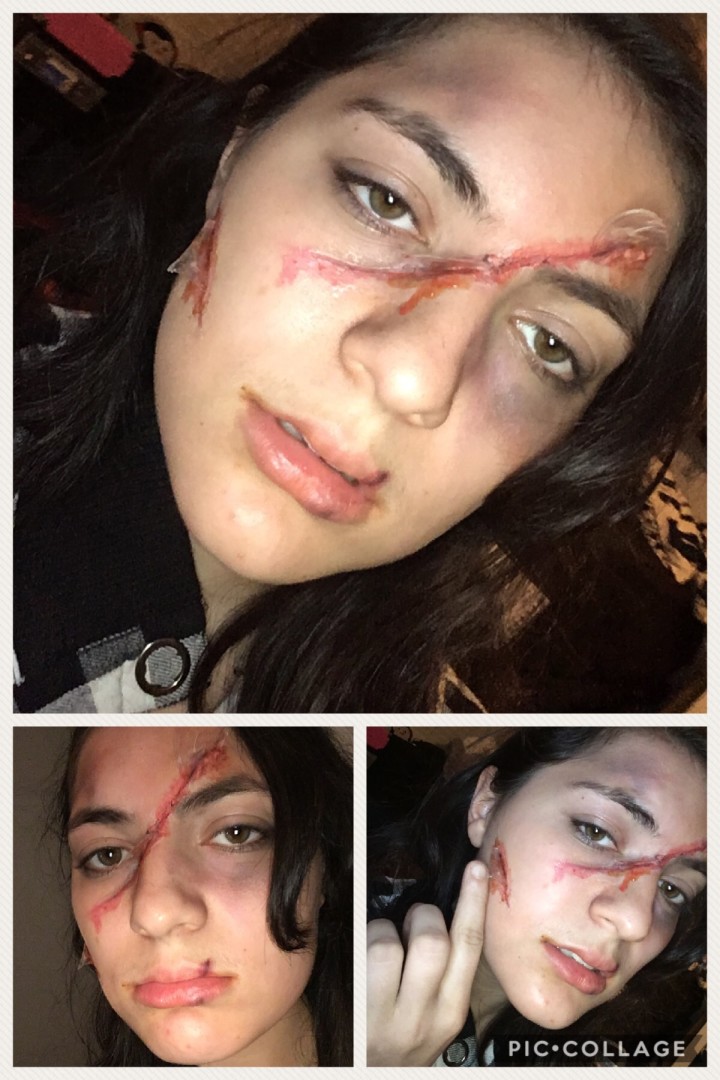 Finally for day 31 I dressed up as a race car driver who got in an accident. With out any makeup besides eyeliner I used liquid Elmers glue for the wounds. I put it on my face and let it dry a bit and drew a cut down its center for two halves of the wounds. Next using red lip liner I traced down the center of each wound, did a little black eyeshadow even thinner for depth and red blush next to and around the wounds. For bruising I use a little black and some dark purple and blended. Lastly, I cut up small pieces of an old plastic lid and used a little more glue to hold the plastic in place. Once done I recolored with the red so the glass looked like it was stuck. As for blood, I tried ketchup which was too orange and pasta sauce which wasn't the right consistency. I finally made a mixture of water, red food coloring and a little bit of flour for thickness.
TaDa. This was my experience with makeup. I used a lot of Google pictures for ideas and as reference. It was hard to pull off the entire look but it was a lot of fun. Makeup is a great way to express yourself and is versatile. Good luck with your makeup endeavors and I hope you have fun.
makeup