Winter: A Playlist
cozy songs for cold, snowy days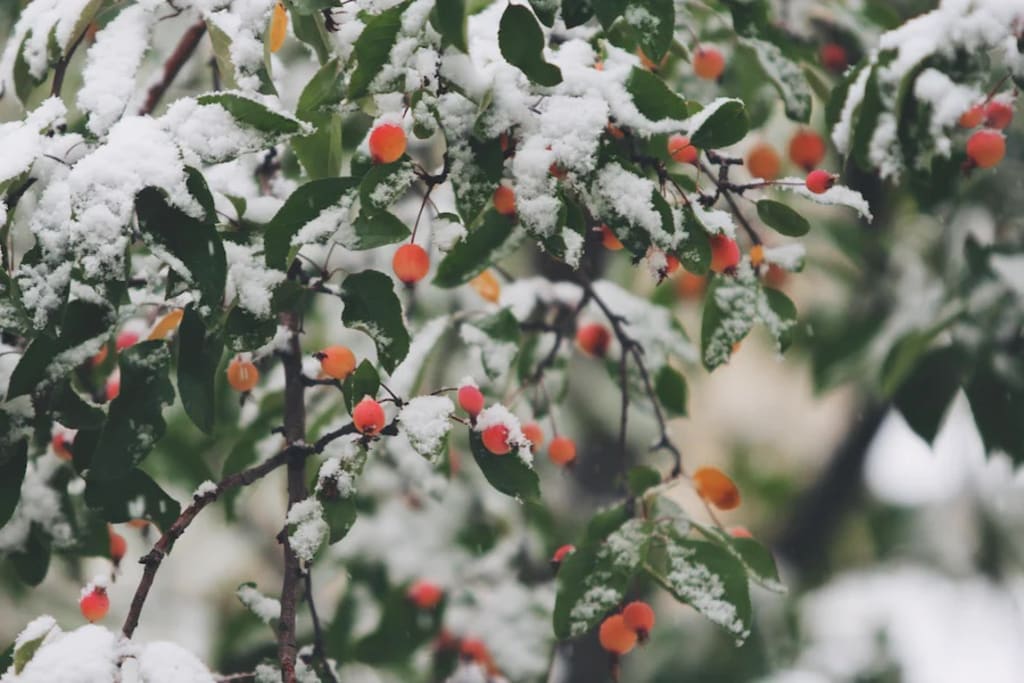 Photo by John Price on Unsplash
Winter is for witching. Sure, Samhain is mid-Autumn, and when the veil that separates us from the spirit realm is the most thin. And yes, Beltane is mid-Spring, when the veil thins between us and the natural world, the faeries and animal familiars. But sandwiched between these magical seasons is Winter, a time for the divine feminine to rise to power. Words are spells, and witches are just women in control of their own narrative.
I'm publishing this late. In a few hours, it will be midnight. It will be March 21st, the Spring Equinox. Make no mistake, I've wanted to post this for several weeks. I listened to my winter playlist a million times. It's really good. I had so many story ideas I wanted to work on and share. But I was too busy doing nothing, which is exactly what Winter is for.
I'm Lakota, African American, French Canadian, Scandinavian, English/Welsh, and Russian. Aside from the part of my family originally from West Africa, who later came to reside in Ohio, most of my ancestors are from cold climates. I grew up in the Midwest. After living all over America (and even Guam for a while), I recently moved back to the Midwest. The six and a half years I lived in Honolulu as a military wife were the darkest years of my life—but it's the darkest before the dawn, right?
I need seasons. Not only that, I have to live in harmony with the seasons. Meaning: eating seasonally to honor my physical body, and respecting what each season offers me on a metaphysical level.
Most humans have forgotten we are part of the natural world, same as plants and animals. We are Earth, and Earth has seasons. But we fight it. We want to be "productive" year round. We rely on technology to disregard our own nature. We ignore our animal instincts, we repress our biorhythms. Few of us grow or raise our own food. Some don't even prepare their own food. We've forgotten the cycles of farming and hunting and gathering, the cycles we once followed for our survival.
Winter is and always has been a time for rest. The plants and animals know this. Why don't we? Most of the physical, mental, and emotional problems people turn to the pharmaceutical industry to fix can be traced to lack of rest. When bodies are exhausted, the immune system shuts down. When bodies are sick and forced to work through it anyways, chronic illness and chronic pain develops. It ages us. When the mind is mentally exhausted, depression and anxiety develops.
Don't you know why it's cold and flu season, with less hours of daylight? It's when you're meant to slow down. Recuperate.
There are four seasons on Earth, and four elements of astrology in the cosmos. Winter corresponds with the Earth element and the Root chakra. The Root chakra anchors you into your body and the natural world. Winter Solstice is the first day of Capricorn season, and Capricorn is an Earth sign ruled by the Root chakra. Regardless of what hemisphere or climate you live in, the days between Winter Solstice and Spring Equinox are for grounding yourself. When your Root chakra is ungrounded, your entire chakra system is off balance.
Contrary to popular internet belief, you don't become grounded through walking barefoot outdoors. You become grounded through diet and rest. Our modern diets rely heavily on grains for starches, and caffeine for energy. This is all wrong. While it is fine to have grains and caffeine in moderation, most of your starches should come from root vegetables. Your energy should come from sleep and meditation.
There are two types of energy. Physical energy is the result of resting your physical body. Creative energy, or inspiration, is the result of resting your mind. Meditation does NOT mean you stop thinking, or "silence your thoughts." Similar to how fasting gives your body a break from digesting food, detaching from external stimulation gives the mind a break from processing information. Meditation is absolutely a time for thinking. It's the only time you can think clearly, without distractions. It's how you can tune into your thoughts and hear them. Subconscious thoughts are the ones you don't hear, the ones you tune out. Unfortunately, subconscious thoughts are driving all your emotions, reactions, and behaviors. When you are quiet enough to hear those thoughts, they lose all potency. You gain self-control. Discipline. Personal power. The self-actualization of Capricorn. You control the narrative.
Every element is feminine or masculine, and internal or external. The Earth element is feminine and external. It is the only element that is physical—dominating our health, wealth, and beauty. Feminine doesn't mean what most think it does. Feminine means receptive. Winter, a time of dark and wet days, is the most feminine time of year within the womb of Mother Earth. It is when we are meant to RECEIVE health, wealth, and beauty. We are meant to sleep longer hours. Nap. Eat hearty foods. Feast on the holidays. Be still, and pay attention to our thoughts. Spend more time at home with those who love and support us. Be open and receptive to nourishment, energy, and creative inspiration. We'll need all of that in the Spring, so we can begin working hard at our purpose, gaining emotional and financial fulfillment as a result.
I'm a little bit sad that Spring is already upon us. Just a little bit—I'm excited for all the creative projects I received inspiration for. I do find joy in the creative process. But I love Winter so much.
Luckily, here in Minnesota she sticks around a while. Sometimes it snows in April. Occasionally, it snows in May. It rarely snows in June, but it has happened before. The snow and ice make me happy. Rain, allergies, and muddy melted snow puddles do not. Regardless, I have used my time wisely, and I am ecstatic to start expressing myself more prolifically. Expect lots of playlists and stories!
xo, Naomi
Highlights from my playlist:
The entire playlist (3 hours):
Reader insights
Outstanding
Excellent work. Looking forward to reading more!
Top insights
Expert insights and opinions

Arguments were carefully researched and presented

Heartfelt and relatable

The story invoked strong personal emotions
Add your insights