Why Yes, Girls DO Want to Have Fun
It's all about the bop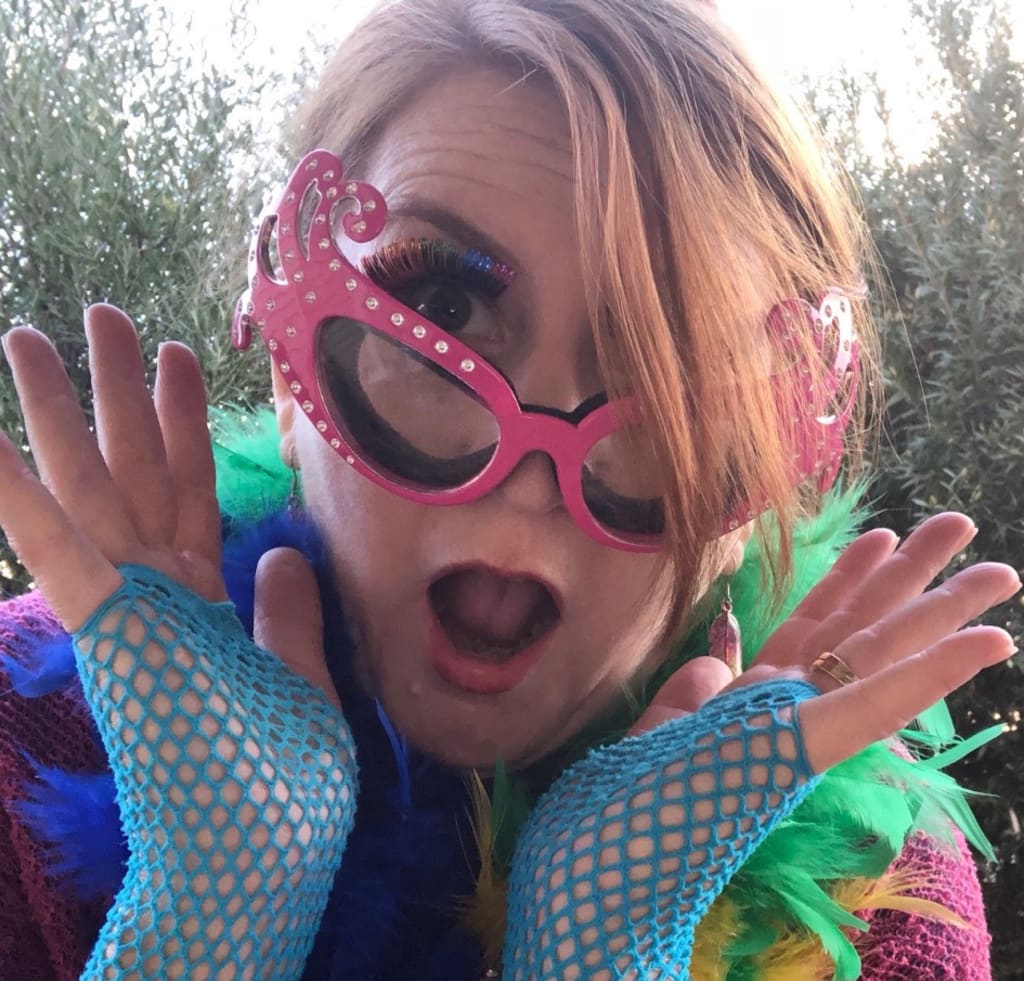 Photo Credit: Sandi Parsons
I want to say the music was booming because that's what it felt like. But the reality is, although my radio dial was turned up to ten, the sound was probably a little tinny (and it most likely wasn't all that loud anyway). Regardless at age eleven, it FELT like the beat was booming.
Cyndi Lauper belted out the lyrics, and I danced in front of my mirror. My hair was piled on top of my hair, secured with clothes pegs. My neon yellow skirt swirled. The music was perfect for dancing. Fun, bouncy with rhythm. And that made perfect sense because She Bop was all about the bop. And bop was another word for dancing, right?
"I made sure when we were writing it. "I kept saying, 'Look, I don't wanna mention anything to do with hands.' I want little kids to think it's about dance and grown-ups to have a chuckle when they hear it. That's how I wanted it so that's how we did it." — Cyndi Lauper
As my teen years rolled around, She Bop remained one of my favorite Cyndi songs. At nineteen, I liked to go clubbing and dance all night. No matter how tired I was, She Bop would get me on the dance floor. And I would dance HARD. Still in blissful ignorance, bopping along to the tune because the beat was perfect for dancing.
Back then, nineteen-year-old Sandi thought she was savvy and knew everything. It's not like I was innocent — KISS tunes were high on my playlist at the time. And 99% of their songs contain sexual references along with multiple euphemisms for their "love guns." The hit tune by The Divinyls, I Touch Myself, was also a favorite. I knew stuff. But my inner eleven-year-old was still convinced that "bop" was a dance.
So I continued, bopping away in blissful ignorance. Once as I flipped through records in a secondhand store, I spied a "Parental Advisory" sticker on a copy of the 12 inch single of She Bop. I knew about the Filthy Fifteen, a list of dirty songs, but had never paid much attention to either the songs or artists on the list. I paused for a moment, looking at the sticker — Cyndi? My Cyndi? Nah. I snorted and figured it must have been a mistake and never gave the sticker another thought.
Meanwhile, the rest of the world had been abuzz about Cyndi's scandalous song for years. Cyndi herself let the cat out of the bag during a television appearance with Dr. Ruth.
"Most people didn't get what 'She Bop' was about until much later, when I went on Dr. Ruth's radio show. I was playing along with her, making believe I was in a psychiatrist's office, but then everything I said was blown up later by the press. Suddenly #SheBop was on the Parents' Music Resource Center's #FilthyFifteen list of songs that they said should be banned, like 'Let Me Put my Love Into You' by AC/DC." — Cyndi Lauper
I'd like to appear all worldly and share my epiphany about the moment I realized the song was actually about masturbation. A moment where instead of bopping on the dance floor, I sat and listened to the song. A moment where instead of singing along, I paid attention to the blindingly apparent lyrics. An awakening and an awareness — giving me a new appreciation for a favorite song.
Instead, my aha! moment came with all subtlety of a sledgehammer. Late one night, during a prolonged writing procrastination moment, I spent some time on YouTube and stumbled across Cyndi Lauper's interview with Dr. Ruth. And the word masturbation hit me as if someone had slapped me with a wet fish.
"Say what now?" I muttered to myself as I hit pause to search google for the lyrics.
Dear reader, my google search didn't just give me the lyrics. No, it gave me a whole list of articles and references. It was all laid out rather clearly. There was no mistaking it. All that bopping was self-pleasure without a dance move in sight.
Going south was not a geographical location. There was an entirely different sort of dance party happening south. And the bops? Well, they were not increasing in tempo due to the beat of the music.
My inner eleven-year-olds dance bubble burst. No more was I a little kid dead-set convinced that a bop was a kind of dance. And I wondered how I could have remained so naive for nearly thirty years?
Did my mid-life realization change the way I feel about the song? No, it's still one of my favorites, still guaranteed to get me on the dance floor. But I do wish nineteen-year-old Sandi had figured it out herself. She would have been tickled pink.
She Bop turned 37 this year — now that's a lot of bopping!
80s music
About the author
Sandi Parsons lives and breathes stories as a reader, writer, and storyteller. Subscribe to my newsletter & receive my free ebook The Last Walk → https://bit.ly/3cGvsPB
Reader insights
Be the first to share your insights about this piece.
Add your insights