Whatever Happened to Les Techno?
New EP Available from Musical Addict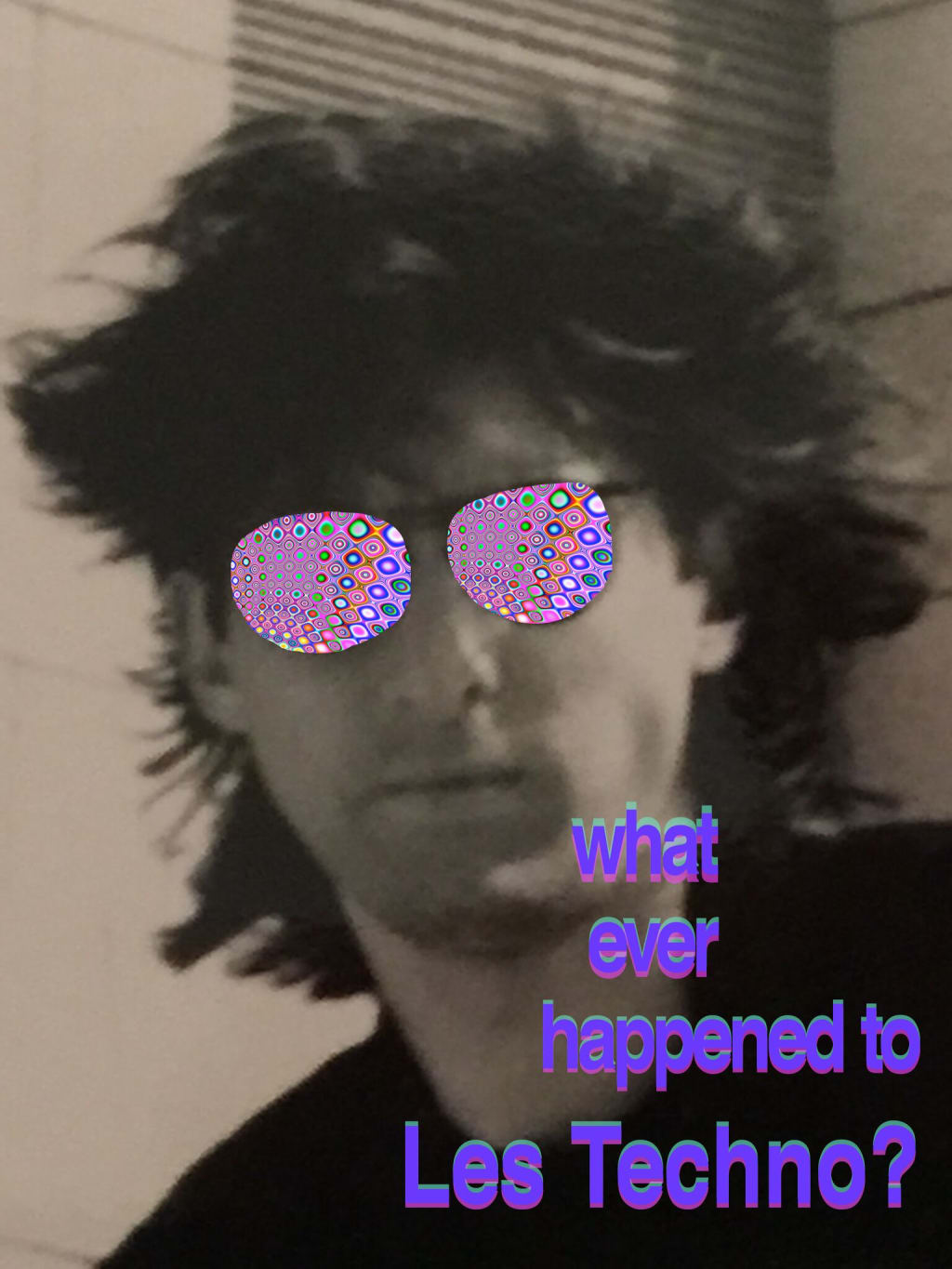 Before one can answer the question, "Whatever happened to Les Techno?" one would need to know who the heck Les Techno is. According to his bio, Les Techno is a guy that has done a lot in and with music and is a multi-talented musician spanning many musical genres.
To break it down, Les Techno:
"Is a New York City rocker that plays guitar."
"Sang in the usual punk rock hangouts," with bands like Sim-Stim and Love Posse.
"Trained occasionally with the late jazzman Larry Coryell."
"Learned to work analog synthesizers with those big, round knobs, analog reel to reel tape machines, razor blades and a grease pencil in order to make obscure atonal music for college credit at a fancy university."
"Made hip-hop tracks with rap artists."
"Worked with R&B artist Ava Cherry and with the late, legendary funkmaster Bernie Worrell on a record to benefit the Aids Health Crisis Center in New York City."
"Wrote and produced reggae dancehall records for Georgie Blacks and Willie One Blood, techno dance records for Stimulator, and a Latin hip-hop record for Daniela."
"Produced tracks for hip-hop artist Dry White Toast and pop singer Lizzie Tripp."
While I would describe Les Techno's music as post-punk music and synth-pop, his experience in hip-hop and dance beats is definitely evident in these five songs as well. I felt the 80s through and through in this music, and even the video for "Trophy Wife" has an 80s feel and appeal to it. I like that there is a lot going on in each of these songs, it makes that fun to listen to and pleasing to the ears.
One of the things I found even more impressive about this guy than all of his experience was the fact that he is also a multi-instrumentalist. He plays bass, drums, Moog synthesizer, acoustic and electric guitar on his songs. I love the sound of the Moog and I feel like it is what makes this EP so awesome.
So, to the music:
Trophy Wife is the first song off this EP that is almost like listening to a cool blast from the past. His name makes you think of techno dance music, so it's a good thing you can actually dance to the music he makes. Trophy Wife was created to be a satirical look at the life of Ivanka Trump, the president's daughter. It's said by people that have listened and watched that the song is more like life imitating art (I avoid the news and don't stay up on presidential things with this joker in the office, so I can't vouch for this being a factual statement). This isn't my favorite song on the EP, and it's probably not the one I will go back to when I listen again, but I did enjoy the artistic value of the video.
"Who Do You Believe" is my favorite song on this EP. It has a full 80s sound, like something you'd hear in a John Cusack movie from the late 80s or early 90s. It's John Hughes' movies in a song. It's music you'd have danced to at the club. It could be on a playlist that included "Depeche Mode" and "The Cure." "The Salvation Remix" for this song is pretty cool as well, although I enjoyed the original far more.
"Soul Of The Machine" has a really funky sound when it first starts, but it mellows out some, musically. The lyrics aren't mellow. They are lyrics worth listening to, that is for sure. "Old House" has a mellow dance sound but is still really great to listen to. I just love the vintage 80s sound on this album, and to me, that's enough to make it something I'll listen to often.
If you think you could dig a musician that could be fit into the categories of alternative rock, psychedelia, and hip hop you should listen. Les Techno's sound could be compared to Psychedelic Furs and War on Drugs.
album reviews
alternative