Welcoming the new year
With music and wishes...
This year has really been something, but it is practically behind us at this point. We've almost arrived in the year 2021.
Let's take a moment to give ourselves a nice pat on the back!
We actually did it!
So, I had created a playlist, in honor of this happy celebration we should all be having. I hope you enjoy the fun tunes as much as I do!
1. Begin Again by Purity Ring
The perfect start to this playlist. Things happen in life that are hard to deal with sometimes, but we get through. Now, it's time for us to pick up our bootstraps and start over. It's time to begin again, but this time around will be better, I'm sure.
2. Built to Rise by Audri
Things can't hold us down forever because we're all built to rise. Don't doubt yourself and don't doubt me. We are both built to rise!
3. Dancing on the Sun by Bahari
The road ahead may seem long, but soon enough we'll all be dancing on the sun. Try not to get so worked up over everything because things are constantly changing. We have to be strong. We will make it through this!
4. Ready to Let Go by Cage the Elephant
This year has been ridiculously difficult and we've all been waiting for it to be over. Well, the end of the year is finally here and we're all ready to let go. Welcome, 2021!
5. Good Day Sunshine by The Beatles
I need to laugh and feel good, we all do. The sun is finally shining (metaphorically). And, boy, it feels good! This is kind of more of a love song, but, hey, it works with these vibes!
6. Dancing Around by Flor
Oh, yes! I can't wait! I've been longing to be dancing around again! This song is perfectly amazing for these good vibes! 2021, here we come!
7. Have It All by Jason Mraz
May all your dreams come true! May the best of your today's be the worst of your tomorrows! I want you to have it all! You deserve nothing less!
8. Fresh Eyes by Andy Grammer
This song is also kind of a love song, but the lyrics fit so perfectly with these times. We've never dealt with so much separation in most of our lives and, now, we can see things through fresh eyes. Suddenly, we're in love with connections. So, suddenly, I'm in love with a stranger. I see you with fresh eyes and it'll be so good to say hello to all of you beautiful strangers!
9. Crystalize by Lindsay Sterling
Not all great songs have lyrics. I absolutely love Lindsay Sterling! She's amazing and so passionate with her instrument! You can feel the hope and joy in the sound of her violin. The sense of accomplishment. The beautiful transition into 2021!
10. Can't Stop the Feeling by Justin Timberlake
I can't stop this amazing feeling! I'm so grateful for all of my people and I'm so excited because I truly feel like we're finally at a turning point. Everything feels so magical. Just dance because life is getting better and I can't stop the feeling!
11. I'm so Free by Beck
I'm so free now and so are you! We made it through this dreary year and we're getting more of our freedom back. I'm so glad for all of my fellow human beings. We're free to be happy now, at least, somewhat!
12. Happy by Pharell Williams
Of course, I had to add this song. I don't care how crazy it sounds, I'm Happy Now! Nothing's bringing me down! Things can only get better from this point on. Joy has entered my world and it's here to stay!
13. Dancing in the Street by Martha Reeves and the Vandellas
It's time to start celebrating! Even though this pandemic isn't over, the year is and things have been improving throughout it. So, come on! Let some of your worries go and let's just go dancing in the street!
14. Feel so Close by Calvin Harris
I feel so close to you right now because social distancing and masks will soon be a thing of the past. There's no stopping us! I feel so close to you right now! Life is a beautiful thing that we sometimes took for granted, admittedly. But, oh, man, do I appreciate it now!
15. Success by Chappo
Allow the success and sense of accomplishment in! Just do it! I know you want it, we all do! Relax, Let Loose, and Take it Easy! Beautiful things are happening!
16. Stolen Dance by Milky Chance
I want you by my side, so, that I'll never feel alone again. They've stolen so much time from us... Let's steal back our paradise. Let's just boogy all night long. It's forbidden to even talk about sometimes, but everything is going to be better really soon. None of us like this loneliness that was forced upon us. Maybe we shouldn't talk about it, but I can't help it! It's time to steal back our paradise... FOR REAL!
17. The Sun by Parov Stelar and Graham Candy
I'm a traveller, I'm going to follow the sun! There is no stopping me! I'm so confident, so determined! 2021 will NOT be the same as 2020! That's a promise!
18. Bright by Echosmith
The universe is finally on my side! I'm in love with my family, my life, and all of my fellow human beings out there. We're all shining so brightly! I see colors in a different way now. Life is meant to be good, so... let's make it good again!
19. Put Your Records On by Corrine Bailey Rae
It's time to forget our worries and let our hair down. It's time to relax! Let your hair down, play your favorite song, and feel the happiness seep into your... everything! I hope you get all of your dreams. You'll find yourself someday and it's time to trust in this process of life! Things really are taking a turn for the better.
20. Good Day by Nappy Roots
I'm usually not a fan of rap (or rap adjacent) music, but, oh, my goodness! This is the perfect ending for this playlist! I'm not waiting around for anything! I'm done with those icky emotions embedded within 2020! This is what I'm deciding: We're gonna have a good day! It's time to get back to happy and that's exactly what I plan on doing. This is my life, my choice! Let yourself have a good day!
I had a lot of fun making this happy playlist and I hope you have a lot of fun listening to it! I hope that it can brighten your day a little! I'm rooting for all of mankind and we're going to survive this! I just know it! Stay positive and optimistic out there! We'll get through this together and, in the meantime...
Hello, 2021, we've been eagerly awaiting your arrival!
Thank you for your reads and listens. Please, heart my story! I really appreciate all the love <3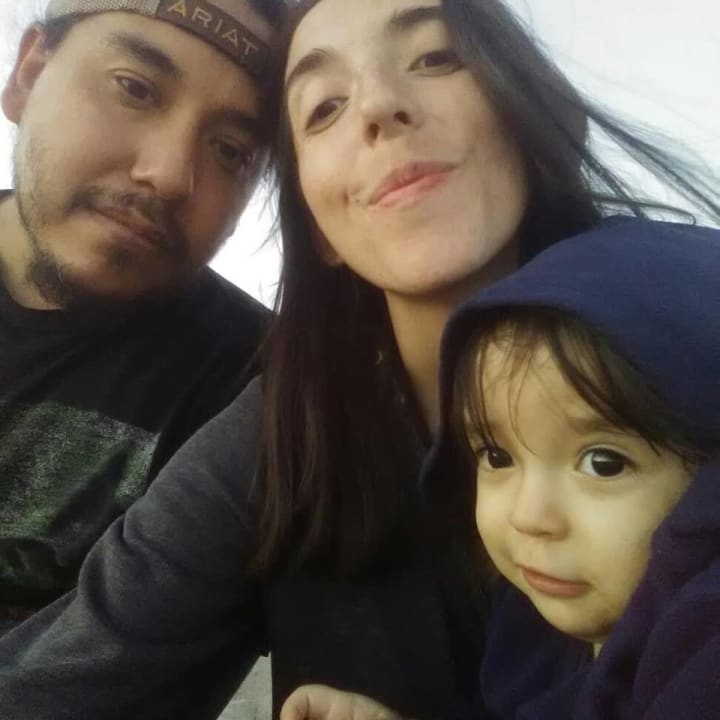 Much Love from my family to yours!
Skye Marin

S. G. Marin
I'm optimistic, married, a mom, a writer, a reader, an artist. Being only thirty years young, I want to be a published author when I grow up. I hope to help heal the world with my words, for they are quite powerful when used correctly.
See all posts by S. G. Marin →