Tyler, the Creator's 'Igor' Allows Black Men to Be Vulnerable
Both Tyler, the Creator and Barry Jenkins' 'Moonlight' prove that "coming out" is not just for white men.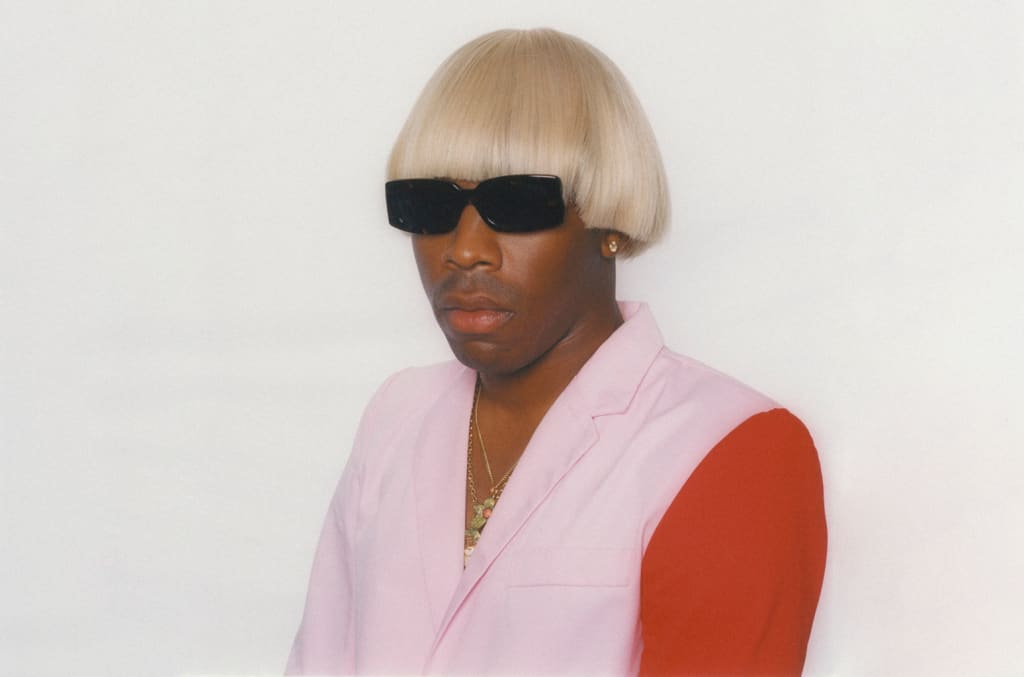 Tyler, the Creator got it right.
His latest 12 track album draped in high-pitched vocals, intense drums, and 80s synthesizers take us back to a time where artists sang from the heart, instead of about their riches.
As a fan of Flower Boy, I could only hope that Igor would carry the same magic that Tyler's previous album had graced us with.
Fortunately, it delivered.
Igor opens with my favorite song, "Igor's Theme." With lyrics that scream, "Ridin' 'round town, they gon' feel this one" (and that's pretty much the extent of the lyrics. The song is quite repetitive.), I'm immediately immersed on a rollercoaster of heart-palpitating snares and an echoey choir. Songs that follow, such as "The Boy Is a Gun" and "Puppet" slow things down to stories of unrequited love from a hopeless romantic. We see a softer side from The Creator himself, a stark contrast to his earlier projects such as Goblin and Cherry Bomb.
With a resurgence of 80s culture on the rise—i.e. the captivating Netflix series Stranger Things that chronicles the life of small-town kids as they navigate adolescence and a giant people-eating monster—the sound of Igor fits into 2019 culture like a glove.
Igor seemed as if it was ripped from the pages of my diary... or more modernly put, the Notes app on my phone. Specifically, the chorus from the optimistic "I Think" belts, "I think I'm falling in love. This time I think it's for real," truly hit home. It channels the feelings of being in high school and yearning for a boy to sweep me off my feet. The music I relate to the most is the music that translates the thoughts I'd never be able to say to someone's face.
Tyler, the Creator has spoken for me.
Igor, however, is not a surprise if you jumped on the Tyler train last year. The last person I thought to revamp the How the Grinch Stole Christmas soundtrack would be Tyler, the Creator. Yet, Tyler re-introduced the familiar catchy french horns and heartfelt lyrics with glittery undertones from Flower Boy to The Grinch soundtrack. I am fully here for modern-day Christmas tunes.
There's also a refreshing vulnerability that Tyler brings with Igor that we rarely see from black male artists. There were subtle moments of Tyler opening up about his sexuality on Flower Boy. Though, with Igor, we can see Tyler becoming more comfortable as he comes to terms with his own sexuality. No longer subtle, The Creator raps, "my brother says I'm on the spectrum." Frankly, this could be any spectrum. But with Tyler's open admittance that he was dating Jaden Smith (to which Jaden denied, but it's still questionable as to whether the two rap moguls ever had a fling), we can sort of link "the spectrum" line to the spectrum of sexuality.
This is a step forward for black men. After Barry Jenkins' iconic and riveting film Moonlight, the stigma against gay black man began to slowly blur. While I still feel that there is a lot of progress that needs to be made in when it comes to black males feeling pressure to always appear "masculine" and having to conform to heterosexual norms, both Tyler, the Creator and Jenkins' Moonlight prove that "coming out" is not just for white men.
Only in the last 10 years have we seen more black men openly identify as gay: Frank Ocean and Jason Collins, to name. But there's definitely more room for progress. Black gay men deserve the same safe spaces as white gay men. Every POC man who is a part of the LGBTQIA+ community deserves to be embraced the same way as white gay men do. We need to see more narratives, like Moonlight that are relatable to men of color on the spectrum of sexuality and gender expression. Where it can start is music, and luckily, Tyler, the Creator is beginning to normalize non-straight black men.