Tori Kelly—'The Acoustic Sessions' Tour—A Review
Islington Assembly Hall, London—July 30th, 2019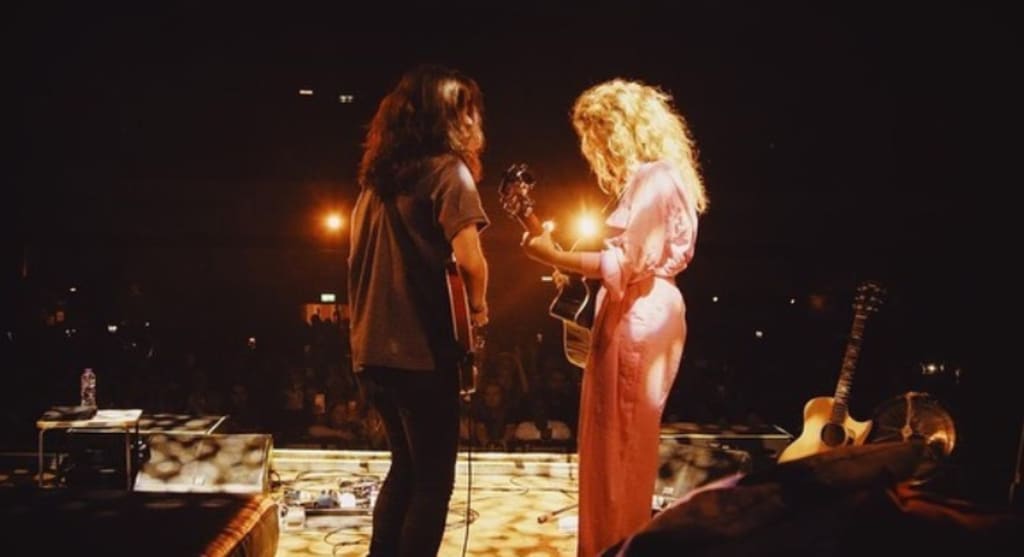 In my opinion, Tori Kelly is one of the most underrated artists in the music industry today. With an unmistakable voice that hits you right through the heart, she is one of the most talented artists I have ever seen. In an exclusive London show at the end of July, 890 fans filled the beautiful Islington Assembly Hall on a rainy Tuesday night. A small stage made up of mainly guitars, and an old school sofa placed at the rear, made the perfect setting for "The Acoustic Sessions." Entering the stage first, Mateus Asato, Kelly's long-time guitarist, who picked up his Suhr and got the crowd going instantly. And then, with no introduction needed, Tori Kelly steps out with her long, blonde curls, iconic as ever, and a pale pink jumpsuit that suits her personality perfectly. Picking up her guitar, she starts the show with "Language," a song from her new album, Inspired by True Events before slipping straight into "Nobody Love" from her debut album Unbreakable Smile—which instantly makes you realise how packed the hall is, when a sea of voices sing their hearts out alongside her.
To the excitement of the audience, Kelly explains she will play some new songs for us tonight, and that she does. "Coffee" is sung next, also from the new album, before she takes us to Church with her Grammy-winning gospel song "Never Alone," in which the audience literally act as a choir backing her up. Kelly then explains the story behind new song "Pretty Fades," in which her now-husband said to her once, "I'll still love you when you're ugly"—and when you don't know how to react to a comment like that, you write a song about it. Followed shortly by Ed Sheeran duet "I Was Made For Loving You" and "2 Places," Kelly then takes us on a journey of her career. Staring right at the beginning. Singing songs that she covered for TV talent shows, including America's Most Talented Kids where she sang Christina Aguilera's "Keep on Singin' My Song," followed by some of her first YouTube covers, like Justin Timberlake's "Suit & Tie" and Paramore's "The Only Exception." Kelly finished the set with a collection of songs from her debut EP, Handmade Songs by Tori Kelly and performed snippets of fan favourites such as "Confetti," "Eyelashes," and "Paper Hearts," ending with "Dear No One," an underrated hit from her debut album. Talking of this album, Kelly then sang the title track "Unbreakable Smile" followed by two more new songs, "Kid I Used To Know" and "Actress." Concluding this part of the show with one of her biggest tracks, "Hollow," she hits us with more of her outstanding vocals, showing off her range that has no limits, as well as her impeccable guitar skills that not many artists can keep up with.
A short exit and return to the stage, Kelly sings "Your Words" from her upcoming album, followed by "Psalm 42," an emotional track from her 2018 Grammy-winning Gospel album, Hiding Place. For the first time of the night, Tori puts down her guitar, and takes a seat on the sofa. With Mateus next to her, she explains the meaning behind new album Inspired by True Events, and that she has had a whirlwind few years, with many major life events taking place; including her new marriage, the breakdown of her parents, and the passing of her Grandfather. Enough to write an extremely poignant and powerful record. Kelly performs her new single, "Sorry Would Go A Long Way," woefully inspired by the separation of her parents. It is a song that hits you where it hurts, and sets off the waterworks. With impeccable lyrics to accompany her soulful voice, the reaction at the end of the song brings her to tears. Sitting back for a moment of reflection, she repeatedly thanks her fans before regaining her composure and standing back up to the mic.
In a complete change of pace, Kelly flips back to one of her earliest singles, "Funny" before picking up her electric guitar and playing her biggest hit to date, "Should've Been Us." An atmosphere that I will never forget, the crowd sang louder than they have all night, Kelly keeps showing us how incredible she is. For the penultimate song of the night, she covers Stevie Wonder's "Don't You Worry 'Bout A Thing," which she first sang in animated film, Sing—she also hints that a Sing 2 may be coming soon, so we should expect more of her character Meena in the future. "Change Your Mind" ends the show, another single released in early 2019, which features on the new album. A perfect ending that rounded the evening immaculately.
Truly one of the best live vocalists I have ever heard, the show was one for the books. Kelly truly is one of the greatest artists ever, and is superbly underestimated. She gives the voices of all-time greats like Beyoncé and Whitney a run for their money, and her talent as a musician and songwriter is off the charts. An honest, down-to-earth person whose gratitude and love for her fans shines through and through. A brilliant night that will be remembered by all, here's to hoping she will come back to our side of the pond soon. She has the potential to sell out some big venues—and with a voice like hers, she could fill any room.
Like what you read? Follow my Instagram @leahsherlock97 for clips of the show and to be the first to hear about my newest blogs!
concert