Top Carrie Underwood Songs
The True Storyteller, the Queen of Country Music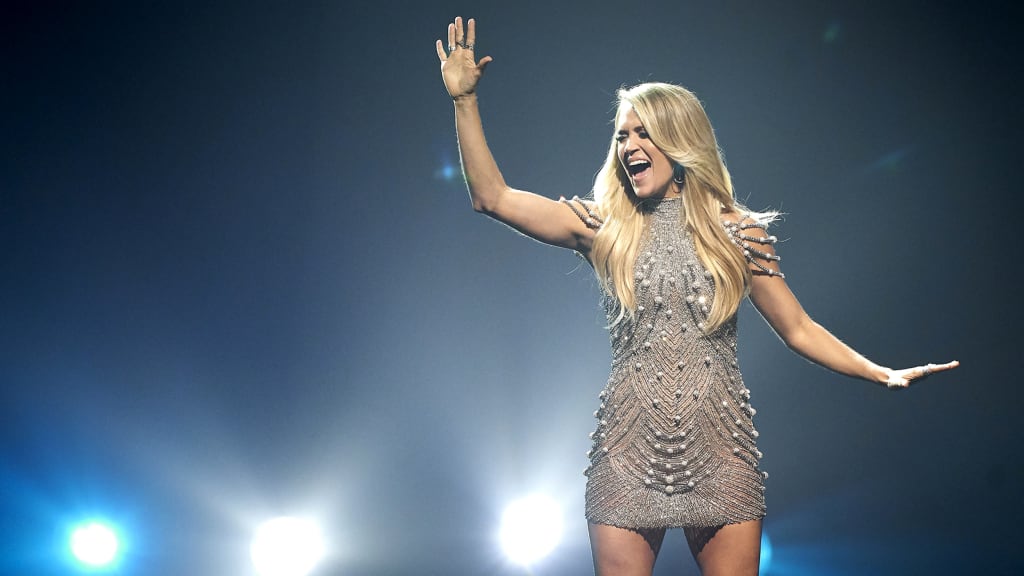 We all know Carrie Underwood as one of American Idol's most successful winners, who has toppled Billboard charts with a numerous amount of her songs and has received an exact number of 169 awards, and counting.
When it comes to Underwood's music, it's a hard task to rank her songs. She has put out many hits that are all unique to one another, and all tell stories of their own.
This list may come to a shocker for many, as some of her more known songs don't make my top ten Carrie Underwood songs.
In an interview with Taste of Country, Underwood stated this was the song that inspired the direction she wanted to follow on her Storyteller album. It's a change for Underwood, definitely. This song has a "twangy"-blues feel to it. What's also interesting about this song is "affair" does not mean the cheating kind of affair, but rather a Bonnie and Clyde type song, where the town takes on their own sort of justice.
"Jesus, Take The Wheel" was Underwoods first no. 1 single, and perhaps it is also a unique way to sing about religion. This song is filled with inspiration, that during our worst times, we can lean on a higher power to get us through the storm.
This song was released as a sports anthem for the Super Bowl and Winter Olympics, however, it could also be seen as an empowerment song for many. This is the anthem for everyone, even the everyday person working that 9 to 5 job, offering them inspiration to push forward. In an interview with TheBoot, Underwood said, "We [her and Ludacris] hope the lyrics will inspire people to push themselves beyond their limits to conquer anything they are trying to accomplish or overcome. There's a champion in every single one of us."
This song portrays the lives of two individuals in two places of their lives, yet they are similar. They are both hardworking and see that they need a break. Face it, we've all been there. It's a song that is a "literal" meaning of taking a smoke break, but rather a moral that life is crazy and sometimes we all need to step away and take a break from what we are working so hard doing.
This is a song I know I personally relate to. It's about letting go and saying goodbye to someone you've grown attached to and/or love. Sometimes it's not any of the obvious reasons for breakups, but rather that the relationship is holding one back, and the realization that in order to get to where they want to, it starts with goodbye.
This is an ode to anyone leaving home for the first time and starting a brand new chapter of their lives, away from home and their family. When it's your first time on your own, you have this sense that you feel like you are where you belong, but something is missing, like family, and making sure they don't forget you (which we all know deep down they wouldn't).
Underwood is truly no stranger when it comes to singing tough subject matters. In this one, she tells the story of an 18-year-old girl on her way to a church in a wedding dress. However, by the time listeners get to the end of the song, the girl was on her way to a funeral for her husband, who was a soldier who had been killed overseas. This one is definitely a tear-jerker for sure, as it's something none of us ever want to imagine happening to us.
Just like "Just A Dream," Underwood rips listeners with emotion. This song is sort of a tribute to missing loved ones—whether they're living far away, fighting over seas, or have passed, we will see them again. The video itself pulls at heartstrings, as it features loved ones reuniting.
Here is another one of Underwood's songs where she takes different individuals from different situations, that all have things in common. This one, however, is a true tear-jerker and pulls at one's heartstrings. Underwood weaves in these heartfelt emotions in her chorus when she sings, "This is my temporary home / It's not where I belong / Windows in rooms that I'm passing through / This is just a stop, on the way to where I'm going / I'm not afraid because I know this is my / Temporary home."
This is a song I believe we are all guilty of being able to relate to. It tells how individuals invest a lot of their time and energy into things that aren't important. At the time, they don't seem unimportant, but by the time we realize it, it's too late. "So Small" has a way of saying we focus on the least important matters, when the ones we should be focusing on are right in front of us.
About the Creator
Kayla Simas is a teacher and journalist from Staten Island, New York. She enjoys writing, traveling and country music turned up loud.
Reader insights
Be the first to share your insights about this piece.
Add your insights