Top 11 Glam Rock Songs
"God, I hated the hippie period. They talked about being so creative, but there was so little creativity to it. Glam really did plant seeds for a new identity." – David Bowie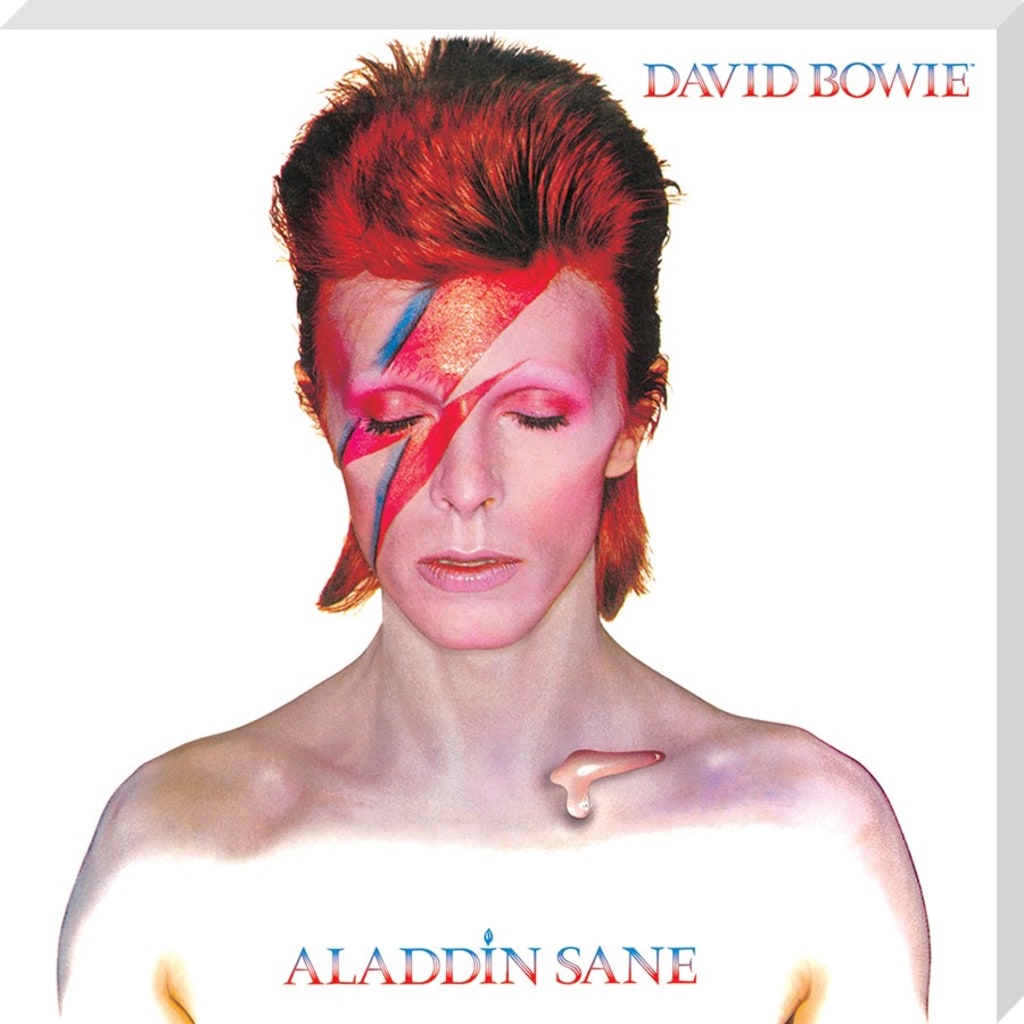 RCA
11. "Saturday Night's Alright for Fighting" by Elton John
"Saturday Night's Alright for Fighting" was written and recorded in 1973 during Elton John's glam phase and became one of his biggest hits. Lyricist Bernie Taupin told Rolling Stone, "Over the years you tend to invent your own myths about songs because you feel it's necessary to come up with a reason why you wrote a certain song. It's been said on so many occasions that 'Saturday Night's Alright For Fighting' relates to my English past.
"People say, 'Oh, Bernie wrote it about a pub he used to hang out and get into fights at.' It's quite possible there's a germ of truth in that. Did I say to myself, 'I'm going to sit down and write a song about my childhood watching the mods fight the rockers?' No, I don't think that I did. With so many of my songs, the lyrical content has been misconstrued, misinterpreted and you get to the point where you feel like you have to make something up in order to make somebody happy."
"I vividly remember recording 'Saturday Night's Alright For Fighting,'" added John. "I couldn't seem to get the piano part right, so when the band played bass, drums and guitar, I laid on the floor, did the vocal live. And then I put on my piano part afterwards. It's an odd way of doing it. But I remember doing that because it felt, for some reason, the four of us, me playing live, it just didn't work. So I overdubbed my piano afterwards and sang the vocal live."
10. "Search and Destroy" by the Stooges
"Search and Destroy" was written by Stooges' frontman Iggy Pop in 1973 as the Vietnam War raged. "The lyrics, I just sorta took out of Time magazine, the concept of search and destroy," Pop recalled in Clash. "I used to read Time obsessively, because they were the representatives of the ultimate establishment to me. They were giving the party line that represented the power people and the powers that be. So I kinda liked to look in there and see what they were talking about, and then I'd use that inventory in other ways. That's what I was doing in that song."
"Search and Destroy" is Pop's favorite song of the album Raw Power, which was remixed and re-released in 1997.
9. "Vicious" by Lou Reed
"Vicious" was released in 1973, the single from Lou Reed's Transformer LP. As a member of the Velvet Underground, Reed was championed by artist Andy Warhol. Reed told Guitar World that Warhol provided the idea for the song.
"I think of it as a funny song. 'Vicious, you hit me with a flower.' That's pretty funny. Warhol said that. He said, 'Why don't you write a song called "Vicious"? And I said, 'What a great idea. I wish I'd thought of that myself.' It was so typically Andy. He just said, 'Vicious, I hit you with a flower.' I thought it was very sweet. And also, how vicious is that? So, I added a couple of more lyrics that got a little more vicious. One line came from reading about some talk show host who was very anti-gay. He told some caller, 'Why don't you swallow razor blades.' I thought, 'Wow, that would make a great lyric.' So I threw it in there."
8. "All the Way From Memphis" by Mott the Hoople
"All the Way From Memphis" first appeared on Mott the Hoople's 1973 LP Mott. The song describes the unglamorous side of rock stardom. Written by singer Ian Hunter, "All the Way From Memphis" is the tale of a guitar lost in transit and a dismal concert crowd.
"I'd written 'Memphis' and it was complete, and the band had recorded it but there was still no words, no words whatsoever," Hunter told Songwriting magazine. "I was there for weeks, the old cassette player by the bed and I couldn't find a thing, and eventually I hit on a gig we'd done in Memphis where they rang us up and said, 'Nobody's going to the gig.'
"What had happened was the turnstiles had broken down and there were 3,000 people trying to get in and they couldn't get in. All in all, it was Christmas too, and it was a magical night, it really was. So I managed to get the song out of that. But it just shows they don't always come, the words and music together — sometimes you get stuck with either the words or the music."
7. "I Wish It Could Be Christmas Everyday" by Wizzard
Singer and multi-instrumentalist Roy Wood became a glam rock pioneer after he left Electric Light Orchestra to form Wizzard. The band released "I Wish It Could Be Christmas Everyday" in late 1973. Wood and band members Mike Burney (saxophone) and Rick Price (bass) described in Q magazine the story behind the song.
"I'd been doing really boring big band gigs on the ballroom circuit, so when Roy offered me a job in Wizzard I was just knocked out," said Burney. "I used to say to him, 'Roy, being in this band, it's like Christmas every day.' And, as far as I know, Roy picked up on that as a song title."
"I decided to make a Christmas single because they'd been unfashionable for years," said Wood. "We thought it would be worth trying a real rock and roll Christmas song."
The vocal tracks were the most important thing," added Price. "We always tried to get a sort of party vibe when we recorded the vocals. I would do a lot of the high and low vocal parts. We didn't go in for drugs, but mostly we were drunk. I can still smell every breath of vodka in that record."
6. "Love Is the Drug" by Roxy Music
"Love Is the Drug" introduced Roxy Music and singer Bryan Ferry to America in 1976. Written by Ferry and Andy Mackay, the song was Roxy's most successful single in the U.S. Ferry told Music-Illuminati that the song began as an instrumental.
"Andy Mackay came to me with a slow-moving chord sequence which I thought was really promising. We sped it up and I went away and came up with the lyrics and the title. [Producer] Chris Thomas and I had the idea of putting some sound effects on the introduction, which we recorded outside my house in London. The bass line was really strong and was played by the late great John Gustafson."
"Like most hit singles, 'Love Is The Drug' kind of selected itself and always sounded like something special," recalled Mackay in The Quietus. "It started out with my input as slower and a bit stately. Bryan pulled one of his alchemical stunts and sang an almost complete vocal line with fantastic lyrics to general amazement and applause in AIR Studio №1 late one night. With some inspired sound effects it sounded like a hit."
5. "Personality Crisis" by the New York Dolls
"Personality Crisis" was written by Dolls singer David Johansen and guitarist Johnny Thunders. Guitarist Syl Sylvain played piano on the track, which appeared on the Dolls' self-titled debut LP. Sylvain explained the song's appeal in Juice magazine. "That was the thing about our tunes. What your teachers were telling you, what your parents were telling you, what your girlfriend or boyfriend were telling you, those are all influences. Being at a young age, you're very absorbent, like a sponge. Our music and our looks and what we were singing about really talked to kids. They still talk to them. I call them kids, but I mean kids of all ages."
"When they came into the studio with that, it was already an important song," engineer Jack Douglas told Sound on Sound. "It was Syl who decided to add the piano — even at that time he was a very decent player. It definitely gave the song more edge.
"Johnny never played the same thing twice. Sometimes, playing with the rhythm section, he just got the feel and he nailed it. At other times, he would stop playing because he knew he wasn't going to get into it and he'd want to redo it later. Suddenly, he'd be in the control room with me. Then, when he overdubbed his leads, I would do four or five tracks and just comp them like a vocal. He was totally, totally unpredictable, and that's how he was in life."
4. "Bang a Gong (Get It On)" by T. Rex
When "Bang a Gong" was released in the UK in 1971, it was titled "Get It On." To avoid confusion with a song with the same title by Chase, it was renamed in the U.S. In his autobiography, producer Tony Visconti explains that the song was rehearsed at the Los Angeles home of Flo & Eddie's Howard Kaylan.
"When I first heard it, only the day before we recorded it, it sounded like a hit to me. The next day we drove what seemed like miles and miles to Wally Heider Studios and recorded 'Get It On' — the sunshine seemed unbearable to us, with our maggot-like complexions from grey London. We did it in one evening, complete with overdubbed backing vocals from Flo & Eddie — we knew we had our next single."
"Bang a Gong" was written by T. Rex vocalist Marc Bolan, who told The Guardian, "I don't contrive my success in the sense of going into a studio to make hit singles. I've no idea what makes a hit single anyway. I go in and do what I like — just the funkiest thing I have goes into a single. I get a few people in the business come up and give me a nudge and say 'Go on, Bole, you've got it made — you're a sly one,' but I really don't have any kind of secret formula. I just don't think like that.
"I honestly believe 'Get It On' was one of the best things I've ever done and the only kind of criticism I'm going to accept about it is that if someone can say, 'Well, that's out of tune or the guitar work is crap.' OK but I know it isn't."
3. "School's Out" by Alice Cooper
Along with Aerosmith, Cheap Trick and Kiss, Alice Cooper pioneered the glam metal genre that arose in the late '70s. "School's Out" was Cooper's first major hit, reaching №7 in 1972. "'School's Out' is always going to be an anthem," Cooper told the Shreveport Times. "It's the signature song."
"When I heard 'My Generation' by the Who, I thought … Okay, this is an anthem, because every kid is going to relate to that song," Cooper said in Songwriter Universe. "The other anthem like that was 'I Get Around' by the Beach Boys. And I thought, what is the common denominator for every teenager? For me, it was the last three minutes of the last day of school. When you're sitting there, and you're watching that clock tick down on the last day of school, and in those last three minutes, there's the anxiety … When that bell rings, you're done for three months. You're free. You're gonna have so much fun! And I said, 'If we can capture that last three minutes on tape, that's gonna be a hit.'"
2. "Ziggy Stardust" by David Bowie
"Ziggy Stardust" described David Bowie's alter ego, created for his 1972 LP The Rise and Fall of Ziggy Stardust and the Spiders From Mars. Bowie had long been fascinated with space travel and imagined Ziggy as a rock star who communicated with extraterrestrials.
"What I did with my Ziggy Stardust was package a totally credible, plastic rock and roll singer — much better than the Monkees could ever fabricate," Bowie said in Rolling Stone. "I mean, my plastic rock and roller was much more plastic than anybody's. And that was what was needed at the time."
In 2002 Bowie told the New York Daily News that glam rock was a response to the hippie era. "God, I hated the hippie period. They talked about being so creative, but there was so little creativity to it. Glam really did plant seeds for a new identity. I think a lot of kids needed that that sense of reinvention. Kids learned that however crazy you may think it is, there is a place for what you want to do and who you want to be. And I needed that myself. Even though I was very shy, I found I could get onstage if I had a new identity."
1. "Ballroom Blitz" by the Sweet
British glam band the Sweet recorded "Ballroom Blitz" in 1973 but it wasn't released in the US until 1975. Written by Nicky Chinn and Mike Chapman, the song was based on a 1973 Sweet concert that got out of hand. Guitarist Andy Scott told the Daily Record that he and singer Brian Connolly were dragged off the stage in Glasgow, Scotland.
"There was an absolute riot. All the fans were screaming and going crazy. A bunch of girls grabbed Brian and me by the ankles and dragged us off stage. They started lobbing off our hair with scissors they had been hiding in their handbags.To say we were terrified was an understatement. No one had ever seen a reaction like this and security didn't stand a chance.
"Mike went away and wrote the lyrics to 'Ballroom Blitz.' It had been three years since he had started writing for us and this was a whole new sound."
Scott acknowledged the excesses of the glam rock lifestyle. "Back then, everything we did was for effect. There was a myriad of bands who wore jeans and T-shirts in the '60s and then succumbed to glam rock in the next decade — people like Marc Bolan and even David Bowie. The explosion of the romantics and glam ended in 1974 when the theater was dumped in favor of punk. It was all a game."
This story appeared in Rock Cellar Jan. 12, 2018.
Fillmore East: The Venue That Changed Rock Music Forever, one of Best Classic Bands Best Music Books of 2021, is available on Amazon.
song reviews
Frank Mastropolo is the author of Fillmore East: The Venue That Changed Rock Music Forever; Ghost Signs: Clues to Downtown New York's Past; and Ghost Signs 2: Clues to Uptown New York's Past, available May 2022.
Receive stories by Frank Mastropolo in

your feed