Playlists
To All My Exes I've Loved Before
An Open Luv Letter To My Exes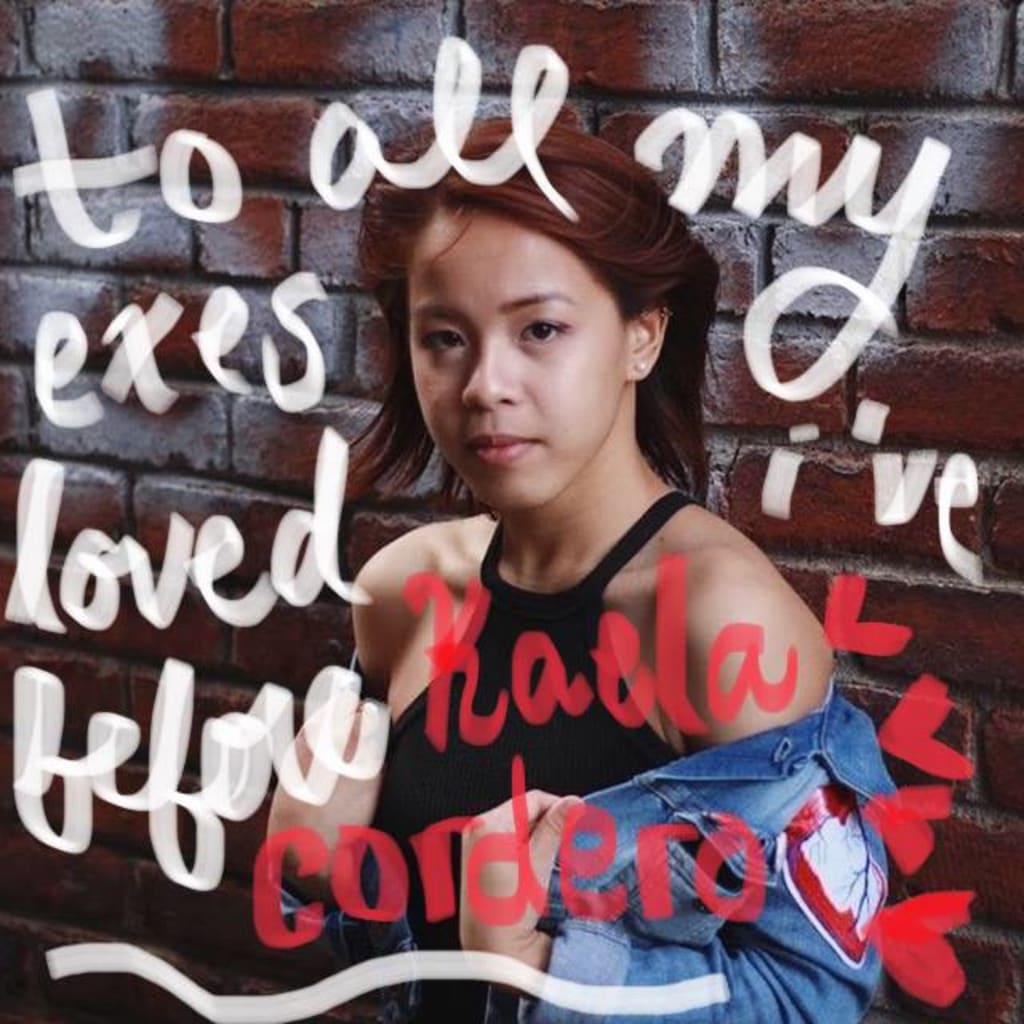 My first EP (short for Extended Play) "To All My Exes I've Loved Before" premiered on April 3rd, 2020. This was a huge leap for me as an artist, especially as a singer/songwriter as I independently produced it on my own. Armed with Garageband, my guitar and a microphone I purchased on Amazon, I had my work cut out for me. This is what came of weeks of pouring my heart and soul into a record.
Here's the tracklist and the inspiration behind each of the songs:
1) To All My Exes I've Loved Before
♫ Hah! You thought I'd forget about you so soon? Recall your touch, your taste, you trembling in my arms. My arms, my arms will hold you... ♫
When you break up with someone, you don't just stop loving them. This song is an open love letter to my past, present, and future lovers.
2) Sandpaper
♫ Sandpaper, sandpaper. That is your name. Scrape away my sorrow, scrape away all the pain(t). Oh my luv, you're truly sent from above... ♫
During my first semester of university, I had a hard time acclimatizing to uni life. After having a particularly difficult day, I came into the carpentry shop in search of sandpaper.
I've always loved working with my hands. So I thought I'd throw myself into my work, which, at the time, was completing an overhaul of my lilac ukulele and covering it with Archie comic strips and songs that have influenced my own songwriting.
To this person who directed me towards the scrap sandpaper bin and patiently explained to me the levels of grit that each piece possessed as to scrape off "x" amount of material, thank you from the bottom of my heart.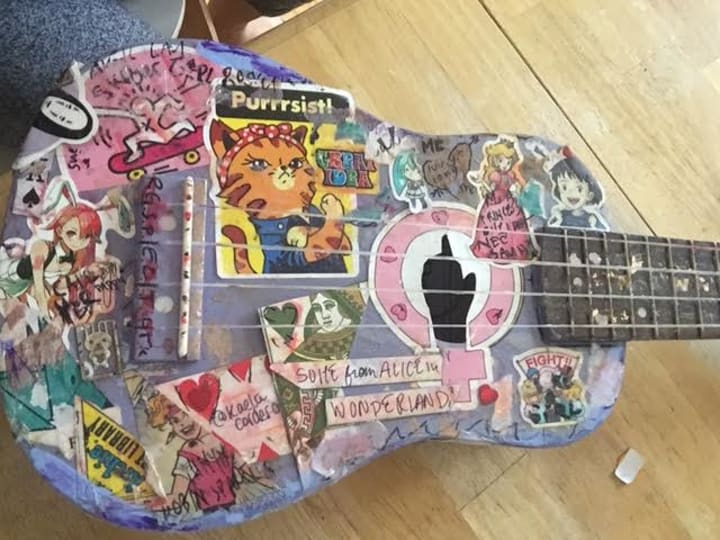 3) Ce soir l'amour est dans tes yeux
♫ Ce soir c'est bizarre / Tellement, tellement je veux y croire / Toute la douceur et les sourires / Trop de promesses qu'on ne peut tenir ♫
I first discovered this song while I was living in Quebec. I was studying at l'Université du Quebec à Trois-Rivières through the Explore program.
They say that the best way to learn language is through listening to music produced in that target language. Louis-Etienne, my facilitator, recommended this song, amongst others by Karkwa, Stromae, and a handful of Franco-pop musicians. Those songs proved indispensible in learning the cadence of the French language.
This song, originally performed by Martine St. Clair, is a ballad of sorts. The singer laments:
"Tonight, love is in your eyes. But tomorrow morning, will you love me still? Tonight, love is in your voice. But tomorrow will you think of me still?"
4) Divine Wrecks (Unforgettable)
♫ They say, "to love another person is to see the face of god ♫
It was the summer of 2019. I was working as a camp counsellor while the person I was seeing at the time was on a month-long trip to France. Having only met up with a couple of times, I didn't think we were "serious" or "exclusive" at that point.
Once he was back in town, it was just like the Summer Lovin' that Danny and Sandy sung about in Grease. However, once I headed to university that fall, we had a falling out. I found it difficult to date after that, as I did really love him, when he thought it was all just infatuation.
We have since rekindled our friendship and continue to embark on collaborative artistic ventures together.
5) Lactose Intolerant
♫ Eboy, see boy, you can't have me, boy. Ya dropped it like it's hot and now you want me, boy? You threw away your shot when ya... And now I'm laughing out here like hahaHAHA, YUH ♫
I wrote this song about a boy that I was seeing first semester of my first year of university. This is after my break up with the last guy, and I was on the rebound.
It was fun while it lasted, but it didn't last long. I was in and out of that situationship in about a month or so. Our love affair was passionate, but it was over before any of the "heavy lifting" of a committed relationshop began.
This guy that I was seeing is known to order a glass of milk at the pub. After our "split", I was really all up in my feelings. I found it cathartic to write this anthem, as I felt like I had agency in this situation.
The title "Lactose Intolerant" is a nod to my own love of assorted dairy products (a nice charceuterie board with a wide selection of cheeses is my kryptonite). However, due to my intolerance, I pay the price when I head over to the ladies' room.
6) Oh, When? (feat. Longboyy)
♫ I like you, like you. Like I wanna see you with your clothes on. Like I wanna go grocery shopping with you ♫
This song might as well be about a one night stand because that's what the duration of our "relationship" felt like.
This man was well-established in his career as an engineer and my career as an emerging performer in the entertainment industry has only really just begun.
I met him on Tinder (shoutout to online dating apps) and we went out for drinks. I thought he was super cute (there's just something about redheads and curly hair that gets me) and we went back to his place.
Eventually, I texted him "Hey, are you busy tonight?", to which he replied, "... I actually just started seeing someone literally last night. I think we want different things. I can't wait to see what you'll do in the future."
This text exchange serves as the song's intro, performed by my good friend, Toronto-based producer/songwriter/rapper, Longboyy.
7) Lovin' You (A Song For Maya)
♫ Lovin' you, has made my life so beautiful. And everyday of my life is filled with loving you ♫
This song is about platonic love. Friendship truly is magic. We went to concerts, went thriftshopping, and talked on the phone for hours.
Eventually, I overstepped a boundary and she was not happy with me (understandably so).
This made losing this friendship just as devastating, or even more devastating than a break up between romantic lovers.
TO LISTEN TO THE EP IN ITS ENTIRETY:
Keep an eye out for my new album "Princess Charming" set to come out on June 6th, 2020!
♫ To listen to more of my music, please check out:
♫ Spotify: https://open.spotify.com/album/5X7ZkF5VertitFHNW5yzTK
♫ Youtube: https://www.youtube.com/channel/UC6Xb9i9bCvcG_ZhzN9KIxTg
♫ Soundcloud: https://soundcloud.com/kaelacordero
Thank you for reading and I hope y'all have an excellent day!