This Not is for Me
Sometimes I feel I'm the only one who shies away from the expectation around St. Valentine's Day. I can't. Love does not perform.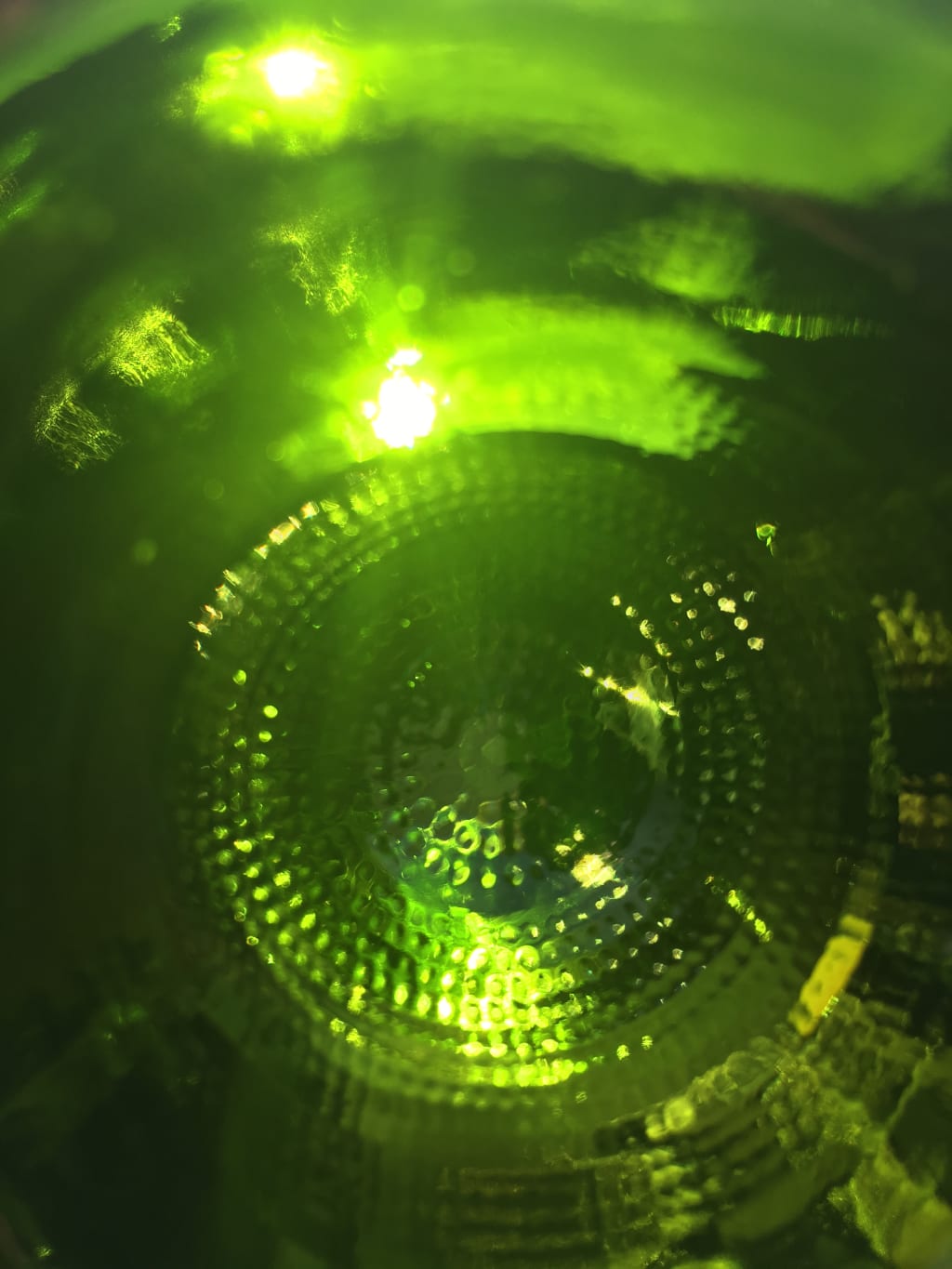 Green Glass @thatvirgomoon
My earliest recollection of Valentine's Day during childhood, was a surprise card through the post. Who could this be? It confused me for a while but seemed like a nice gesture at the time and I was thrilled someone had gone out of their way to notice me. Years later I realised it had been a card from a well intentioned parent. Of course it was. A sweet touch and a must for any child when they are growing up.
An absence of love declarations during my angsty teenage years left me, as did many later experiences, with an impression of pointlessness, around the whole fakery and expectation of Valentine's Day; the hype, the commercialism, the grandeur. Do we really need to be told when love should be spoken of? Are we any less of a person if we don't receive validation on Valentine's Day? What about the rest of the year?
Love hasn't always been kind. Reality, life, priorities shielding sentimentality, fairytales, idealism. Those rose-tinted glasses certainly clouded. Moments of great value have been taken up with tender hands and preserved within my heart for all eternity. I cherish them, yet value reverence around their privacy; and part of that involves balking at the idea that is St. Valentine's Day.
In light of this, I take great pleasure in constructing an 'Anti Valentine's Day Playlist': what an exquisite idea. I'm in.
Those cards and flowers and balloons and teddies don't necessarily mean truth to me. Integrity masked in ease. Often a purchase that expresses conventionality, makes those thoughts easy, gestures robotic, the execution generic. What wouldn't anyone else give? Aren't you giving the same? Is it an expression of you or could you come up with better? Of course you could. Don't we hope that love would express itself more authentically?
Often love is heavy; love is disorientating; sitting in juxtaposition with the romantic symbolism contained in the chocolatey, bubbly, pinkness. Saccharine sweetness hints at fakery, of superficiality, of the average. Its love expression is light, it is sweet, it is innocent. That's not what we want at all. Surely? We want power. We want obsession. We want all-encompassing adoration. We want bitter-sweetness, fear disguised in adventure; abandonment disguised as certainty. These emotions, these intense, undeniable intentions are red, purple, black even. They are dark, clandestine, certainly not for prying eyes. Something more tender. Keep it close to your heart. It is yours.
Perhaps Valentine's Day expresses more the universal love; perhaps a love like that of enduring friendship; the committed, stoic, rock of a life-long companionship. Security. Trust. Honesty. Knowing what you have and knowing what you'll get. This of course has a time and place. Yet the time for Valentine's is in the throes of new encounters. Cupid fires that inescapable arrow, into the heart of the unaware. It pierces. It stuns. It hurts. As it is so that only the most resigned of us, experience the most exquisite, yet terrifying ride of our lives.
Facing the real persona of love means accepting its intention of pain. Often this is part of the glory. It certainly makes for a life well lived. Yet can the scarring left upon your heart, ever be cooled with 12 red roses, 16 pink balloons or a months worth of milk chocolate? Better to honour the war wounds in your own time. And if that rollercoaster ride endured, to become now a softly cherished lifelong commitment to each other, then how can a commercially driven day, ever live up to that? Your success deserves better.