This nonbinary femme artist is stepping up to bring more love and interconnecting art into the universe
Julia Sinelnikova aka The Oracle Releases Lost Amulet, Their Debut EP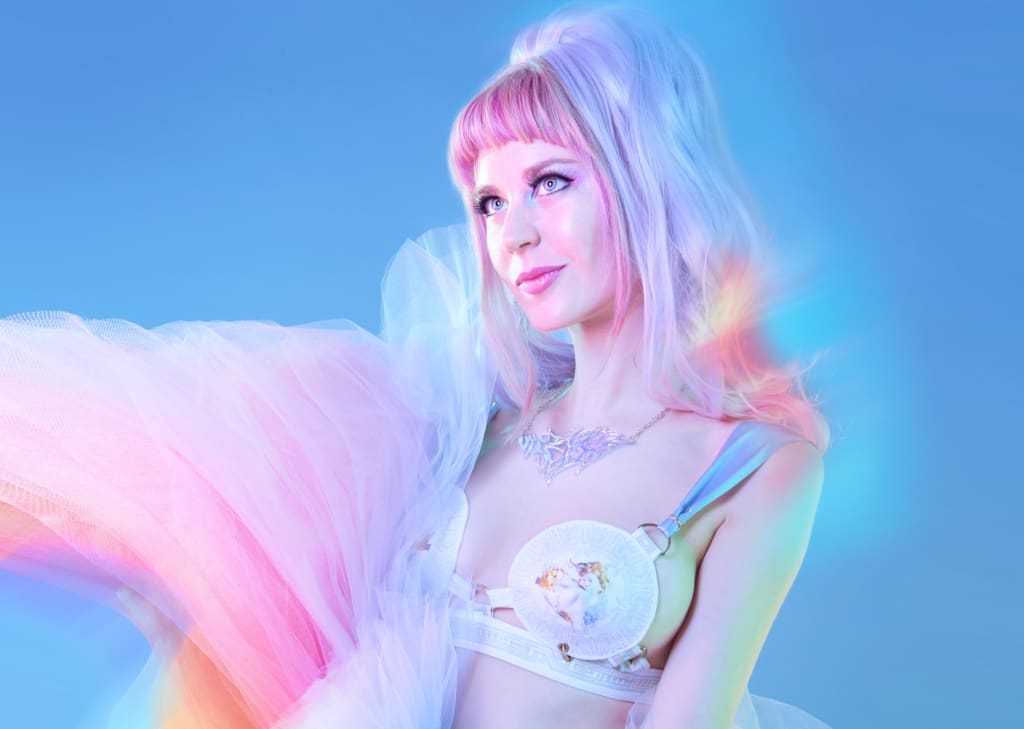 Julia Sinelnikova aka The Oracle by Haley Varacallo
"Acceptance is really lacking in this world today," says Julia Sinelnikova aka The Oracle. "It's up to all of us to create an immersive, uplifting and healing atmosphere that counters these tumultuous times on earth."
The Brooklyn-based visual artist who identifies as nonbinary queer femme first made waves last winter with the release of "Celadon Haze", a Bjork-inspired song and music video that told the story of queer exes thinking of rekindling their love in the midst of the COVID pandemic.
This week, they return with Lost Amulet, their debut EP featuring four songs and two remixes that blend a futuristic sound with deeply emotional narratives. "Releasing this EP is like opening a portal through which I can communicate with the world in the universal language of music," Julia Sinelnikova aka The Oracle continues. "My vision is to deliver crystal transmutation rays to minds and hearts through ethereal sound spells. I wanted to synthesize my beautiful experiences of love and dance, as well as my background as a poet and spoken word artist."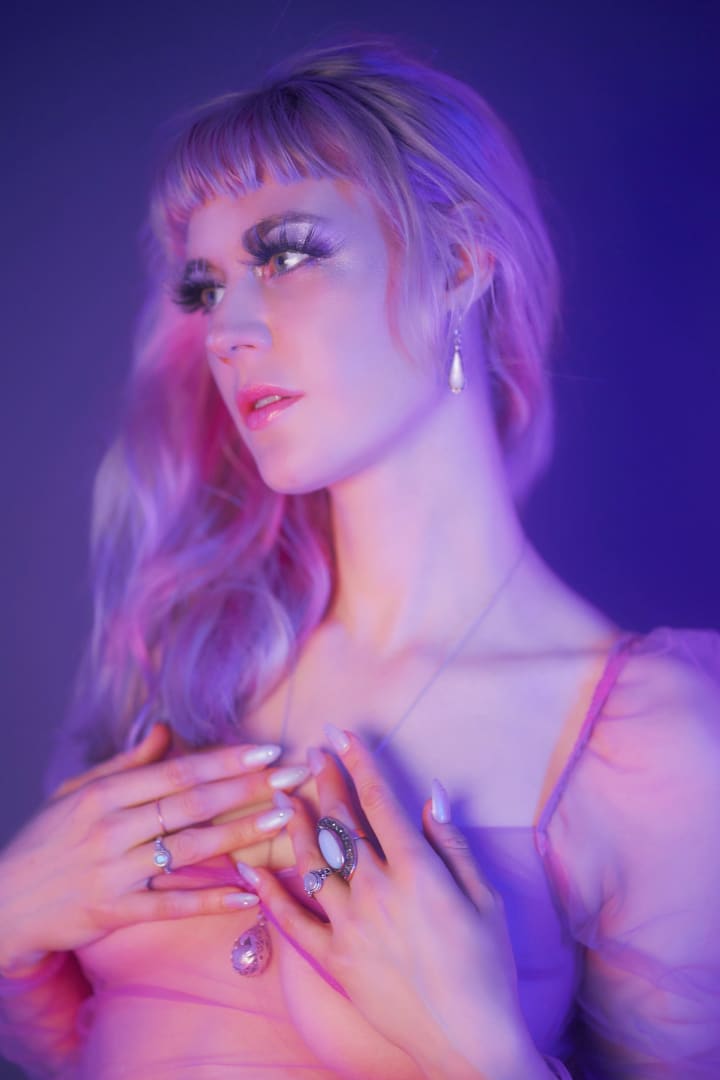 Julia Sinelnikova aka The Oracle grew up in the rave scene of Austin, Texas. At 18, they began DJing on vinyl for about five years, before pausing to focus on immersive, mesmerizing stage design for touring acts. They became known primarily for visual art, and in Lost Amulet, it is clear Julia Sinelnikova aka The Oracle aims to stay true to that genre. "Lost Amulet is a cumulation of years surrounded by and working in the music industry as a visual artist and translator," they explain.
The EP opens with "Dark Iridescent," a sad, brooding song about chasing after quickly transforming, fluid energy. In the next single, "Clockwork", Julia Sinelnikova aka The Oracle fuses spoken word poetry into an intensely dark but flowing narrative. It leads into the hyper-pop "Cloud 9 Angel" that the artist lovingly describes as a straight up sappy love song. It is followed by "Leaving Earth" and then two remixes of "Celadon Haze" that offer fresh new house beats with vocal effects and subtle drums.
There is a music video for each of the four original tracks on Lost Amulet. The "Leaving Earth" video references fairies, aliens, and children's toys via digitally rendered characters in surreal amalgamations. Created by digital artist Serotines, there are mysterious scenes with floating shapes, strange morphing rooms, and form-changing characters that travel across space and time in search of love and magic.
The video for "Dark Iridescent" creates a sinister yet sparkly atmosphere, incorporating a shifting, transmogrifying visual to both enchant and disorient the viewer.
Ghostcat Media International, the company distributing Lost Amulet, is also releasing a 3D social media face filter called "ORACLE666 Fairy Mask" and custom character stickers. All are available on Bandcamp with the EP.
"I am excited for audiences to experience my work through the audiovisual realm," says Julia Sinelnikova aka The Oracle.
Audiences will also be able to see the artist perform live over the next few months. This week, Julia Sinelnikova aka The Oracle will celebrate the release of Los Amulet in NYC at Refuge Arts in Bedstuy. In September, they will appear at The Contemporary Art Museum of Houston and W.A.A.S. Gallery (Dallas), presenting artwork and performing tracks from the EP. There are plans for Julia Sinelnikova aka The Oracle to appear at Miami's Art Basel in December, as well.
"My message to listeners is to stay focused and extra sparkly," Julia Sinelnikova aka The Oracle sums up. "Leave space for yourself to expand and grow in your life. The world is always changing and so are we."
Follow Julia Sinelnikova aka The Oracle.