The Top 10 Jason Isbell Songs
The former Drive-By-Trucker is still one of music's best-kept secrets. He might like it that way though.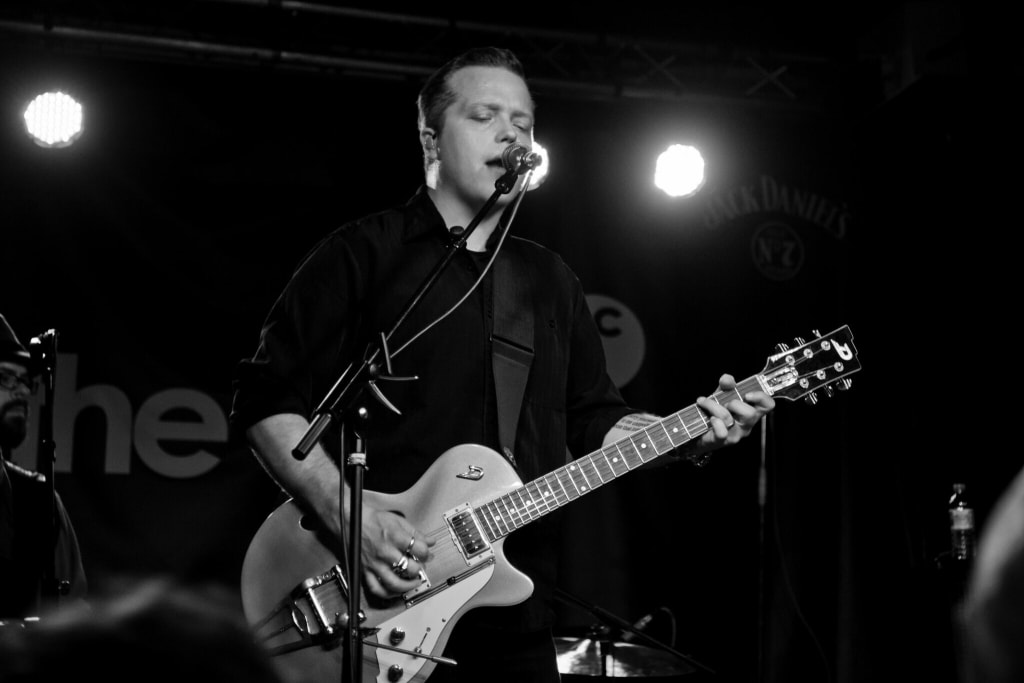 Jason Isbell in concert. (image from Flickr)
His catalog seemingly gets better and better with every release. His fourth album, Southeastern, is still recognized as his finest album, but I can't imagine that will remain the case forever.
While he's won Grammy Awards and multiple Americana Music Awards, he's still a relative unknown on the music scene. Today, we revisit the entire Jason Isbell catalog and share the top 10 songs written by the former Drive-By-Trucker.
Let's first start with the top songs that didn't quite make the cut for the formal list.
(Not Top 10)
Dress Blues (Sirens of the Ditch)
In a Razor Town (Sirens of the Ditch)
Different Days (Southeastern)
Relatively Easy (Southeastern)
Last of My Kind (Nashville Sound)
Something to Love (Nashville Sound)
Tupelo (Nashville Sound)
Overseas (Reunions)
Be Afraid (Reunions)
Letting You Go (Reunions)
We kick things off with with the third album released by the Alabama native, Here We Rest. The first track on the album is a reflective song called Alabama Pines and it arrives at #10 on our list.
At the 2012 Americana Music Awards, this song claimed Song of the Year honors and it's no wonder why. The tune from Isbell showed the world how reflective he is around the places where he grew up.
It also describes the small towns that litter "The Heart of Dixie" and begins to reveal parts of Isbell's troubled past.
Favorite lyric:
"No one gives a damn about the things I give a damn about
The liberties that we can't do without
Seem to disappear like ghosts in the air
When we don't even care, it truly vanishes away"
Isbell's latest release on the Southeastern label with Dave Cobb came on May 15, 2020. If you reflected to the days of A-side's and B-side's this would be the finale of the A-side of the Reunions album.
As Isbell has aged, his songwriting has continued to improve and become more refined. This song is about a relationship and the ebbs and flows of that relationship.
The title is repeated consistently throughout the song, as a not-so-subtle reminder that if you run through the majority of life with eyes closed, you're going to miss a lot and there could be more downs than ups.
Favorite lyric:
"And we can never go back and be strangers
All our secrets are mixed and distilled
But you've taught me to temper my anger
And you've learned it's alright to be still"
The follow-up to Isbell's breakout album, Southeastern, had a wide selection of hits as well. The title track tells the story of a typical American man.
In some ways, our previous selection at #9 calls back to this song as the narrator in Something More Than Free works hard every day just to live a life worthy of living, but he could be moving through it too quickly to see the beauty around him.
The hard-working narrator seems to be from a depression-era factory in the South when folks were simply happy to have a job and and would work to the bone to keep it.
Favorite lyric:
"And the day will come when I'll find a reason
And somebody proud to love a man like me
My back is numb, my hands are freezing
What I'm working for is something more than free"
Isbell's sixth studio album followed his pattern of releasing new material every two years and followed up Something More Than Free by rising higher in the charts than its predecessor and selling the most albums yet for Isbell and his band, the 400 Unit.
Another song that is placed strategically in the center of the album, If We Were Vampires, is recognized as the most popular song on the album. Widely looked at as the follow-up to his hit song, Cover Me Up, Isbell's love song explored the opposite side of life along the way. In an interview with Paste Magazine, Isbell revealed his thoughts around the track:
"I started to examine my own notions about mortality, when I realized that to write a love song, you have to write a death song. Love doesn't mean as much without death. If I agree to marry someone, that's a big risk, because I only have one life. If I lived forever, what would it matter? But because I'm only going to live till 85 or thereabouts, I'm giving her the most valuable thing I have: my time."
The chorus is the eye-popper to me and is my favorite lyric in the song. It speaks of the realities of life and death. It also speaks of the finality of that and of one thing you hear often in relationships that one person would prefer to outlive the other so the other doesn't have to endure a life without them.
Favorite lyric:
"It's knowing that this can't go on forever
Likely one of us will have to spend some days alone
Maybe we'll get forty years together
But one day I'll be gone
Or one day you'll be gone"
When this was released, you had to know a bit about the technical aspects of film to realize the metaphor that Isbell was using. In film, 24 frames is the standard frame rate that details how many pictures go into one second of video on a film reel.
In the song, Isbell evokes his inner Don Henley and discusses how things can change rapidly, in this instance things can change in a second, as opposed to a New York Minute.
Favorite lyric:
"You thought God was an architect, now you know
He's sitting in a black car ready to go
You made some new friends after the show
But you'll forget their names
In 24 frames"
The #5 song on the list might not resonate with you if you grew up in a larger town or city. Speed Trap Town emotes images of small town life and growing up in a place where everybody knows your name, your story and everything about your family and its past.
The song also talks about the narrator's father being a crooked cop in a small town.
The second verse describes a person reliving his high school days and realizing that he's a bit down and out and that the players on a football field are headed down the same path, but they might not yet know it.
Favorite lyric:
"But it never did occur to me to leave 'til tonight
When I realized he'll never be alright
Sign my name and say my last goodbye, then decide
That there's nothing here that can't be left behind"
Track #2 on Isbell's latest album resonates with so many people who grew up in a broken home and had no ability to change things.
This tune is written from the perspective of a young man who loves the childhood experience, but has to also endure things in life that are far too heavy for a child to understand and endure.
For some, the song flashes back in a lot of ways to the next song on our list but it's also recalled later on in the Reunions album during the chorus intros of St. Peter's Autograph.
Favorite lyric:
"Poison oak to poison ivy
Dirty jokes that blew right by me
Mama curling up beside me
Crying to herself
Why can't Daddy just come home?
Forget whatever he did wrong
He's in a hotel all alone
And we need help"
It seems as though Isbell follows in the old tradition of album track listings as this song would also be the final one on the A-side of a traditional record.
Sliding in at #3 is Children of Children, which is a song thattalks about being a child in a home where the parents would also be considered children by most.
The fact is that Isbell was a "child of a child" as he was born to a 17-year-old mother and a 19-year-old father. In this song he tells about the struggles of a childhood where your parents are still learning how to be adults and taking time away from those parents just because of your mere existence and how that changed their lives forever. His reference to Michael in the lyrics below are a reference to his given name, Michael Jason Isbell.
Favorite lyric:
"Didn't mean to break the cycle
At seventeen, I went by Michael
No one ever called me by my own name anyway"
A fan favorite and a song that put Isbell on the map rolls in at a surprising #2 on my list. It was recognized by the Americana Music Awards as the 2012 Song of the Year and was written by Isbell as a love song to his now wife Amanda Shires, prior to them getting together.
During live shows, fans will often holler and clap during the line when Isbell mentions sobering up swearing off that stuff as he is a recovering alcoholic. Ultimately it was his drug and alcohol habits that led to his dismissal from the Drive-By-Truckers. He credits Shires with saving his life and ultimately leading to his second act in his career as a musician.
Favorite lyric:
"So girl, hang your dress up to dry
We ain't leaving this room
Till Percy Priest breaks open wide
And the river runs through"
If you explore other lists of Isbell's songs, you'll find very that list this song at number one. It's nearly 100% Cover Me Up, with no other options due to the acclaim Isbell received from the song.
However, his most real song about life and the curveballs it throws at you is Elephant.
The narrator is a man in a relationship with a woman who is dying of cancer. It's a situation so many people have found themselves in, yet Isbell finds a way to describe the situation in vivid detail while being tasteful.
Favorite lyric:
"I've buried her a thousand times
Giving up my place in line
But I don't give a damn about that now
There's one thing that's real clear to me:
No one dies with dignity
We just try to ignore the elephant somehow"