The Time I Met a Spice Girl!
Recalling my encounter with Geri Halliwell.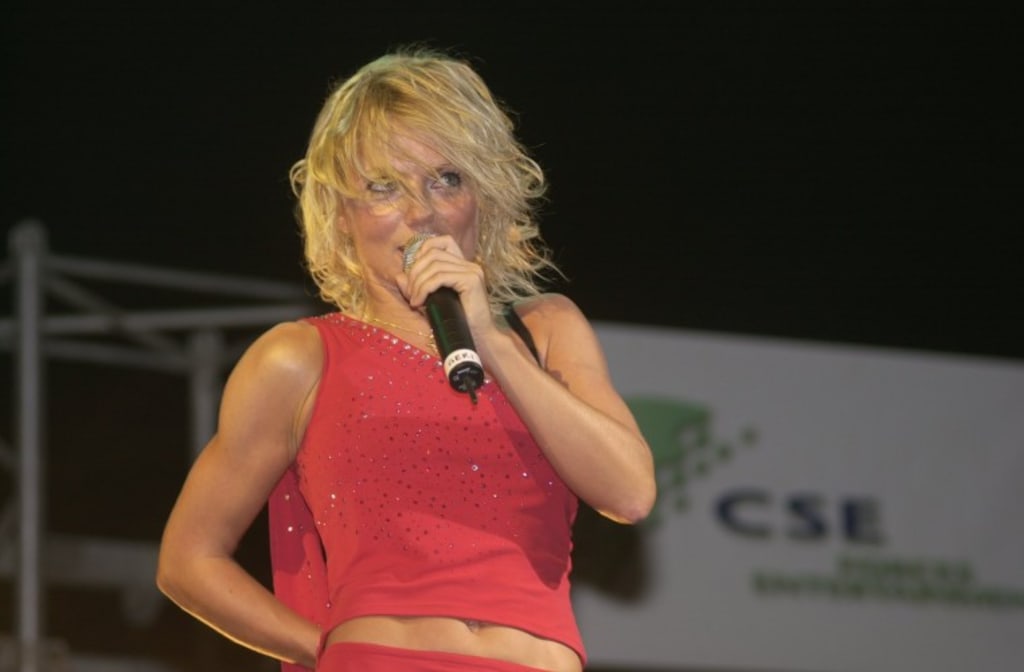 Geri Halliwell preforming in 2001. The year I met her.
I was just a kid when the Spice Girls first rose to fame, but their infectious music, infused with a very positive vibe, made me an instant fan!
The Spice Girls would become a global phenomenon! They scored nine #1 hit singles and went on to sell over 85 million records. However, in May 1998, the Spice Girls suffered a major blow. Geri Halliwell (a.k.a Ginger Spice) abruptly left the band.
Geri was the most flamboyant and outspoken member, and she was often seen as the leader of the group. Now, she was to journey outside of Spice World. Halliwell dramatically changed her image, sold-off many of her Ginger Spice outfits, and created a media storm in the process.
About a year after her departure, Geri would re-emerge as a solo artist. Her debut single ''Look At Me'' was released on May 10th 1999. The song became a huge Top 5 hit in Canada, the U.K, Australia, and on the European Singles Chart. ''Look At Me'' would go on to sell over a million copies. Geri was back!
Throughout her solo career Geri would score a string of Top 10 hits in the U.K. (including four consecutive #1 hits), win or be nominated for several prestigious music awards across Europe, and sell millions of records around the globe (earning over 20 Gold & Platinum awards from various countries). Piers Morgan described her as iconic and the BBC hailed her as one of the ''Queens of British Pop.''
As with the Spice Girls, I fell passionately in love with Geri's music. In fact, Geri would become my all-time favorite singer/artist.
When I first heard Geri's debut single ''Look At Me'' I was enthralled! It was an amazing song! I remember rushing home from school to watch the video on Much Music (the Canadian equivalent of MTV).
I was equally as excited for her debut album ''Schizophonic.''
Just before the album came out, I asked my dad and stepmother to assign me chores, so I could earn the money to buy it. The work and chores I did to get the album were well worth it! ''Schizophonic'' did not disappoint! It was an incredible record! At that point I was hooked, I had everything Geri Halliwell... from a Geri umbrella to a Geri lunchbox, posters, CD's, books, a calendar, necklace, t-shirts and more.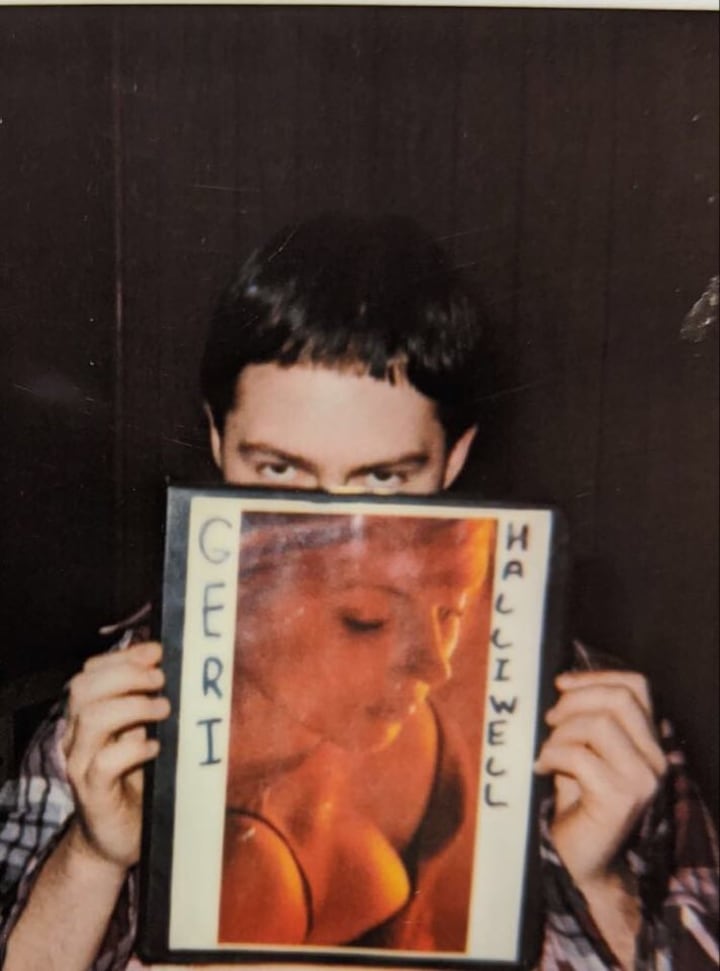 In the summer of 2000, I was featured twice on the popular television program Much On Demand (which aired on Much Music). I got to pick a music video of my choice and introduce it on the show. Naturally, I picked two Geri music videos. I felt proud that I was able to proclaim my love of my favorite music on the country's most popular music program! I also told the producers, Geri should get more airplay!
In 2001, after the release of her astounding ''Scream If You Wanna Go Faster'' album, I learned that Geri would be coming to Toronto as part of her promotional tour. Toronto was only a few hours away from my home, so I knew I had to go! Geri would be appearing at both the Much Music studio and at the HMV record store (to sign autographs). I talked to my father and he agreed to take me to Toronto to see Geri!
As the day approached I was beyond excited. I arrived at the Much Music building and joined the general admission crowd of fans who had gathered to see the Spice Girl turned Solo Star. At one point during her appearance, I started chanting ''Geri, Geri, Geri'' and soon the whole crowd joined in!
After her appearance at Much Music ended, I jumped in a cab and headed to HMV. When I arrived, there was already a line-up of fans all the way around the block. I got in line and started the several hour wait to see Geri. As I waited I chatted with the other fans beside me.

Finally it was my turn! As I approached the table at the back of the store where Geri was sitting, I held out a stuffed animal (plushie) dog. I enthusiastically said ''Geri I brought this present for you!''... she took it and said ''Oh my god, he's so lovely!'' She looked and sounded very happy with my gift. 
I was elated to see this - especially since her music had brought me so much joy, it was amazing to bring Geri a little joy in return!
Attached to the plushie was a note that explained in detail how much her music means to me.
She then autographed one of my CDs! As I walked away, I turned back and yelled ''I love you Geri!''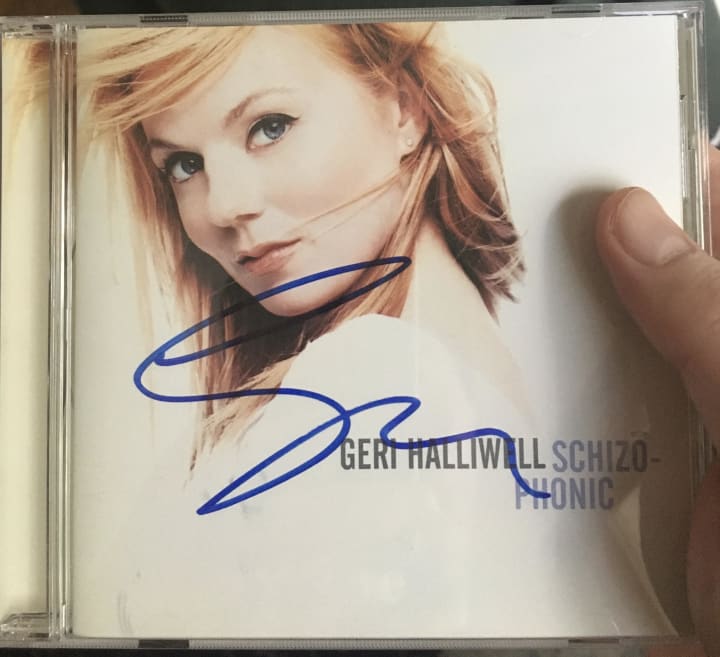 The next day I received an email from another fan (who was farther behind me in the line to see Geri). He told me that after I had left, he saw Geri playing with the plushie that I had brought her, and how happy she seemed with it!
I was just a kid then, but all these years later I still love Geri's music (both as a solo artist and with the Spice Girls). She is also still my favorite singer. In 2016, I submitted a letter to the Watford Observer Newspaper (Watford is Geri's hometown). It expressed again, how much her music had meant to me, and how it became the soundtrack to my life. I sent a copy of it to her management and they responded saying they would pass it along to Geri.
I hope she appreciated it as in the liner notes of her second solo album, Geri thanks ''faithful fans'' and at the end of a 2004 concert she thanked the fans by saying ''Thank you so much...you have been loyal, I love loyalty!''
I have remained loyal, as far as music goes, Geri is second to none!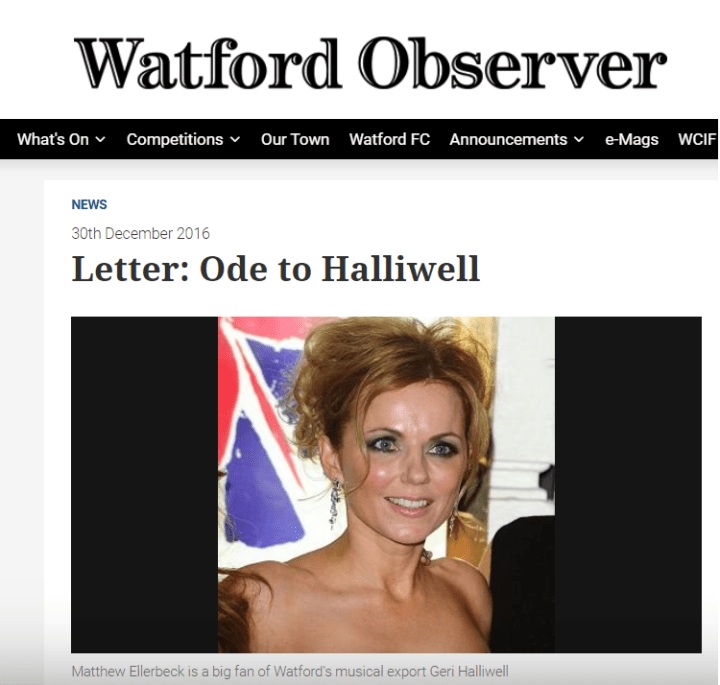 In 2020, Geri launched a new web series on YouTube called ''Rainbow Woman''... which would feature new music. During the countdown to the premiere of one of the videos, Geri did a live chat. During this, I expressed to her how much her music had helped me. Despite not being able to respond to all the fans in the chat, she was kind enough to respond to me!
For most of my life, I have been a fan of Geri Halliwell. This is a testament to the power of music, and the very real impact it can have on our lives! After all, we never let go of the things that really impact us!