The Thrill of Discovery Challenge
Give it a shot...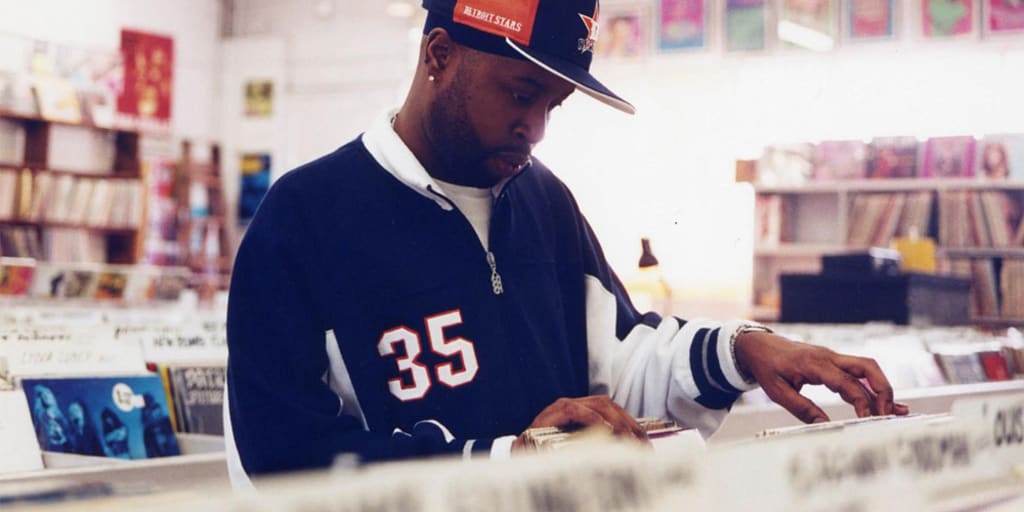 J Dilla, arguably the greatest hip hop producer of all-time, crate digging
There's something to be said about discovering new things on your own. When someone tells you to check something out, and you enjoy it, it's nothing compared to how you feel when you're discovering it without any point of reference.
It's Florida, and it's hot all of the time. Since there wasn't all that much to do in the little town of Deltona, nicknamed Del Rico due to its high Puerto Rican populace, I just decided to walk around all of the time. I walked everywhere. I figured anything was better than staying at home, and I would walk to towns over, sometimes going miles out of my way just to explore, just to see if there was anything out there. Not surprisingly, it was just about the same everywhere near and around Deltona: flat, lifeless, and dull suburbs; the only twist was there were palm trees.
Anyways, if I did ever walk anywhere consistently, it was to the small hub area about maybe a mile away from where I lived. I walked there so often that I figured it was normal. According to everyone else, that was a journey. I didn't have a car, and I had plenty of spare time, so I didn't care. In that area, there was a Half-Off Book Store. I had always walked past this place, but never actually set foot in it until I lived there for about a year. Once I did, I was shocked to discover how huge this place was. It was the size of a large Barnes & Noble. The ceiling was ridiculously high, and the inventory much wider than anything I've seen 'til this very day.
I started to visit there regularly. Since I didn't make that much money at my job at that time, namely 2014, I browsed around a lot before making a decision. There were plenty of books I was interested in, but they seemed to be out of my price range, so I checked out the CDs. The hip-hop section was sorely lacking, with the exception of Fatboy Slim's hit record, "You've Come A Long Way, Baby." I purchased that without hesitation.
At this point in my life, I was really into electronic music. deadmau5, The Crystal Method, and The Chemical Brothers were among my favorites, but I wanted to go deep. I decided it was time to try something new. Now if you know anything about electronic music, it's that it's broad... very broad. It's actually quite overwhelming to see how much music goes unrecognized and unlistened to. And who knows? There might be something of value when you search out the last place you'd expect.
I found the obvious stuff like Orbital, The Chemical Brothers, and techno compilation CDs. However, there was one CD that struck me, from an artist I'd never heard of. The name? S.I. Futures. The album? "The Mission Statement." The cover is as shown: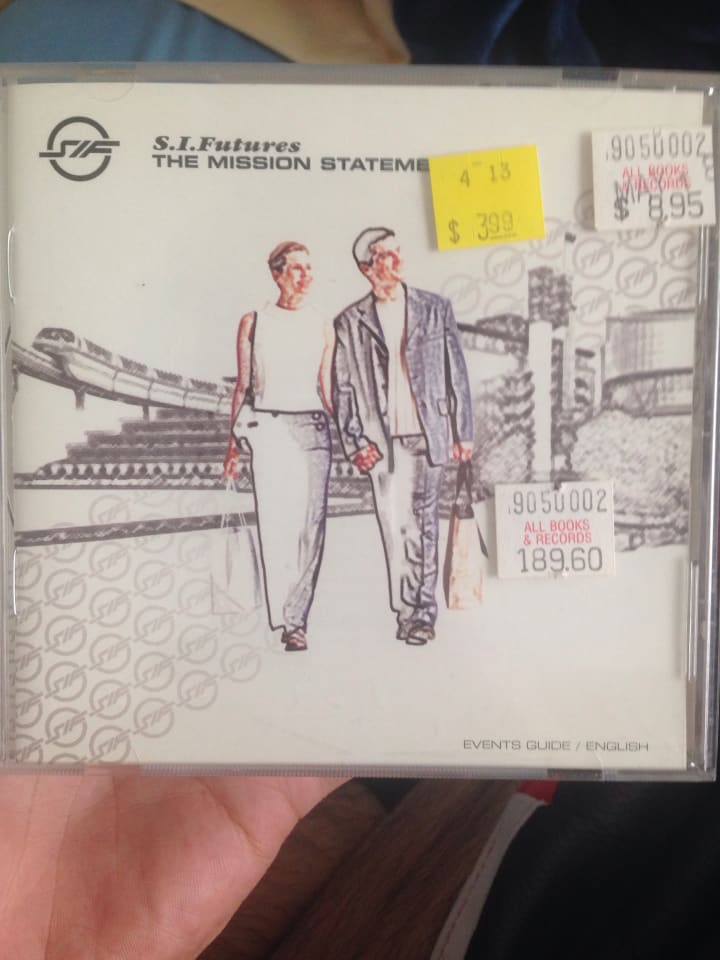 This was certainly an oddball. So I opened it up...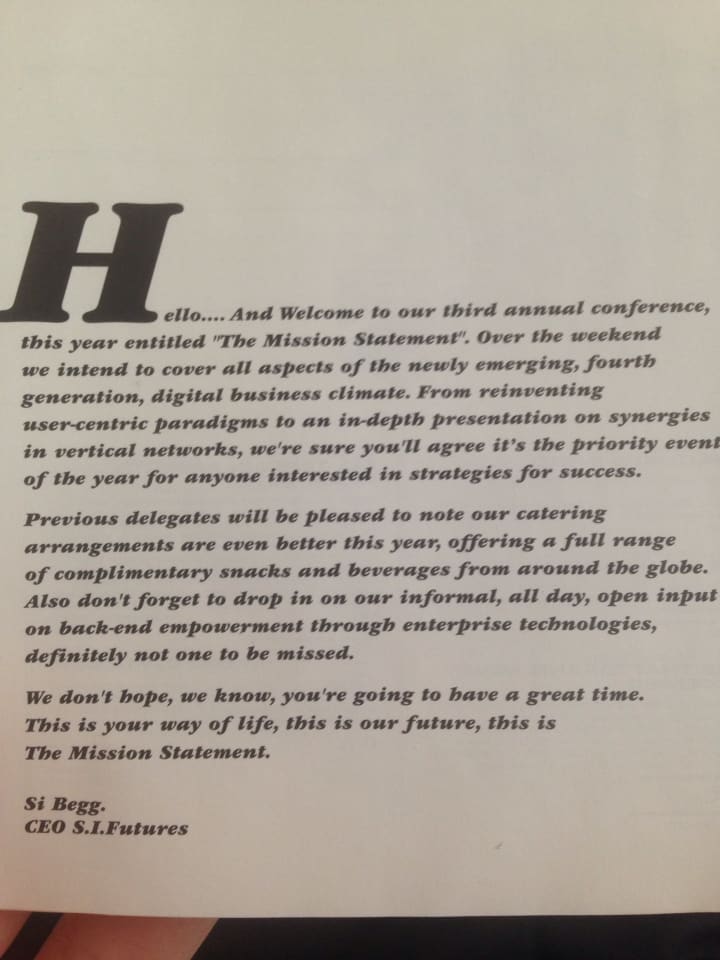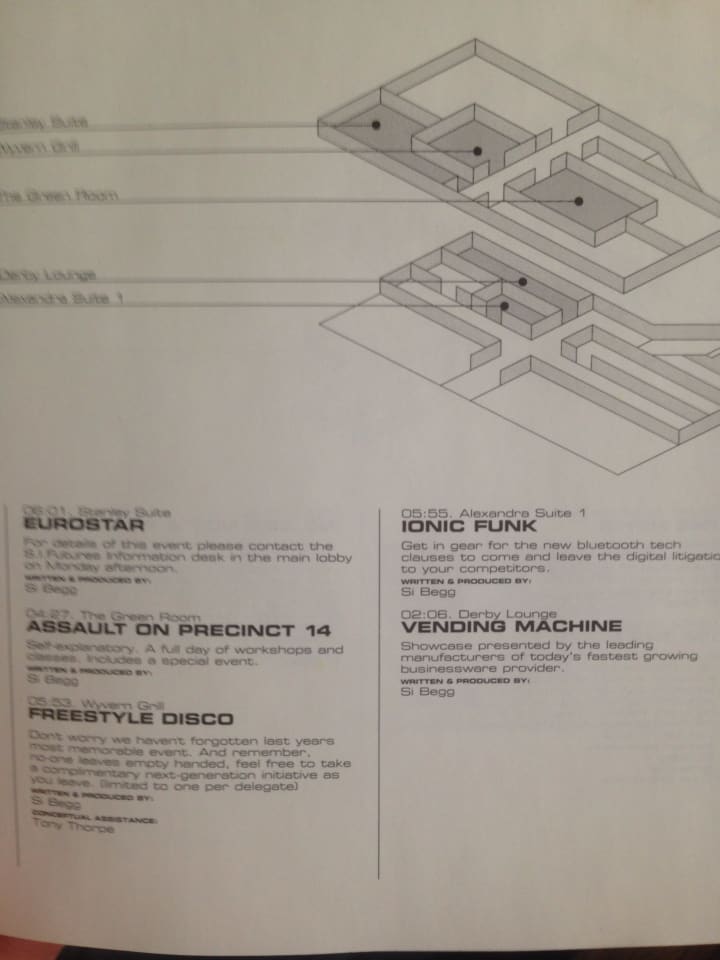 Looking through it, it seemed to be in the form of a convention pamphlet... and I laughed. This was most certainly a unique product. The vagueness as to what kind of "technology convention" it presented made it even funnier. Each track represents a room holding an event. Sold. Just... sold. I had no idea what it was, but the packaging of the product was more than enough.
So I went home, put the CD in my laptop, ripped it to iTunes, put it on my iPod, and went out for a run to make a verdict.
If I really love an album, I'll buy it on vinyl.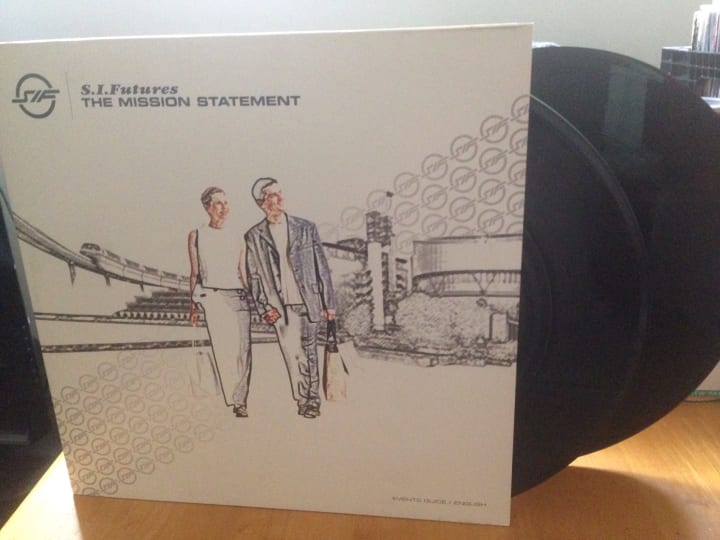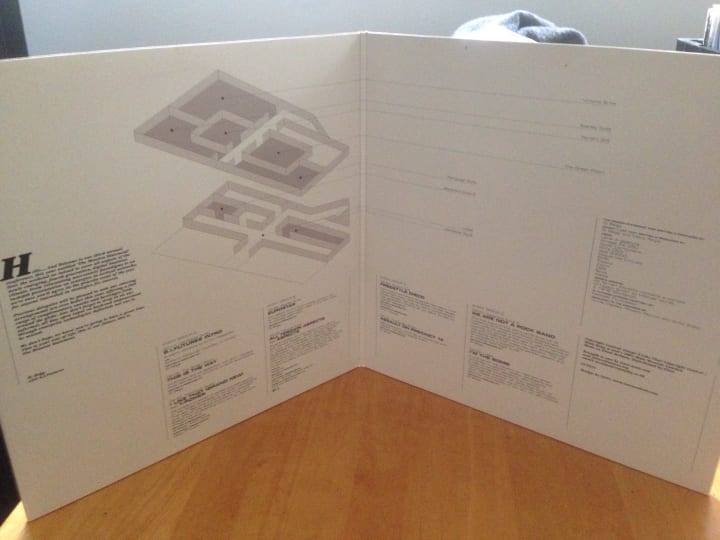 Mind you that just because the cover of the record is cool, that doesn't mean that it's going to be any good. I've purchased plenty of records that I thought would've been awesome based solely on the cover, and they ended up sucking chunky peanut butter through a cocktail straw, but this... This was nothing short of an exception.
I love this album and still listen to it from time to time. It's weird, energetic, fast-paced, and wildly different. Every track feels diverse, yet is still fitting to the theme. It even features two straight up hip-hop instrumentals, one of which features a British rap group known as the Aspects. It may not be as groundbreaking as Aphex Twin's "Richard D. James Album," but it is just as well-constructed.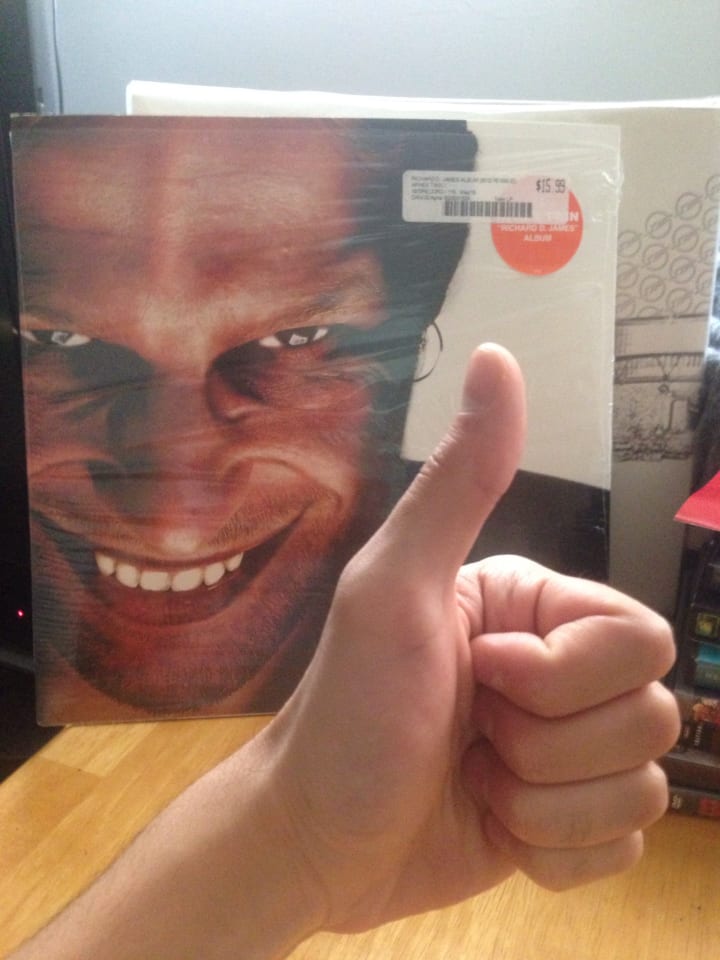 I'd describe "The Mission Statement" as a glitchy take on breakbeat electronica, rather than just being straight up glitchy.
With all of that said, just showcasing this record isn't the only point I'm making here. I want to share with you a record I would've otherwise not found out about had I not taken any risks. You see, normally when I shop for music, I try to go for the most unorthodox things. The first CDs I ever bought were MF Doom's "Born Like This" and GZA's "Pro Tools," along with "Liquid Swords." The first two were new at the time, and I had no idea what to expect. While "Pro Tools" was solid, "Born Like This" is a masterpiece. I had heard neither, and to be honest, blindly going in with no expectations is the best way to do it.
So I invite you to perform a challenge: Go to a record store, or any place that sells music for that matter, and pick something out that's completely out of your element, even out of your preferred genre. If you see something that looks interesting, or mysterious, and the price is right, don't hesitate to buy it.
Is it scary? Yes. Is it a gamble? Damn near. Most people who love music tend to have a genre preference, which is fine; and I'm not saying to do this every time you decide to buy music. Just do it every once in a while. If you're open-minded, I can guarantee that you'll find something you'll like, which can open up an even broader spectrum of music for you that you might not have otherwise been aware of. In my situation, Si Begg is an artist I now regularly keep tabs on.
So give it a shot. Who knows? You might find something sweet...
...for those of you who are curious.