The Scottish Beatle
The life of Stuart Sutcliffe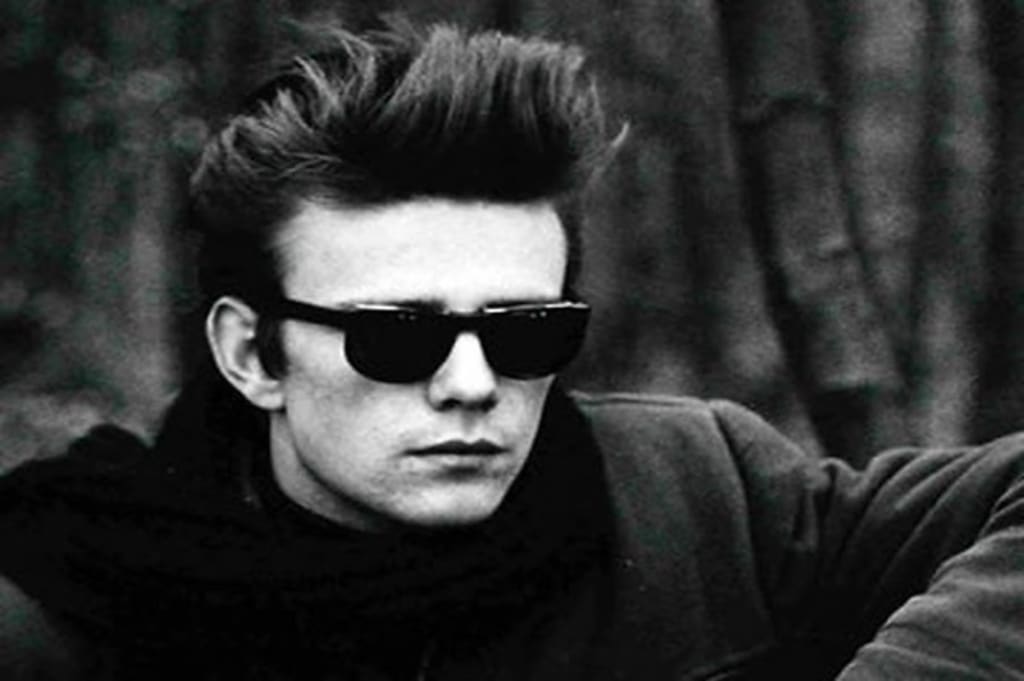 "I looked up to Stu, I depended on him to tell me the truth. Stu would tell me if something was good and I'd believe him"John Lennon (The Beatles In Scotland by Ken McNab)
Stuart Sutcliffe might be described as a figure to whom the phrase "what might have been" could be applied, but it somehow seems a bit disingenuous and dismissive of the talented young artist who served as The Beatles first bassist, was also John Lennon's closest friend in the early days. Sutcliffe died at the age of only 21 from a brain haemorrhage, yet he achieved a lot. He had a huge influence in the band's style, being the first to style his hair into the now-iconic mop top. Stuart is credited as the one who came up with The Beatles' name, suggesting The Silver Beetles from Marlon Brando movie The Wild Ones, later changed by the wordplay-loving Lennon to Beatles. During his time at the Liverpool College of Art, he was regarded as the most talented student; and later on, at the Hamburg College of Art, he studied in a master class taught by Eduardo Paolozzi, the regarded Scottish pop artist and sculptor. In a college report, Paolozzi described Stuart as his most promising student.
So just who is this charismatic young man who peers out at you across the years from black and white shots from The Beatles early years?
Scottish Origins
Like his teacher, Paolozzi, Stuart had Scottish roots, born in Edinburgh on 23 June 1940, the eldest child and only son of Charles and Millie Sutcliffe, the latter being a particularly proud Scot from Lanarkshire. Stuart was joined by a sister, Joyce, in March 1942. Charles worked as a marine engineer at John Brown's shipyard in Clydebank, commuting there from Edinburgh, whilst Millie was a teacher, which she returned to once her children were old enough for nursery. In 1943, Charles was sent to the Cammell Laird yard in Birkenhead on essential war work, and the family followed, setting up home in Huyton. The move to Merseyside was thought to be a temporary one, and the Sutcliffes would return to Scotland, but it was permanent. Another sister, Pauline, was born in 1944.
As a child, Stuart was studious, and a keen reader. He had a brief stint learning how to play the piano, and sang in the local church choir. During his secondary education at Prescott Grammar, he demonstrated a strong aptitude as an artist and left school to study at the Liverpool College of Art at 16, where the normal age of admittance was 18. There were plenty of students at the college who were a good few years Stuart's senior. Nonetheless, he became regarded as the most talented at the college. Arthur Ballard, a tutor at the college, was a friend of Charles Sutcliffe, and soon took an interest in Stuart's work, although he didn't teach any of his classes. Amongst the students, Stuart's befriended included Rod Murray, with whom he was to share a flat when Stuart found commuting back and forth to college from Huyton a nuisance, and Bill Harry, the latter responsible for introducing Stuart to a certain John Lennon.
Befriending John Lennon
Generally, Jazz was the preferred music amongst the bohemian crowd of the art college, but not Stuart, who was a big fan of Elvis Presley. John also hero worshipped Elvis, amongst other Rock n' Roll musicians, and had his own Skiffle band, the Quarry Men. He started at the college in 1957, in the year below Stuart, creating something of a stir with his Teddy Boy style The pair met during a regular student drinking session at Ye Cracke pub, a popular haunt of the art college students, and soon grew close. As well as a shared love of rock n' roll, other things they had in common included being short sighted and a love of reading. Eventually, John left his Aunt Mimi's house to move in with Stuart in one of the successions of flats he and Rod Murray occupied with one or two other friends near the college.
Contemporaries recalling John and Stuart remarked on how close they were. Copying one another's style, they laughed at jokes that seemed meaningless to others. Stuart had considerable influence on John, who began to take his studies a little more seriously. Likewise, John influenced Stuart, encouraging him to take up bass guitar and join John's skiffle band, which dated back to his school days at Quarry Bank High. Members of which included Paul McCartney and George Harrison, who were pupils at the Liverpool Institute, just next door to the College of Art. Both would sneak out of school during the lunch hour, shedding and disguising as much of their uniform as possible, to join their slightly older bandmate for lunch in the art college cafeteria, where they would share chips bought for them by John and his girlfriend, Cynthia Powell, and take in the conversation of the art school crowd. As it was, Stuart had already dabbled in skiffle with Rod Murray, messing around on the guitar.
Stuart bought himself a blonde Hofner President bass from Hessy's music shop in Liverpool. The legend is that he bought the bass after one of his paintings, Summer Time, was purchased by Sir John Moores after it was chosen for display at the Biennial John Moores' Exhibition of 1959/1960. The delighted Stuart was paid £65 for his painting and was urged by John to use it to purchase the bass, which he couldn't play. However, it is thought to be most likely that Stuart bought the bass on hire purchase, and kept his fee for the painting. The art school crowd was aghast, even Bill Harry was against the idea of Stuart taking up the bass and joining John's band, (now going under the moniker of Johnny and the Moondogs), but Stuart carried on, being taught the basics of playing by George Harrison. In May 1960, the group attended auditions at the Jacaranda coffee bar for a support slot to accompany Billy Fury on an upcoming tour. Making the decision on who would get it was 'impresario' Larry Parnes, the Brian Epstein of the day.
Learning bass and touring Scotland
Photos of the group's audition show Stuart standing with his back to the audience, helping give rise to the legend that he was a very weak bassist; though as others who knew him during The Beatles' Hamburg days were to attest, this wasn't quite the case. He was, in fact, regarded as quite a decent bassist, later on even taking on work as a session bassist in another band playing in Hamburg after he left The Beatles. During an early interview, Paul McCartney also described Stuart as a good bassist. But that was later. For now, Stuart was on a steep learning curve as a member of a Skiffle/Rock n' Roll band. The group didn't get the support slot with Billy Fury, but Larry Parnes instead enlisted them as the support for Johnny Gentle on his tour of the further reaches of Scotland. It was also at this time that Stuart suggested The Beetles when a new name for the band was being mooted. The Silver Beetles took to the road between May 20 and May 28. The band members themselves also acquired temporary showbiz monikers: Stuart became Stuart de Stael after one of his favourite artists. John was Long John, whilst George renamed himself Carl Harrison after Carl Perkins, and Paul McCartney became Paul Ramon. It was something of a haphazard tour, though those who saw the band said they weren't quite as bad as legend made it out to be.
Hamburg
A few months later came a turning point in all the band's lives, the first of the famous stints in Hamburg. By now, art school was over for Stuart and John, George had long left school and Paul had only just finished his A-Levels. Hamburg came about for the group, now finally settled on The Beatles, in August 1960. Bruno Koshmider, a German nightclub owner, and by all accounts a rather shady character, had imported UK groups to entertain the crowds with rock music in his clubs. Alan Williams, then managing The Beatles, had already sent out a couple of groups, the personnel of one including Glasgow rocker Alex Harvey. Williams offered The Beatles the job, on the proviso they find themselves a drummer, something they had problems retaining. They quickly resolved this by recruiting Pete Best, who they knew from playing in the Casbah Club, run by Pete's mother.
The Beatles arrived in Hamburg on August 17, 1960, and it was a baptism of fire. They were required to play long sets of about eight hours a night in the Kaiserkeller, in St. Pauli. It turned out the Kaiserkeller was a strip club, and the band was housed in two squalid rooms in the Bambi Kino, a cinema also owned by Koshmider. They found the regime rather gruelling, Koshmider urging the band to "Mach Shau! Mach Shau!" whenever they flagged. They did indeed Mach Shau (put on a show), though also started propping themselves up with Preludin, a slimming pill that also pepped up flagging energies, and copious amounts of beer. One evening, a young German artist by the name of Klaus Voorman, found himself drawn to the mad sounds of rock music emanating from the Kaiserkeller, wandering into St. Pauli after a fight with his girlfriend, Astrid Kirchherr. Klaus, 22 years old, was hypnotised by what he heard. He had recently designed the sleeve of a record and tentatively approached John to show him the work. John sent him in the direction of Stuart, and a friendship was struck up.
Falling in love
Klaus soon brought his artsy friends to Kaiserkeller to see the group, also convincing Astrid to come along too. It was a move that cost Klaus his girlfriend, who was immediately attracted to Stuart (and he likewise). Astrid was a photographer and asked if she could take photos of The Beatles, who happily obliged. It was during one of those sessions that Stuart and Astrid became a couple, though he could hardly speak German and she didn't know much English. Nonetheless, the pair became engaged by November 1960. Stuart even swapped his Brylcreemed quiff for the mop top haircut favoured by Klaus, Astrid, and their friends. At first, John and the others laughed at Stuart, thinking it looked ridiculous, but one by one, they too also adopted the same style; first George, then John and Paul during a trip to Paris for John's 21st. Later, the mop top was just one of the many things The Beatles became famous for.
The first stint in Hamburg ended quite badly. The Beatles had been approached to become a regular act at the newly established Star Club, with better pay and conditions. They had already moonlighted there. Koshmider, on discovering this, wasn't happy, and things mysteriously began to unravel for the younger members of the group. George, at 17, was underage, and shouldn't have been playing in nightclubs late at night, which German law dictated that under 18s had to vacate by midnight.
So far, George had managed to avoid being caught out by police, ensuring underage people left the clubs, but somehow the authorities were made aware of his age and he was given a deportation order. Astrid and Stuart took him to the train station, with his luggage and a bag of apples to sustain him for the journey home. As it was, Paul and Pete were back in Liverpool before George's train reached Lime Street. They had returned to the Bambi Kino to get the rest of their belongings, and had lit a condom either to help them see or as a childish prank, depending on which account you read. Koshmider had them arrested for arson (the flame itself, was apparently insubstantial), and they were booted out the country. John returned home under his own steam, soon followed by Stuart. Depressed at the outcome of their trip, the various band members kicked about, not contacting one another for weeks. They weren't even sure there was a band anymore until they got back together for their first post-Hamburg show in Liverpool.
Ill Health
The show at Litherland Town Hall took place on December 27, 1960, was a runaway success. The Beatles had tightened their performance with long nights in Hamburg and the crowd was enthusiastic, beginning their ascent as Liverpool's biggest band. In January 1961, trouble occurred after a show at Lathom Hall, when local toughs attacked Stuart and badly beat him up. Pete and John dived in to rescue him, John breaking a finger in the process. Meanwhile, Stuart had applied to return to the Liverpool College of Art to train as an art teacher but was turned down. By June 1961, he decided to leave The Beatles, move to Hamburg permanently with Astrid, and attend the Hamburg College of Art, into which he was accepted, studying under Eduardo Paolozzi. The future was looking good, but Stuart started experiencing intense headaches and losing weight.
He attended a number of appointments, where he was diagnosed as suffering from various problems from stress, nervousness, and a bad appendix. Prior to this, Stuart had been healthy. He returned to Liverpool with Astrid, introducing her to family and friends. He was also scheduled for an X-Ray at Sefton General Hospital to investigate his headaches, but he failed to attend. On his return to Hamburg, Stuart's health fluctuated. Some days were good, some were bad, and it began to affect his attendance at college. In January 1962, he again visited Liverpool. During this trip, he also met The Beatles new manager, Brian Epstein. Stuart didn't tell his friends, not even John, about the health problems he had endured, only his family knew just how unwell he had been. It was to be the last time he saw Liverpool. His health continued to deteriorate back in Hamburg, where his headaches were so bad, he blacked out and he suffered a seizure during an art class. In April, he seemed to be recovering enough to do a little work in his studio, so long as he got bed rest as insisted by the Kircherrs' doctor.
On April 10, Astrid was at work, and Stuart was working in his studio in the attic of the Kircherr's house, when he collapsed in a massive seizure. Astrid's mother heard the noise and found him on the floor. She called the doctor, who sent for an ambulance, whilst Astrid raced home after receiving her mother's phone call. In the ambulance, accompanied by Astrid, Stuart passed away. He had suffered a brain haemorrhage, the result of a burst aneurysm. John, Paul, and Pete were flying into Hamburg at the same time. Astrid met them at the airport and broke the news, which devastated John. George arrived later, on April 12, having been delayed in joining the other three on the trip to Hamburg thanks to a bout of Measles. He and Brian Epstein were on the same flight as Stuart's mother, Millie. Stuart took place in Huyton, on April 19. None of his former bandmates made it, due to their commitments in Hamburg, but were represented by Cynthia, John's girlfriend and George's mother Louise.
"A spirit in his world"
As for what happened to The Beatles, to use the well-worn cliché, the rest is history. Stuart, since his death, has become something of a cult figure. His art has been shown in various exhibitions, and critics have lauded his work. Examples of his paintings can be seen online at an official website found here. Astrid carried on as a photographer for a short time, but soon gave it up. Her photos of The Beatles in Hamburg have become the stuff of legend. Klaus Voorman became a musician, taking up bass, having being taught the rudimentaries by Stuart. Klaus continued working as an artist, one example of his work being The Beatles' Revolver album cover.
Stuart was never forgotten by John, who had his close friend included in the famous line up of The Sergeant Pepper album cover; in Larry Kane's book Lennon Revealed, Yoko Ono said that John often spoke of Stuart as:
"[My] alter ego... a spirit in his world... a guiding force"
celebrities