The Playlist that Shaped My Teenage Years
And the Artists Who Influenced My Coming Out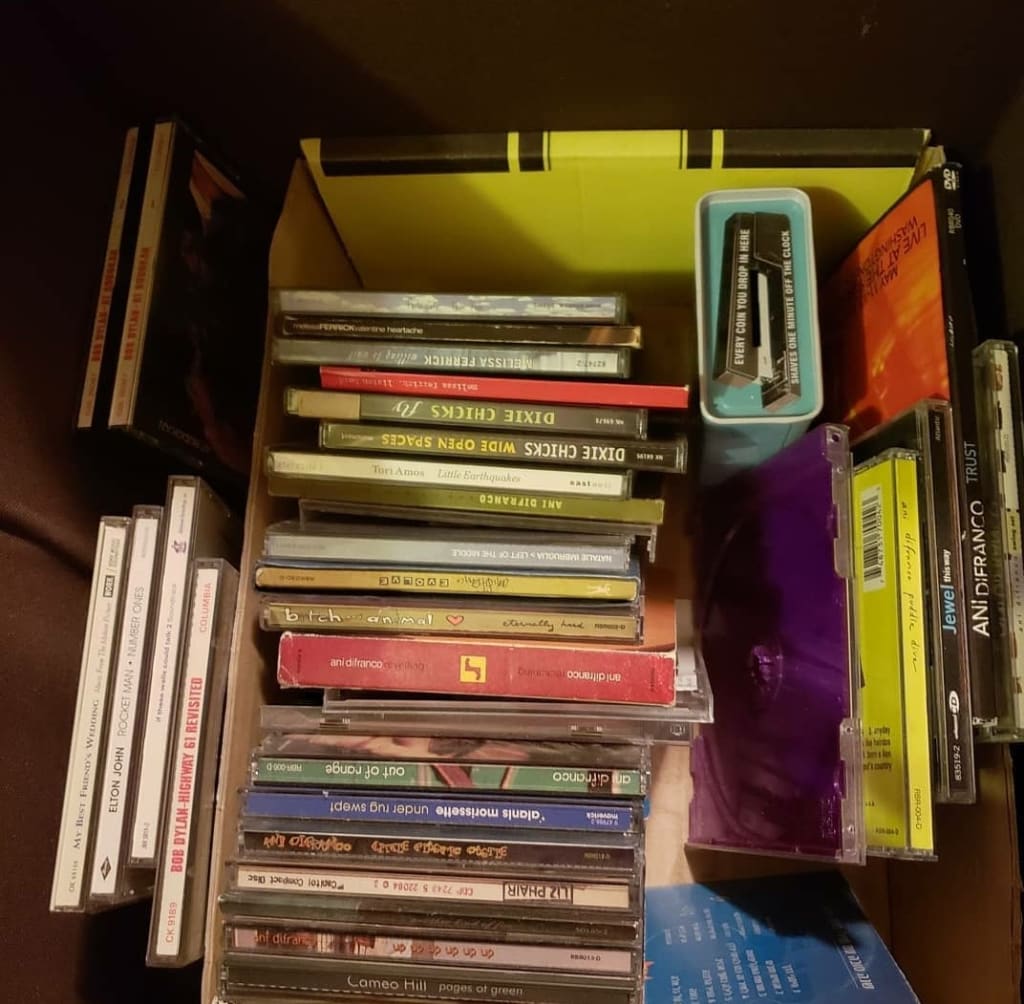 I've always been fascinated by the ability of music to transport us back to a moment in time, so vivid, we can almost breathe the emotions right into our being - the good, the bad, and the ugly. I can hear a song from 20 years ago and find myself singing every lyric as though it hasn't been decades since I last heard it. It's an incredible universal medium and practically unavoidable. One line from a song over the speakers at a grocery store can do you in.
Don't get me wrong, it's not all bad. Quite the opposite. Many songs bring me incredible joy and nostalgia. Memories of dancing around with my friends, or by myself, taking road trips, going to school parties, etc. Just one line of Hanson's MmmBop sends me right back to rehearsing a group dance number for a middle-school assembly! It's like magic. I've always loved music's diversity and its ability to take us down memory lane and create all the feels.
So what were the songs I listened to during my angst teenage years? Wow, how much time do you have?!
The 90s spanned some of the greatest bands and hits of all time (though I guess I'm biased). From Mariah Carey, Boys II Men, Backstreet Boys and Britney Spears, to Alanis Morissette, Spice Girls, Natalie Imbruglia, Meredith Brooks, Jewel, Tracy Chapman, Green Day, Liz Phair, Evanescence, Bear Naked Ladies, Sarah McLachlan, Dave Matthews Band… I mean honestly, who didn't I listen to?
Radio in my life was a constant, and my boombox had a cassette tape deck so when a song came on that I knew I'd want to listen to over and over, my record button was at the ready. Mixed tapes were all the rave, and I created a myriad of play lists.
It wasn't until my last year of high school that my taste in music became a bit more eclectic and I discovered the indie scene, starting with artist Ani DiFranco. A friend of mine in French class had asked if I'd ever heard of her and brought me her Out of Range CD to check out the following day. I don't know why this album instantly spoke to me on such a deep level, but it did.
Right around that time, Ani DiFranco was making her way to my home town on her latest tour. The show fell on my 18th birthday. What a great way to celebrate! I had only ever been to one concert by that point in my life – and that was to see the incredible Alanis Morissette, whose Jagged Little Pill album had been etched in my memory for at least a few years. My friend and I reserved tickets to see Ani. She brought her younger sister and I brought my other friend Kristin, who I had recently introduced to Ani's music.
The show was out of this world. I can still see us at the Celebrity Theater in Phoenix, immersed in the crowd, about 10 rows back from the stage. We had a blast. When Ani came out and did her thing, I was mesmerized. Hearing the music live was thrilling and there was one particular song that blew me away. I didn't know what it was called but it was definitely from an album I hadn't yet heard.
I literally went to a Border's Book Store that weekend and searched for Ani DiFranco CDs and went up and down her song lists to see if any of the titles matched the lyrics I remembered hearing. And sure enough, I found it. The song was called Angry Anymore, and it was on Ani's Up Up Up Up Up Up album. I excitedly purchased it and committed the song to memory.
I resonated with this particular song because my house was an unstable one – full of fighting and differences – and I felt torn about my parents and the part they each played in the demise of their relationship. Ani took her own situation and gave it life. She made instability seem normal, and it was a sigh of relief to have someone and something to relate to.
From Angry Anymore:
Night falls like people into love. We generate our own light to compensate for the lack of light from above. Every time we fight a cold wind blows our way, we can learn like the trees, how to bend, how to sway and say "I, I think I understand, what all this fighting is for, and I just want you to understand, that I'm not angry anymore. No I'm not angry anymore."
Saying I became an Ani fan was the understatement of the century. I resonated to every lyric, every line, every note. I was obsessed.
A few months later, after graduating high school, I took a trip to Boston to visit my family and my uncle had this weird program on his computer called Napster.
Remember Napster?! What's up!
Yes, I downloaded music on Napster. I think it was… illegal? Or at the very least frowned upon by the music community, and for this, I'm sorry. But also, I'm sorry/not sorry. It was exhilarating to hear new songs, despite the guilty feeling that overcame me for a brief moment.
One of the artists I discovered through Napster, which I later made up for by purchasing her CDs and seeing her shows, was Melissa Ferrick. Melissa Ferrick had an album out that year and the song that popped up to download was called This is Love. Woah.
I heard the song over and over and over again and it was definitely love. Strangely enough, like the case with Ani, Melissa would be coming to town in a couple of months and I suddenly had a chance to go and see this new artist, live! Sweet!
Melissa would be playing at a small venue - a bar - out in Tempe, AZ, called Nita's Hideaway. I bought two tickets and invited Kristin to go with me. She liked Ani's music and I was certain she'd like Melissa's.
Kristin was excited to go to the show, but the night of the concert she called to cancel. I remember feeling so disappointed. I wanted to go to the concert, but I had planned to go with my friend, and I was annoyed that she flung this cancellation on me so last minute.
Deflated, I walked into my kitchen and took out a pint of ice cream. It was 5:00 pm. I had abandoned my plans and was about to wallow in my sorrows for the evening, when I suddenly thought "screw this!" I was 18 years old and there was no good reason not to go by myself and enjoy the damn show. I rallied, borrowed my dad's car for the night, and headed to Nita's Hideaway. Best decision I ever made. I had an amazing time! I met new friends. I heard new music from Melissa. The vibe was energetic. Oh, and this was kind of my coming out story. No big deal.
See, I hadn't realized Melissa was gay or that she was singing to women in her songs. (I know, how did I not know, right?) But when I showed up at the concert and looked around at the fans that were there… let's just say I started putting 2 and 2 together. Mind blown. For the first time that I can actually remember, I felt "at home." I can't quite describe it, but all of a sudden, I started to realize who I was, and that realization put me more at ease. I was at a tiny bar, watching this concert with a sea of people who felt the same way about Melissa Ferrick's music as I did. She was singing songs from her album Freedom, and that night, I felt like I had found mine. Things began to click.
From This is Love:
Yeah it stings for a second , then it heats up and drips, turns into water, inviting me here, yeah to lick my lips. This is love. This is love. This is love. This is love...
Oh, and did I mention I snapped a pic with Melissa?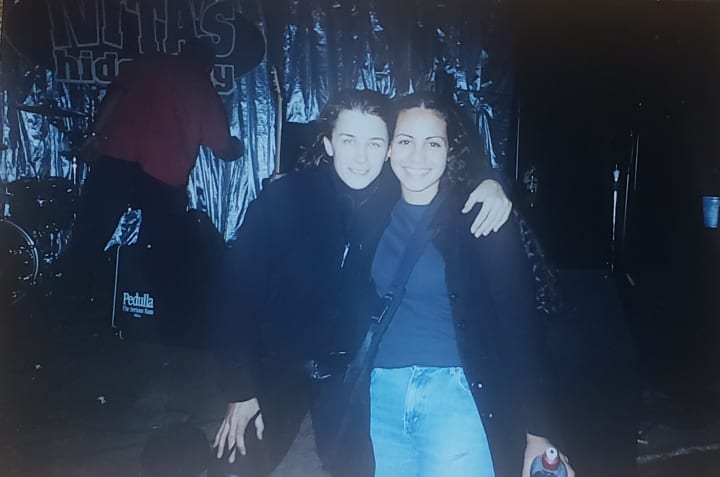 One of the new friends I met that night told me about this dating website called Planet Out. It was created for the LGBTQIA+ community, hence the name. This was the era of AOL chat rooms and people meeting online for the first time. I created a profile and quoted the Ani song Shameless in it, which was on repeat mode back then. I was definitely not shameless, but greatly intrigued by the song.
From Shameless:
We're in a room without a door , and I am sure without a doubt , they're gonna want to know how we got in here, they're gonna want to know how we plan to get out. We better have a good explanation, for all the fun that we've had, because they are coming for us baby and they are going to be mad, yeah they're going to be mad at us, mad.
After posting my profile, a girl I was instantly drawn to reached out. We emailed back and forth for a little while and one night, around 10 pm, my phone rang. It was her. She wanted to know if I'd meet her at Denny's.
"Um, like now?" I remember asking.
She chuckled and said "Yeah…"
With the same enthusiasm I had mustered up for braving the Melissa concert alone, I got dressed and headed to the nearby Denny's. The late night meet-up, while not my actual first date, felt very much like my first date. I was nervous, and silly, and looked godawful, but I had this "at home" feeling. It felt nice. I felt a spark. A new relationship was on the horizon. Which also meant, more music to explore.
There was a website that was becoming popular around that time that helped the consumer choose music based on their artist preferences. It was called CD Baby. Now, I could be wrong about this because my memory is a bit blurry (we're talking 20 years ago after all), but I'm pretty sure CD Baby is what led me to Tegan and Sara.
Tegan and Sara were the coolest. I purchased their This Business of Art CD and could not stop listening to My Number and All You Got. Whatever mixed tape I made at the time for my girlfriend, these two songs would have definitely been on it.
From My Number:
If I gave you my number , would it still be the same ? If I , if I saved you from drowning , promise me you'll never go away. Oh, promise me you'll always stay.
From All You Got:
Here the lights fall just as hard, a bit softer in the stall. It's not really wrong, it's not really right, I'm wide awake. She's upfront, upshot, upstart, up in every case. The kind of girl that whispers "Thank God for you"
I was on cloud nine. But as is the case with some relationships, especially dramatic teenage ones, we broke up within a few months. I was applying to out-of-state colleges at the time, and I think she felt like I wasn't prioritizing her. Fair. But then she cheated on me, and lied about it. So not fair.
Considering we had only been together for a few months, it was clear we were not meant to be. The thing is, I was devastated, heartbroken, and downright angry. Like, throwing-my-phone-across-my-bedroom angry. I felt alone and humiliated. My "love songs" playlist quickly went on pause and in crept the dark, break-up, melodies that gave voice to my pain.
I dug through my Ani collection and landed on two songs: Dilate and Untouchable Face. They were everything. Ani's writing was different. It was authentically expressive, raw, and nothing I'd ever heard on the radio.
From Dilate:
And you are so lame , you always disappoint me, it's kinda like our running joke, but it's really not funny . I just want you to live up to, the image of you I create, I see you and I'm so unsatisfied, I see you and I dilate.
BOOM. She totally didn't live up to the image of her I had created, and I was pissed. And also... *sigh* ... sad.
The lyrics to Untouchable Face were angry yet beautiful, set to an ironically sweet melody.
From Untouchable Face:
Two-thirty in the morning , and my gas tank will be empty soon . Neon sign on the horizon , rubbing elbows with the moon . It's a safe haven of sleepless where the deep fryer's always on ; radio is counting down the top twenty country songs. And out on the porch the fly strip is waving like a flag in the wind. You know I don't look forward to seeing you again . You'll look like a photograph of yourself , taken from far, far away , and I won't know what to do , and I won't know what to say , except fuck you, and your untouchable face, and fuck you, for existing in the first place, and who am I, that I should be vying for your touch, I said "Who am I?" I bet you can't even tell me that much.
Damn. Thing song got me. Who was I? And why was I chasing someone who had already disrespected me so quickly?
Looking back on that time in my life, it seems so silly, really. It was my first relationship and it felt so intense, when in reality, we were just young kids getting to know each other. The anger I felt about our breakup dissipated a lifetime ago. But the good memories will always remain. Call it first love, or first infatuation, I learned a lot in the process and went through the whole gamut of emotions.
I've always loved music for its ability to create a connection among people, its ability to break through layers of the stuff we call life.
My music tastes have changed over time, but I still listen to these incredible artists, and give tribute to them for my coming out. This playlist helped shape my teenage years, and for that, I am forever grateful.

Dana Maxwell
She/Her. Coffee and cat lover. Film and television enthusiast. Random thought thinker. If only every decade could be as cool as the 90s.
T: @danamaxwell30
IG: @danamaxwellsmart
See all posts by Dana Maxwell →