The Legacy of Queen of Tejano Music: Selena Quintanilla-Pérez
A queen who will forever be in our hearts
When a true Hispanic fan hears the name Selena, the first name that immediately springs to his mind is Selena Quintanilla, not Selena Gomez. (Fun Fact: Selena Gomez's mother named her after Selena Quintanilla.)
Selena, known as the Queen of Tejano Music (Texan Music), was one of the most renowned and beloved Mexican-American entertainers of the late twentieth century for her music and fashion. She also ranks among the most influential Latin musicians of all time and is acknowledged for catapulting a music genre into the mainstream market.
Biography
Born on 16th April 1971 to Abraham Quintanilla, a former musician, and Marcella Samora in Texas, Selena learned music in English and Spanish and started performing from a young age. She was the youngest of the three Quintanilla children. Her father saw the potential in her when she was six years old. When Selena began to sing, he taught her elder brother, Abraham III, to learn to play the guitar. They created a family band called "Selena Y Los Dinos" and practiced almost every single day. It played early rock and roll songs mixed with traditional Mexican music. This music, later called Tejano Music, would become very popular throughout the southwest United States and Mexico.
The above video features Selena singing "La Tracalera" at the age of eleven with her family band, "Selena Y Los Dinos".
When her record "Entre a Mi Mundo" spent 32 weeks at the top of the "Regional Mexican Albums" list, she began to hog the spotlight. One of her signature songs was the hit "Como La Flor." In 1990, Selena released her second studio album 'Ven Conmigo.' 'Baila Esta Cumbia,' became one of most popular songs from the album. Her album "Live!" received the Grammy Award for "Best Mexican/American Album," making her the first female Tejano artist to do so.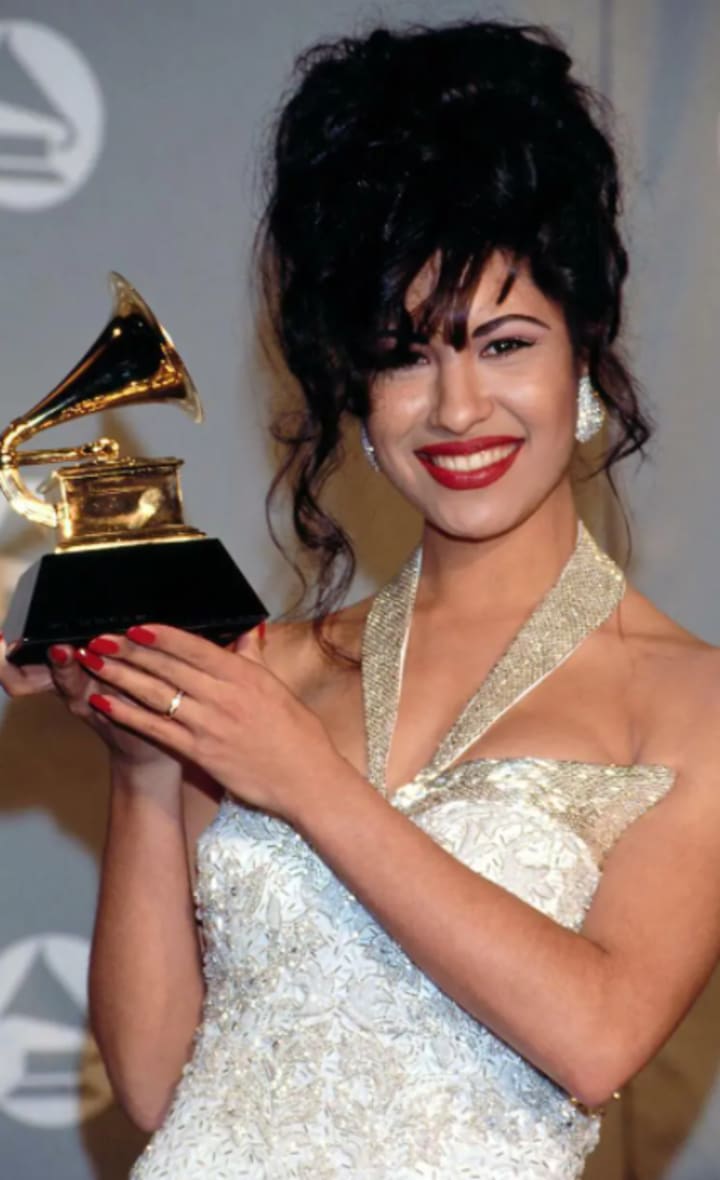 Her fourth album, 'Amor Prohibido,' was released in 1994 and became a best-selling Latin album in the United States. She also started her own clothing line and opened two boutiques in two Texan cities (San Antonio and Corpus Christi) called "Selena Etc."
At the age of 23, she was at the peak of her career and also had found the love of her life, Chris Pérez, and planned to have kids with him soon, but then... tragedy struck. Yolanda Saldívar, the founder of her fan club and an obsessed fan, shot her.
Yolanda urged Abraham to start a fan club, and he appointed her as the president in 1991. She was later designated as the manager of Selena's boutiques and left her job of a nurse. But soon, they started receiving complaints about Yolanda's management and also received accusations about the fan club from disappointed fans. When the family confronted her, she later shot Selena in Days Inn hotel, Corpus Christi. You can watch the video below to understand each and every minute detail of Selena's last days. Selena's last words were Yolanda...Room 158.
Life After Death
Dreaming of You, Selena's fifth and last album, was released on July 18, 1995, four months after Selena's death, and went on to become one of the best-selling Latin albums of all time, selling more than double platinum. Selena's life was adapted twice, once in a 1997 film and then in a two-part Netflix television series in 2020. The Tejano community was intensely affected, and many fans traveled to Corpus Christi, her hometown. They couldn't believe it was for real. Two weeks later, the then-Texas governor announced her birthday as "Selena Day".
Although Selena is no more with us, she's still with us...in our hearts. Here's a music playlist from Spotify with Selena's biggest songs.
People like Selena never die; They're in our hearts forevermore.
Sources:
If you have a dream, don't let anyone take it away -- Selena Quintanilla
Thank you!
history
Hey there, I'm Roselyn Violet. My penname means "violet beautiful roses." I've been writing online since the past two years (and have been loving it). And I'm currently writing a poetry book.
Here I am: Vocal is my therapy.
Receive stories by Roselyn Violet in

your feed