Spotify Wrapped 2021: a Review
New Year, New Wrapped! Let's take a look at how Spotify has interpreted my listening habits over the strange year that was 2021!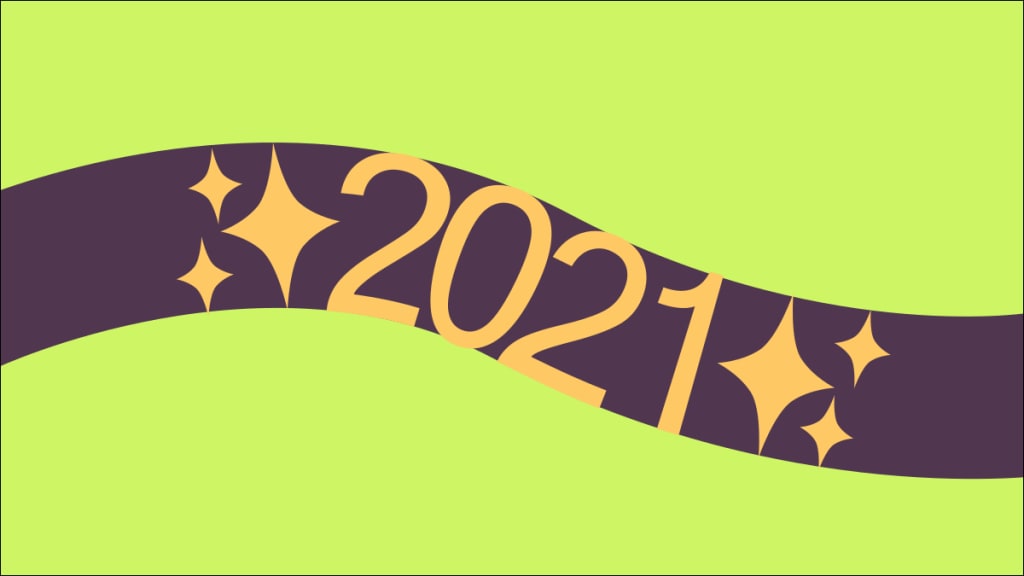 What better way to mark the start of the New Year than with our momentous Spotify Wrapped Review!
Although it has been, quite the year for all of us, our favourite songs have been with us the entire time, sending us off to sleep on late nights, hyping us up on our way to work, and when needed, becoming a relief from reality.
When December rolls around I always get excited for my Wrapped, because at least I get to see how they're using all this data they're collecting on me. Wouldn't it be interesting to have an 'End of Year Review" from Meta, where they tell you what topics you are most interested in, who you engaged with (stalked) the most across their platforms, what your political alignment is, even going as far as revealing a whole psychological breakdown of you as a person?
But, for now, we'll stick to finding out about our listening habits.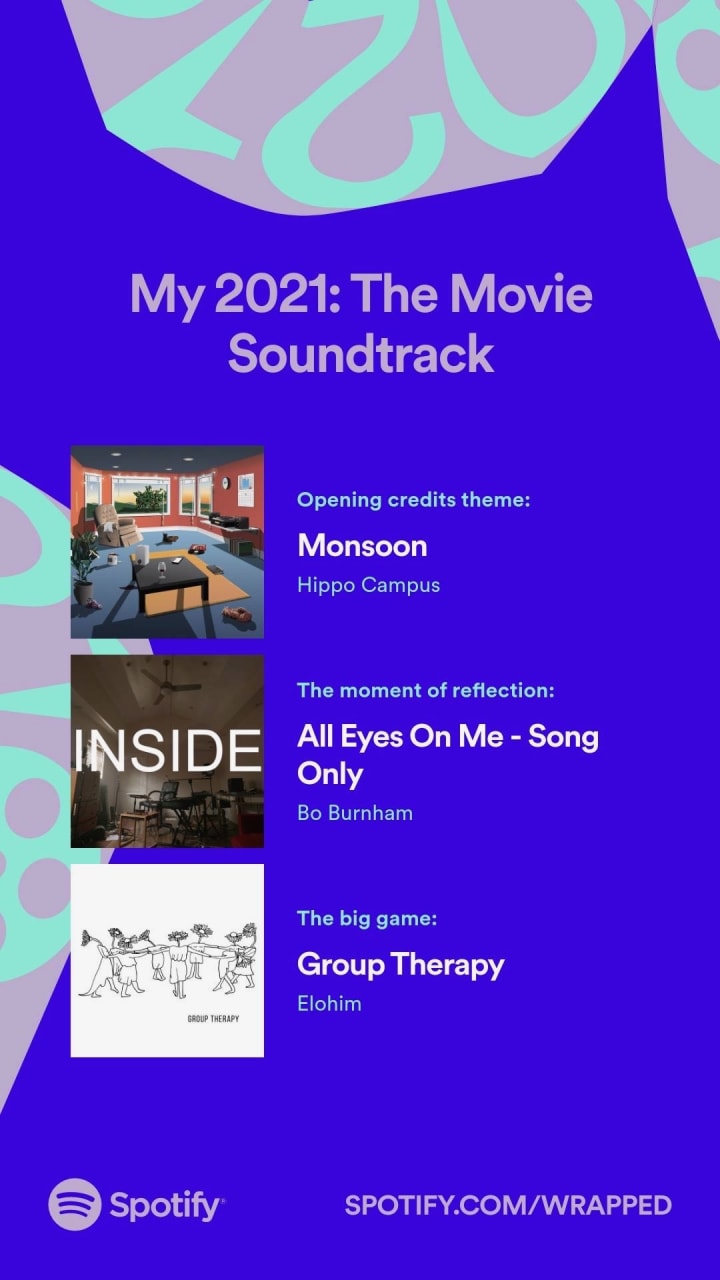 Spotify has notably changed up their presentation, beginning our Wrapped off with a 'Soundtrack to our Lives' segment. It gave us a moment to imagine their scenarios with a few of our most played songs.
The songs Spotify chose for this metaphor seemed to fit well since they were three that I could recall listening to extensively over the last year.
Monsoon is one of my favourite songs from Hippo Campus, it gives me calm, spacy vibes with a hint of concern like you're falling back into clouds unsure of what's below. If that is how the movie of my life would begin, then it sounds incredibly foreboding.
Hearing All Eyes on Me during a self-reflexing moment wouldn't be a first for me, I often have this song stuck in my head even when I'm not feeling great. The lyrics sound similar to a hymn and stick inside my brain as an analytical reflection of people's incessant need to be recognised on social networks, so I can see how this one fits.
However, the third song did not fit as well as Spotify may have hoped. Yes, it's upbeat and it pops, but Group Therapy feels more about finding the people who support you in life, which makes the lyrics are a little more cynical than the scenario Spotify assigned them to.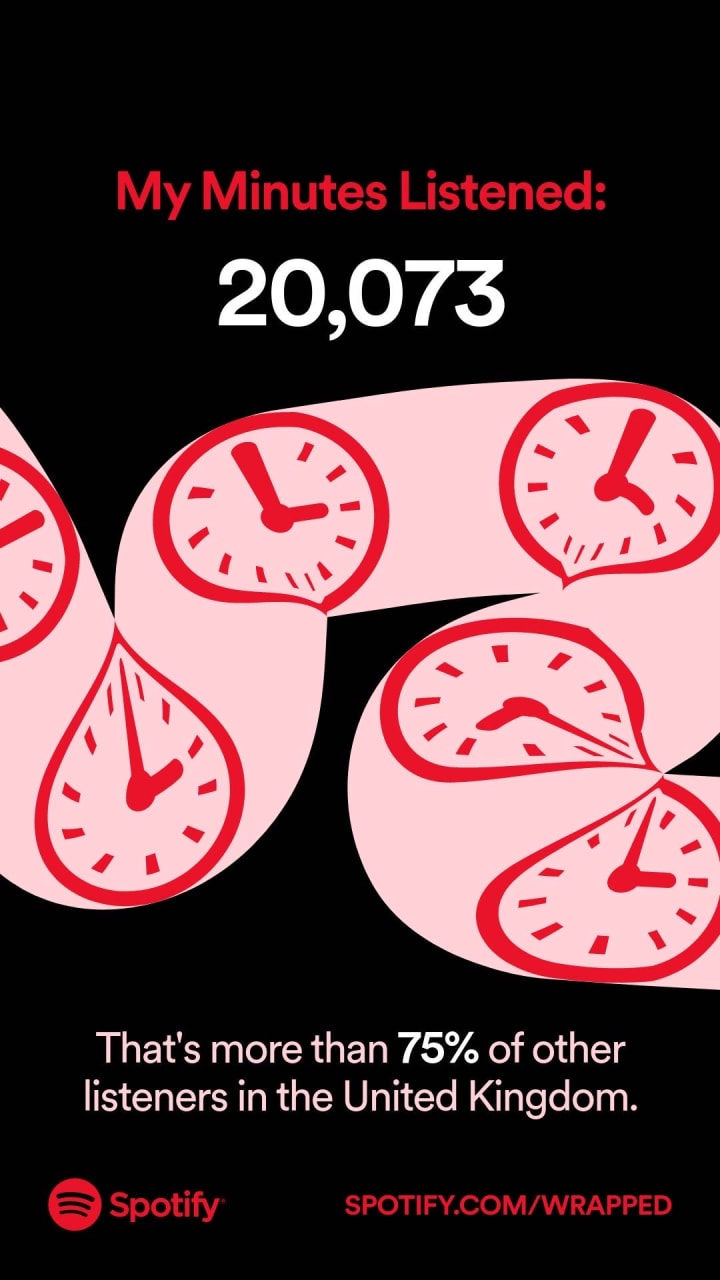 Spotify moves on to tell me the number of minutes I have spent listening to songs on this app. 20,073 minutes to be exact. There are 525,600 minutes in a year, which means I spent 3.81% of 2021 listening to music on Spotify. Doesn't seem like much when I put it like that, but 20,073 minutes amounts to just under 14 days of nonstop music. Although, Spotify seems to think that this is a great deal more than the rest of the UK, which surprised me. I wouldn't consider myself to be someone who listens to music every day, but apparently, I hear a bit more than the rest of you!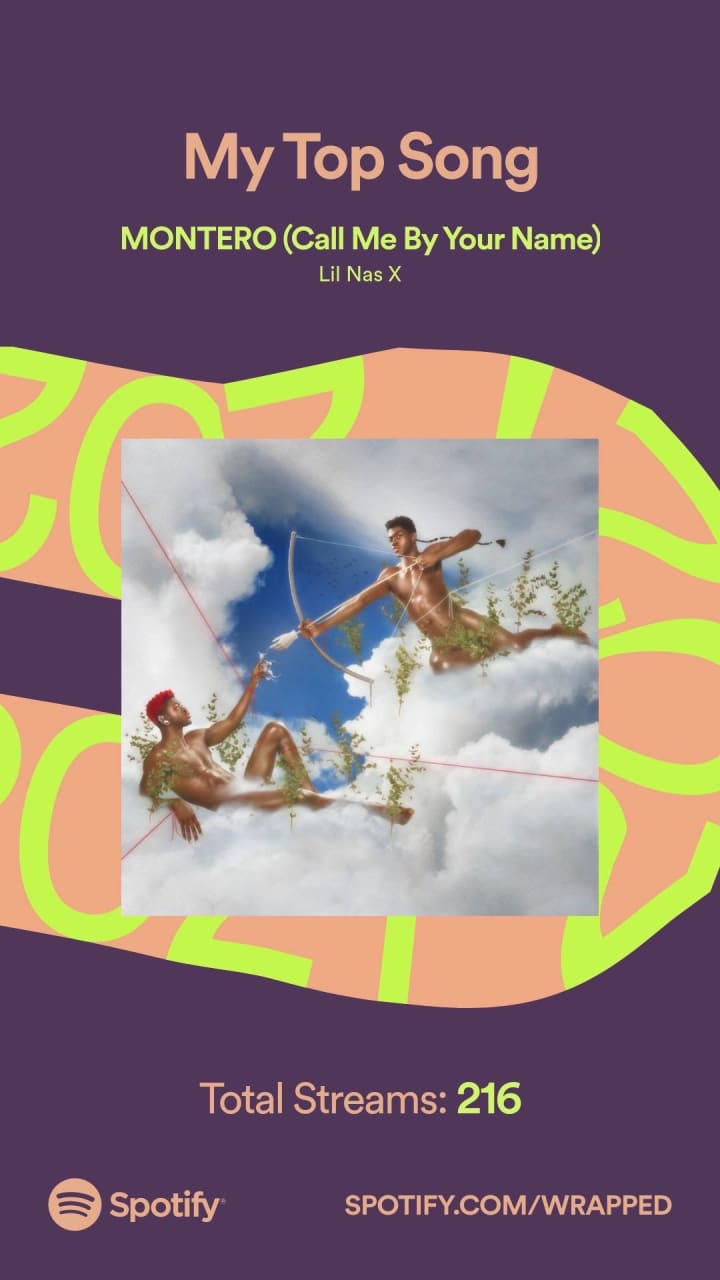 I knew this song was a contender for my Top Song of 2021 because I can't help but listen to it on repeat! MONTERO is nothing if not a proper bop, I clearly couldn't get enough of it, having listened to it over 200 times (216 to be exact.) This translates to roughly 8 hours and 16 minutes out of my 334.5 hours of total listening in 2021, which doesn't seem like much of a chunk. Then again, according to Spotify, I had listened to 1,001 different artists over the year, so perhaps being able to return to the same song as often as I did more impressive than I initially thought.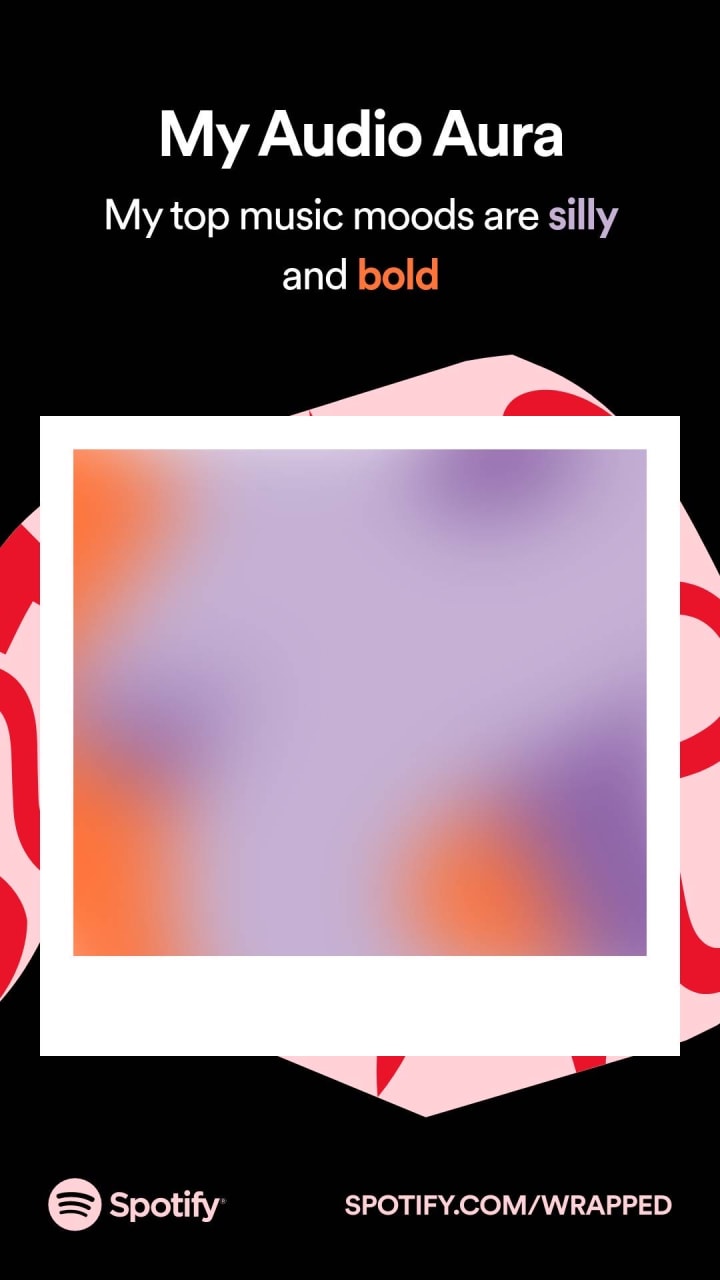 Then came something I had not seen before from Spotify, My Audio Aura. This was a brand new and exciting change to our Spotify Wrapped. Initially being told that my top music moods are silly and bold, was inquisitive but enlightening at the same time since I felt as though it encapsulated my listening habits rather well. This new segment had really caught my attention and after comparing Audio Auras with my partner and friends, I became curious as to how they assigned these auras. Turns out they partnered up with a celebrity aura reader and psychic Mystic Michaela, who is able to read people's auras. Writing in an article entitled "Learn More About the Audio Aura in Your Spotify 2021 Wrapped With Aura Reader Mystic Michaela" where Spotify explain their reasoning for adding this feature to this year's Wrapped, which came down to giving users the chance to look at themselves in a different light, getting us to ask ourselves questions like 'Why do I listen to this music? Who does this music make me? What is my subconscious telling me?' Prompting a conversation with ourselves.
In terms of my own results, I would certainly agree with it. I have a silly, playful personality that can come across as childish to others and that reflexes in the kind of music I listen to. I have bold expressions of emotion that are difficult to mask, which is what makes it so liberating to hear the same bold expressions of emotion in the songs I enjoy listening to. When I take a look inwards at who this makes me as a person it is definitely someone who refuses to 'grow up' and act normal, but when I look closer, I still hear my own paranoia towards how I may be received. Perhaps, my Audio Aura helped me to realise that I need to work on being unapologetically me.
For a more in-depth explanation of our Audio Auras, Spotify released this breakdown of what each colour leant towards:
Purple: This aura colour pairs well with passionate music listeners. Purple auras tune in to get amped up, entertained, and moving while they navigate the twists and turns of their day.
Green: Calm, analytical, and introspective are the traits that describe a green aura. These listeners gravitate toward complex music to tame their fast-moving minds.
Pink: Often described as the hopeless romantics of the aura spectrum, pinks view the world with a sense of optimistic, childlike wonder.
Orange: Oranges are the rebellious and bold type. They share a need for high-energy, confidence-boosting sounds.
Yellow: Yellows like their music to align them to the goals of their day, fuelling their need for focus, motivation, and self-improvement all while reducing any nerves that could get in the way.
Blue: Blues are wistful or emotional, and this hue reflects listeners who seek out music to feel their feelings out loud.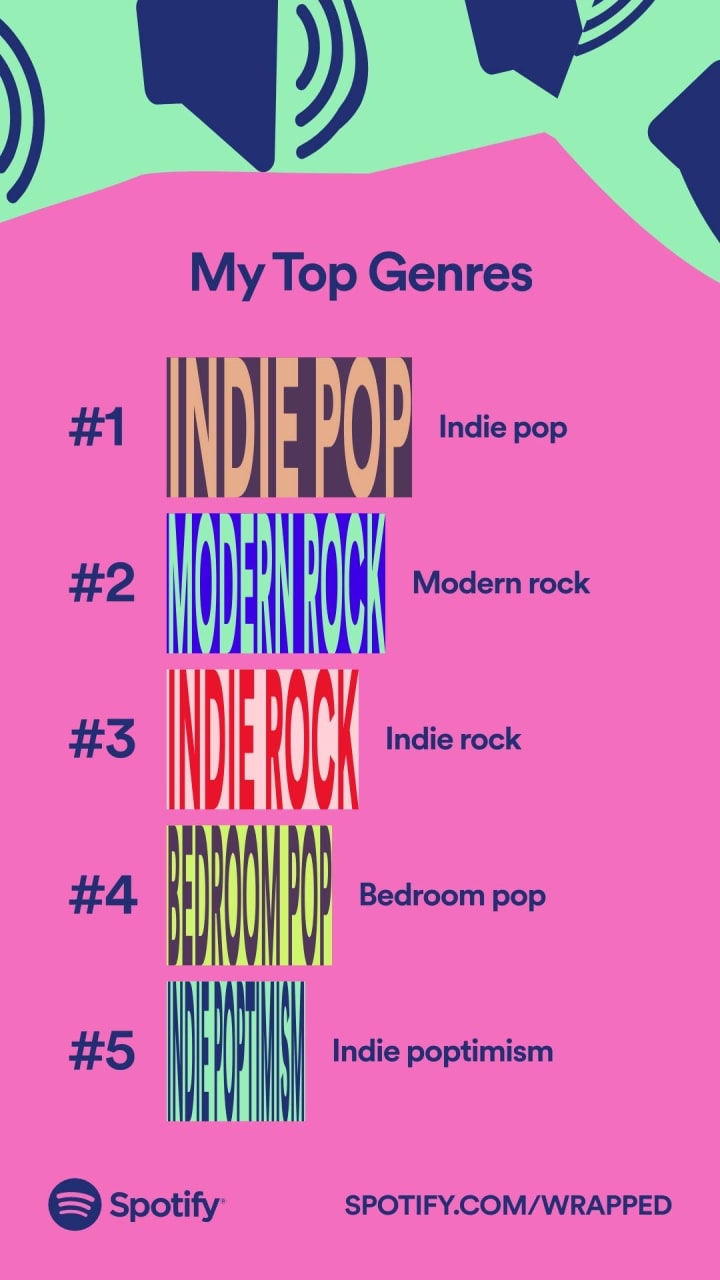 Spotify Wrapped continued by telling me what my Top Genres were out of the possible 5,071 available on this music streaming app. Obviously, my top was Indie Pop, but the rest begin to get a little difficult to read as my top genres descend. I'm not a fan of the way Spotify has presented this part as it seems as though it was made on WordArt. Nonetheless, it is still interesting to find out all these new, unusually named genres like 'Indie Poptimism,' which I guess is optimistic indie-pop?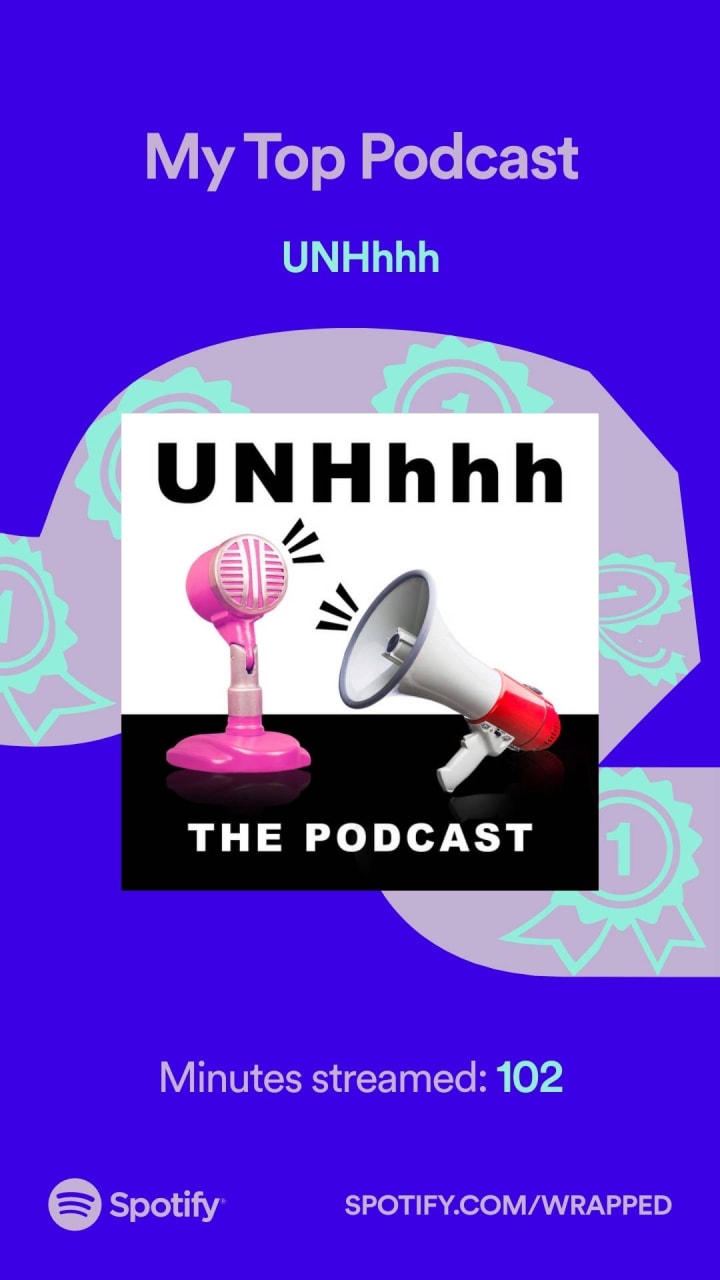 This was probably the only podcast I listened to on Spotify, and it was purely out of curiosity. I binged the entire series of UNHhhh by Trixie Mattel and Katya Zamolodchikovain in one go sometime in October while repotting all of my house plants.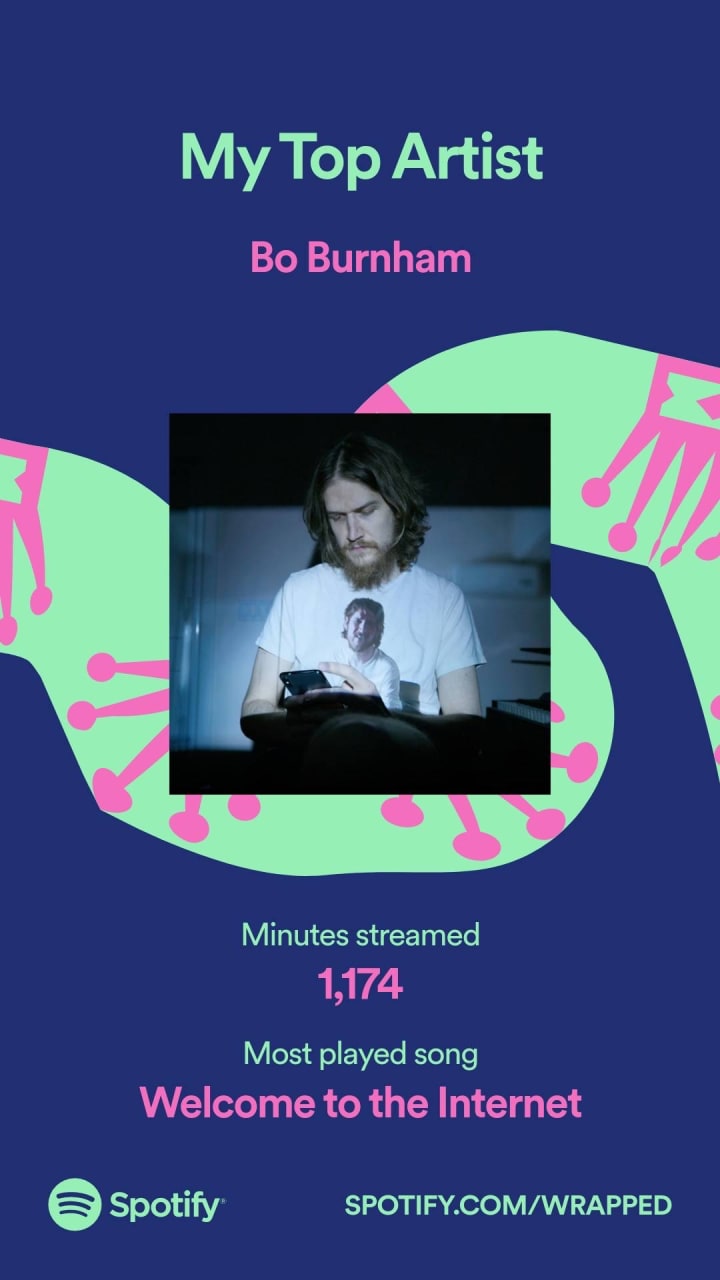 And finally, my Top Artist. This was completely expected since I was listening to the Inside Soundtrack over and over for a good week then consistently replaying certain songs in my most regularly played playlist. Totalling at 1,174 minutes, I spend a good 5.86% of my 20,073 minutes blasting Bo Burnham, that roughly 20 hours nonstop. For me, Inside was such a momentous piece, it reflected a lot of fears in the world we've created for ourselves in a beautifully comedic way that I felt understood.
Looking back at this year, I'm not surprised that my music taste ranged between cynical and desperately upbeat, those were my most frequent feelings throughout 2021. Even now I still find myself cynically optimistic about 2022, knowing that we have no idea what this new year will hold for any of us. But at least we could enjoy this in-depth analysis of our listening habits over what was unanimously a difficult year for all.
____________________________________________________
Thank you for taking the time to read our blog! If you enjoyed the content or learnt something along the way, please consider leaving a '<3' below and Subscribe for updates on our future stories!
If you wish to support us on our mission to provide free, weekly infotainment for you to enjoy, please consider pledging a small donation or a tip - all donations help us to create our work and support us as creators.
If you wish to begin your Vocal journey, join the Vocal+ programme to get more for your work! Earn more per view, withdraw your profits quicker, and gain access to Vocal+ Challenges with prizes to be won every week!
Use the link below and begin your Blogging career today!
https://vocal.media/vocal-plus?via=peoplejss 
You're the reason we can continue doing what we love and making all this possible. We are forever grateful for your support!
list
Quirky articles on various subjects to pass the time! Don't stay quiet people, Just say something!
Facebook Page: https://www.facebook.com/PeopleJSS
Twitter: https://twitter.com/PeopleJSS