Singles for the Singles!
With Valentine's Day swiftly approaching, it is time to take a stand, put on your headphones, and scream back at the couples! Here are some of my favourite singles for all of you Singles out there!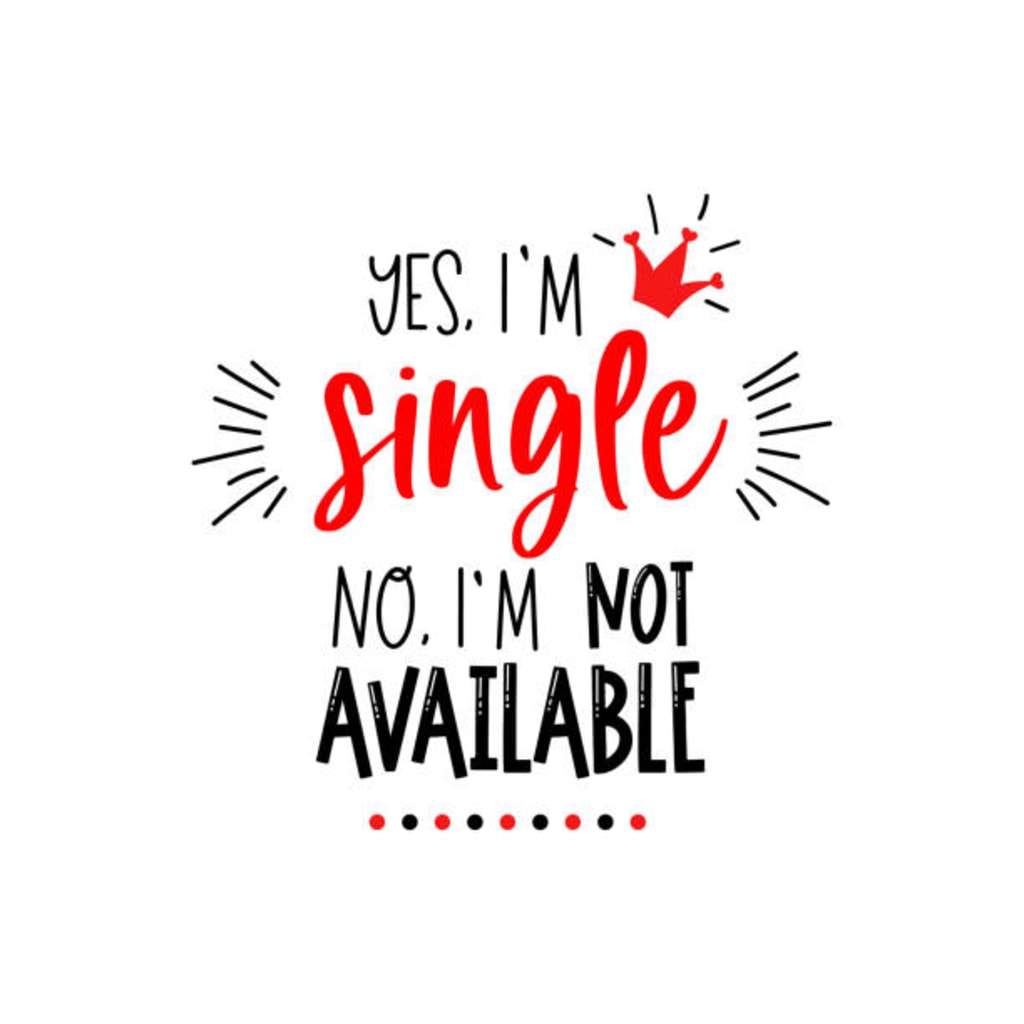 It's the time of the year where you fall into one of three categories. You will spend Valentine's Day: with your partner, yourself, or trying to get lucky and spend it with someone 'else'. No matter your goals, it is still unfortunate for all the singles out there to have to swim through the constant reminders of love and relationships. I think it is time to take a break from the constant love songs and take a stand against the soppiest of songs to the hopeless romantics walking through the streets while pulling a piano to sing a song for their loved ones. Enough is enough! I present to you, the Singles for Singles playlist! The top 10 songs that will bury any resentment that Valentine's Day brings while empowering the badass single you genuinely are.
Valentine's Day has never been a holiday I celebrate. I do not see the need to dedicate a day to, quite frankly, shows off that some of us are in a relationship while pressuring the others to want what the Day can give them. It is a shame that Valentines has become part of the business calendar to take as much profit from us as possible. It's that perfect middle in-between Christmas and easter to squeeze out the extra buck. From supermarkets selling us chocolate to musicians profiting off our misery. If the market is there, businesses will fill the gap. It is our choice if we wish to participate. So why not stay inside and listen to some anti-love songs, flipping off the fat cats above. Without further ado, here are my top ten songs to remind you that being single is A-OK and that Valentine's Day sucks.
1. Robyn: Dancing on my Own
Let me paint you a scenario. You have been waiting all year to ask that special someone to the end of year dance. You push through the anxiety and ask them to the dance, and, to your surprise, they agree to go with you. The excitement fills your young body, and the dance becomes the most important thing on your mind. The night arrives, you are all dressed up in your best-rented tuxedo and tie, ready for the night ahead. You enter the dancefloor only to see your partner dancing with the football team captain, leaving you heartbroken.
Dancing on my own by Robyn, and later covered by Calum Scott on Britain's Got Talent shooting the song into fame here in the UK once more, is the iconic song for these situations. It reminds us that love hurts, and some people only want to see the world burn. It reminds us that hearts get crushed, and we are left alone, watching the ones we love with someone else. Love is a heartless beast that does not care for anyone, and this position of power can be used against us. I wonder how it feels to be on the other side of this scenario. To this day, I am still recovering from childhood rejections in the past. I did not want to go to the dance anyway… they suck.
2. Rihanna – Take a Bow
We all remember the late 00's, especially 2008 with the financial crash. Almost simultaneously, the world began to feel pretty depressed with life, and with this came some of the best anti-valentines' songs to get us through these new emotions. Rihanna took advantage of this with her iconic anti-love song, Take a Bow, where she expresses her hatred towards her cheating boyfriend, telling him to move out and leave her alone. We forget that when we fall in love and enter the relationship realm, we open ourselves up to a new world of hurt, and cheating is the prime villain. I will admit that I have been a victim of cheaters in the past, and it is no walk in the park. These break-ups fill us with raging emotions, unanswered questions and directed hatred towards the culprit and sometimes ourselves. I have a personal motto: Once a cheat, always a cheat. This advice has kept me safe from heartbreak for most of my life. If, however, I ever fall into the cage of a cheater, Rihanna will always be there to remind us that they better pack up their things and leave, and they better not keep us waiting. We are all worth more than a cheat, and cheats only deserve other cheaters. Let them hurt each other while we enjoy our solitude and observe their misery. Remember, a simpler life is sometimes a better life.
3. The All-American Rejects – Gives you Hell
My all-time favourite singles song, Gives You Hell by The All-American Rejects showcases the exact reasons why so many of us decide to stay away from the binding grasps of relationshiphood. The first sentence of the song sums up the situation perfectly: "I wake up every evening, with a big smile on my face, and it never feels out of place'. The independence of being single brings forward a lack of trouble and a sense of power. You are your own boss, and other people's problems do not affect you.
The song describes how the singer feels towards his ex-partner, stating that he wishes that seeing his face brings her hell. Making our ex-partners jealous is something that we all secretly desire. There is always a post-breakup war between both parties: who is doing better off? There is still a definitive winner in a break-up, and the party's friends mostly decide it. Every piece of information from the relationship is taken into consideration. Who has moved on? Who got a better partner? Who's bossing life and who is down in the dumps? On a more personal level, we all want the other to miss being with us after a break-up, and by presenting ourselves in the best light, we remind them what they have given up. It is like walking through a buffet, and you kind of want the chicken wings; however, the steak looks a lot better. You decide to go for the steak and leave the chicken wings. You then see your friends enjoying the chicken wings, filled with flavour and the perfect crispy skin ever graced on a chicken wing while you are stuck with your dry, overcooked steak. Valentines is that buffet. They are constantly comparing and always judging. Why not be the better you and show all of your exes that you are the chicken wing and not a dry steak and that they have missed their chance. Remember, chicken wings are always better than steak, no matter if the steak costs more. Let them miss your crispiness.
4. Kelly Clarkson – Singe U been gone
Continuing down the path of after break-up aftermath, Kelly Clarkson brings us an absolute banger of a song with Since U Been Gone. Even if you do not listen to the song, the title speaks for itself. The song describes how Clarkson feels after escaping a bad break up, stating she can finally breathe for the first time. This uplifting song brings a great contrast of moods between the lyrics and beat. It reminds us that a break-up does not have to be all doom and gloom. Sometimes, leaving a relationship opens more doors than it shuts, and it allows us to learn what we truly want. We finally taste freedom once more. If like me, you have experienced a bad relationship in your past, I suggest playing this song full volume on Valentine's day to remind yourself how much you have changed and how better off you are single. There is nothing worse than being in a toxic relationship, and nothing better than leaving one behind. Love has to be simple in some sense, and Valentines can push us to seek the wrong type of love out there. For me, Since U Been Gone is an iconic anti-valentines' song that continues to support all the singletons of the world. Being alone is as beneficial as relationships, and I believe that we all need a balance of both throughout our life. Until then, let us shout that we enjoy our own space and being single is something that others have given up, not escaped.
5. Dua Lipa – New Rules
We all remember when Dua Lipa took the world by storm with the release of New Rules. The anthem that shook the world with its unique beat, extraordinary lyricism, and independent and powerful message. We all may be driven to seek someone out there to spend Valentines with, and maybe that is something that you may want to do. However, do you want to go through all the hassle of finding someone just for a day? I suggest releasing your inner Lipa and enjoy this Valentines by taking a stand against all the love nonsense that comes with the holiday. You have excellent standards, and you should not lower them for anyone or anything. New Rules is an excellent anti-valentines' song. One night stands in the 21st century have become quite a norm, especially within the younger generation. It is no wonder why this song has become so iconic. It reminds us that we have a set of standards that have to be met instead of challenged, and Valentines is not a time to lower these standards. Please do what you want on this holiday and make it the Valentines you want it to be, not what they want it to be for you. Also, have fun and stay safe! There are countless weird people out there that we may have the unfortunate time of the meeting. If they don't tick the boxes, say bye and move on! Plenty of fish in the sea and we do not take anything lower than perfect.
6. Nickelback – This is How you Remind Me
I admit that Nickelback is not the best band in the world. However, This is how you Remind Me is an excellent anti-valentines song that deserves to be on the playlist. When I was younger, I was more into rock music than I am now. I thought that the feeling would never go away and that the breakup was the most painful thing in the world. Nickelback got me through the pain and helped me reset. It is always good to remember that love sucks, especially on Valentine's day. Why should we feel like we are the ones lacking? The stress of relationships can become too much, and sometimes, you want to have some time to yourself. Nickelback will help remind you who you are… just a little lyric joke there…
7. Plan B – She Said
I am not sure about you American viewers, but Plan B is a huge deal here in the UK. He released some of the best street rap singles I have ever heard and a phenomenal album Ill Manners that accompanied the movie. She Said is considered one of his calmer releases; however, the message is as strong as any other. It portrays a harsh break up where Plan B is on trial against the accusations of his partner. It shows the turmoil of break-ups and unfaithful partners. It paints a grim picture of the partner, stating that she fell in love exceptionally quickly and rushed into the relationship. She then gets him arrested and blames him for various crimes only because she is heartbroken. On a deeper level, it shows how easy a bad break up can escalate to something harmful and severe. I do not see how people can rush into relationships before learning more about their partners, and do not get me started on having babies to keep the relationship going. It's so confusing.
8. Adele – Set Fire to the Rain
All songs mentioned in this list are deserving of their spot, yet no come close to the queen of anti-love and the national anthem of the singles, Adelle and her number one hit Set Fire to the Rain. The slow melody, upbeat tempo and harrowing lyrics come together to form the ultimate song to scream out loud on Valentine's day. We all have had a rough break up, and if you have not, well you better prepare for it. When that time comes once more, make sure to keep your head high and release your inner Adele. I will be the first to admit that I do not listen to Adele daily. I prefer more alternative sounds. Only when there are some intense emotions buried inside me does Adele come back into my life. Also, when she comes on the radio and I turn into an emotionless zombie. Adele has such an empowering voice that is rare to find. I hope that she helps you through this miserable day as much as she helps me, and with nearly 25 million monthly Spotify streams, it is clear that many of us love her message.
Here is the complete Playlist for you to enjoy!