Revolushn Sings About Dinosaurs and More
Let's get psychedelic.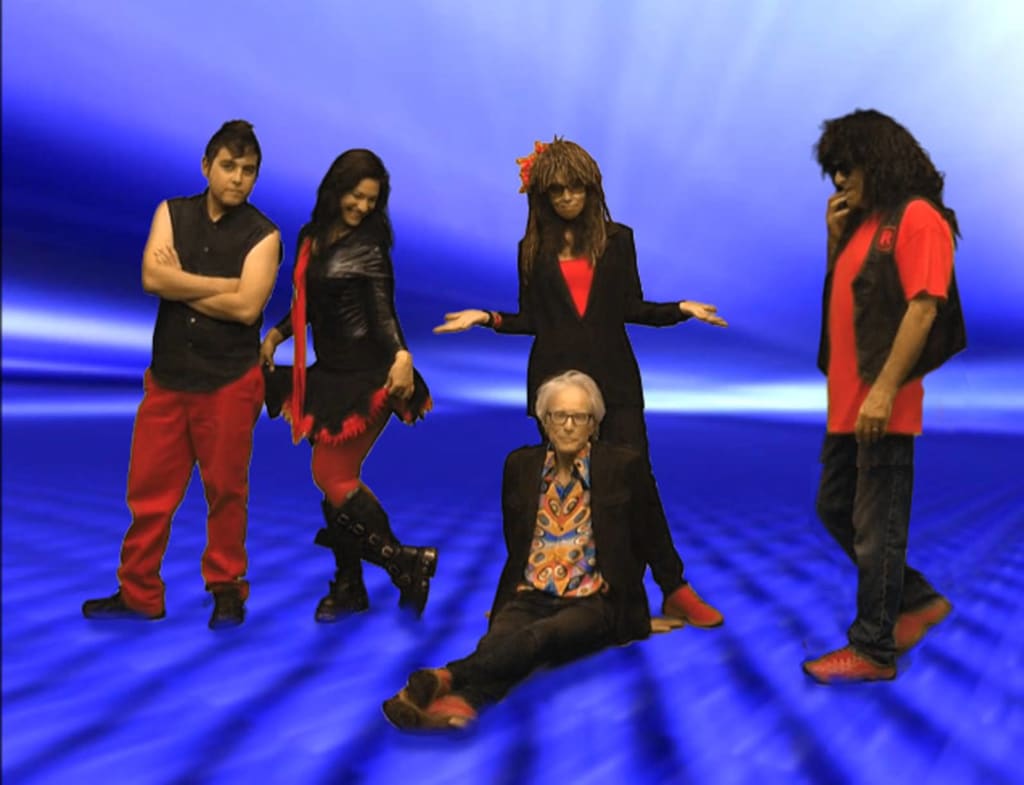 While the song "Dinosaurs" by San Francisco psychedelic rock collective Revolushn might not really be about prehistoric creatures, it still gets cred for having the word dinosaur in it. That's almost as cool as unicorns. This particular song recently made the Hot 100 Next Big Thing list on Spotify. It's probably because, at least to me, the song is kind of political and political songs have always had their place in our music. This song melds a classic metal sound with psychedelic melodies, making it a really interesting listen. I enjoyed it a great deal.
Like many bands these days, "Revolushn began as a studio band that played songs written by No (guitar) and Dekay (drums)," opting to stick to recording, instead of touring. They put out their first album, The Freshman, and it "received critical acclaim, airplay, and modest sales," according to their bio. They played shows to hype the album, of course, but then took time off to work on the next album, which we have here.
They spent 16 months making Further!! and originally slated it to be released in September of 2016. Anyone that's been in a band that has recorded an album knows that the process can take a lot out of you. It did that to them as well and they postponed the release, and then they started writing again as well. Luckily the album made it out eventually. Interesting to know is that the final song they added to the album wasn't even written until January of this year!
"The River" is one of my favorite songs on this nine song album. What I love about it is that each instrument, including the vocals, sounds just as prominent as the next. You focus on all of them playing at once instead of pinpointing one at a time (a habit I tend to have as a reviewer).
The band has been compared to The Doors, Pink Floyd, and even Devo. These are accurate comparisons, and I would even go as far to add Black Sabbath and Rush to that list. They have an epic sound that is at times heavier and full of guitar solos and at other times more mellow and trippy with a psychedelic vibe throughout.
"Weird Little Minds" adds a more peppy sound to the album. This one makes me want to get up and dance (and I love when songs do that to me). I have two favorites types of songs: those that make me think and those that make me dance.
"Man Who Knew Everything" has some fairly simple lyrics. They aren't complex, but the instrumentation on this song is amazing. The guitar work is stellar and really keeps you listening.
"You Will Go" almost has a David Bowie-like sound to it. It's spacy and out of this world. It can kind of be described as jazzy, in some ways. It even almost has a stoner rock vibe to it. It's definitely different than the songs that preceded it. "Dog Gets High" is another trippy, stoner rock song, with psychedelic sounds. It has a pretty trippy video as well, as you might imagine by the name of the song (and yes, there's even a dog smoking a joint in it — and no, it's not a real dog).
"All Is As It Should Be" starts out sounding like a new Rush song, in some ways. It really has an interesting sound and I can't think of any other way to describe it. The title track, "Further!!," is another one of my favorites. I like the singer's vocals on this one especially. This one and the previous song are extremely psychedelic and live up to the band's sound.
The last song on the album is "Time + Travel = Time," and it is, of course, another psychedelic gem with a Ziggy Stardust meets Rush vibe. I love it. You need to listen to this.