Relient K: Two Lefts Don't Make a Right...But is This Album As Good As I Remember?
For a gaggle of Christian kids who would have no problem passing a drug test, Relient K wrote some lyrical bangers that still hold up today.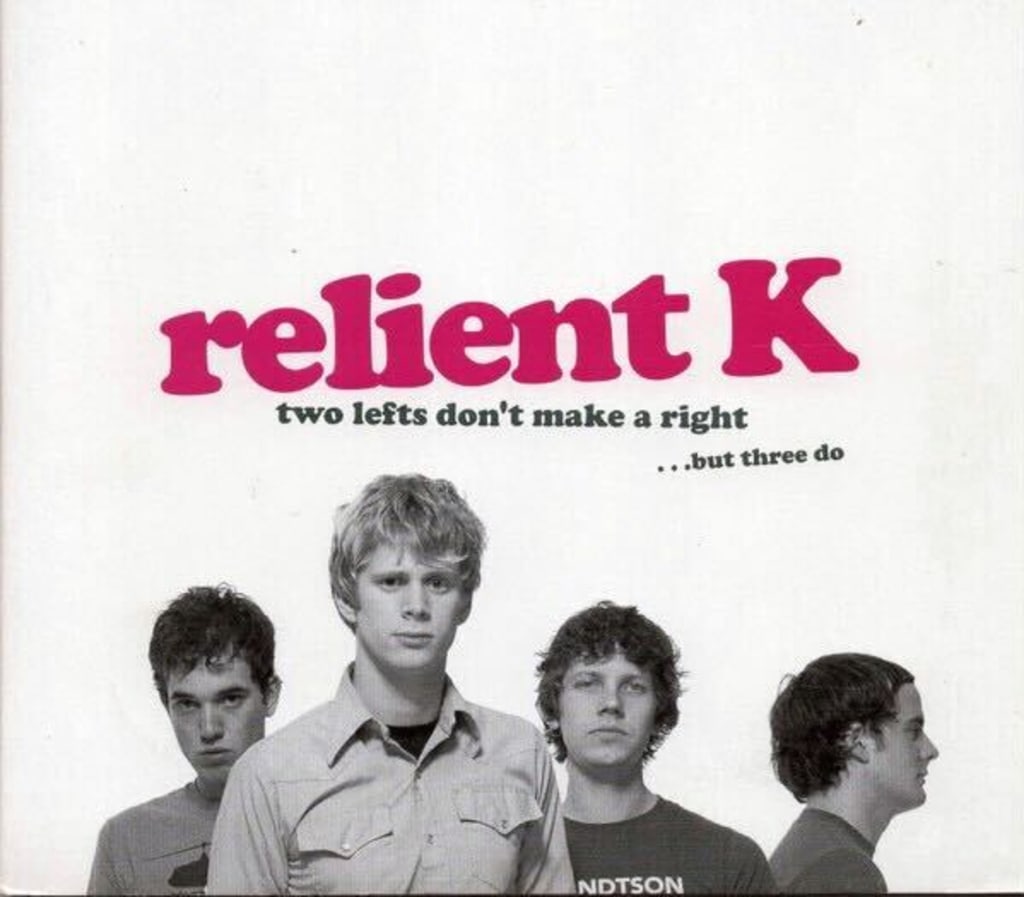 Relient K, press kit image circa 2003
Were you even a Christian kid in the 2000s if you didn't know every "word" to Relient K's seminal masterwork "Gibberish"?
2003 was a funny time to be alive, especially for Christian rock bands and their fans.
I was raised in a rural Christian community, so my exposure to popular music was a bit limited. My CD collection was mostly oldies, Christian rock, Celtic Woman, and of course, every album from Michael W. Smith. Nothing with swe*r words, no lyrics that degraded women, and certainly nothing with the iconic NOT FOR KIDS label etched in the bottom right.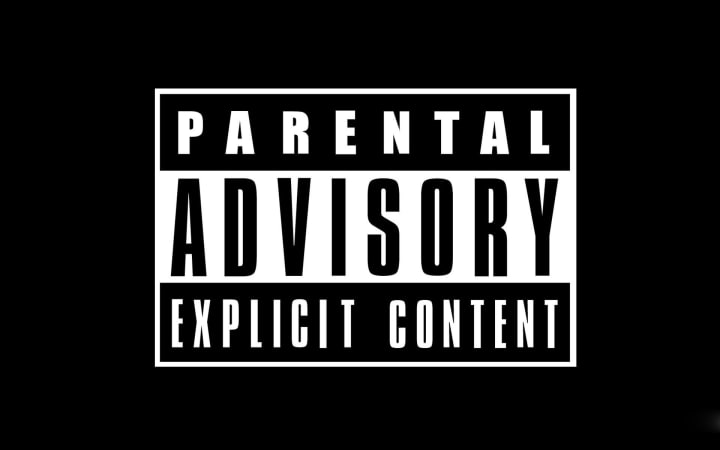 I suppose I can't complain, since I was introduced to many of the essential artists before I left the roost. Elvis, The Beatles, The Beach Boys, Simon & Garfunkel, most 80s rock bands, more or less everything pre-90s was available to me during my most formative years.
Within this unconventional discography, there was one band that became a fast favorite, and looking back, I'm not surprised. Today, Matthew Thiessen's Wikipedia boasts collaborations with hundreds of Billboard regulars including Katy Perry, Adam Young, Jon Foreman, Andrew McMahon, Ben Rector, Machine Gun Kelly, and more.
Matt Thiessen's legacy, however, will always be for starting the band Relient K. Three gold albums and a smattering of chart toppers can attest.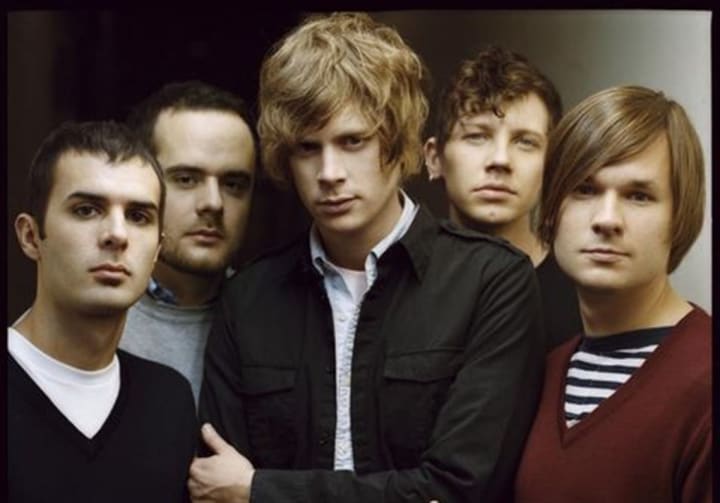 A church-going cohort of wannabe rock fans followed this floppy haired frontman from Maine to Wyoming on tour after tour as crossover hits "Sadie Hawkins Dance," "Be My Escape," and "Who I Am Hates Who I've Been" put Christian punk rock music on the North American map. Not the center of the map, of course. Not even off-center in the Rockies. But somewhere in Fort Lauderdale, basking in the early 2000s Florida sun, Matt Thiessen could be found sipping a virgin mojito surrounded by girls in one-piece swimsuits threatening to lead him into temptation at every turn.
I loved Relient K. I mean, even now, it's hard not to.
Relient K - Sadie Hawkins Dance (live in New York, March 18 2022)
Mmhmm, Relient K's fourth studio album and the vessel through which the band delivered their biggest hits, deserves its own article. The subject of today's throwback musical anatomy (not of the tongue in cheek) is RK's less lauded, but in my opinion far more interesting studio release: Two Lefts Don't Make a Right...but Three Do.
I revisited Two Lefts recently, and not for any reason in particular. I just woke up one night with the chorus of "In Love with the 80s" stuck in my head. Before I knew it, I was 15 tracks deep in Matt Thiessen's lyrical wizardry, realizing how unsurprising it is that he was such a sought-after collaborator for so many of punk rock's greatest contributors.
I don't want to be perceived the way I am, I just want to be perceived the way I am...
From the onset, "Chap Stick, Chapped Lips, And Things Like Chemistry" took me for a ride, just like the Batman roller coaster underneath which Matt Thiessen lost his cell phone in the first verse. I wonder, would Two Lefts deliver the same jolt of 5 hour energy without this espresso-induced daytime nightmare of an opening track? "Chap Stick" is pure cocaine electricity, which shocks me given that Matt T, Matt H, and Brian were good church kids who wouldn't touch Satan's dandruff with a ten-foot cross.
We all know the girls that I am talking about. Well they are time bombs, and they are ticking...
Uh oh. Two Left's second track, and a darling of my middle school Christian dance parties, hasn't aged well at all. In fact, it was never okay to begin with; let's not make excuses for sexism and collectivism even coming from "good kids" like these. At the time of its writing, "Mood Rings" probably felt very clever ("She said to me that she's so happy it's depressing, and all I said was someone get that girl a mood ring"). Given the prolific popularity of mood rings in the 2000s, I can see how a band of 20-somethings might not pick up on the deeply problematic sociological implications of what they're laying down ("When it's black means watch your back because you're probably the last person in the world right now she wants to see") but again, we're not here to make excuses. "Mood Rings" is a skip for me.
So it was Jeremy in 1983, in his Ocean Pacific tee, who got a bloody knee on a skateboard in the half-pipe in the backyard that Tuesday night.
The next three tracks, "Falling Out," "Forward Motion," and "In Love with the 80s (Pink Tux to the Prom)," are a bittersweet tour through the rolling hills of Matt's head-in-the-clouds lyrical pendulum swings ("I got evicted now I'm living on the street, my spirits lifted, oh wait that wasn't me").
"Forward Motion" is one of my favorite tracks on Two Lefts. Here, Matt paints a vivid scene ("I've been banging my head against a wall for so long it seemed I knocked it down, yeah it got knocked down") and then layers two conflicting realities on top of each other ("I've been banging my head against a wall for so long it seemed I got knocked out, yeah I got knocked out cold") and eventually tosses the spotlight to the album cover art (a wrecked car) while sheepishly bemoaning the difficulties of simply existing ("Forward motion is harder than it sounds..."). The track evokes sympathy without resorting to self-pity and is one of the deeper moments on a generally goofy album.
"Pink Tux to the Prom" is a true standout at the often hard-hitting 5th track position. A fan-favorite and an ode to everything 80s, including The Breakfast Club, left-ear-only piercings, and of course, pink tuxedos, "In Love with the 80s" is a love song to a bygone era—a frequently-attempted trope that just works here. ("I am gonna wear a pink tux to the prom, live without a care...what could possibly go wrong?")
Tracks 6-8, "College Kids," "Trademark," and "Hoopes I Did It Again," are a far cry from the often forgettable content found at this point on a full-length studio album.
It's time to call my father, 'cause it's his alma mater. Good grades aren't what they seem. I think he knows the dean.
"College Kids," one of Two Left's most-played tracks on Spotify, questions the necessity of college for survival and pleads young people to just "do what will make you happy, do what you feel is right. 'Cause only one thing matters: learn how to live your life."
"Trademark" provides another of Two Left's deeper moments, examining the ubiquitous relational pattern of separation and reconciliation ("it's my, my trademark move, to turn my back on you") and the pain this trend brings with time. But no deep moment lasts long in RK's universe, and "Hoopes I Did It Again" (a play on guitarist and backup vocalist Matt Hoopes' name) brings the party right back to the surface ("What's going on, what's up with all your friends? Let's start a rumor just to find out where it ends").
"Hoopes" riffs on the band's hometown of Canton, Ohio, where everything tastes like water chestnuts and going to the movies apparently used to cost only a dollar. There certainly was not a fortune to be earned in Contemporary Christian Music in 2003, so it's fitting that the band has to ask if they have the funds to go see a movie, even in Canton ("I'd rather see a movie, if in fact I can afford one...").
I'll break my heart in two more times than you could ever do, 'cause you're my dream please come true.
We may not care, given that "Mood Rings" failed to incur any sympathy for the bands' misfortunes in the dating scene, but "Over Thinking" at track 9 implies that romance might just not be in the cards for RK. ("Don't touch the positive with the negative end, 'cause after all of the sparks you're left alone in the dark"). Lonely undertones notwithstanding, "Over Thinking" is another of my favorites on the album, with a bop and a hook that's just plain hard to resist.
We're closing in on the closing tracks now. I've really enjoyed this nostalgic re-visiting of what I've decided to call Christian punk rock's underrated chef-d'oeuvre. Yes, that title is official and I will not be taking questions at this time.
And sometimes the place I'm at is at a loss for words. If I think of something worthy, I know that it's already yours.
I was transported right back to my angsty teen years at track 10, "I Am Understood" ("Your voice has broken my defense, let me embrace salvation"). At track 15, "Jefferson Aero Plane," despite containing several minutes of silence deserves to be recognized as perhaps the most self-aware song on the album ("I'll undergo a surgery to purge me of this lonely mood... and when I'm home, I think I'll go eat cereal and stare out the window").
However, I can't conclude without acknowledging the magic of track 13. Ah yes, track 13. After all, were you even a Christian kid in the 2000s if you didn't know every "word" to Relient K's seminal masterwork "Gibberish"?
Arg wu sentafinicate nar dunderford? Bida menti kpstocated interserd. Thorphilliate stinded yilla billa zay, wentora yate paravillintiniay...

Stop talking gibberish, or just stop talking.

Stop talking gibberish, or just stop talking.

Stop talking gibberish, or just stop talking... now.
What an album. What a band. For a group of relatively good kids who spent their Sundays at church in Canton, the amount of lyrical mind-f*ckery they infused into every track is worthy of, well, praise and worship. Matt Thiessen and Company left a legacy that will not be soon forgotten. Not by me, at least.
And with that, I will just stop talking... now.
Reader insights
Outstanding
Excellent work. Looking forward to reading more!
Top insights
Eye opening

Niche topic & fresh perspectives

Compelling and original writing

Creative use of language & vocab

Expert insights and opinions

Arguments were carefully researched and presented
Heartfelt and relatable

The story invoked strong personal emotions
Add your insights